KAWASAKI Z650RS – ZED STYLE COMES TO LAMS AT LAST
You don't have to be a boomer to know that Steve McQueen was cool. Likewise, you don't have to know what a Kawasaki Z1 or Z900 is – or even have seen one – to know that the new Kawasaki Z650RS has some deeply retro blood coursing through its veins. There's a special authenticity in The Big K's much-anticipated LAMS bike that really shines through.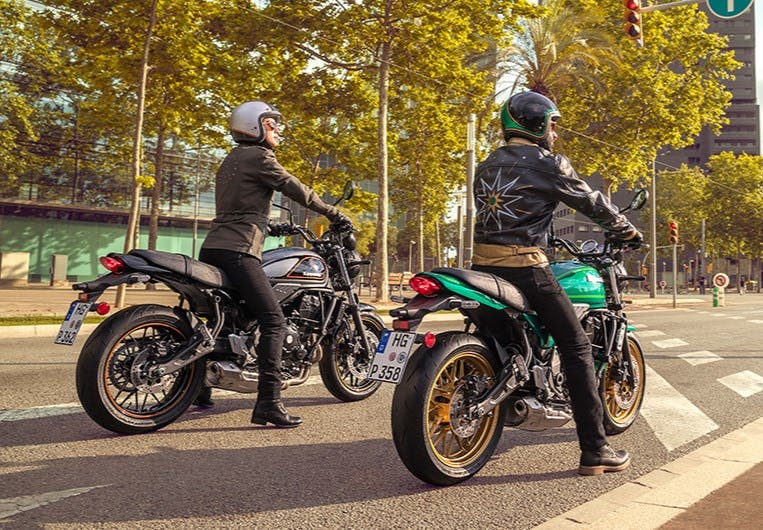 Kawasaki have been hinting at the new model for quite awhile now, cheekily fanning the rumours. Now that the pics are out and the bike's release has been set for 'late 2021', there are no doubt plenty of new riders – and a few experienced punters, too – who have placed a Z650 photo squarely on their PC desktop, carefully arranging widgets and icons so as not to clutter the lines of the bike. And it's worth a bit of staring. Those emails can wait.
What's changed?
Okay, you don't jump forward 49 years and also make a bike learner-legal without one or two concessions, no matter how good your time machine might be. Where the original big Zed was an air-cooled inline four, the Z650RS is a liquid-cooled parallel twin. That much stands out. But most of the bike's other modern concessions have been skillfully blended into the design. Okay, that exhaust is never going to pass as a seventies pipe, but where some manufacturers continue to make a handful of cosmetic changes and label their bike 'retro' (I'm looking at you, Yamaha XSR900…) the Z650RS has a wealth of faithful retro cues to enjoy.
Going the distance to Old Skool
Right away the overall lines of the new bike are on point, from the slim, shapely fuel tank to the flow of the seat and that iconic tailpiece. The profile is unmistakable. Alloy wheels roll where once there were wire spokes, but Kawasaki have gone with a slimly spoked mag design that's a nice nod to wire wheels, with none of the maintenance hassles. The headlight is round, as it should be, its two chambers created to mimic the look of an old style 'bulb' light, but with plenty of modern lumens. Main instruments are housed in what Kawasaki comically refer to as 'artillery shell' shaped housings, and feature round faces with needle style displays rather than digital, um, digits. An LED screen nestled in between the two main instruments carries info beyond just revs and road speed. Brake discs are round, instead of the wavy look seen on most sports bikes. The bodywork is nicely sculpted and organic, a world away from modern bikes that can look a bit too much like origami accidents. Finally, thank the maker that the frame is an unobtrusive tubular affair. It's doubtless far more rigid than the original's, and aesthetically far superior to the aluminium beam frames that blight the look of many parts-bin pseudo retros today.
Did I mention the paint colours? I'll have the very lickable Candy Emerald Green, thanks, pinstriped and with raised chrome badging just as it was back before petrol lost its lead. There's a Metallic Moondust Grey, too, but I like my retro with more of a grassy hue. Your opinion might vary.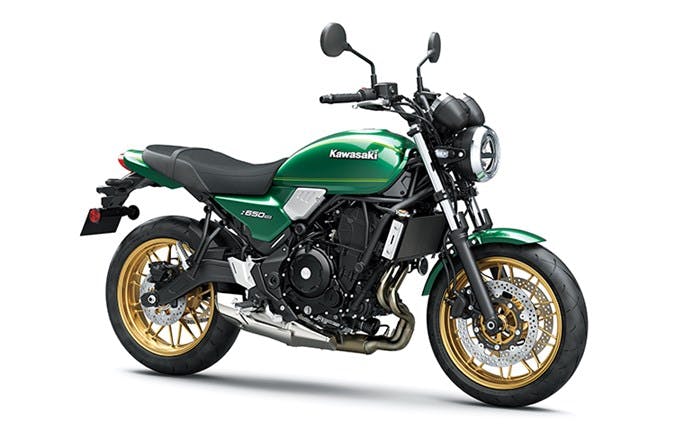 Z650RS Candy Emerald Green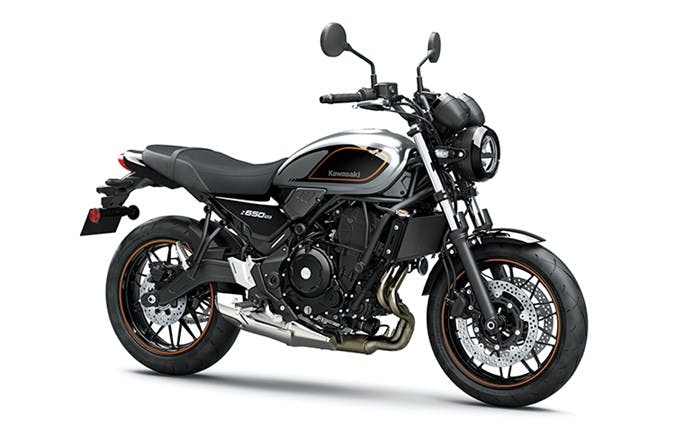 Z650RS Metallic Moondust Grey
Riding it?
No, I haven't. I'm still waiting for the big Express Post package to arrive from Bikebiz. But what I can tell you is that with a claimed weight of 186 kilos, a low seat height of 860mm (admittedly more altitude than the Z650L's 790mm) and an upright riding position, this is a bike that's going to be easy and comfortable to handle for riders across a wide range of heights and statures. The rider triangle is set up to give a 'sitting in' rather than 'sitting on' attitude, great for confidence and a secure feeling. 
Of course part of comfort is control, and the parallel twin donk pumps out 37.8kW and 59nM of torque at a perfectly reasonable 8,000 rippums. That's identical to the 650L, meaning the new bike will have plenty of power around town and out on the open road, easily accessed without feeling revvy or flustered. Ample for new riders, and enough for more than a few veteran pilots, too. 
Suspension is pretty standard fare - conventional forks up front and a pretty anonymous monoshock at the rear. There's a Slip and Assist clutch to help smooth any fluffed gear changes, a couple of 200mm semi-floating brake discs up the front, twin piston brake calipers and ABS as standard. That's a ton of safe stopping power. Wheels at each end are 17 inch, and while the 160 width at the rear isn't what you'd call phat, it compares pretty favourable to the crossply cheese cutter on the original seventies Zed.
Kawasaki are calling their new Z650RS a 'Retrovolution' and while you can smile at the marketing buzzword, the bike itself is a bloody fine effort at a LAMS retro. It draws on some very special heritage, and I'll wager that should you park it up alongside an original Zed (if you can find one), the new bike will draw some appreciative nods. Slap some chrome mudguards on the 650RS, squint a bit, and there's no denying the DNA.
With the bike due to arrive late in 2021, no doubt there'll be more than a few LAMS pilots going scrooge on family Christmas presents in order to scrape together a pre-order deposit on the Z650RS. Kawasaki have every right to be proud of their new baby, and if you love some big Zed musclebike heritage, well, no doubt you'll be wrapt, too…