What is the new R7 and why are we here?
Setting up a supersports bike review is usually straightforward. Take the bike in question, compare it to the previous model, compare it to the competition and arrive at an opinion as to whether it's better. This is often based on whether the bike being reviewed is lighter, faster and more tech-laden than the other bikes in one of two capacity classes. And those two classes, until recently, comprised 600cc bikes and 1000cc bikes with engines of an inline 4 configuration.
So as a 700cc twin, what even is a Yamaha YZF-R7? Where does it fit, and what does it compare to?
With more capacity but less power than the outgoing Yamaha R6, it's clearly not playing the same game. And with similar capacity but two less cylinders than Yamaha's R7 racer of 1999, it shares nothing but its name with the legendary weapon once campaigned by Noriyuki Haga. The new 2022 R7 is an utterly different animal. It's Yamaha's answer as to why R6 sales have tanked in recent years.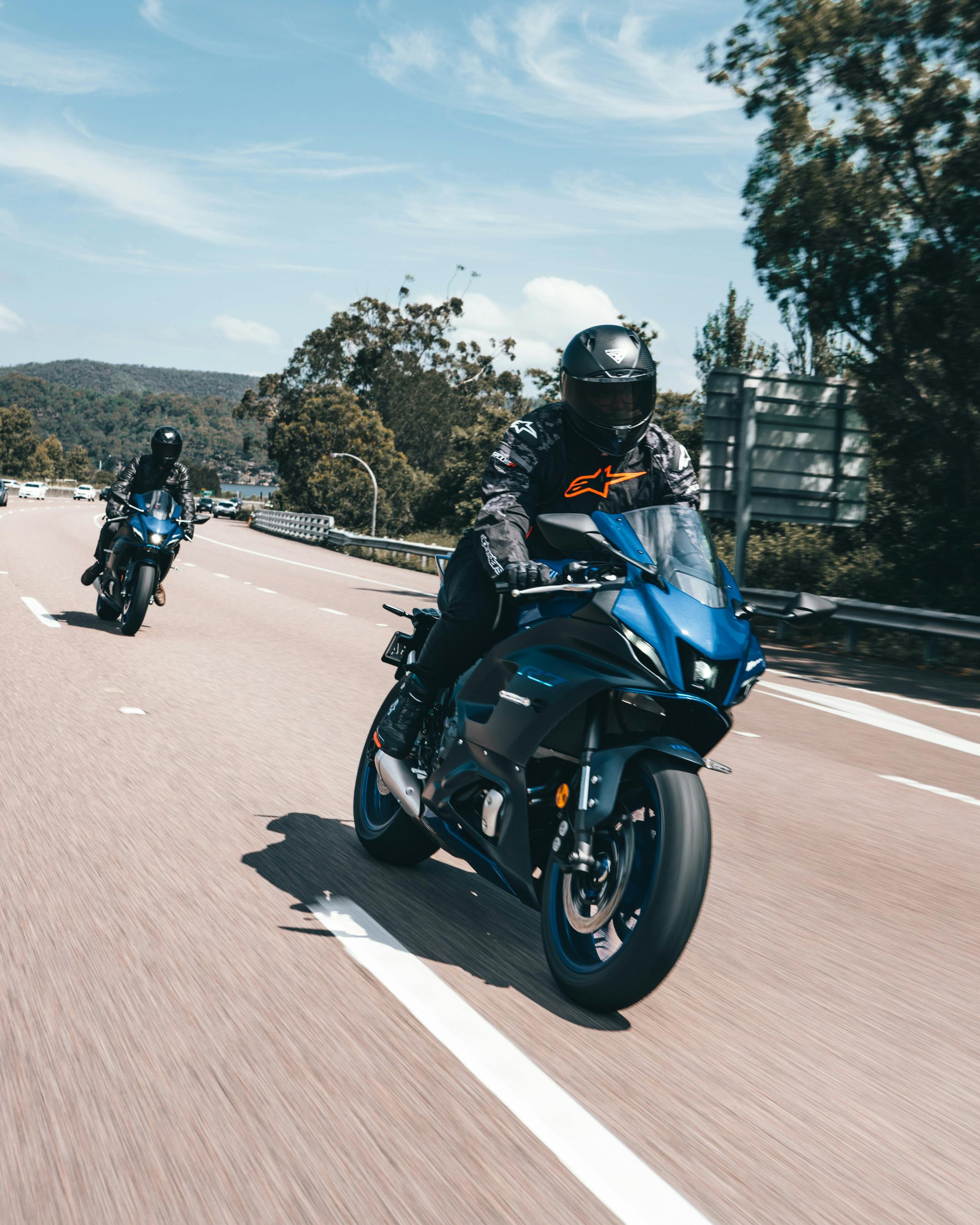 The new R7 steps into a sportsbike world that is re-setting itself. Sports riders have started questioning the arms race of power and specs that has seen the price of inline 4 sports 600's constantly increasing. Road rideability has suffered as revs climb higher to find ever more bhp. The result has been a range of track-focused machines that, if we're honest, aren't much fun to ride on the road at anything like legal speeds. And few riders are buying them. Finally, it seems, we are coming out of the fog. We are starting to make choices based on what we really need, rather than what we thought we wanted.
Yamaha YZF-R7 up close
In the flesh, the new R7 is a looker. Dimensionally very similar to the outgoing R6, and at 188kg weighing virtually the same, make no mistake, this is a sportsbike. There are also plenty of styling cues in common with the 'R' series. Angry LED position lights stare from a sharp, angular front fairing cowl. A single round projector-style LED headlamp hides within the air intake. The rear cowling is a tall, minimalist piece of origami, home to a narrow taillight. Slim, slicey indicators are, like the tail light, LED.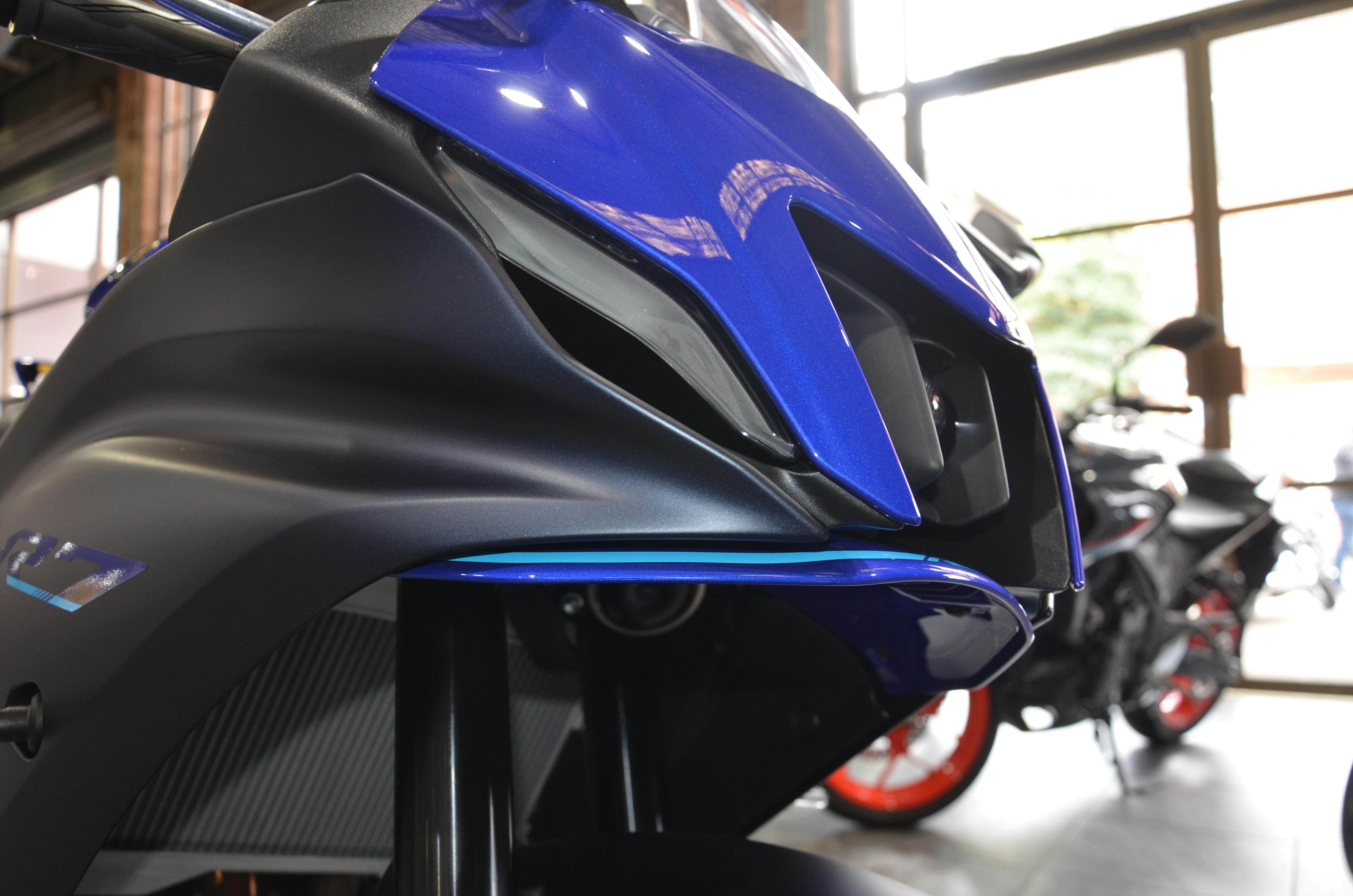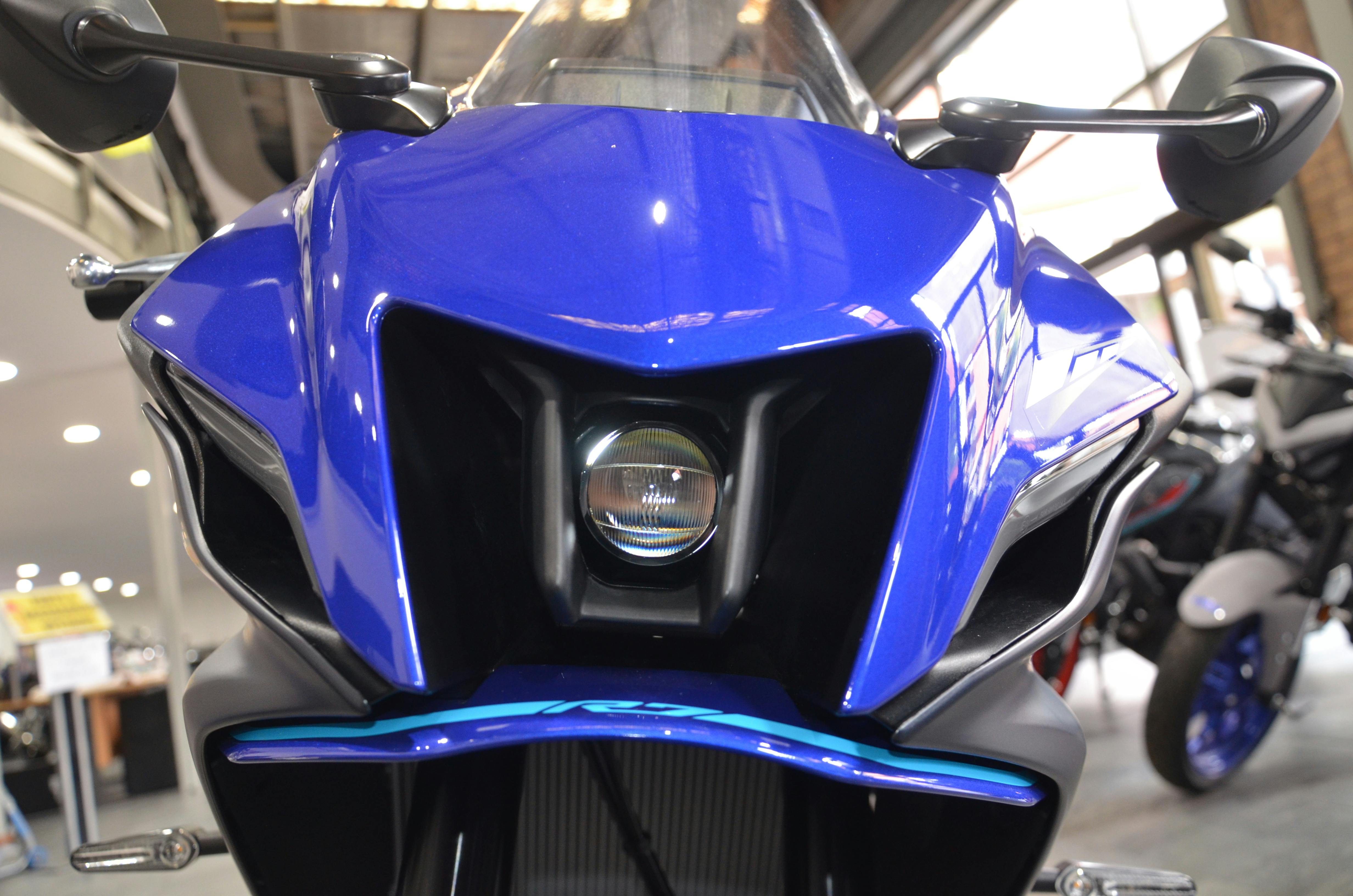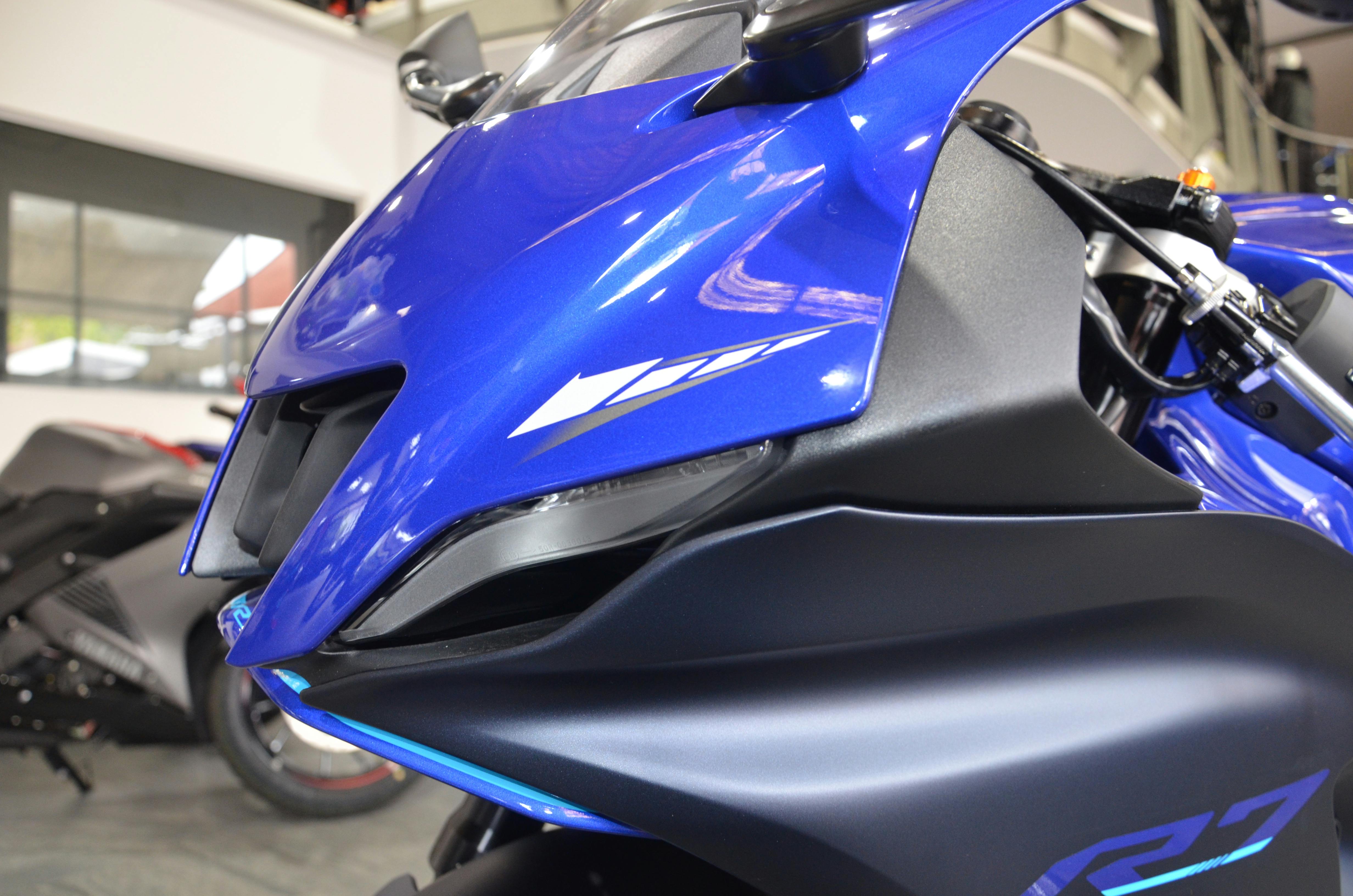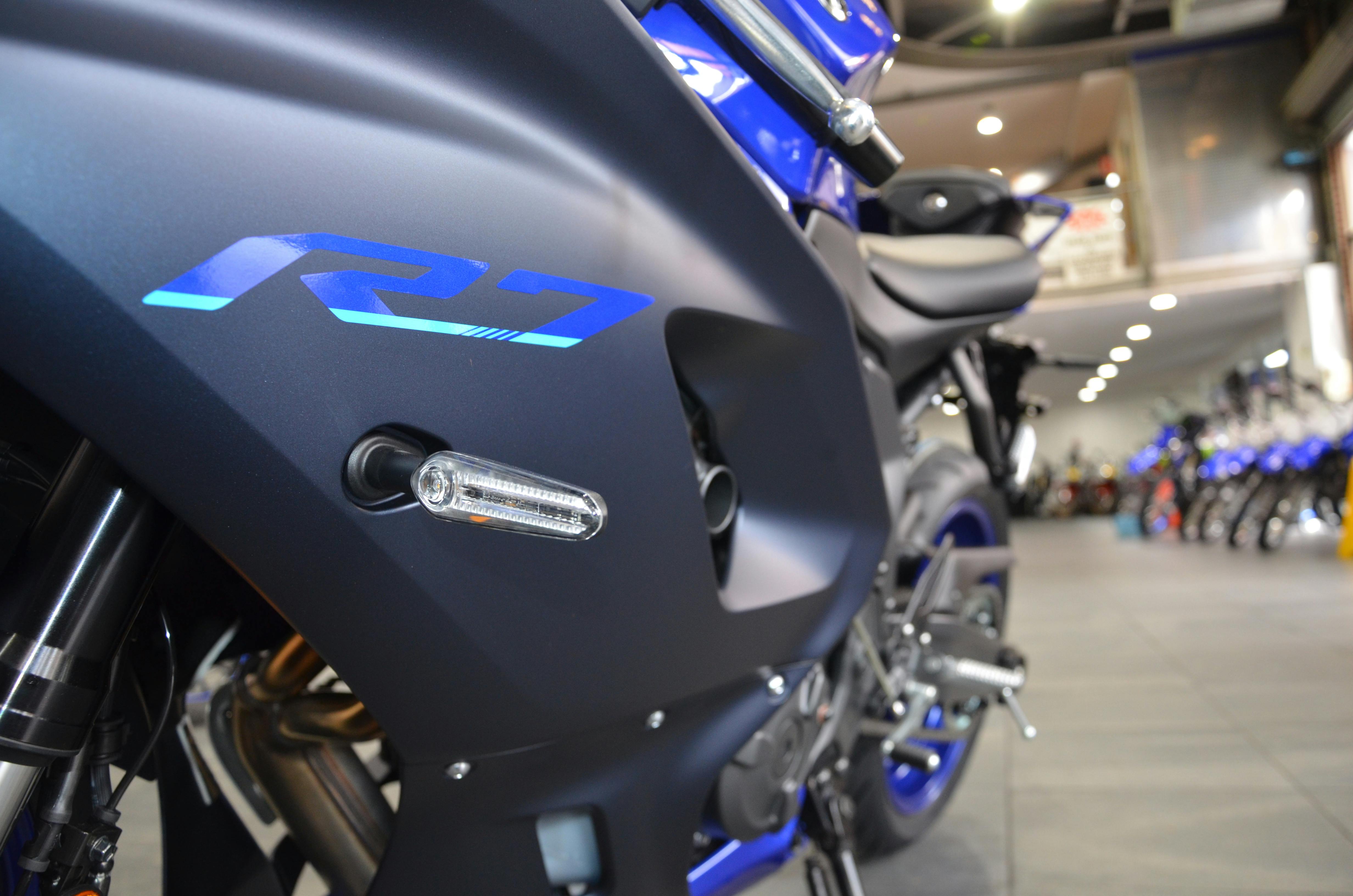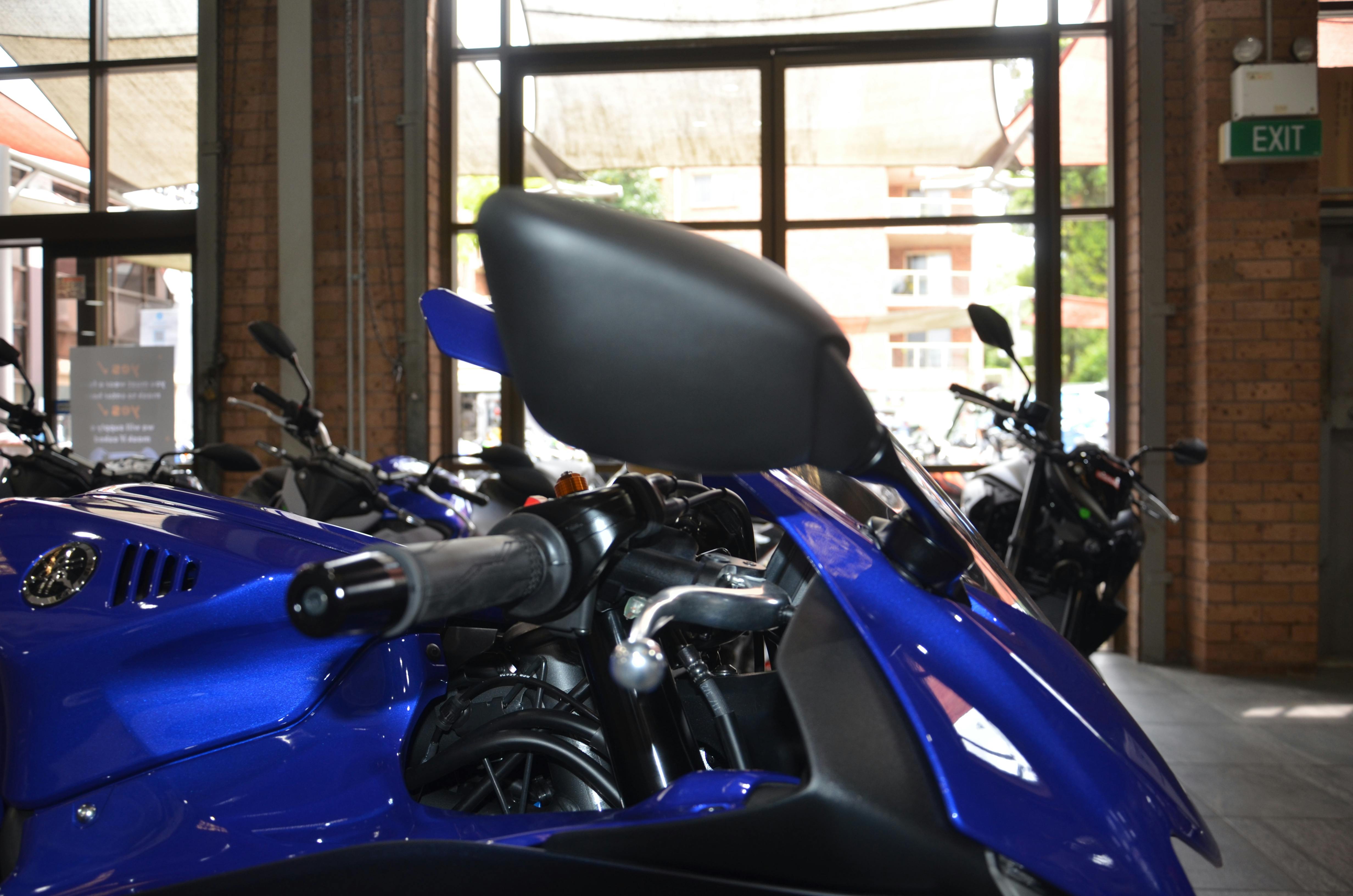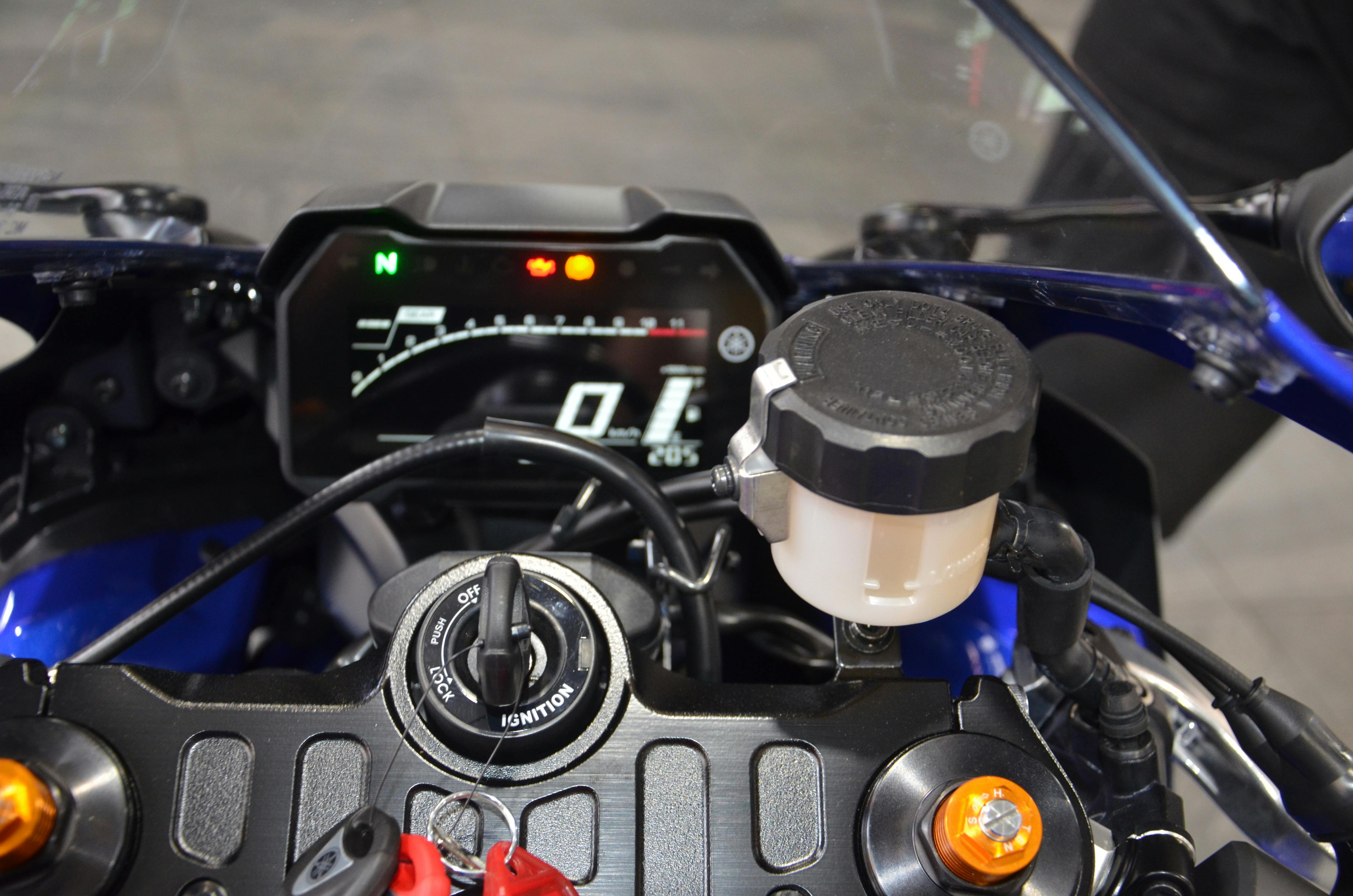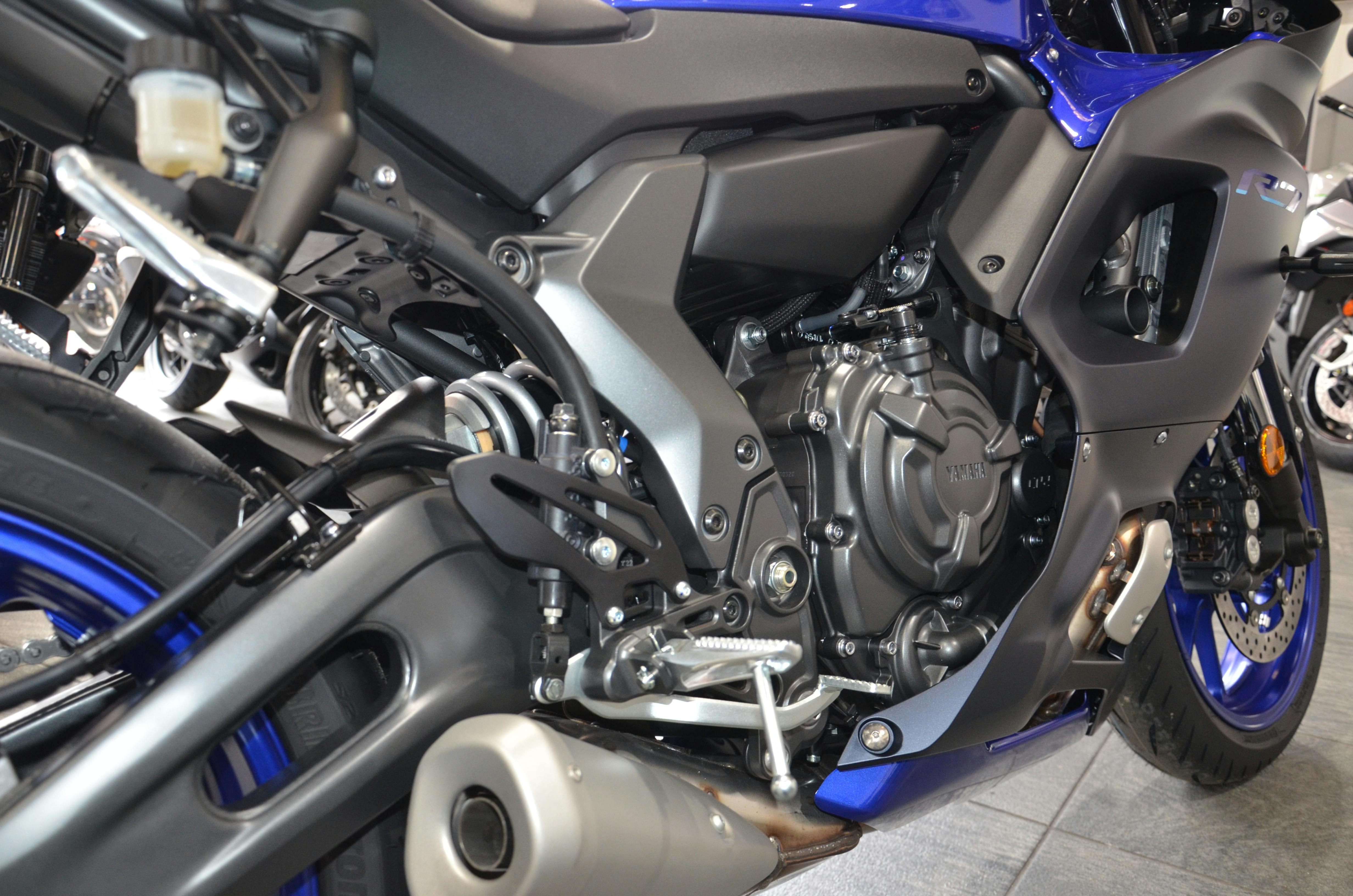 Sit on it and you're in a sportsbike hunch, not extreme, but there's weight on the wrists. The clip-ons are positioned below the top triple clamp, which will please sportsbike purists. There's room enough for my gangling 189cm frame, but a decent bend in the knees. Seat height is 835mm, a step up from the MT-07's 805mm but still not what you'd call tall. The single seat has some R1 DNA. It's surprisingly comfortable for a sportsbike and there's plenty of room to stretch out and slide back. The pillion perch continues in the true sportsbike tradition and is tiny, lofty and strictly for masochists.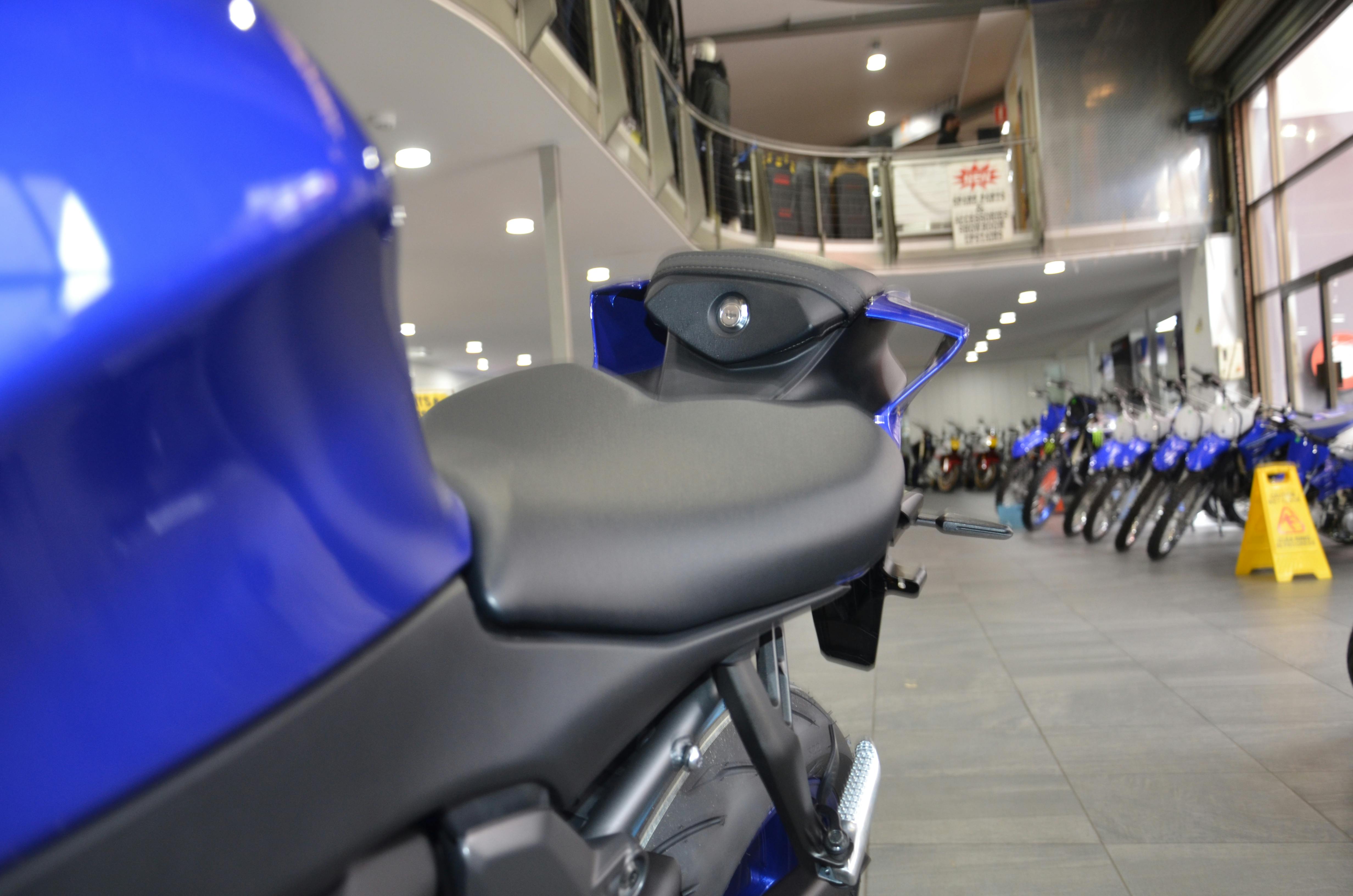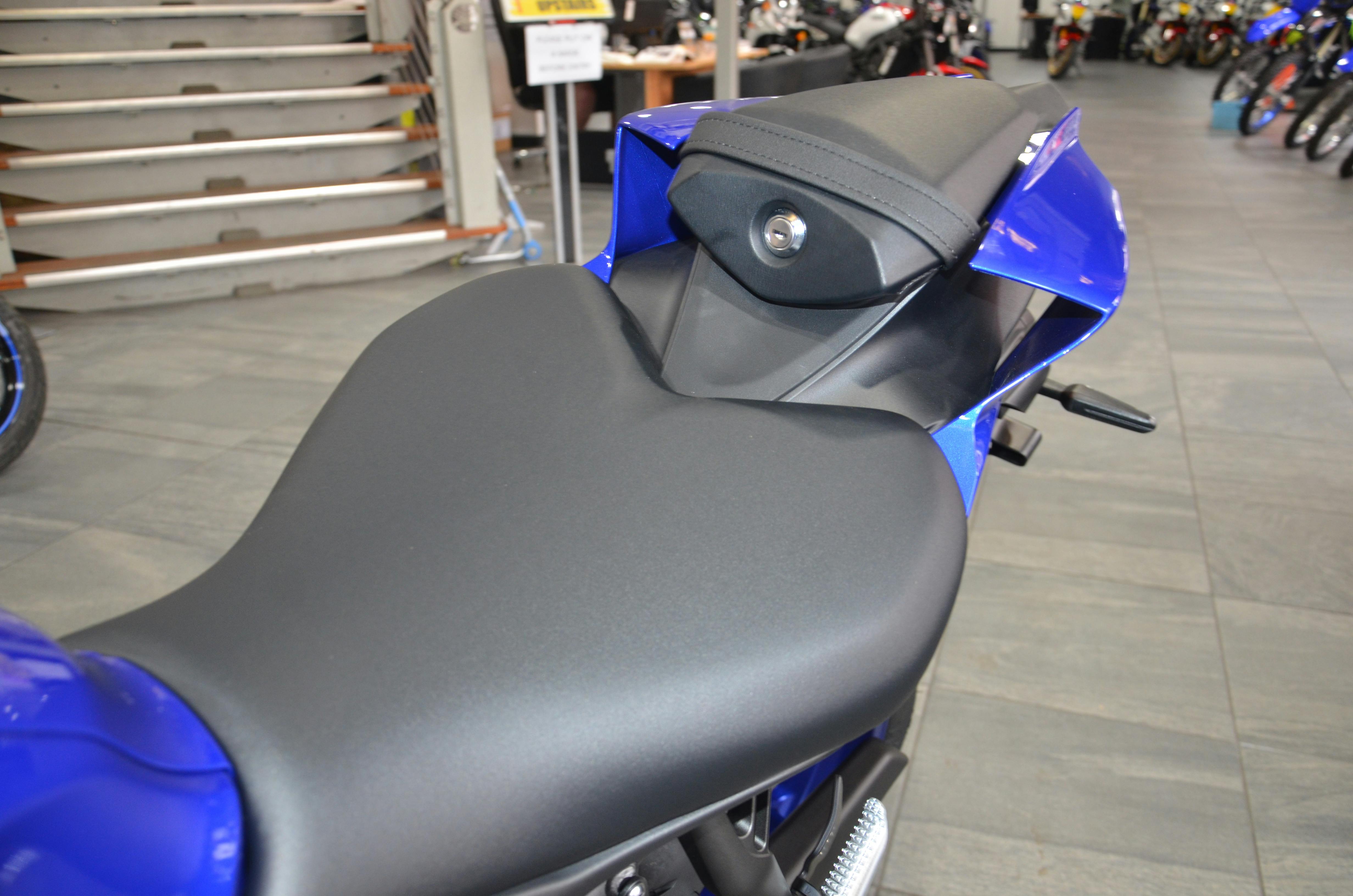 Let's talk about that engine. As anticipated, it's a 689cc CP2 crossplane parallel twin stolen from Yamaha's own naked MT-07, and proven bombproof over years of use in both the MT and the Tenere 700 adventure bike. Upgrades, tweaks, changes? Nope. Ride-by-wire? Nope. It's geared just a tad higher than its naked mate, but 56.4kW (74.8bhp) from a compact 270-degree crank mill with a faintly v-twin sound is what you get, and it's good. Great, even, but more about that later.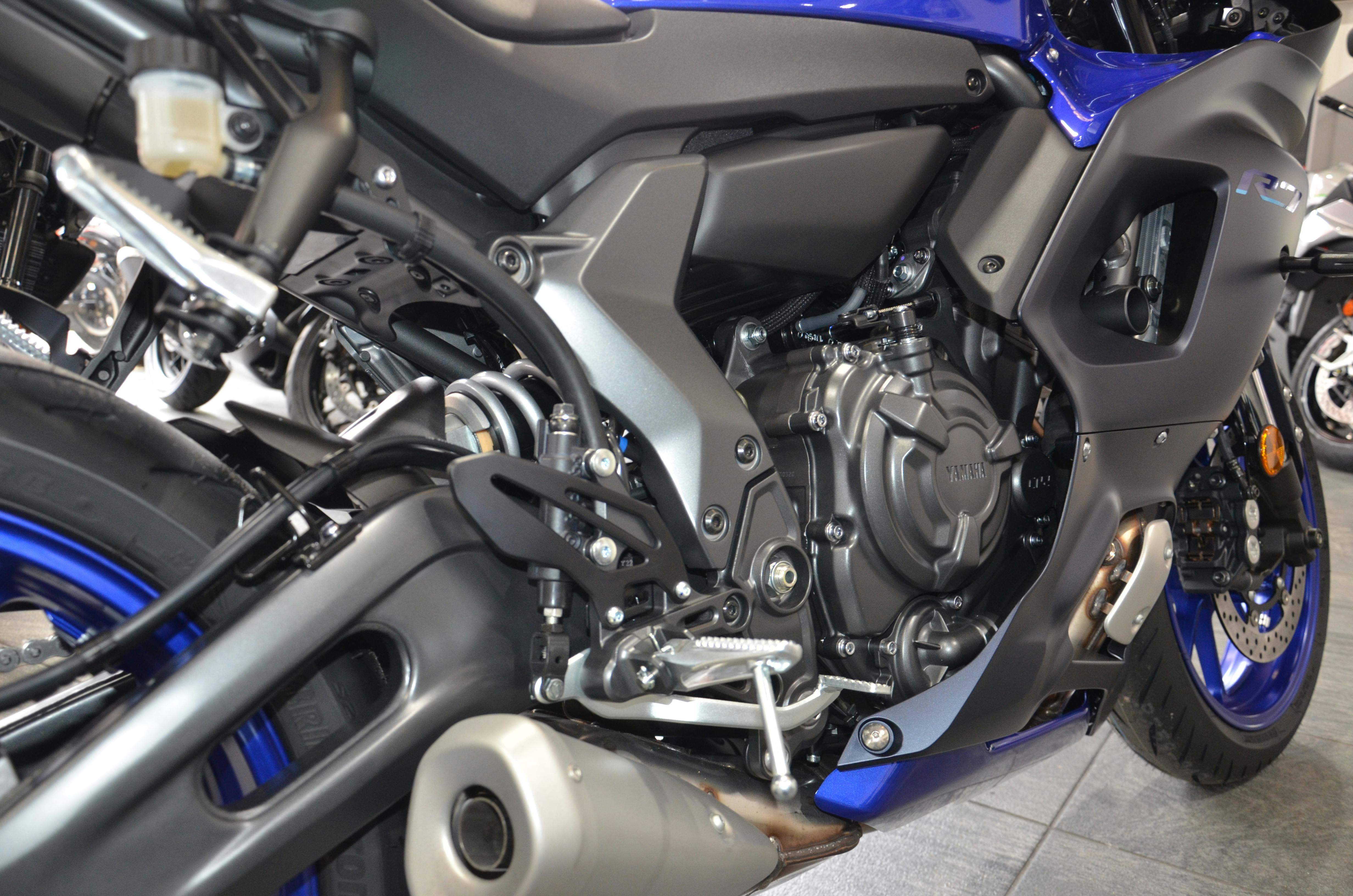 So…is this an MT-07 in a dress? Not at all.
The frame comprises steel tubes with aluminium braces to boost stiffness. The wheelbase is slightly shorter than the MT-07 and the steering angle sharper. Up front, adjustable KYB 41mm separate function forks sprout familiar 4-pot calipers that bite 298mm braking discs. Front master cylinder is a span- adjustable Brembo. ABS is standard. This is all sounding quite sports-bikey, isn't it? Rear shock runs a linkage and is adjustable for spring preload and rebound. Tyres measure 120 front, 180 rear and are quite tasty Bridgestone Battleax S22's.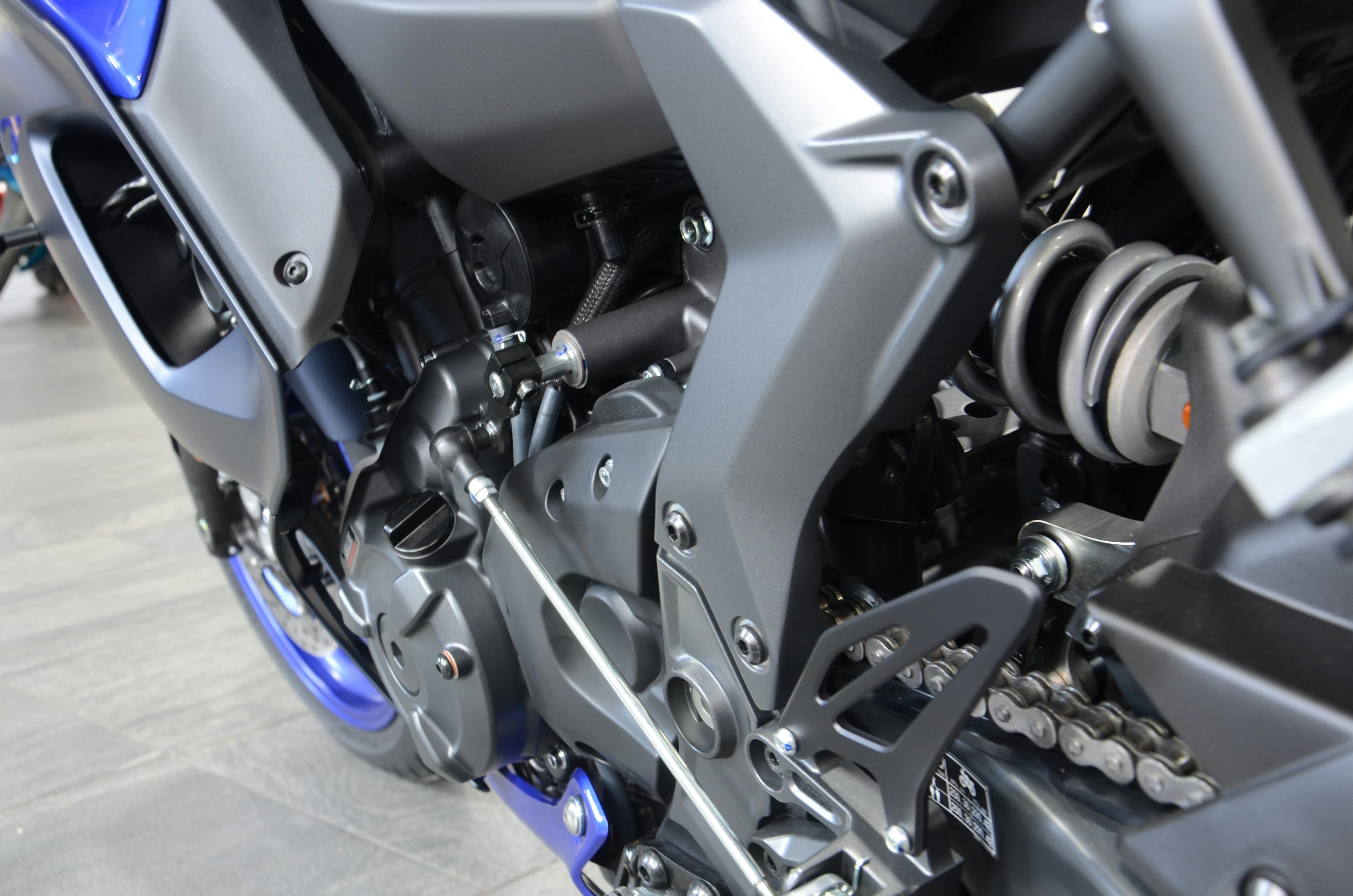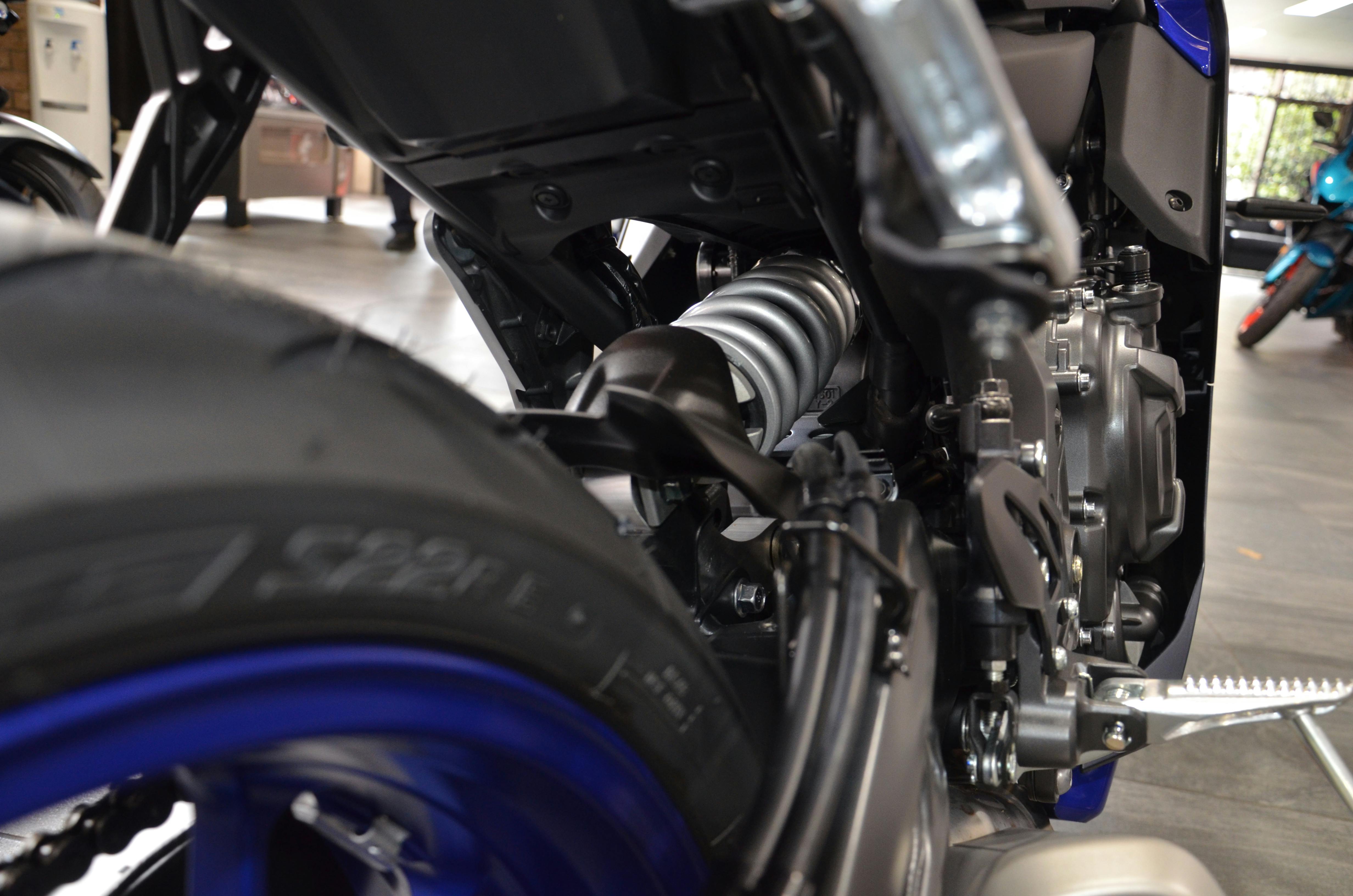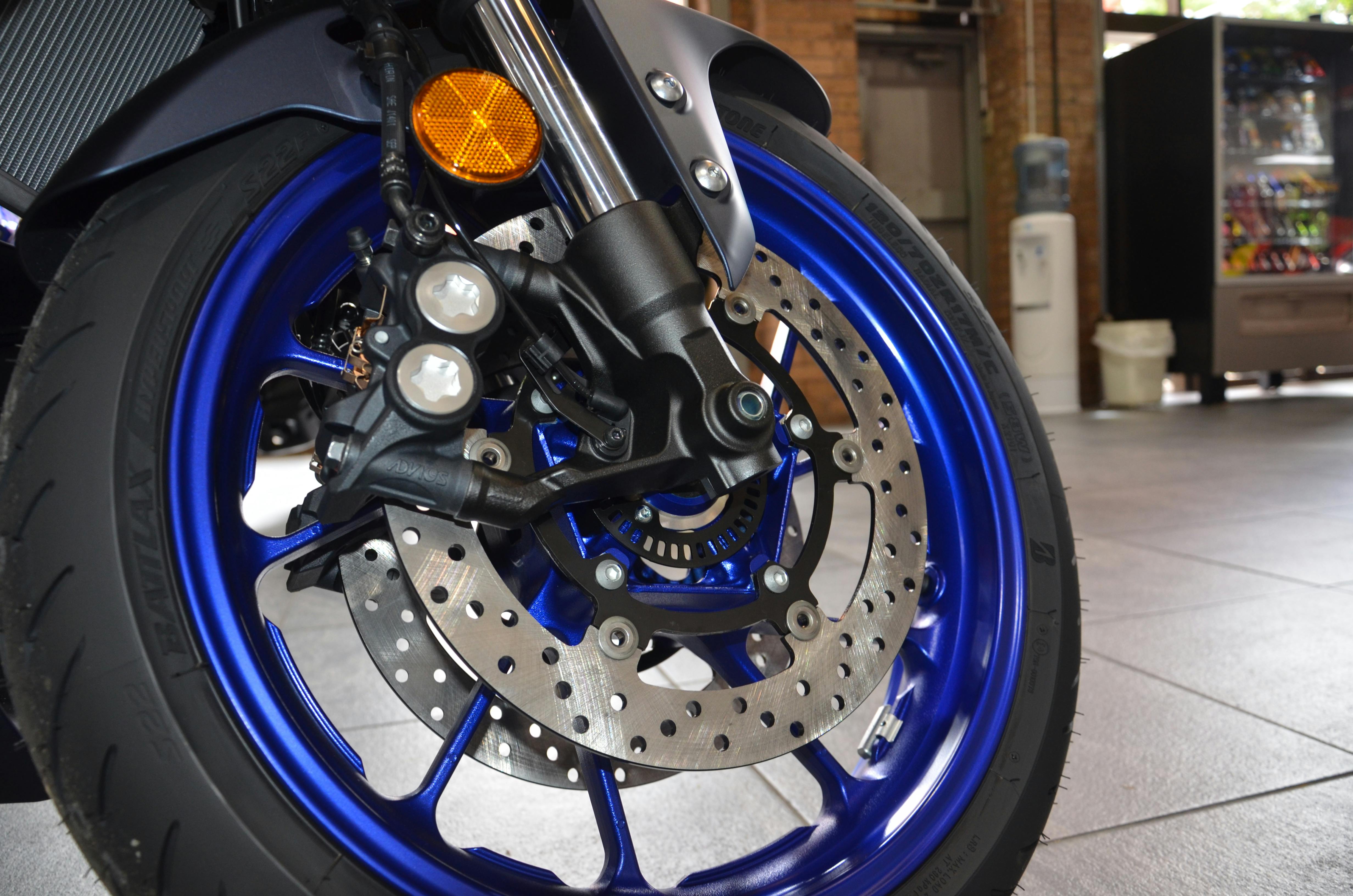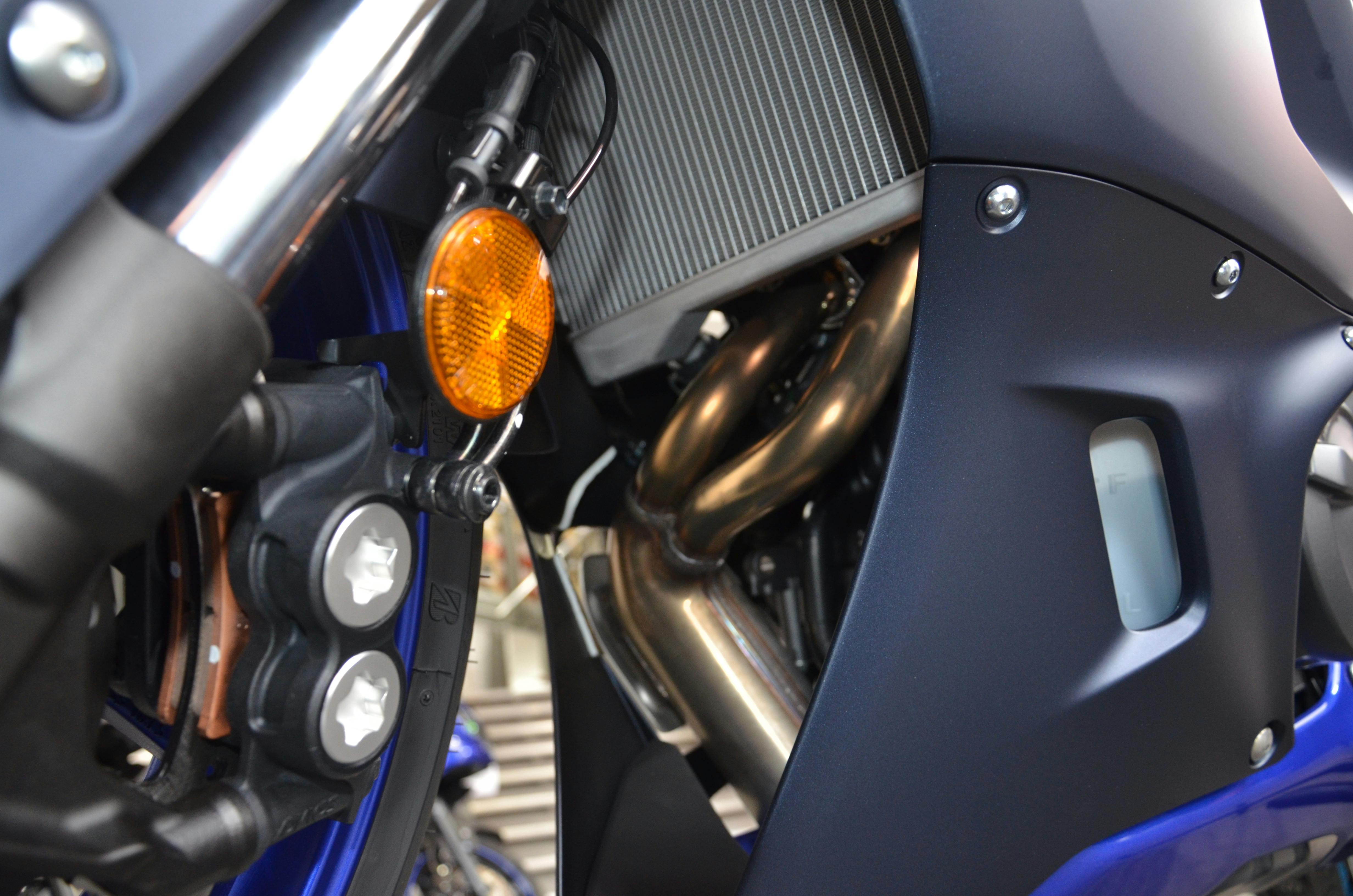 The overall look is small, sharp, slim and purposeful. It's narrow thanks in part to the compact CP2 engine. Sitting astride the bike reminds me of my beloved Triumph Daytona 675, but with less seat height, more comfort and wider handlebars.
The dash is compact, high contrast and 'negative'. Not to say it's pessimistic, but rather features white digits and numerals reversed out of a black background. There's a generously sized speed readout and a 'bar graph' type rev counter. Other info available includes a gear indicator, shift light, fuel gauge, trip meters, engine oil temperature, air temperature and the usual idiot lights. It's all easily scrolled through, selected and set using a simple 'reset/select' rocker on the left hand switchblock. It's big enough to easily be used on the fly while wearing gloves.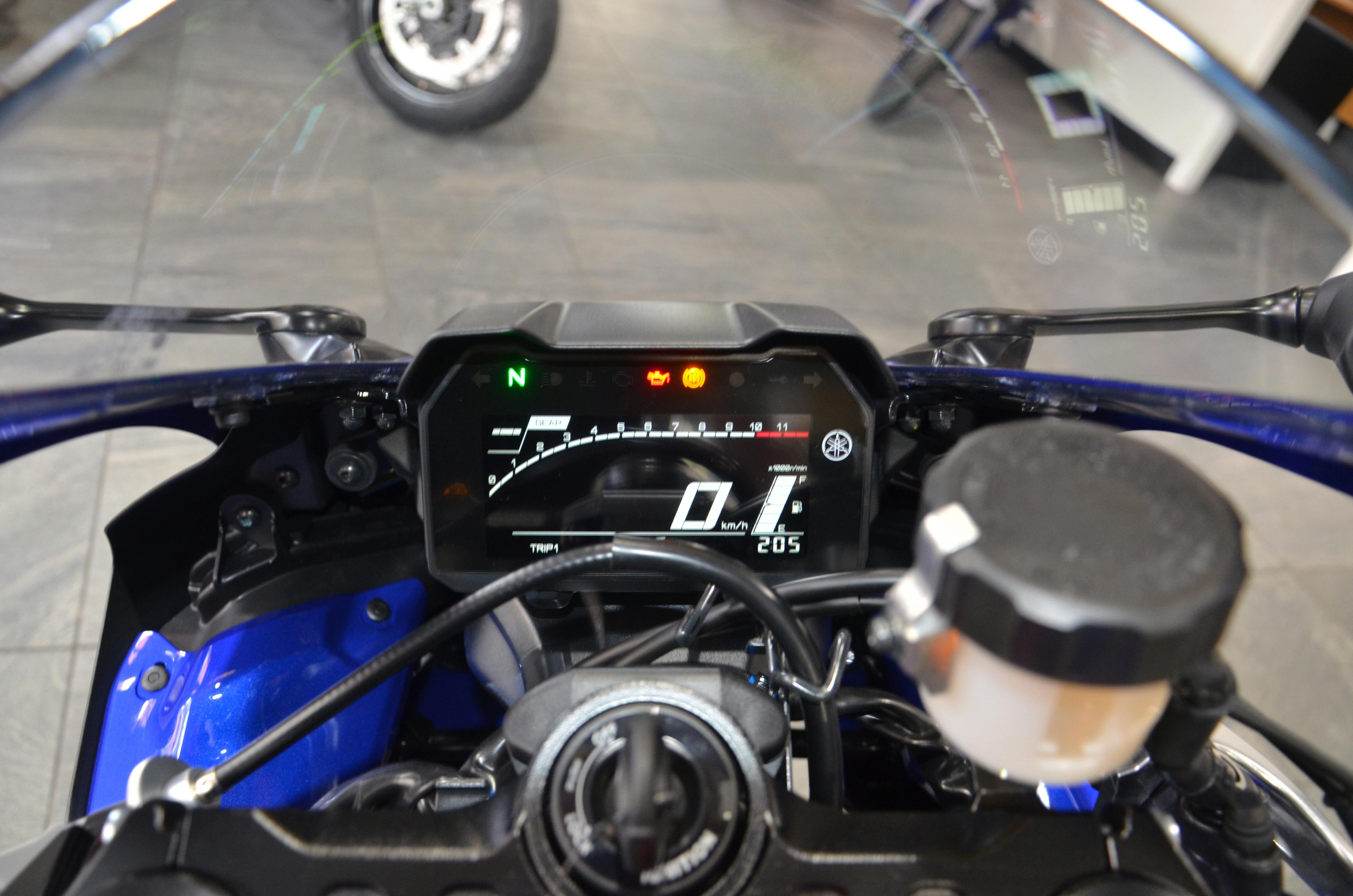 Let's ride! Hitting the hills on the new R7.
It's a perfect summer's morning as we prepare to set off, my Bikebiz sidekick Tom on the LAMS R7, myself on the full power 'HO' version. I punch the starter on the R7 and the CP2 twin burbles to life somewhat apologetically. Yamaha were taking no chances with the noise testing on this exhaust. Mind you, when you sign the papers it's not too hard to have an Akrapovic full system bolted on, is it? It's only money, and it'll save a heap of weight as well as freeing up a nice fruity note.
Our playground for today is the Mount Lofty Ranges that rise beyond Adelaide, home to some truly great twisty roads and very few long straights – perfect R7 territory then. Setting off, the soundtrack improves as the revs rise. Knees locked against the tank, there's an immediate 'plugged in' feeling to the bike, and turn-in is quick and precise. The cable-actuated clutch is light and the brakes are progressive and two-finger strong, as you'd expect from Brembo. Suspension as standard is comfortably compliant without any mushiness or 'rocking horse' weight transfer under acceleration, or on the brakes.
The R7 feels nimble and the handling familiar, tipping in easily and staying planted on the brakes. There's actually more weight on my wrists than I was expecting, but it's not extreme by any means. It's just a reminder of how this bike is meant to be ridden. And I get a gentle reminder of how it's not meant to be ridden when I break concentration and exit a tight left-hander a couple of gears higher than necessary. Lazily, I crank open the throttle without downshifting. There's no chug, the engine simply plonks forwards before really hitting its stride and taking off. Having expected the engine to bog pretty horribly, I'm pleasantly surprised. It's part of my job to induce horrible bogs to learn what an engine can cope with, but the little twin has simply pulled us out of the shit without complaint, and with no bogging at all.
Lesson learned, I spend some time riding the R7 more like a Harley than a sportsbike, shifting lazily and letting the engine pick up the slack. The mill doesn't mind a bit. Linear it might be, gutless it ain't. I suspect you could ride the bike this way every day, never go looking for top end power and be perfectly content. I make a mental note not to do this, because I am a ratbag and I always go looking for more top end. But content with progress thus far, Tom and I pull in to a favourite hills breakfast café and park up.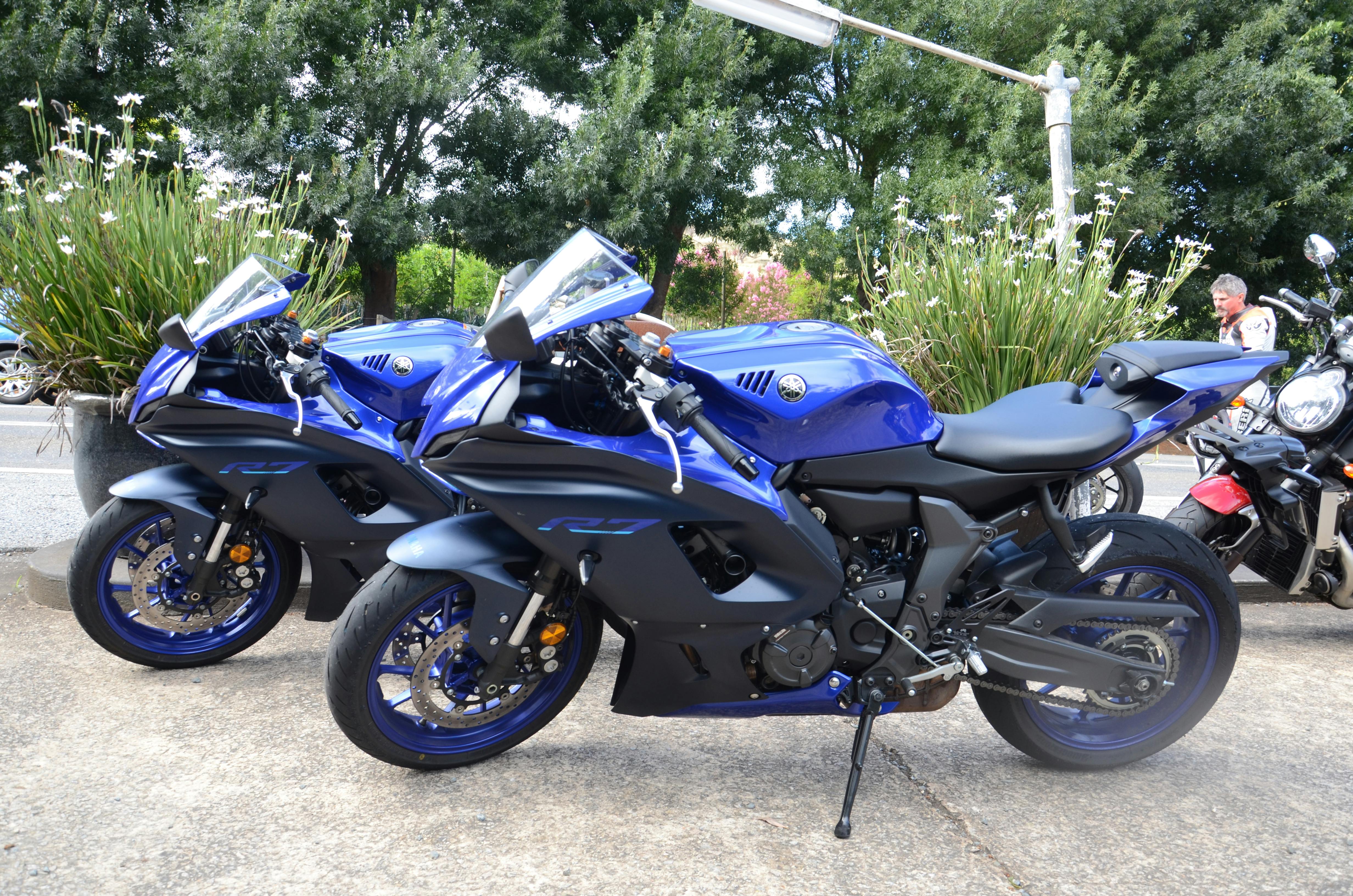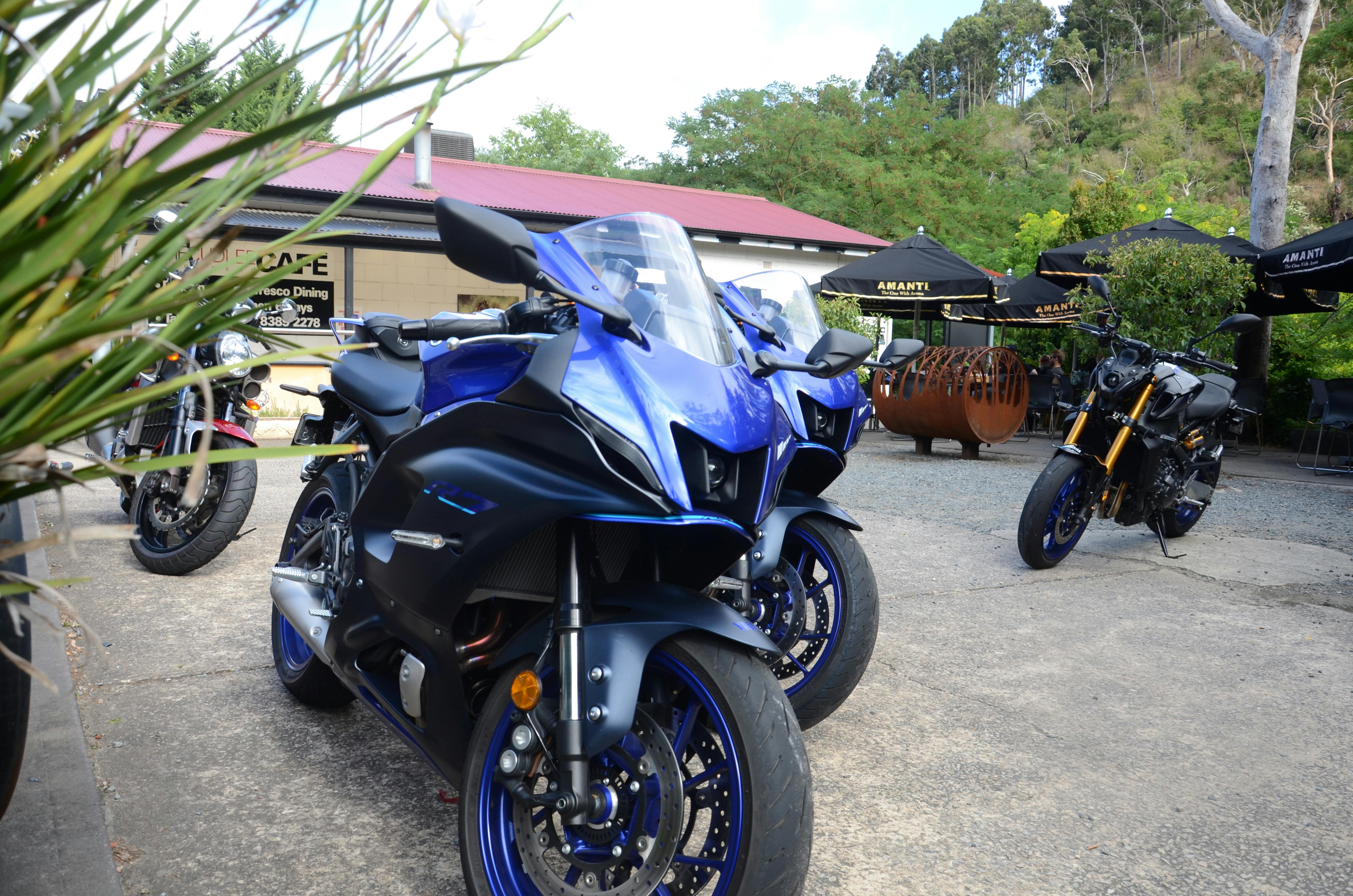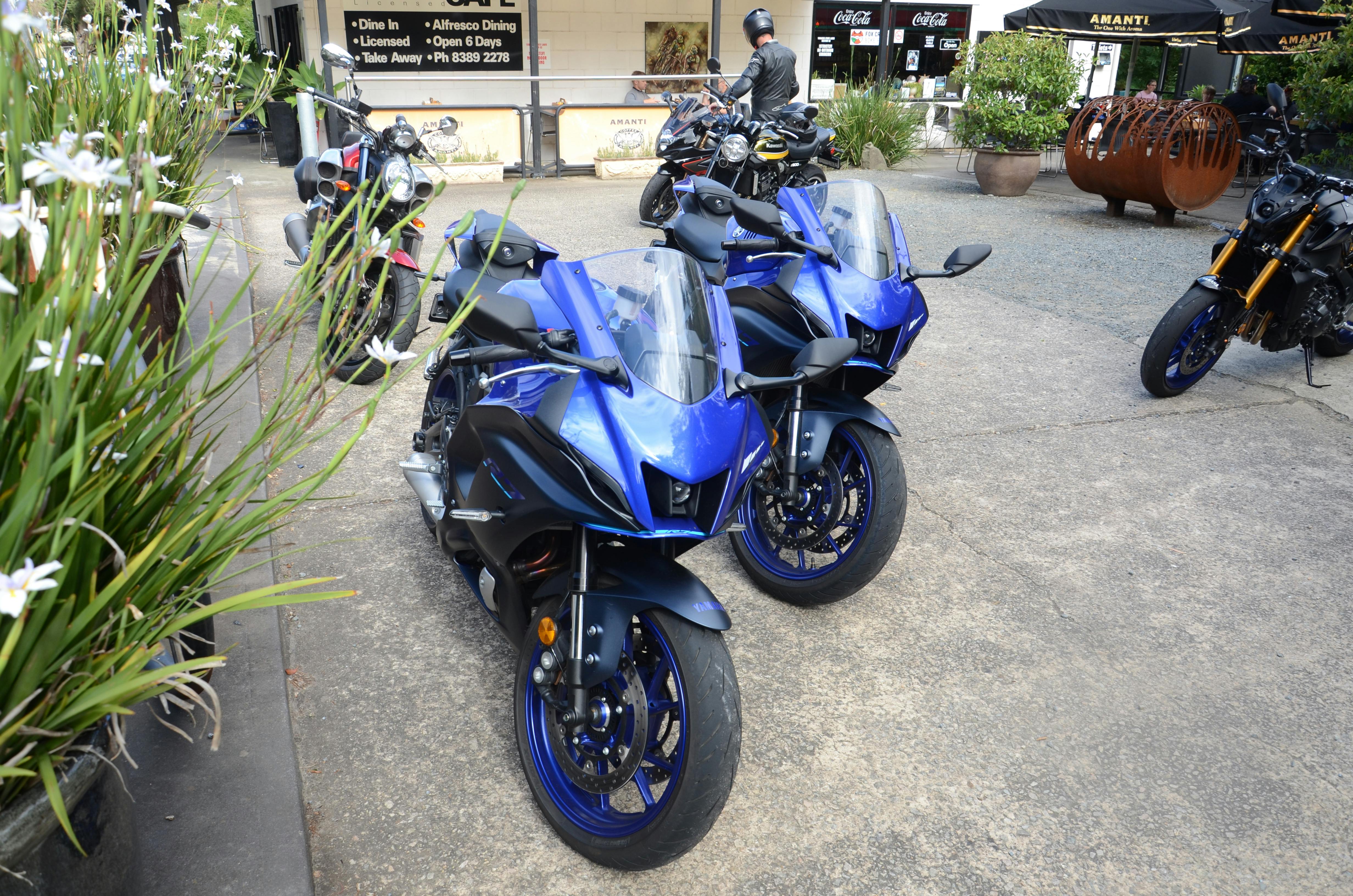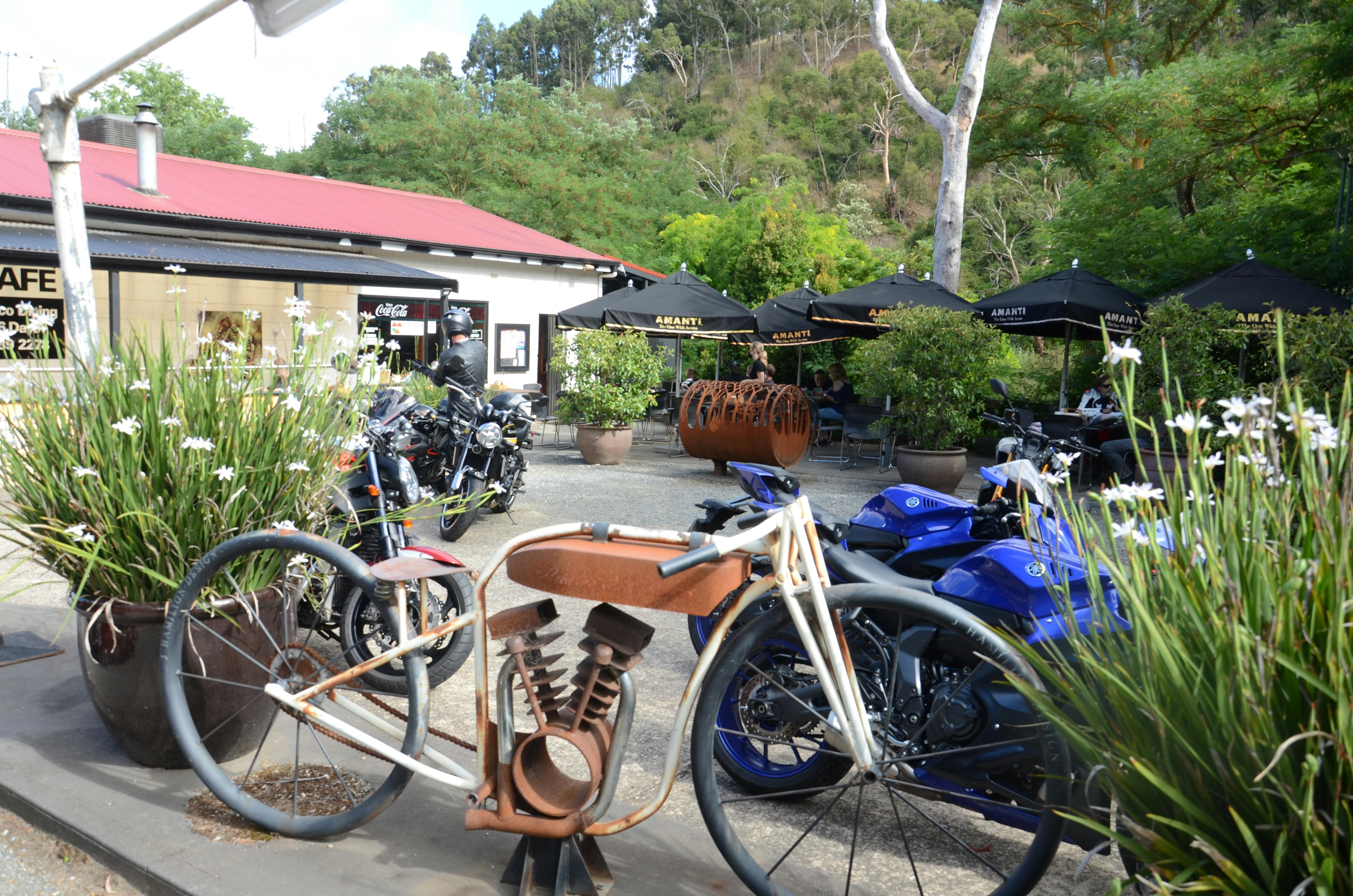 The two sparkling blue R7's immediately draw attention – something special at a spot where you're likely to see exotic bikes on any given day. Riders gather around. For me, what follows is a masterclass in preconceptions, established attitudes and polar opposites in bike-think. Pretty much everyone agrees that the R7's look bloody spectacular, but from here on, opinions are sharply split. Broadly, the younger crowd simply loves it. They want to sit on it, want to know about the engine, are eager to get a ride. There are questions about power, weight and all the usual sportsbike stuff, along with lots of questions about whether there is a LAMS version (yes, you're standing next to it…) and how to tell the LAMS bike from its full power brother at a glance (you can't). Many of the older riders are initially enthusiastic, but more hesitant after learning a few basic facts. Is it an inline 4? No. Is it meant to replace the old R6? Sort of. Does it make as much power as the old R6? No? Much head-scratching follows. If your mindset is that in order to be an improvement over previous models a bike must have more power, the new R7 represents something of a conundrum.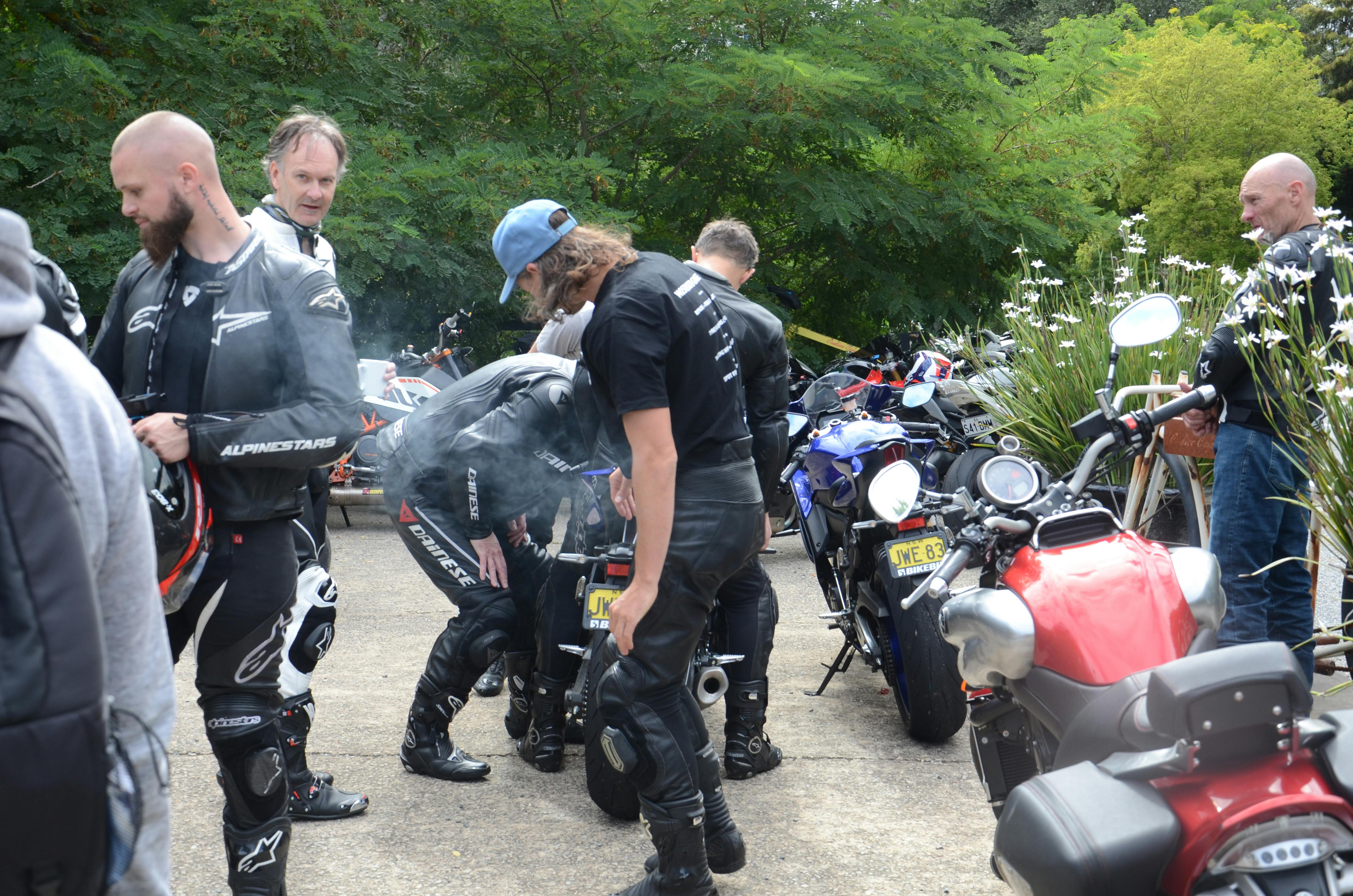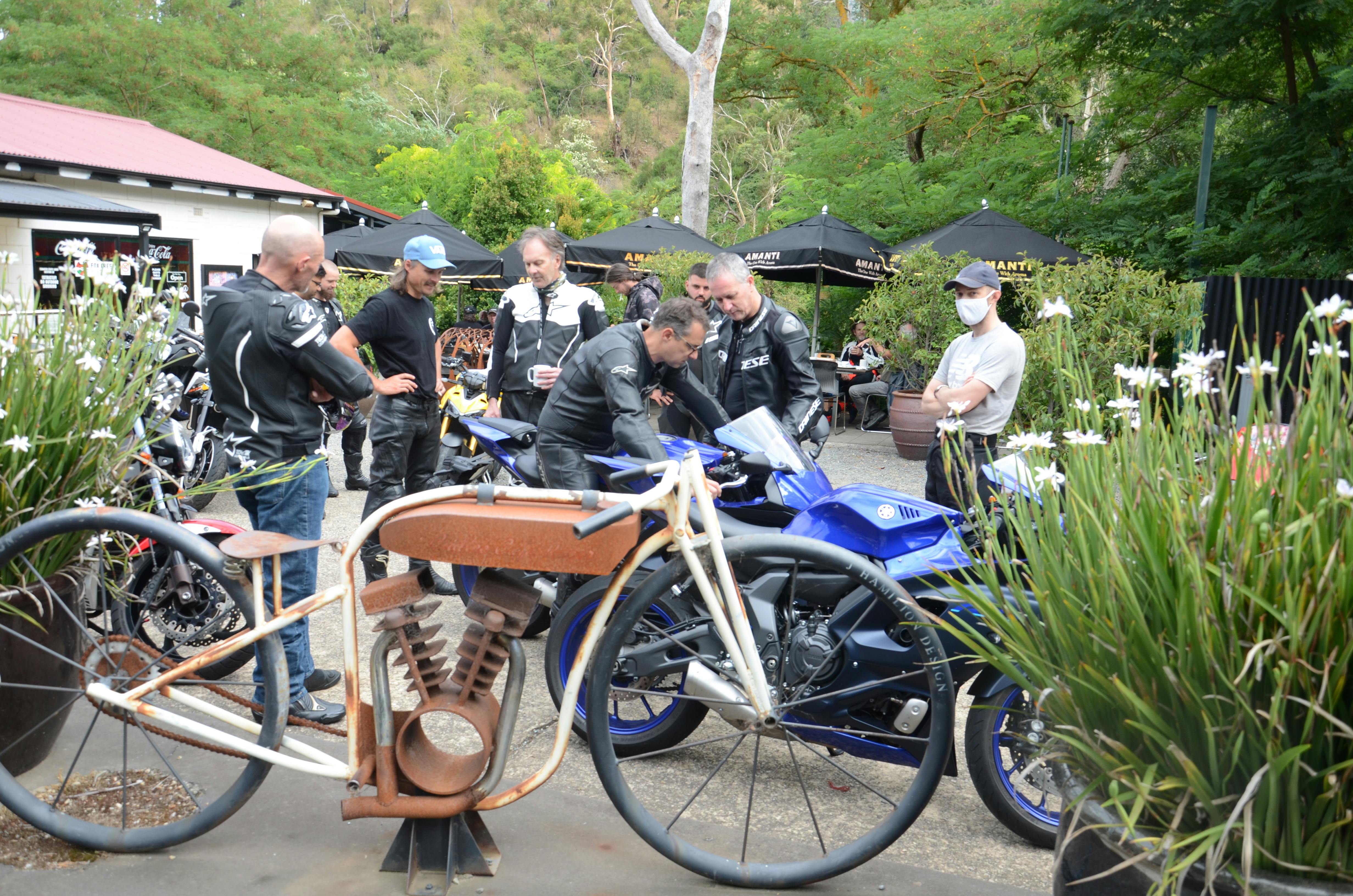 Leaving lively debate behind us and fuelled by breakfast rolls, Tom and I fire up the twin R7's and make for some more twisties. Having poked around in the torquey end of the pool earlier on, it's time to explore the upper reaches of the CP2 High Output engine. Upper reaches? It's all relative when the redline is drawn at 10,000rpm. But although close to linear, the torque curve of the R7 HO engine definitely has a step built into it as the revs rise. If lower rpms are where this mill is merely 'content', the zone after the torque-step is the engine's happy place. And mine. I'm reminded of the tricked-up engine in the 650 v-twin racer I used to ride, an engine that like this one, thrived on revs and pumped out lovely, elastic power. The delivery might be similar but the R7 has more punch, and a better transmission, too. The 6-speed is silky smooth from brand new, the ratios are spot-on and clutchless upshifts are perfect. Would I drop the extra bucks to upgrade to a quickshifter? Hell yes. That's small change for a feature that would make the ride even more fun.
It's worth taking a moment to appreciate Yam's effort to put decent rubber on the R7. The Bridgestone Battlax S22's are a statement of intent for this bike, offering loads of feel, great grip and a feeling of agility. Too often, makers compromise on tyres and put sub-par rubber on a capable bike. In this case, Yamaha's choice of excellent, sticky sports tyres demonstrates clearly how they believe this bike should be ridden.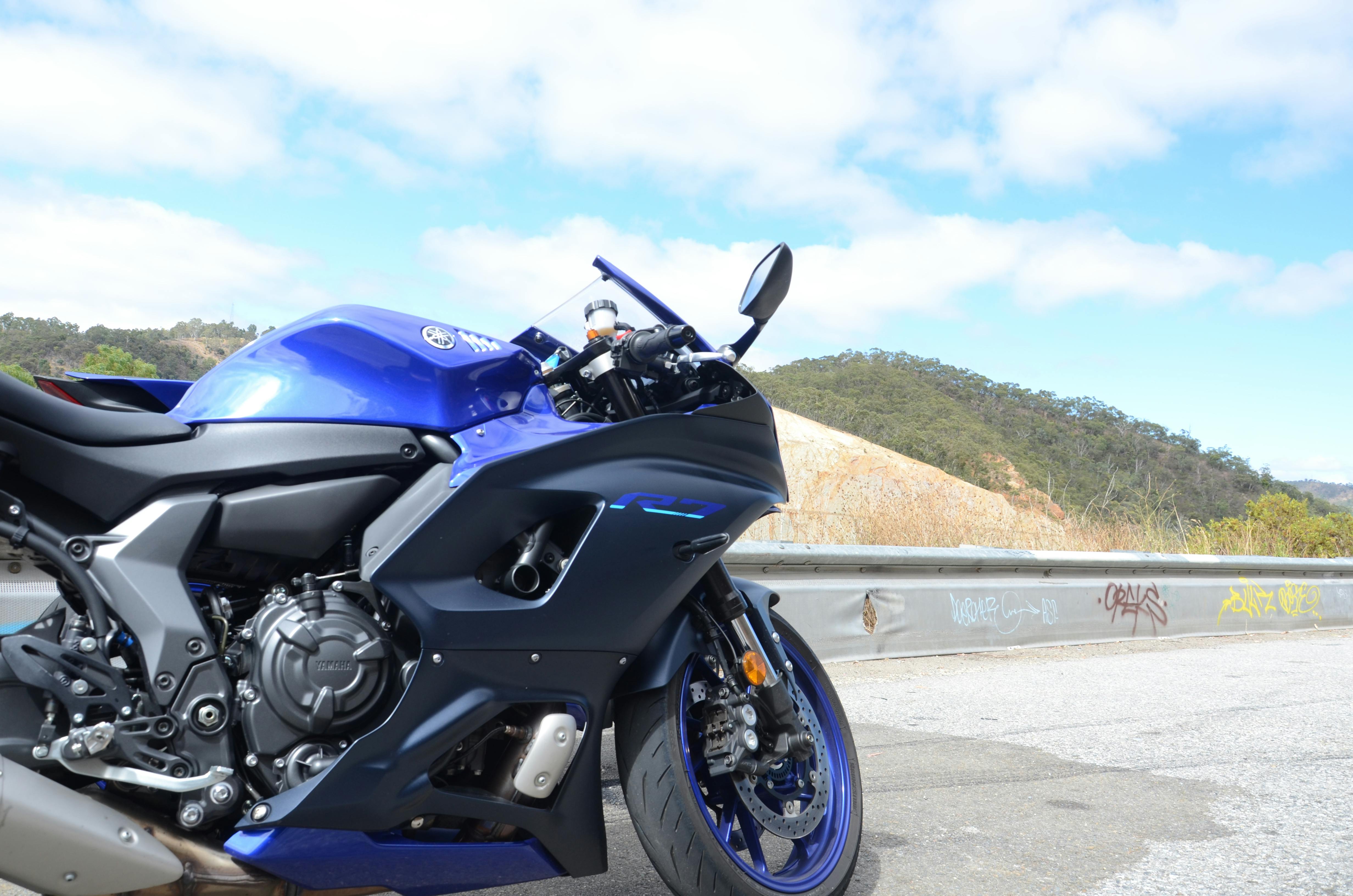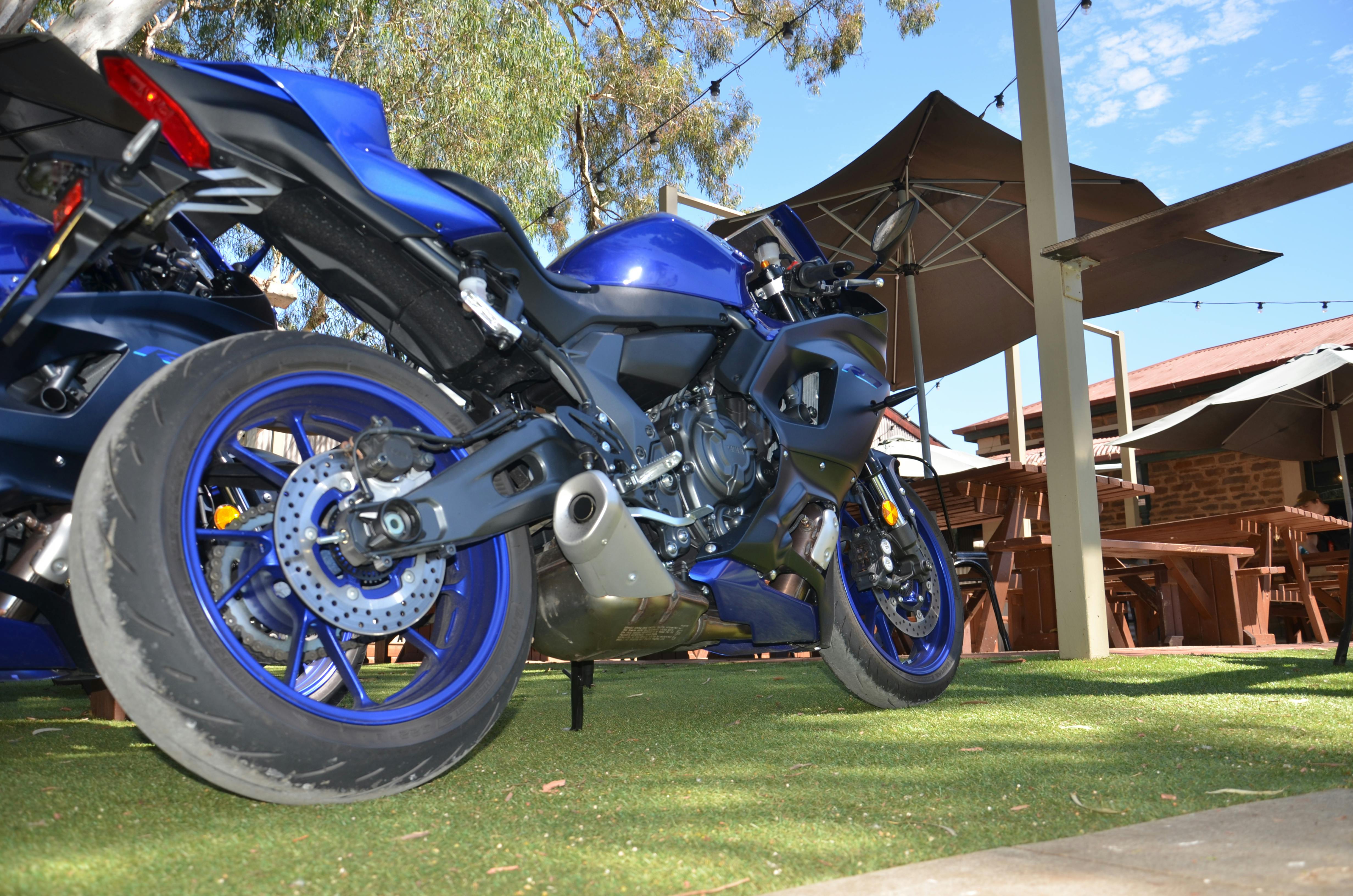 I get a lot of satisfaction from chasing down well-ridden, more powerful bikes on hills roads. To do it smoothly and safely is a joy, and the R7 is your willing accomplice in this kind of shenanigans. The 'safe' comes courtesy of the secure chassis feel and excellent brakes (the ABS is completely unobtrusive until you're right on the limit). The 'smooth' is an engine that stirs liveliness into its linearity, and always has drive on tap when you need it. Down low it will lug you out of your laziness, but wring its neck and it's a joy, punching out enough power to slingshot you out of turns, the whole package feeling planted. I barely noticed the standard slip-and-assist clutch, which is quite a recommendation. Ridden right, this is a peach of an engine working together with a sharp chassis that you quickly learn to trust.
It was during this section of the ride that the lights came on in my head and I really started to understand what this new bike is all about. And the more I rode it in the coming days, the clearer it became. Yamaha's 2022 R7 an antidote to the high-power arms race, a bike that offers all you need to get the job done if you just do your part. It's a sharp, capable, analogue machine. Enjoy a stellar ride on the R7 and you'll never be left wondering whether it was you or the electronics responsible for the heroics. Most of all, it's fun, and isn't that what this riding lark is all about?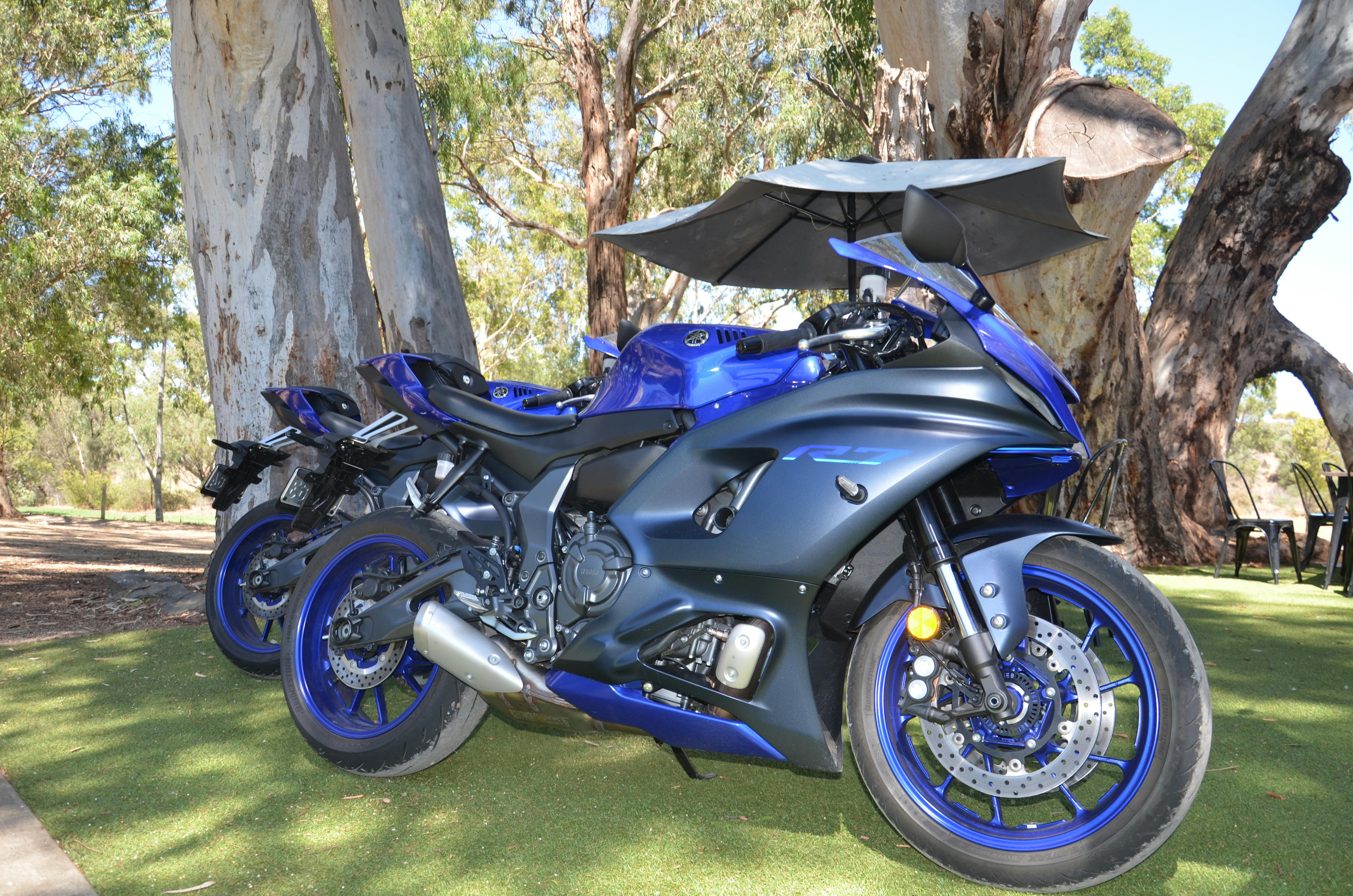 If the roads you ride are twisting and technical, and you're not convinced that enormous power and tech are necessary in order to have fun, I suspect you're going to love the new R7.
What's worth noting is that the whole time I was thrashing the toots off the full power R7, Tom was never far behind on the LAMS R7. But more on that later.
Open road riding on the R7
While the twisties are the R7's natural environment, most riders need to stretch to some highway riding from time to time and this is traditionally where sportsbikes suck. To get our heads around the situation, we set out from Adelaide to the Barossa Valley. The journey is all very well, but it's good to have a nice destination, too…
The R7 hums along nicely at highway speed, the engine smoother than it has any right to be. At 100kph the tacho reads around 5,000rpm. Vibes are minimal. There's plenty of power for overtaking. The seat is surprisingly comfortable, apparently borrowing its plush secrets from big brother R1. The mirrors are functional and clear with just a hint of shimmering at a couple spots in the rev range. But whether you want to do this for hours on end will largely come down to your patience and stature. If you are north of 6 feet tall, like me, wind blast over the small screen can be annoying. How flexy are you? Because again, if you're quite tall, you'll find there's quite a bend in your knees. None of this is an issue when you're clambering all over the bike on curvy roads, but droning along the highway it's not ideal. On the upside, the same wind blast that creates a bit of noise and buffeting also helps lift pressure off your wrists.
If you're doing any sort of distance, having an idea of realistic fuel range is always nice. It took us 200 kilometres of sporty riding to go from a brimming 13-litre tank to a flashing 'low fuel' light. Not bad.
Comfort is contextual. I've ridden a GSXR750 from Phillip Island to Adelaide (a touch under 1,000 kays) in one hit without any gripes, and I'd place the new R7 in a similar comfort zone. If you can tolerate sportsbike levels of comfort and you don't have to duck to walk through doors, I suspect you're going to be okay on this bike.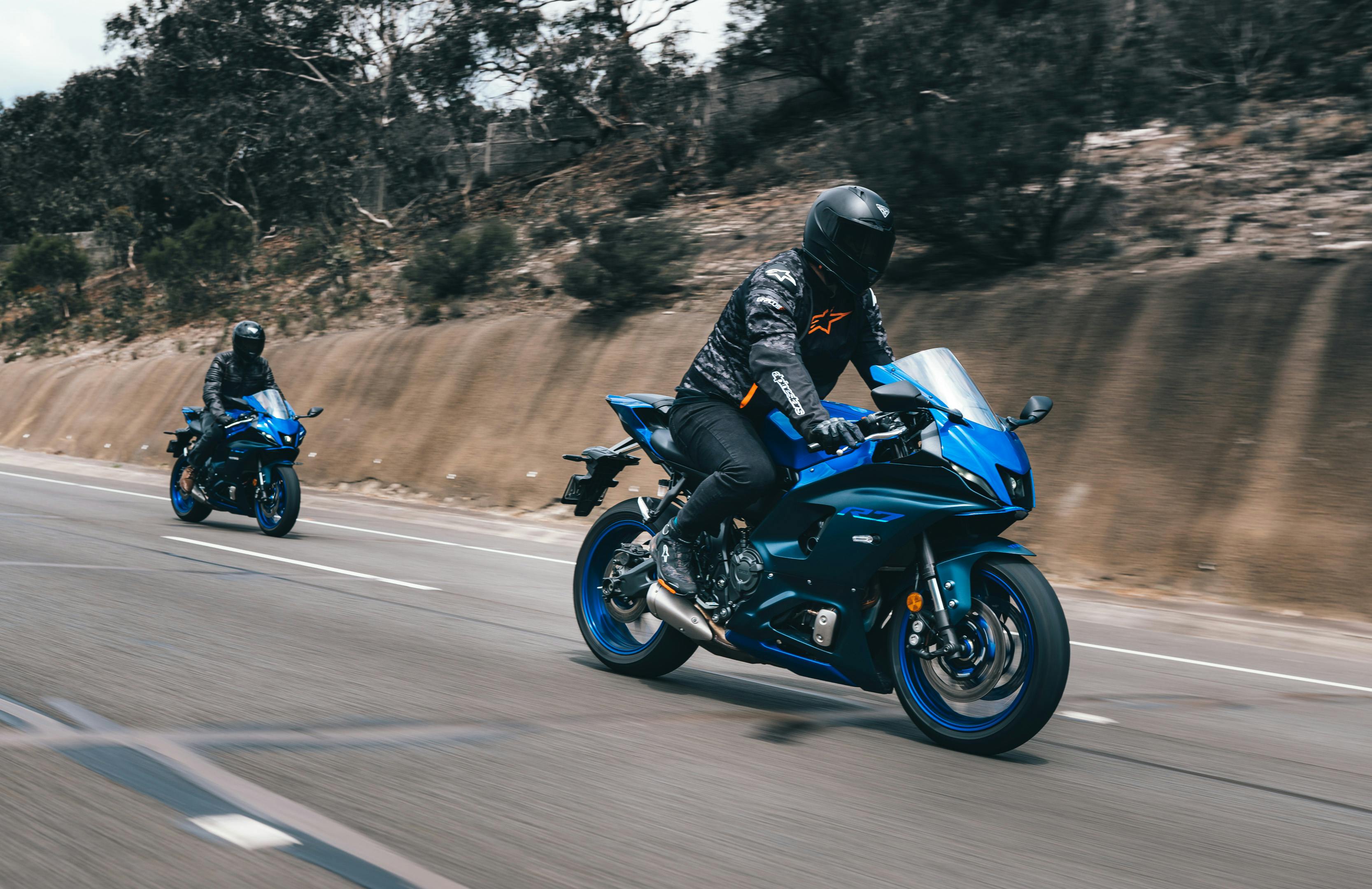 Practically speaking…city and commuting
Having established that the R7 is a hugely satisfying ride on curvy and challenging roads, we set out to discover how it – and you – might cope more mundane offerings. After all, it's not everyone who can afford to lay down cash for something that's purely a toy. So how does Yamaha's new baby stack up as a transport option for getting to work or just going to the shops? Here's a quick word from our riders:
The thoughts of Tom
" At 5'11" I really don't have any serious complaints about the R7 for city riding. It's a natural fit for me, comfortable enough by sportsbike standards and not too tall – getting my feet flat on the ground is easy. It copes just fine with stop-start city traffic, but when the going gets tight the turning radius could be better. There's zero luggage capacity under the pillion seat so if you want to carry anything bigger than a Mars bar, you'll need a backpack."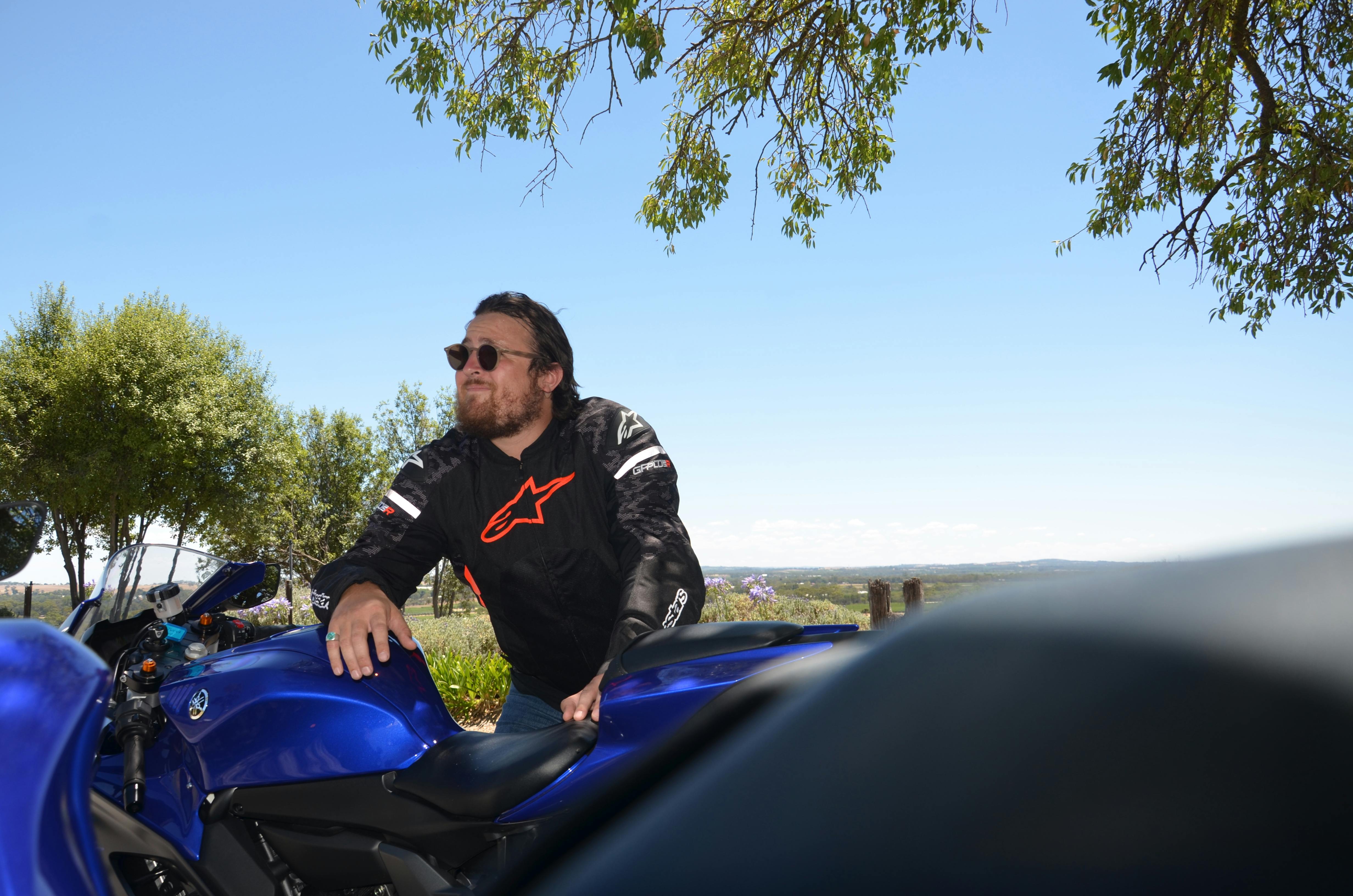 Kym chimes in
"I'm 189cm (6' 2") so most sportsbikes are a bit of a squeeze for me and the R7 is no better or worse than others. Now and then I find that the top row of lights on the dash are obscured by the plastic lip that's designed to shade the display. My knees don't quite fit into the fairing sculpting, but it's not really a drama on short rides. The turning radius is wider than I'd like, but I've ridden worse. Also, the bike is nice and narrow so lane filtering is a snap."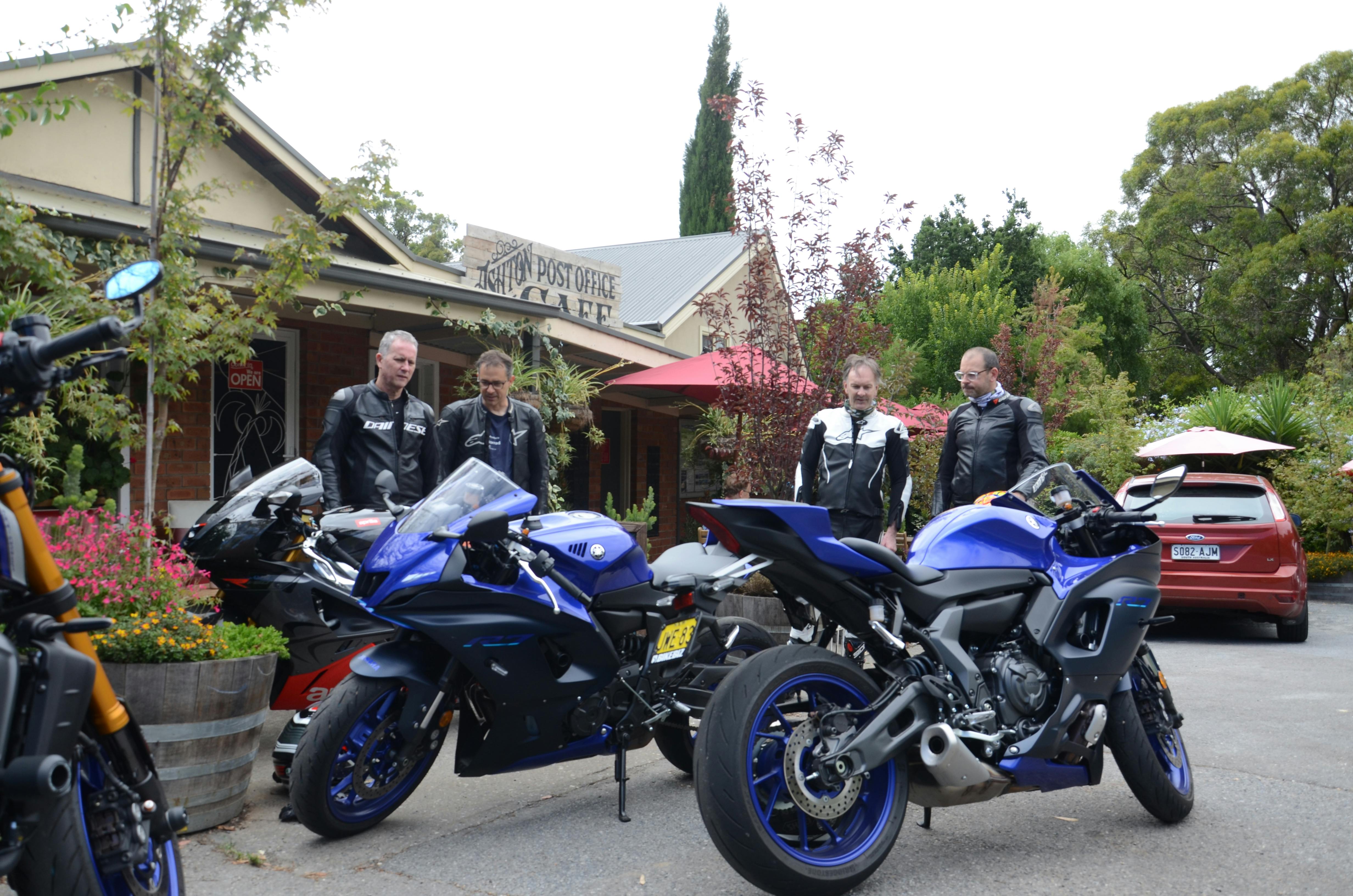 An eye on the competition
If ever there was a bike that needed to be viewed in context, the R7 is it. So where in the market does it fit, and how does it stack up to the competition? To do justice to this exercise, we need to dip into a comparable range of motorcycles and run through a quick paper shootout of basic specs and costs. So let's assume that we're looking at fully faired, small-to-mid capacity sporty twins.
The Kawasaki Ninja 400 is LAMS approved and weighs just 168kg. Power is 36kW/49bhp. Although it's a crowd favourite, compared to the R7 you're going to miss those extra 289cc (although the LAMS R7 only offers an extra 255cc…) and feel short-changed on chassis, suspension and brakes, too. That said, it comes in at well under 10 grand.
The Kawasaki Ninja 650 is also LAMS approved and seems a more natural competitor for the R7. Power is 50.2kW/67bhp. It's 4kg porkier than the R7 and again the chassis, suspension and brakes are of significantly lower spec. Expect to pay just north of $12K.
Honda's CBR500 is LAMS approved and packing 471cc. Power is 35kW/46bhp. USD Big Piston forks and radial brakes deliver some proper spec, as does the Pro Link rear suspension. The Honda looks the part and comes in at under $11K.
The Aprilia RS660 is available in both full power and LAMS versions and packs a high spec 659cc twin in a package weighing just 183kg. The full power model delivers a hefty 73kW/95 bhp. Suspension, brakes and chassis are all top spec, starting with a full alloy chassis. There's a full APRC electronics package, standard quickshifter and much more. Arguably the performance contender in this class, you'll pay something close to $20K to get onboard.
If LAMS compliance matters to you, you'll find the full review of the LAMS R7 here. In the meantime, at $15,049 for the full power (HO) R7, this is looking very much like a two horse race. Why?
Sports riders are often willing to pay a little extra for meaningful performance and specs. While the offerings here from Kawasaki are significantly cheaper, the spec is much lower. The Honda? It's also cheaper and the spec is decent, but at 46bhp you're missing over 20 horses compared to the full power R7. So you're left to make a decision based mostly on how much value you place on power, and which looks best in your opinion.
The Aprilia is a wildcard. The people at Noale have interpreted the changing sportsbike market similarly to Yamaha…then gone to lunch and decided that money is no object. As a result the bike is a powerhouse in its capacity range, festooned with high spec features and electronics. But you can't help feeling it's still part of the arms race. You just have to ask yourself whether you're willing to shell out an extra $5K or so for its extra features and a dose of Italian flair.
Parting thoughts
If you're hung up on thinking that Yamaha's R bikes should be howling inline fours and that there's no such thing as a step forward without an extra 10bhp, look away now. The world has changed, and it changed because riders were ready for something new and had stopped buying 600cc inline fours.
Bold prediction – Yamaha's new R7 is going to be a runaway success. The motorcycling world is ripe for what it represents, which is a fast, accessible, bargain priced sportsbike. Yes, it's a real sportsbike – sharp, nimble and bloody quick on tight, challenging roads. For people first dipping their toe into sports riding it's a bike that will do everything you want, from bumping wheelies off road reflectors to dragging your knee through the turns. For veterans with enough nous to know that life doesn't begin at 200kph, it's a satisfying and rewarding ride, time after time. And it's $15K. And it's a genuinely beautiful bike.
Have a look, get a ride and you'll come away grinning. The arms race is over, and by opting out of the bullshit, we've finally won.
Favourite bits
Gorgeous looks. Sharp handling with plenty of adjustability. Light controls, awesome Brembo brakes. A flexible engine that has enough of everything and loves to be thrashed. An unusually comfy seat. A clear dash that's easy to use without reading a 40-page instruction manual.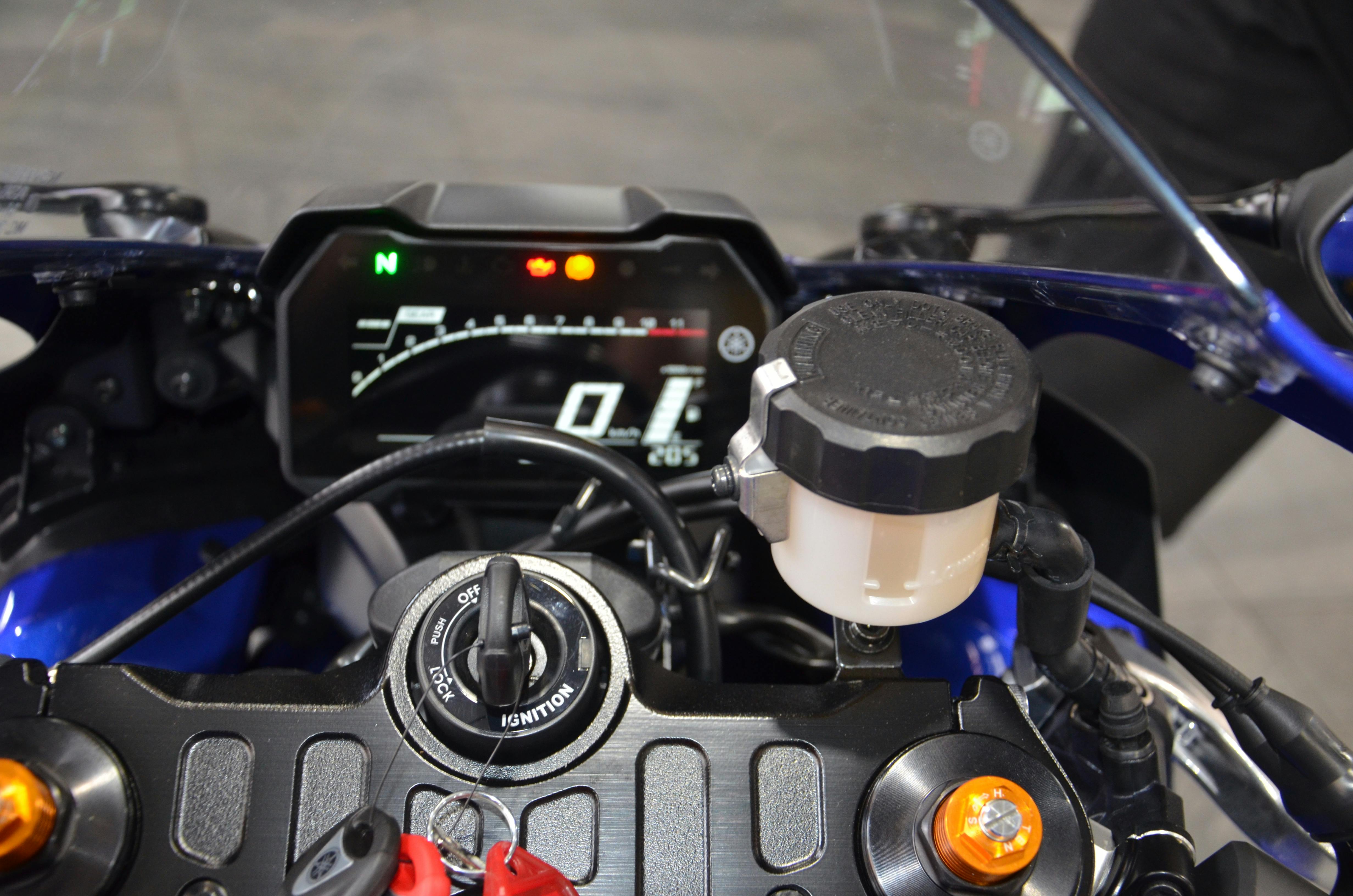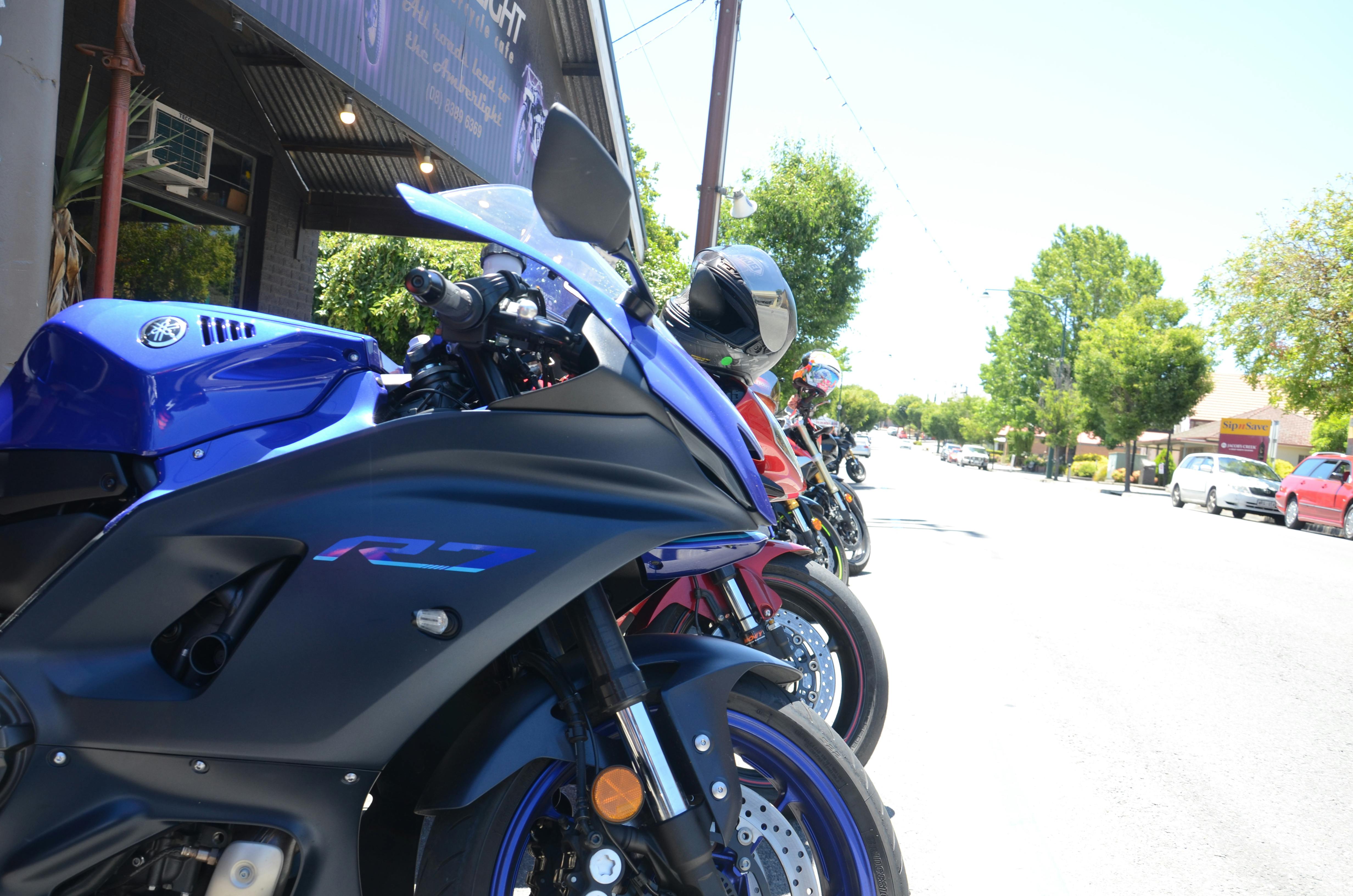 What gave us the shits
Pillion pad that removes easily…to reveal enough room for one Mars Bar. Rider's seat fiddly to remove with plastic push pins and two Allen screws. Steel shift and gear levers rather than alloy. And that's about it.
YOUR TEST PILOTS
Tom Condon is a lifetime bike enthusiast and a man of contrasts, passionate about his Harleys but mad about two-strokes, too. Especially old, quirky two strokes with a bit of character and patina. A trackday veteran, Tom loves both the mechanical and social side of motorcycling. He owns an embarrassing number of small Japanese bikes and a handful of very large American motorcycles.
Kym Liebig grew up thrashing mini bikes on a country orchard. A former riding instructor, his racing experience includes 'making up the numbers' in the 650 twin class and getting his knee down while dressed in a santa suit.
He is a ceaseless mechanical tinkerer, fixer and modifier of bikes.