The Barton waxed cotton jacket by Merlin
Conjuring up an alternative 
Waxed what now?
If you've never heard of waxed cotton, you're excused – it's not something you see every day. The short explanation is that as the name suggests, it's a heavy cotton material treated with a special wax that renders it waterproof at best and, at the very least, water-resistant.
It is peculiar stuff, and I bloody love it.
Waxed cotton has a characteristic look, feel and even a faint smell. Unlike Cordura, it ages in a distinctive way, the look of the fabric subtly changing as time goes by. It's an 'old school' fabric that is effective, a bit left-field, and thus attracts hipsters like moths to a flame. But enough about the fabric, let's get into the jacket itself...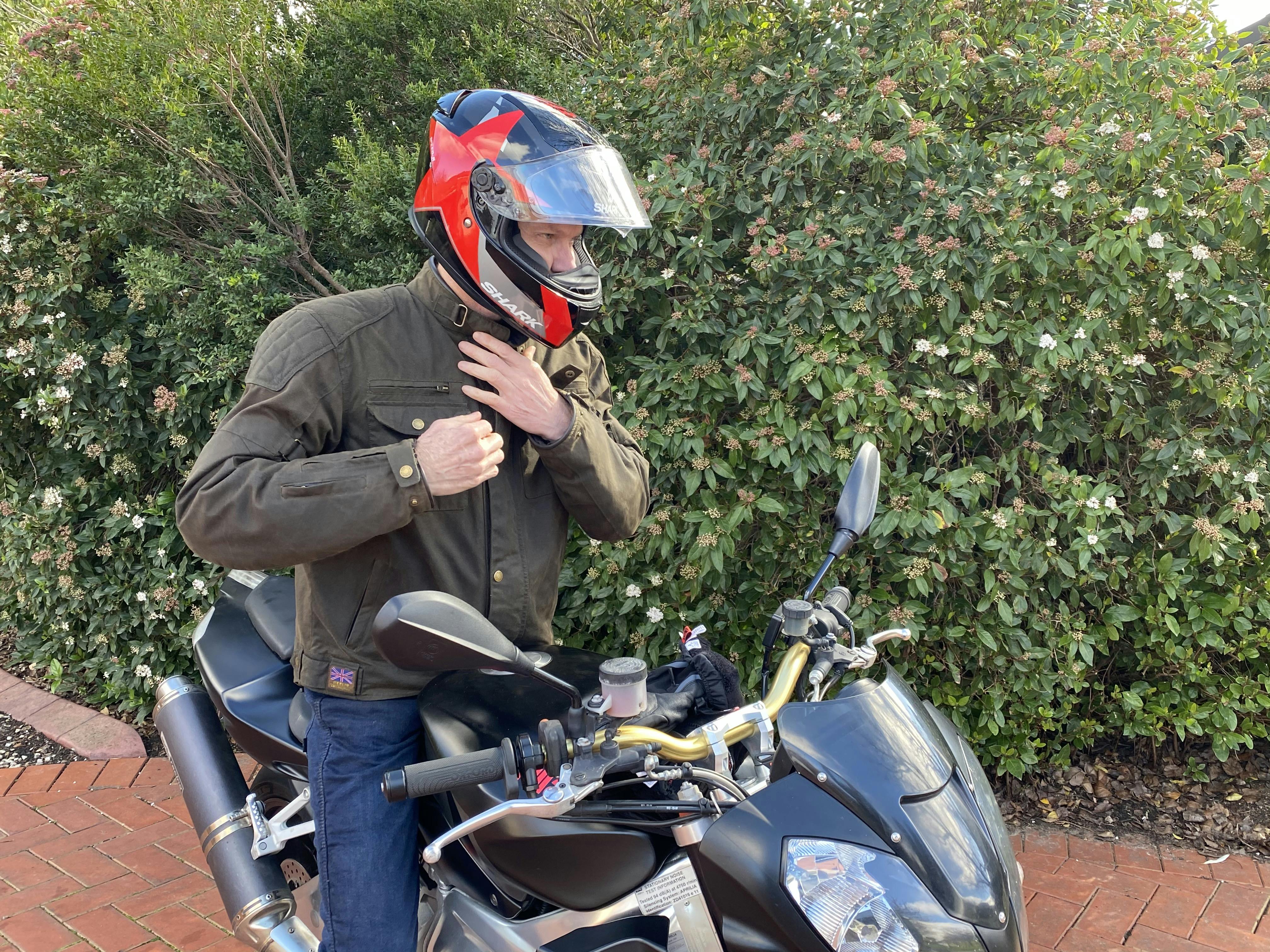 The Barton jacket doesn't shout, but details like the tiny Union Jack lend subtle cool to a timeless heritage design. 
Belt and braces – the British approach to bike gear
Taking a first look at the jacket when it arrived from Bikebiz, it became obvious that Merlin are a British company and they're at great pains to let you know. I counted at least three little Union Jack flags sewn into the jacket, and the lining proudly features tartan panels by Marton Mills, who sure sound important. It's all very Cool Britannia, but what comforts me is that nobody suffers wet, miserable weather like the Brits, and this jacket demonstrates very well that they know exactly how to cope with it.
The Barton is a short length jacket. Sandwiched between the waxed cotton shell and a soft fabric liner is a breathable, waterproof Reissa lining. Finally, there's a quilted, removable full-body thermal liner adorned with the aforementioned tartan panels. So that's 'warm' and 'waterproof' covered.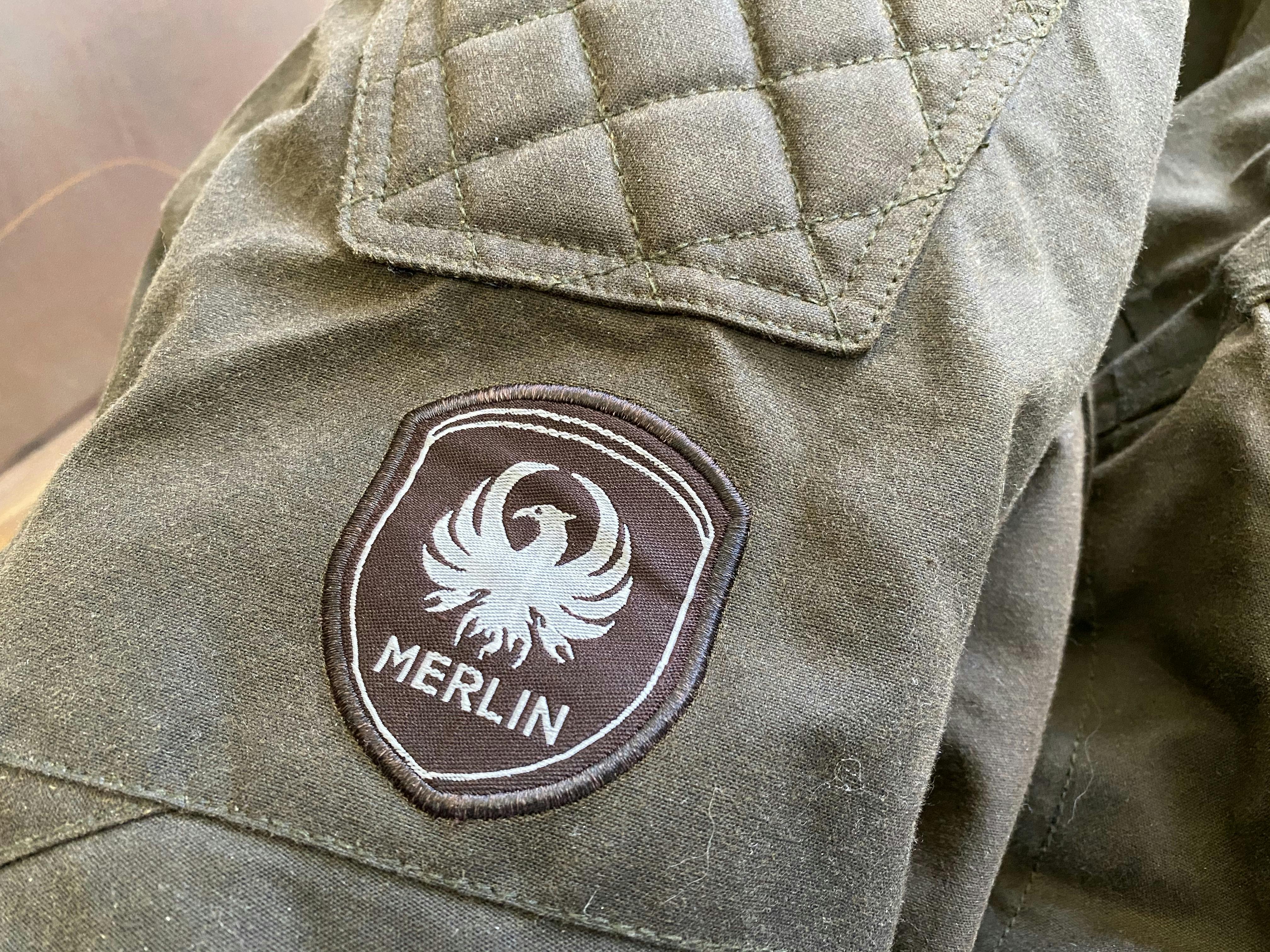 Shoulder quilting detail and understated branding add to the heritage feel.
There's Euro certified soft armour in the elbows and shoulders, as well as soft armour in a rear pocket to help protect your back. The fit of the waist, cuffs, biceps and collar are all adjustable, either with decent quality pop studs or Velcro. There's soft leather trim on the collar and cuffs that does away with the problem of scratchy stitching chafing away as the kays go by. There's zippered venting at the chest that flows through to 'exhaust' vents at the back, over the rider's shoulder blades.
Pockets? Lots. Two waterproof 'hand warmer' pockets on the outside, along with two waterproof chest pockets and a wonderful little zip-sealed pocket on the right wrist for keys, earplugs and the like. Yeah, on the right wrist. Lefties will rejoice, although it'll no doubt raise a few eyebrows with the majority right-handers. But I digress. On the inside near the main zip there's another zip-sealed stash pocket on the left, and the liner features two enormous pockets down low.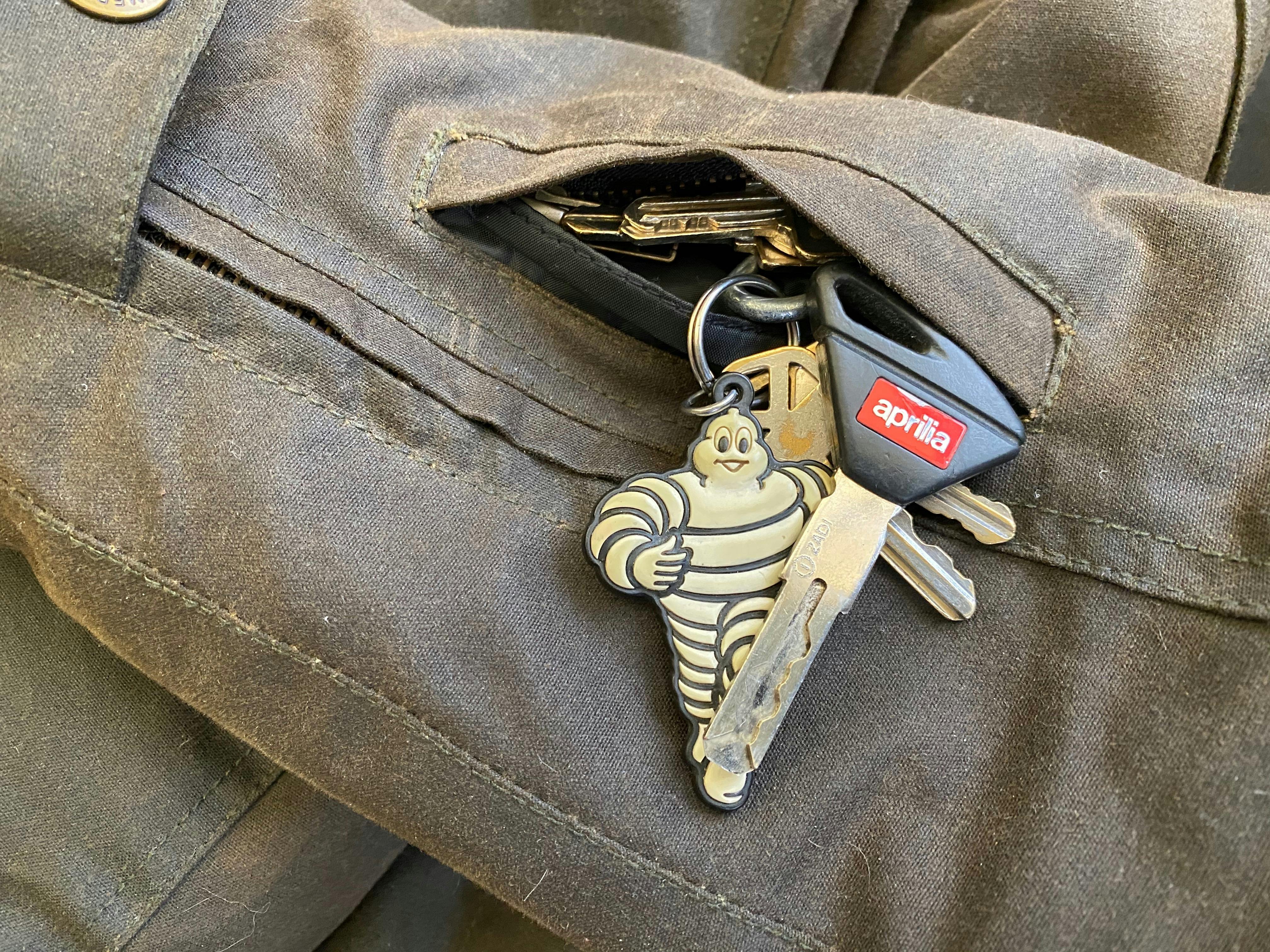 Handy zippered pocket at the right wrist is great for keys…but might be better for most of us on the left wrist!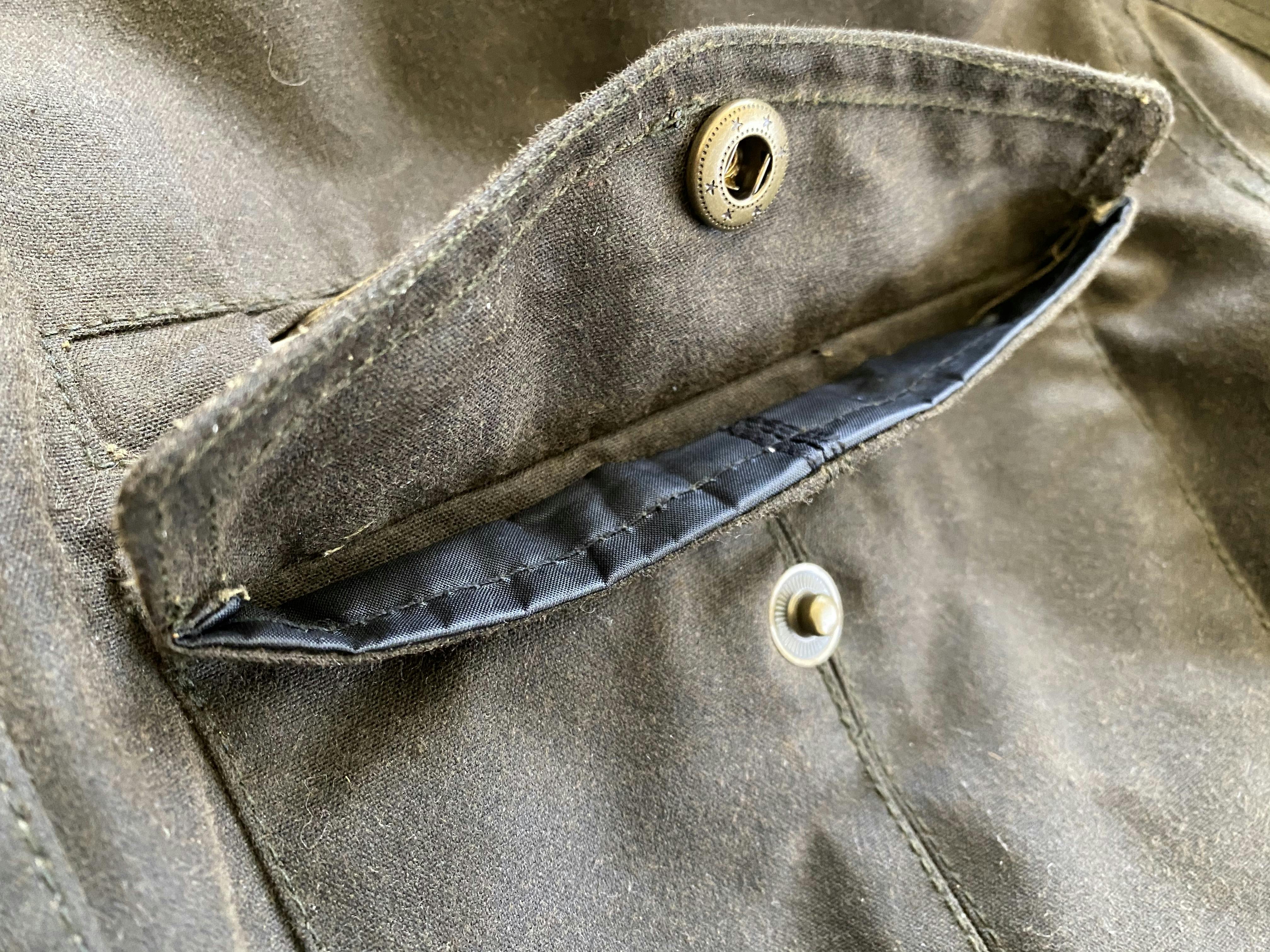 Foldover waterproof lining on the chest pockets is a neat, practical touch.
There's a short rear zipper to attach jeans, and the jacket is loaded with quality metal YKK zippers elsewhere. Even the D-rings that help adjustment at the collar and biceps are metal, as are all the pop studs. In the age of plastic, details like this are a nice touch. 
There's nothing loud about the styling, but subtle touches are everywhere – quilted shoulder panels, the Merlin phoenix logo on the left arm and the name embroidered in non-contrast stitching on the back of the collar. Like Daniel Craig as James Bond, its stylish, understated, but leaves no doubt that it's also a very tough customer.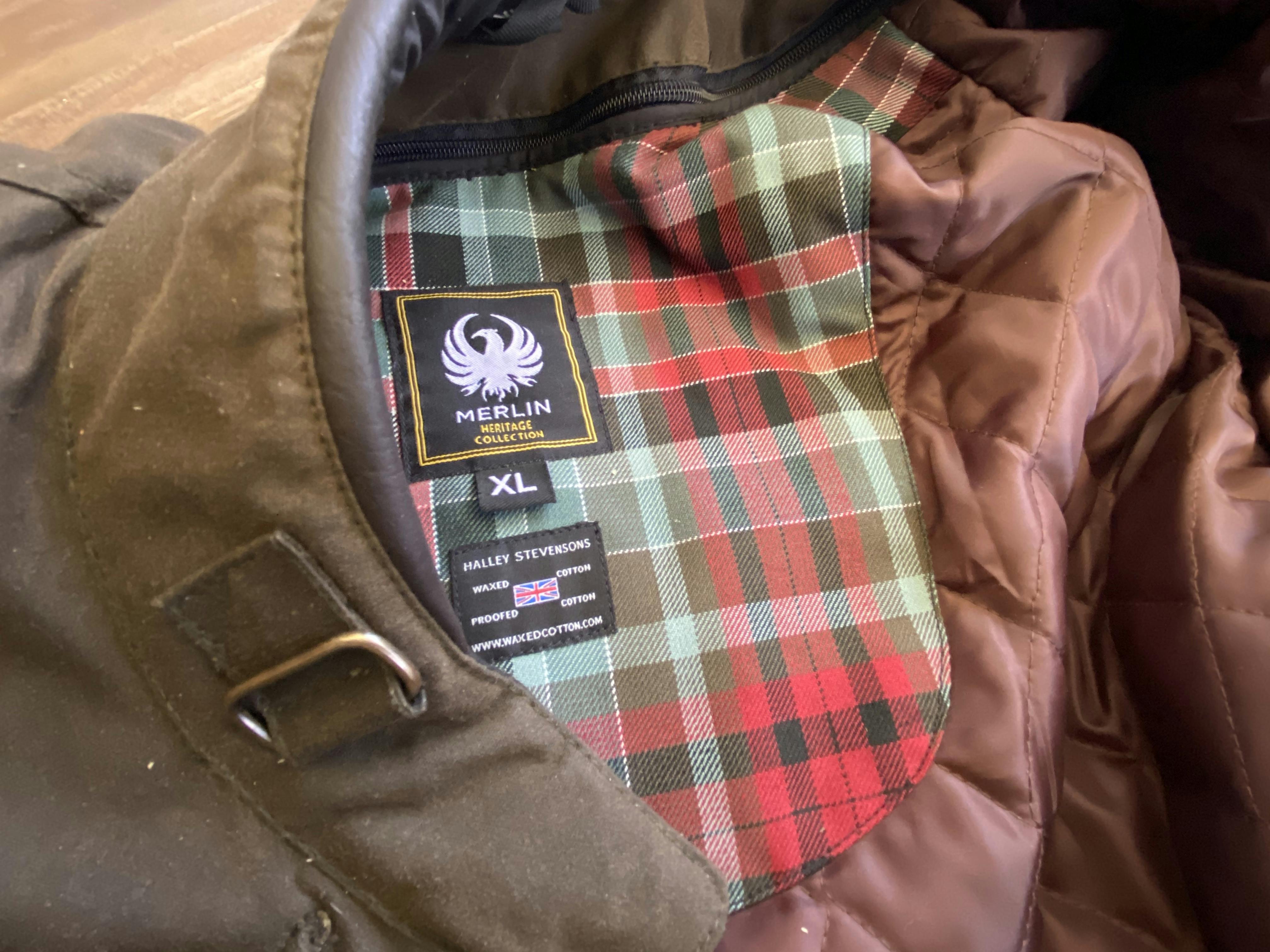 Soft quilted lining inset with tartan panels is warm to wear and cool to behold.
In the cold, on the bike
Straight up, Merlin's Barton is one of the warmest jackets I've owned. I've been riding a 25-minute commute on mornings when the thermometer reads four degrees, and on more than one occasion I've worn only a long-sleeved tee as a base layer. On longer cold rides I've been wearing two layers (long-sleeved tee over a short-sleeved tee) and I often find myself stopping to remove one layer after awhile if I've been riding like I mean it. 
The only area in which the Barton falls short is the potential gap where jacket meets jeans. Of course when you're wearing any short length jacket you need to make sure you're well tucked-in or of course the cold wind will creep through here. That said, Merlin don't position the Barton as a winter touring jacket, it's more a multi-season design and if you're after a long length winter jacket, Merlin's own Ashley or Victory designs, also available at Bikebiz, might be a better choice.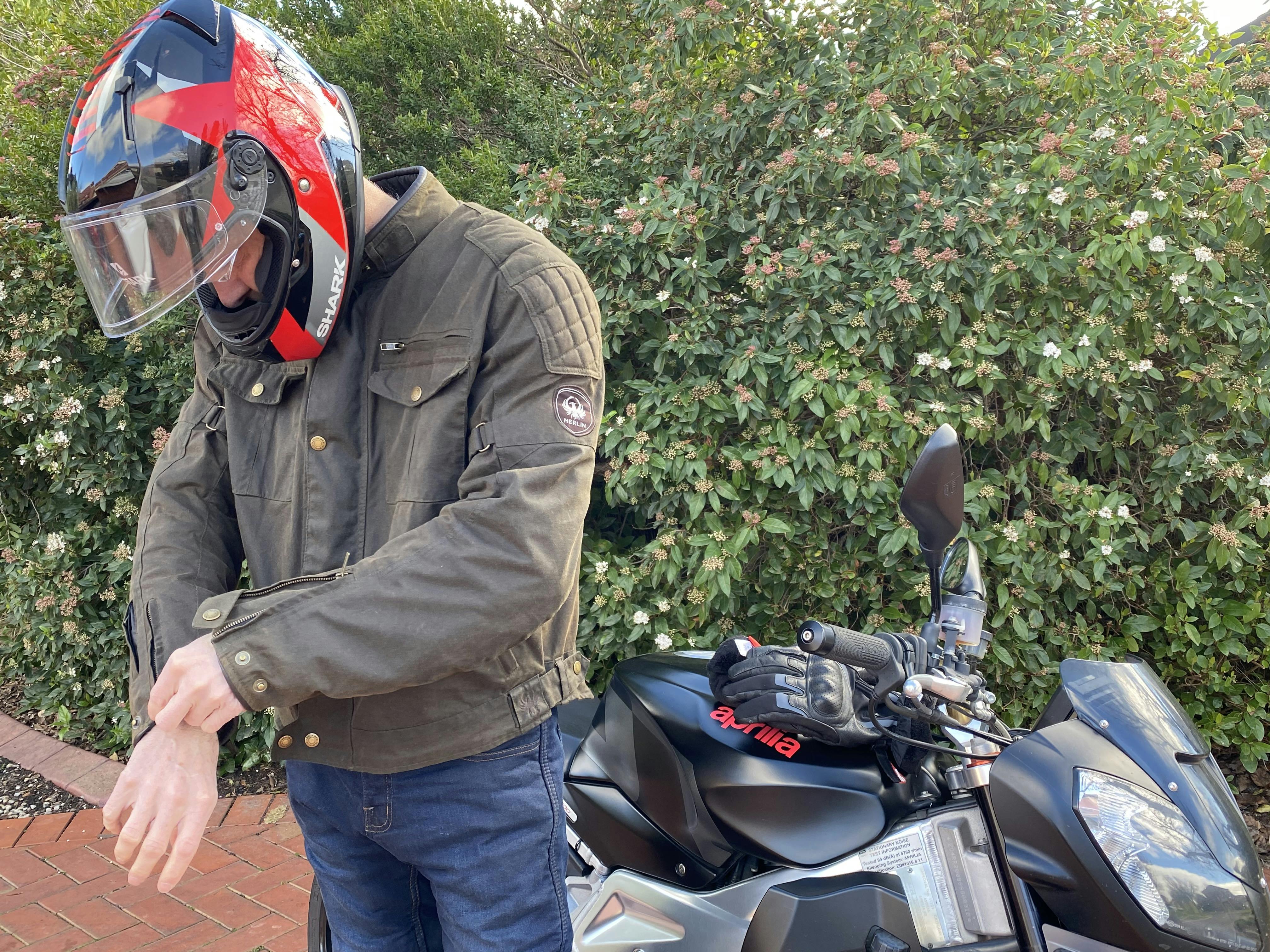 With or without gloves, pop studs and zips are chunky and easy to use.
Wet, wet, wet.
The Barton jacket arrived just as winter here in The Frozen South was hitting its straps, and I'm happy to say that it has shone through some really wet rides. Initially, water will bead on the waxed cotton shell and simply run off. Eventually the jacket will take on a very wet look indeed – but the liner has always stayed toasty and dry. I suspect that the waxed cotton shell lets some water through here and there – mostly amongst natural creases and folds – but in my experience the Reissa lining never gives up. Everything I wear under the jacket has always stayed dry. 
For those not familiar with waxed cotton, an interesting point to note is that the shell can be 're-treated'. Merlin sells a proprietary wax that can be applied if you ever feel that the jacket is losing its water-repellant qualities. This is just part of living with waxed cotton and in my opinion it's a benefit – if you choose to re-treat your jacket every now and then you can expect it to keep performing at its best for many years.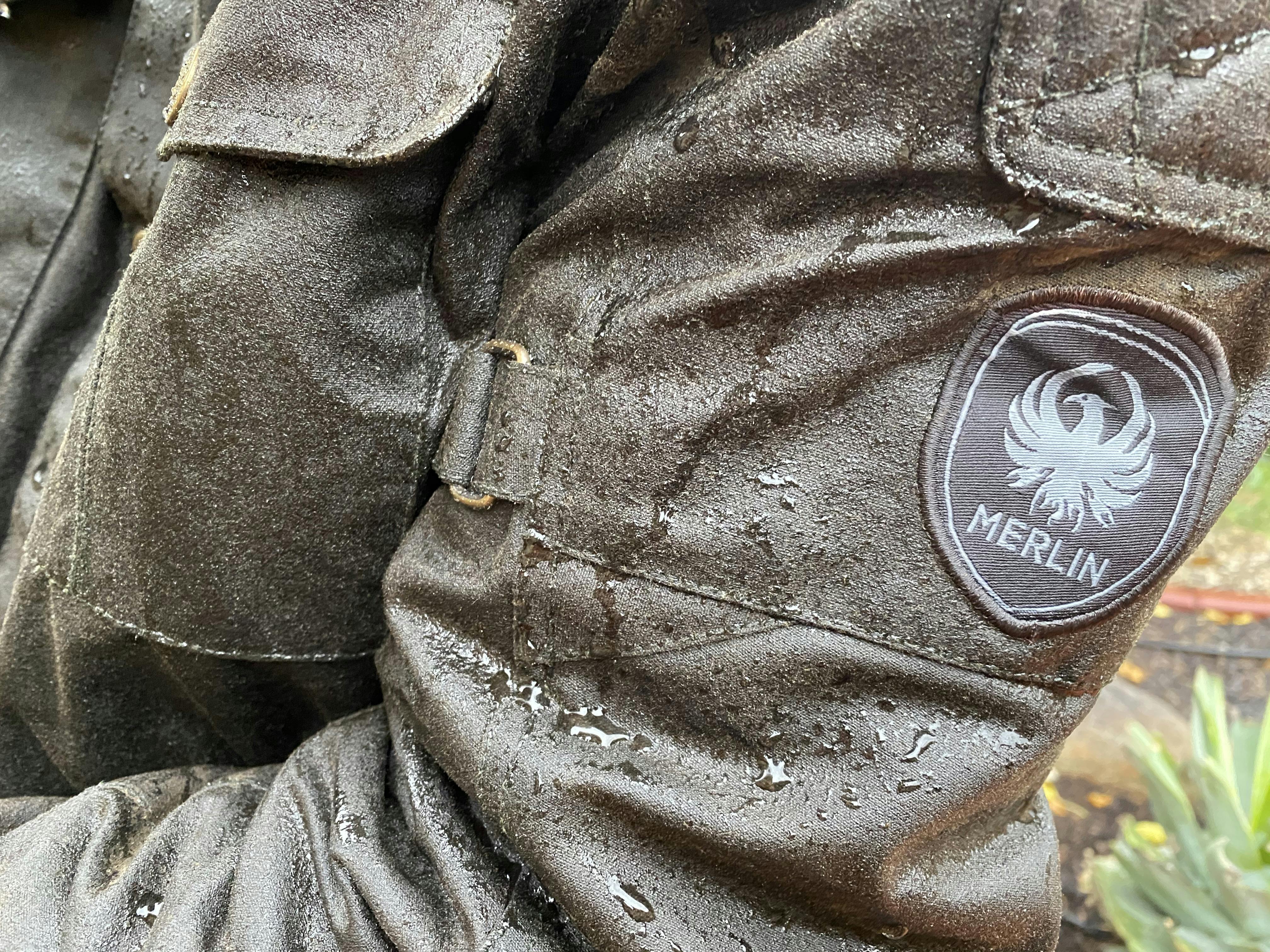 Looks wet, doesn't it? Inside it's warm and dry.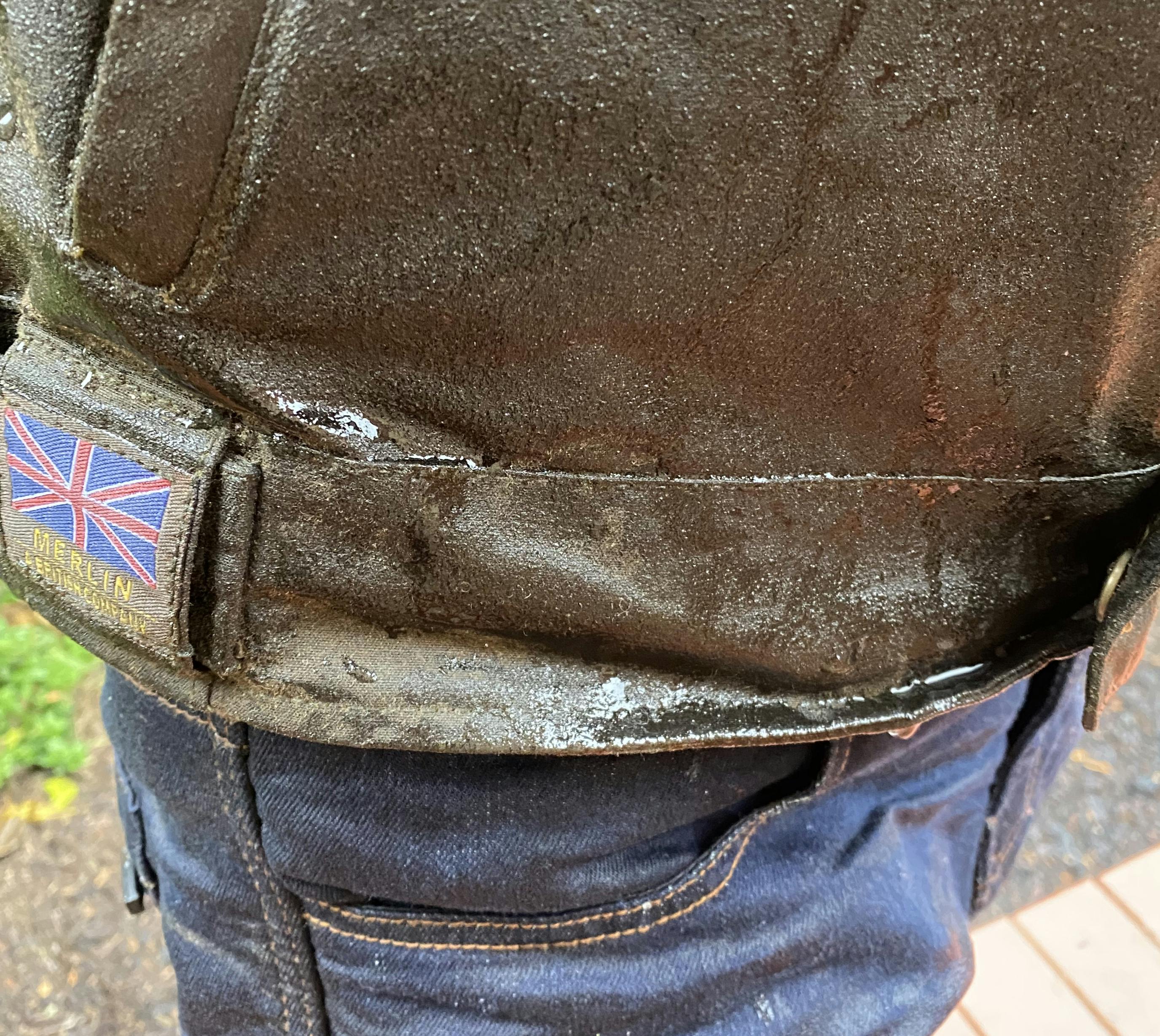 Jacket folds at the waist while sitting – a potential water trap.
Living with it
Wearing the Barton jacket every day for weeks now, it's been satisfying to realise that Merlin have paid at least as much attention to practicality as they have to style. Plenty of outer pockets mean there's no need to unzip to get to your wallet or phone at pit stops, and the 'fold-over' design of the chest pockets mean that what's inside really stays dry. The right combination of big zipper tabs and pop studs means that these are easy to use, even with gloves on. Everything just works without hassle, and the removable thermal liner means I'll be wearing it well into spring, I'm sure.
All this aside, the standout benefit that's made the Barton my go-to jacket is simply the comfort. I own Cordura jackets that feel as though they were designed by Ned Kelly - they're stiff, unyielding and awkward to wear. By comparison, the Barton is soft, comfortable and easy, on and off the bike. 
The Barton jacket by Merlin - features at a glance
Short length jacket, Halley Stevensons waxed cotton shell
Reissa waterproof membrane
Removable thermal lining
4 exterior pockets, 3 inside pockets
Rear zipper to attach jeans
Collar, cuff, bicep and hem adjustment
Soft CE armour – elbows, shoulders, back
Metal zippers and pop studs
What works and what irks
The good
Retro style
Superb comfort and warmth
High quality finish
Waterproof
Easy and practical to wear
Removable thermal liner means multi-season comfort
The not-so-good
Removing the thermal liner also removes two big inside pockets
Some minor maintenance (re-treating) involved in long-term use
In summary…
If you ride in all sorts of weather but feel that Cordura has about as much soul as frozen pizza, you might just appreciate the Barton jacket.
I love bikes and gear that polarize opinion and the Barton is just like that – it's different, subtle, but far from anonymous. Not something you see every day. Stopping for coffee when I ride with mates, I've noticed that younger riders love it, and it instantly brings a knowing smile to the older guys who understand what it's all about. Hipsters just want to know where they can get one! 
The Merlin Barton waxed cotton jacket reprises a classic material, wrapping plenty of practical features into a multi-season jacket with heritage style. It'll age beautifully, attracting the sort of riders who find satisfaction in owning something that'll be there with them over the long haul. 
The Barton jacket by Merlin is available now at Bikebiz in sizes from 10XS to 10XL for $399.95.