(To be sung to the tune of Favourite Things from the Sound of Music musical.)
"Open speed limits and no traffic tickets.
Warm sticky tyres and wide open roadways.
Riders in leather and the sound of exhaust.
These are a few of my favourite things."

Ah, not much beats a day at the track. A bunch of mates racing each other in friendly competition. All wearing leather suits with skins underneath, having naps in between sessions on their bike tanks (or is that just me?). The feeling you get when your lap time is shorter than the session before, and when you finally get your knee down for the first time! (It doesn't matter if its a tiny scratch on your knee sliders, still counts!)
Sounds like a racers dream? Well it should be yours too! Why?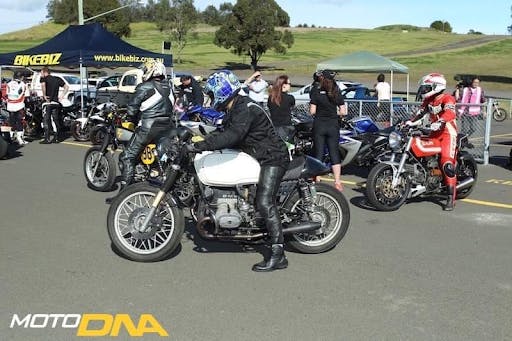 Getting ready to hit the track!
Track days aren't just about going round and round super fast and burning through a set of tyres. 
They are also about improvement and experience. Getting better on the road through the confidence and knowledge you gain on the track. Having the ability to learn from others and push yourself in an environment free of cars and speeding tickets. 
Whether you just do a normal track day, or a training day, you ride with people of equal experience and skill as you. There are always several groups, where riders are split into categories based on their ability. So that means that you aren't stuck behind a learner, or being overtaken by a racer. 
For those of you with an adrenaline addiction that tends to cause trouble on the road, get your speed out on the track! No cop cars, no speeding tickets, no red light cameras. Just open roads and some friendly competition to push you forward.
If you're a learner, don't be discouraged! You can have piece of mind that you can harness your skills in a safe environment, surrounded by people with the same ability and mindset as you. We all started off as riders who were unsure of what to do, where to turn, how to sit on the motorcycle, how far can I lean the bike on a corner and WHAT THE HECK DOES THIS DO?! 
Some new riders are blessed with a group of friends to guide and teach them. Some new riders have a group of friends who teach them bad habits. Some new riders have no one. And that's ok! That's what companies like Moto DNA are here for. 
Moto DNA is a training track day. If you are looking into improving your street riding, look into their "streetSKILLS". What's great about this training day is that you don't need a full set of leathers, you can ride in standard road gear. You get 6 sessions on the track and 6 classroom sessions, where you discuss what you felt and did, what was good and what needs to be improved on. They even video you during a session so you can actually see what you're doing!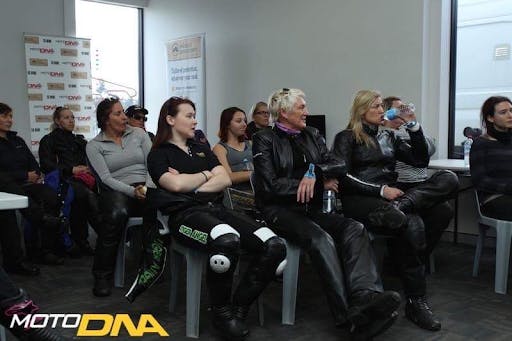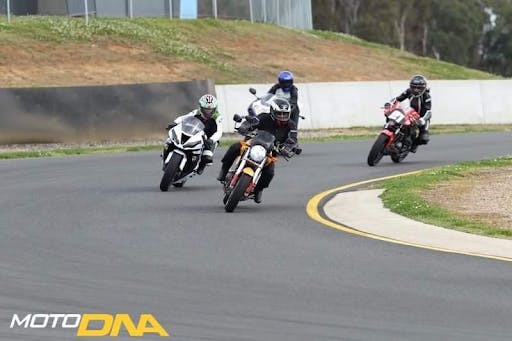 There's a Ladies only days if you just want a day with the girls.
They also do "trackSKILLS" and Track & Race programs for those who want to improve their riding on the track. Their students have gone on to race at club and national levels, as well as gone onto the feeder classes leading to Moto 3 & Moto 2. 30+ riders from these courses have gone on to race in the ASBK!
I've done one of the streetSKILS track days before, and I learned so much! Even got my knee down for the first time (One of my top 5 moments in life). I felt like a Boss on the road with my new found skills, avoid several accidents that could've made me freeze if I didn't know how to handle my bike as well as I did after that training day.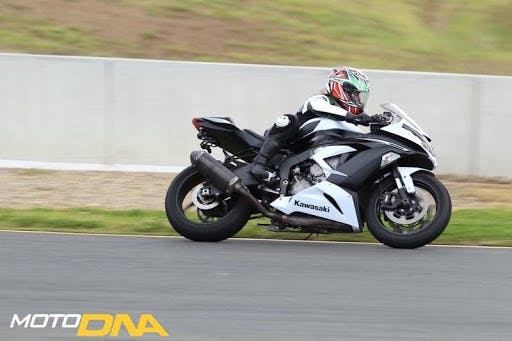 Me and my ZX636...how bad ass do I look?!
As much as this post isn't sponsored by Moto DNA, Bikebiz is proudly affiliated with them.
Ride safe and have a good one!
Got questions? Send me an email at webshop@bikebiz.com.au