Motorcycle Racing is in my blood and like a moth, to a flame, it continues to draw me in, whether it's The Moto GP, World Superbikes, Flat Tracking, or Aussie's own ASBK. As we all grow and learn new life lessons, sometimes those lessons arrive at your doorstep before you know it! My love of the sport is deep, and gaining the opportunity to attend Round 2 of the ASBK as a reporter for Bikebiz taught me another valuable lesson, motorcycle racing can squash you in a second, like a moth to a spatula.
Day 1:
This story takes place in sunny Ipswich, Queensland. It's Day 1 of round 2 of the ASBK championship and our two racers Tom and Laura are gearing up for an extremely eventful weekend.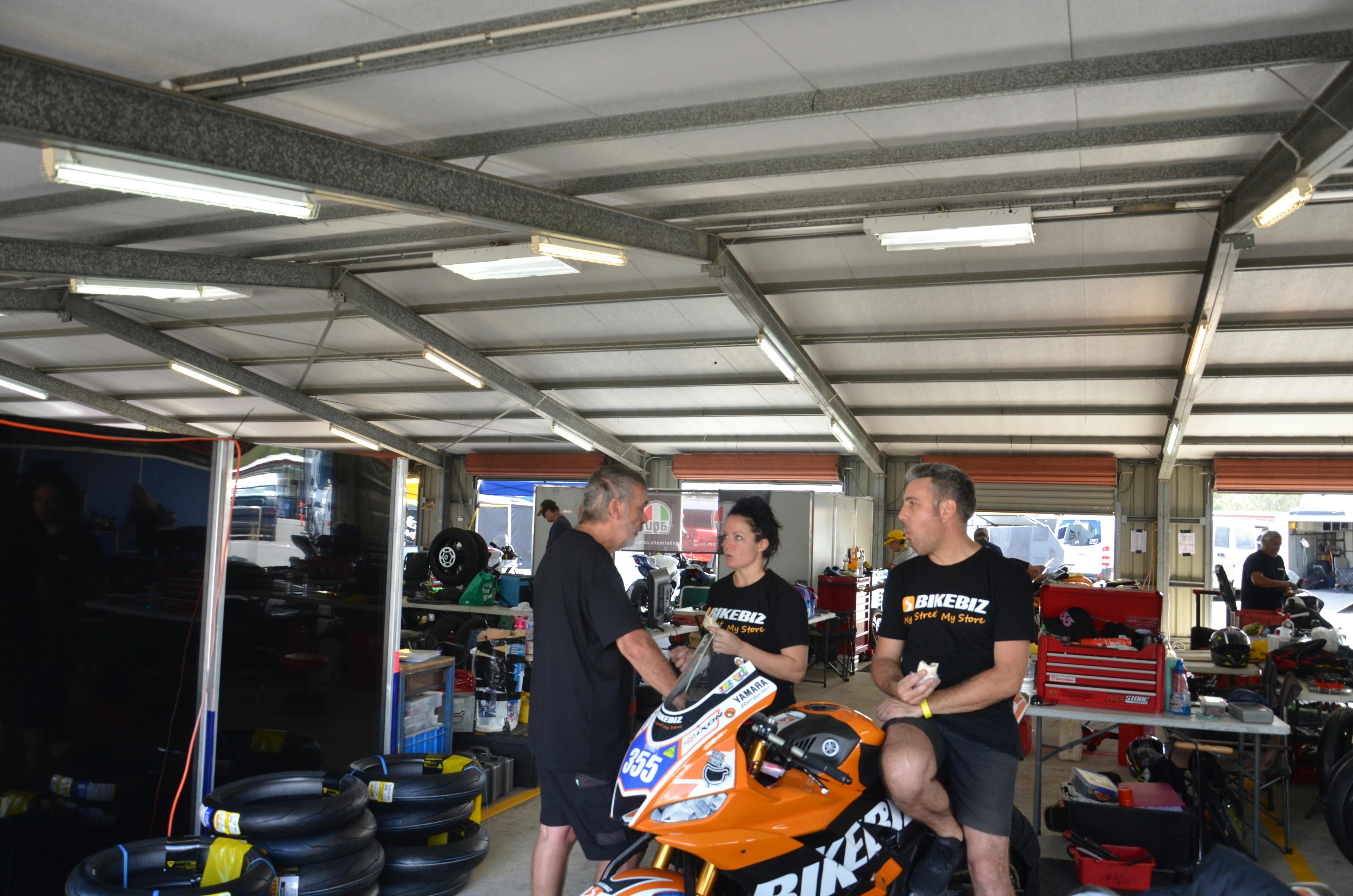 Tom Edwards:
The first day of an ASBK event is always exciting, nerve-racking, and full of adrenaline. I arrived at the Bikebiz pit on Friday morning to find the Bikebiz team hard at work preparing Tommy's YZF-R6 machine for the racing ahead, the atmosphere is electric and the excitement is easily seen on every race team's face. The Pits are one big open Shed with subsections providing a space for each team to live and work for the next three days. This type of pit has an amazing feeling because you can hear and smell the excitement circling the shed as all teams prepare for a day of hot and spicey free practice rounds and racing.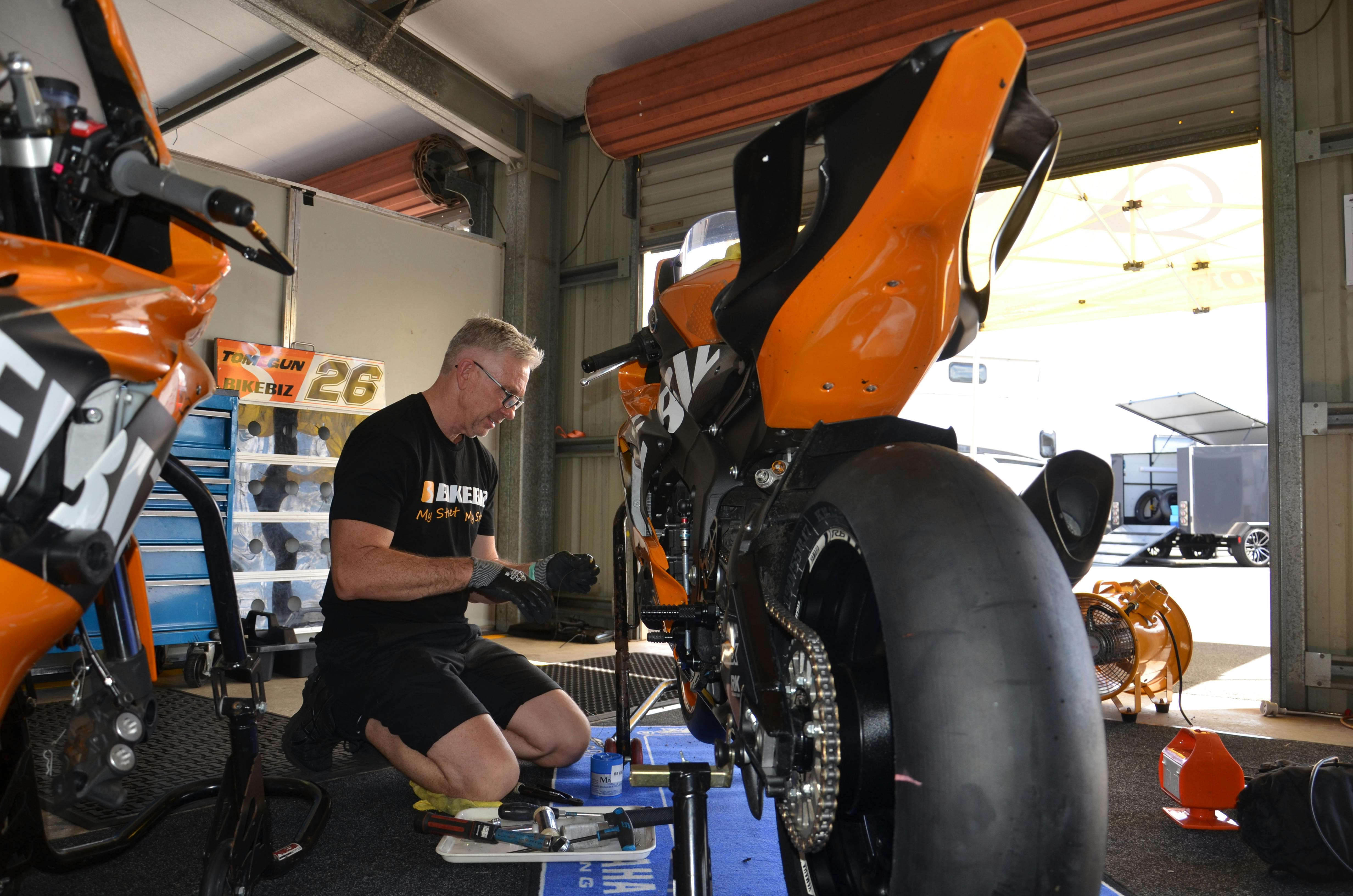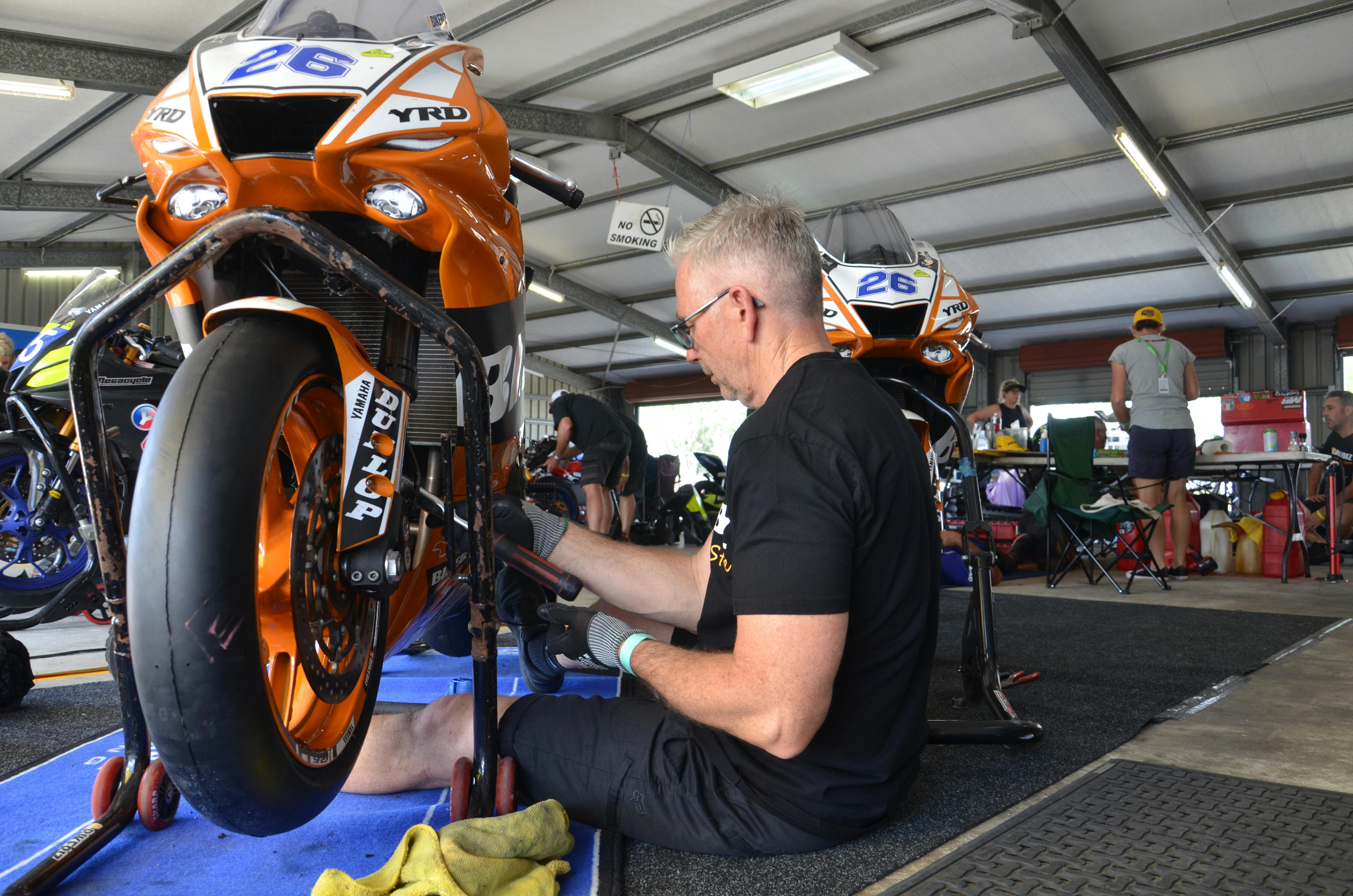 This is Tom's second time at the famous "Paperclip" track in Ipswich. Being new to a track does not faze him, this was evident in his first performance in free practice 1 as he ripped through turns 1 & 2 showing that the Bikebiz team is here and means business, it was a frequently heard expression "F**K this kid is quick".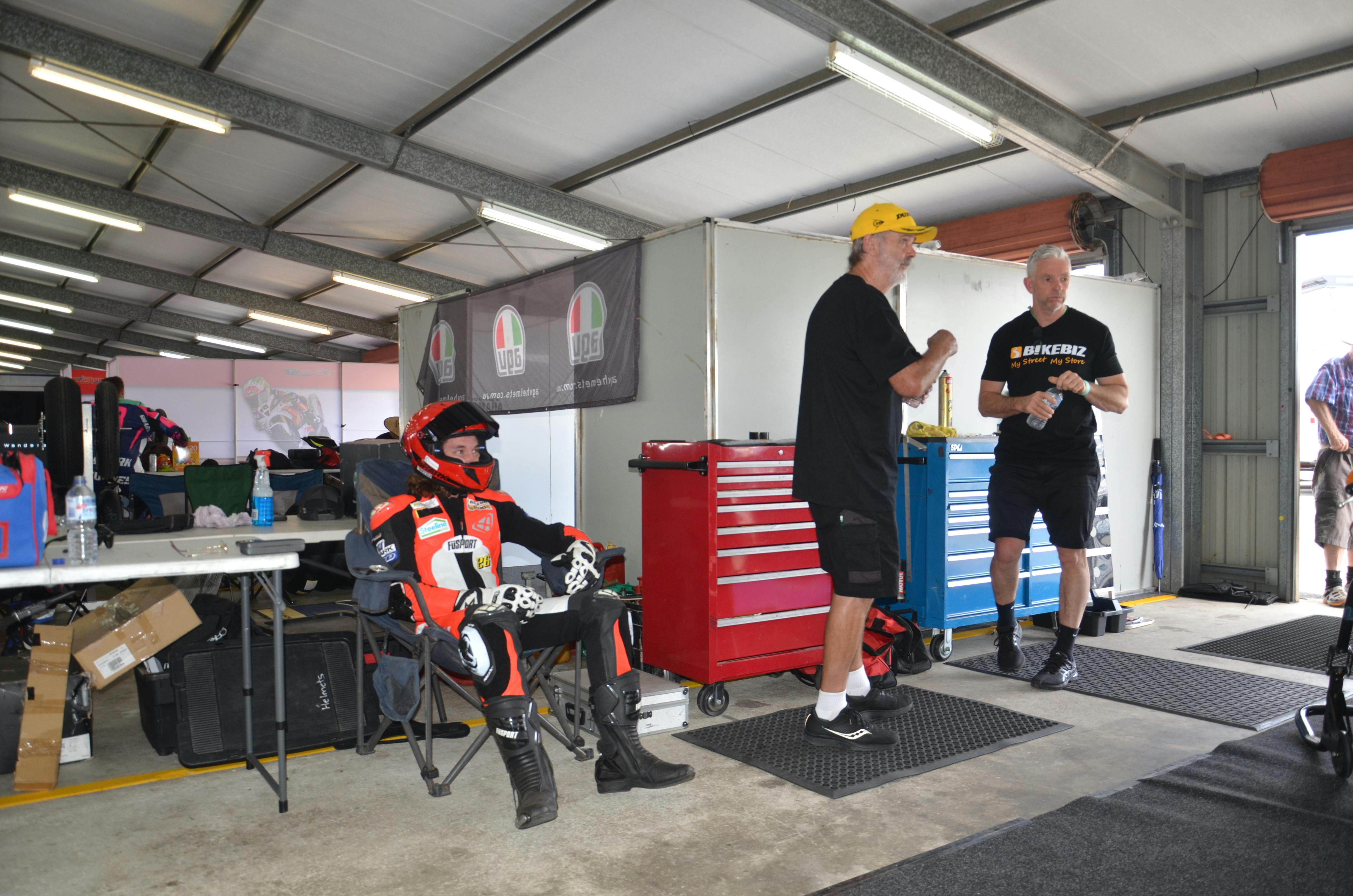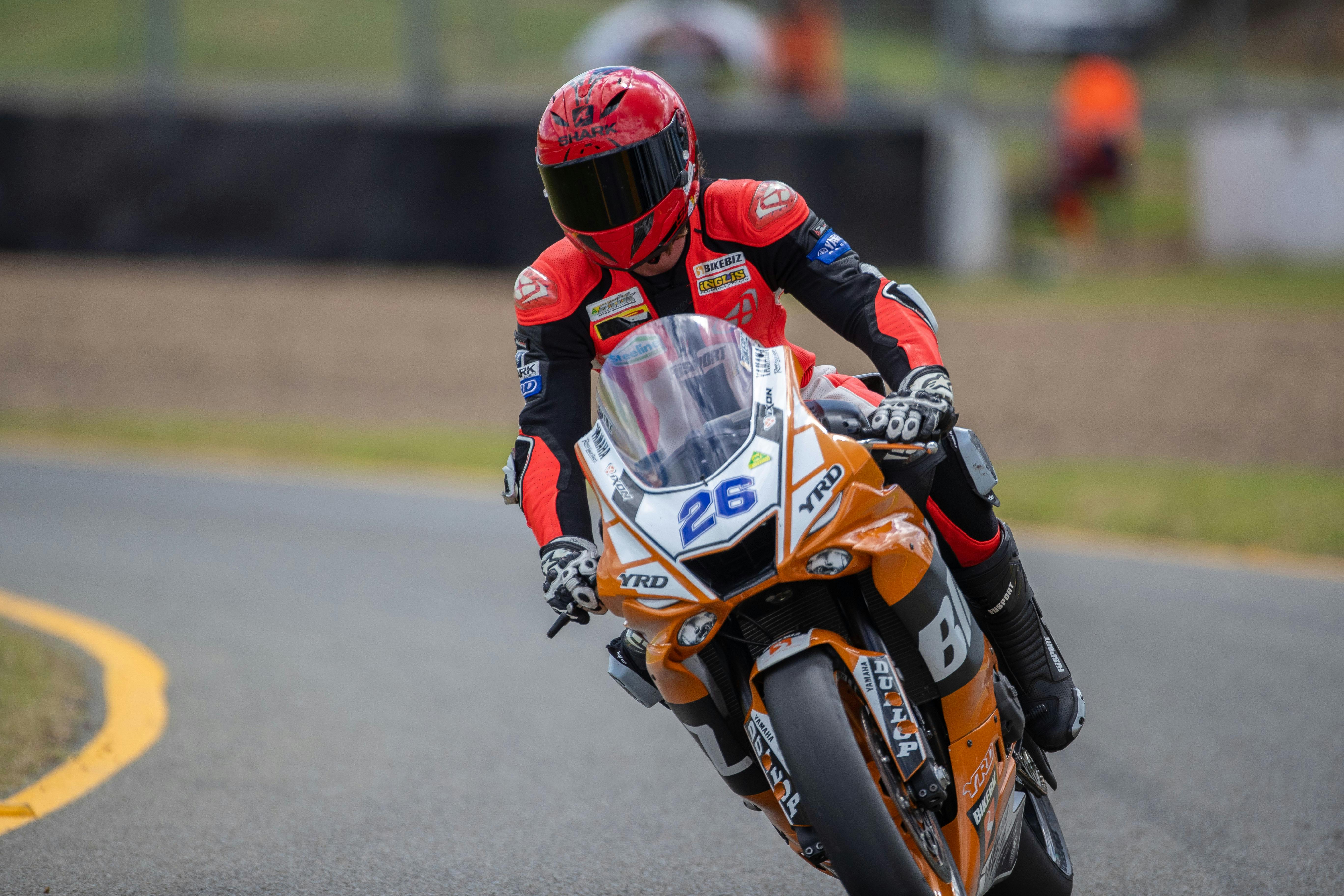 Q. How does it feel to be back at this track so many years later?
A. "Last time I rode here I was 12 years old riding a sweet little 80cc 2-stroke, you could say today was a little different having the YZF-R6 to play with and I had to learn the track pretty quickly – Tom Edwards".
"Starting in Free practice 1 I learned that the track was bumpy and produced a lot of heavy braking corners. I ended up only a couple of seconds off the lap record for the first time on the 600cc, so I was happy. I improved as the day continued and the team made some set-up and tyre changes in the afternoon. I still have more to improve on tomorrow for qualifying but I am happy with our consistent pace and ready to rock for Day 2" – Tom Edwards.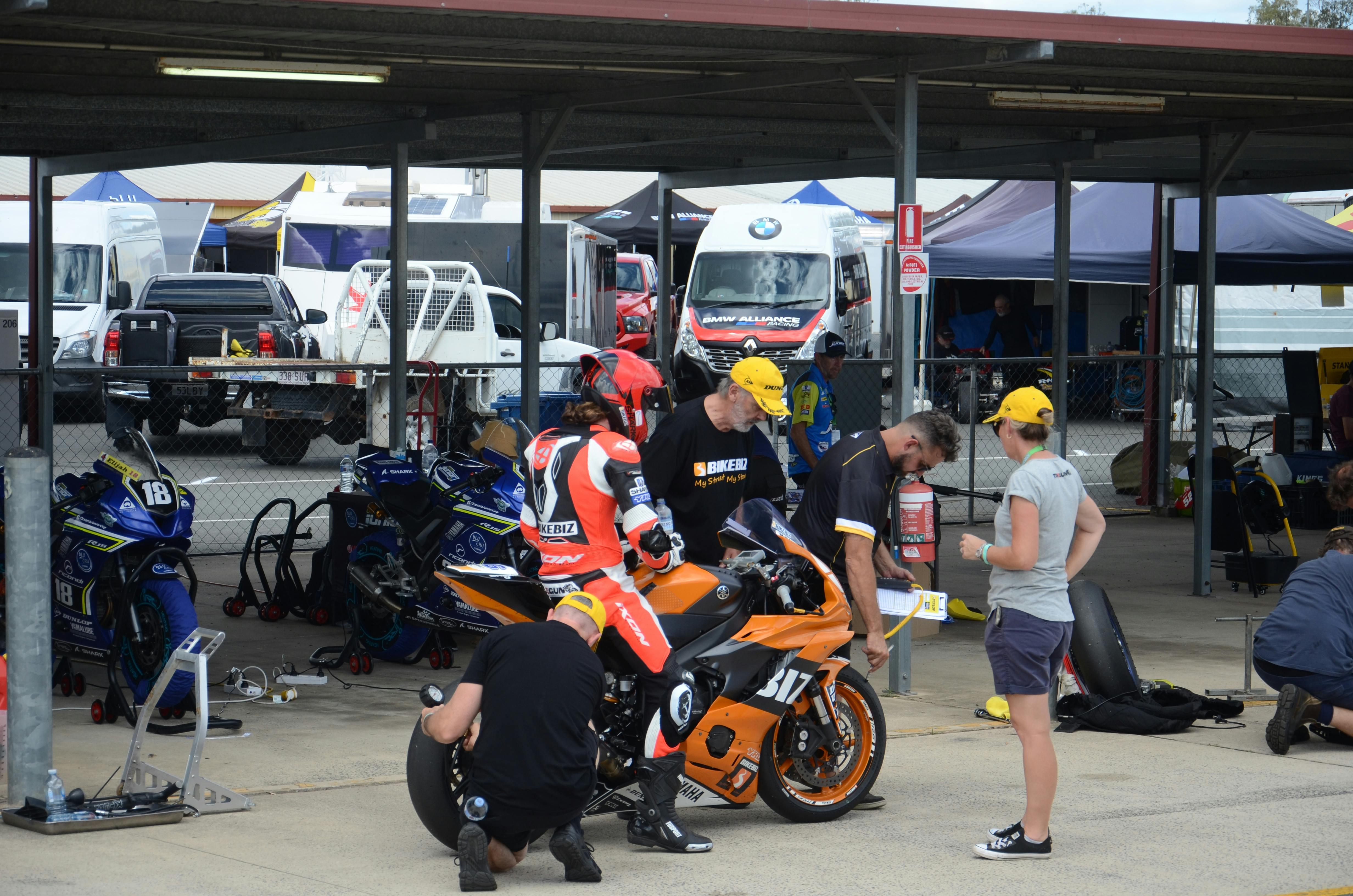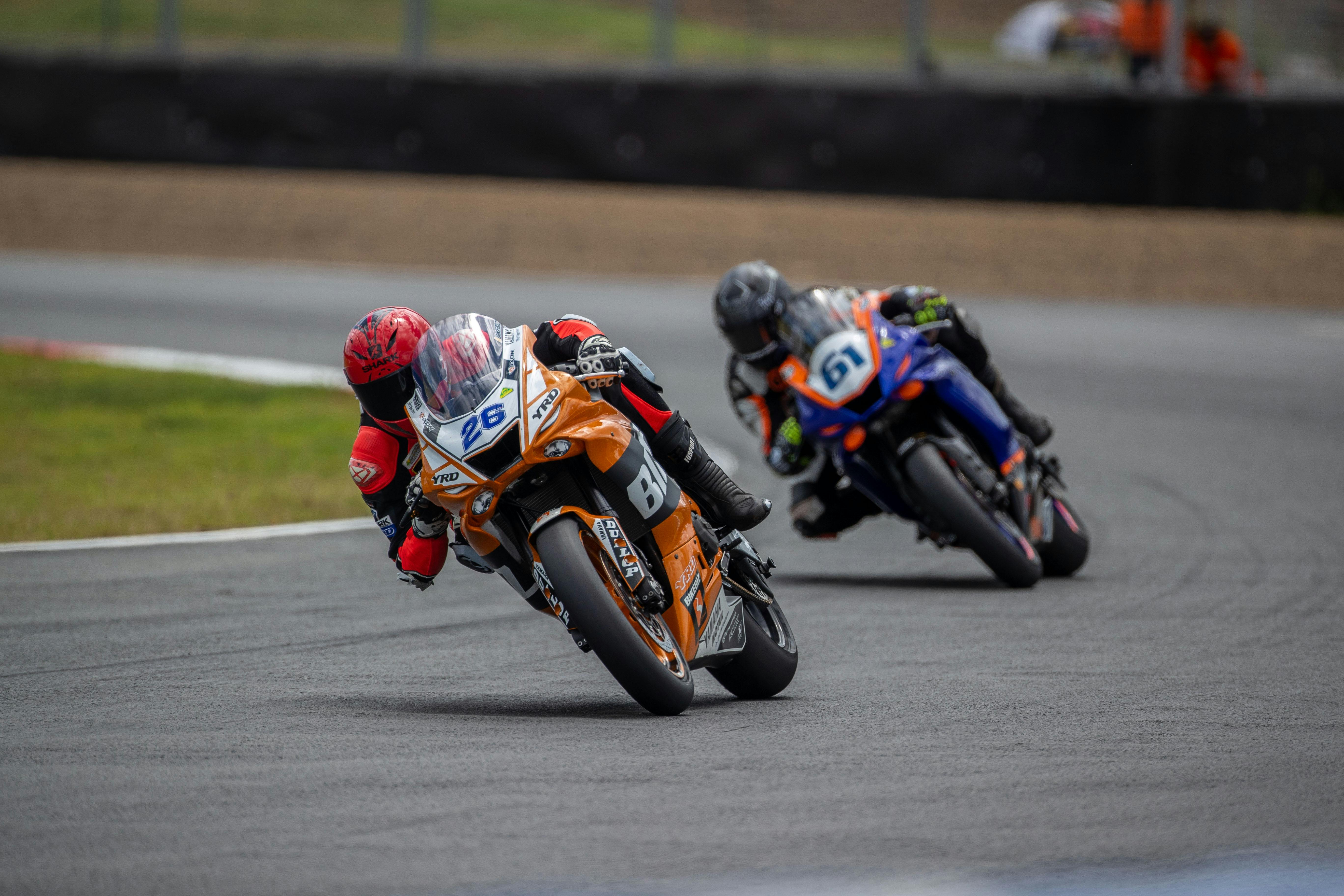 Laura Brown
The Supersport 300 championship and Yamaha R3 cup are two of the most exciting championships in Australian Racing. The Bikebiz racing team has participated in these events for many years now and the racing is as exciting as ever. Our very own Laura Brown competes in both of these championships and puts her body on the line to compete with a predominately male race grid.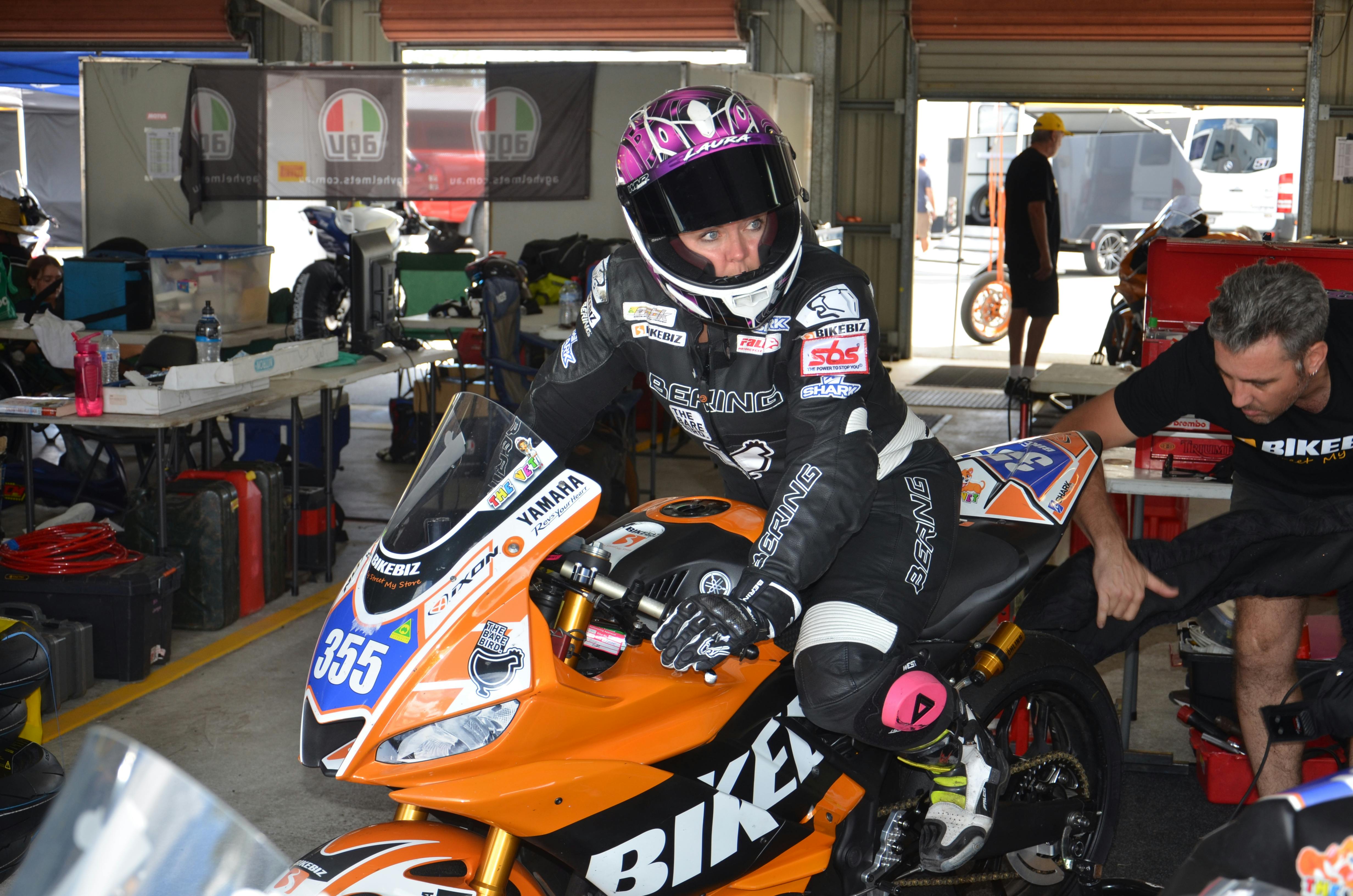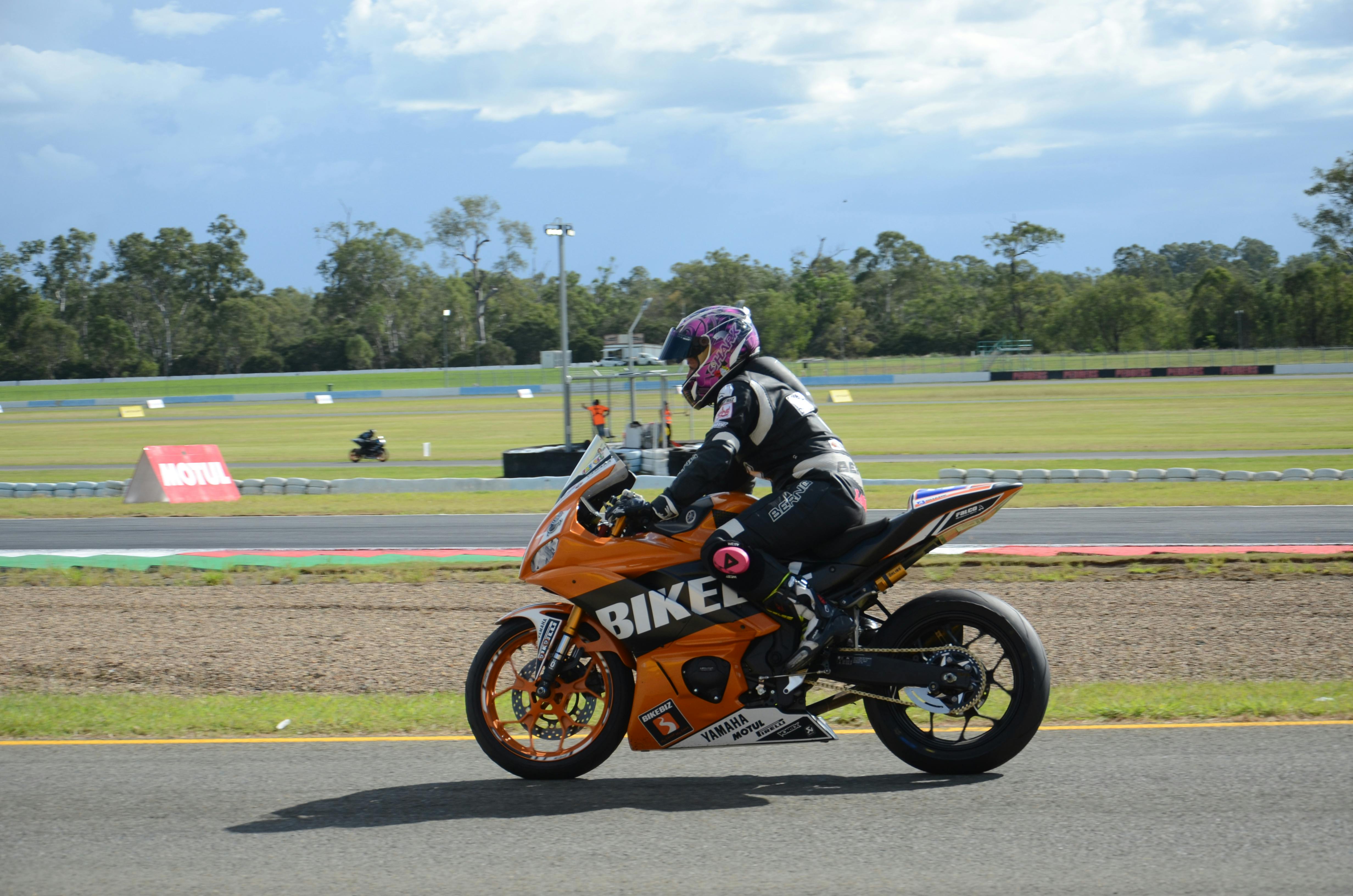 Day 1 at Queensland Raceway was hot and steamy for Laura on her Yamaha YZF-R3, Laura completed 6 practice rounds in one day which allowed her to reacquaint herself with this track that has a dark history for her:
Q. How are you feeling after today?
A. "Good, I haven't ridden here for a while but it is a lovely track, last time I was here I broke my femur bone at turn 1 so you can say the nerves are hanging around. It has been mentally challenging pushing myself through that barrier and getting used to a track that has a lot of slow corners with a high amount of heavy braking. The bumps are getting better thanks to the changes Frank has applied to the suspension, and I am looking forward to tomorrow.
I can't wait to throw my leg over the Bikebiz machine and get ready for 4 qualifying rounds in the morning and 2 races in the afternoon" – Laura Brown.
Day 1 Re-cap:
Day 1 was a hot, exciting, positive, and eventful day in sunny Queensland setting the precedent for the weekend. As I sit in the middle of our Pit recapping the day's events, the mechanics are hard at work checking the bikes, changing tyres, fixing components, getting ready for Day 2. My first day working at an ASBK event truly showed me how much work and effort all teams, ASBK organisers, and sponsors put in to keep our Australian Racing sport alive, I take my hat off to everyone involved and look forward to the weekend ahead.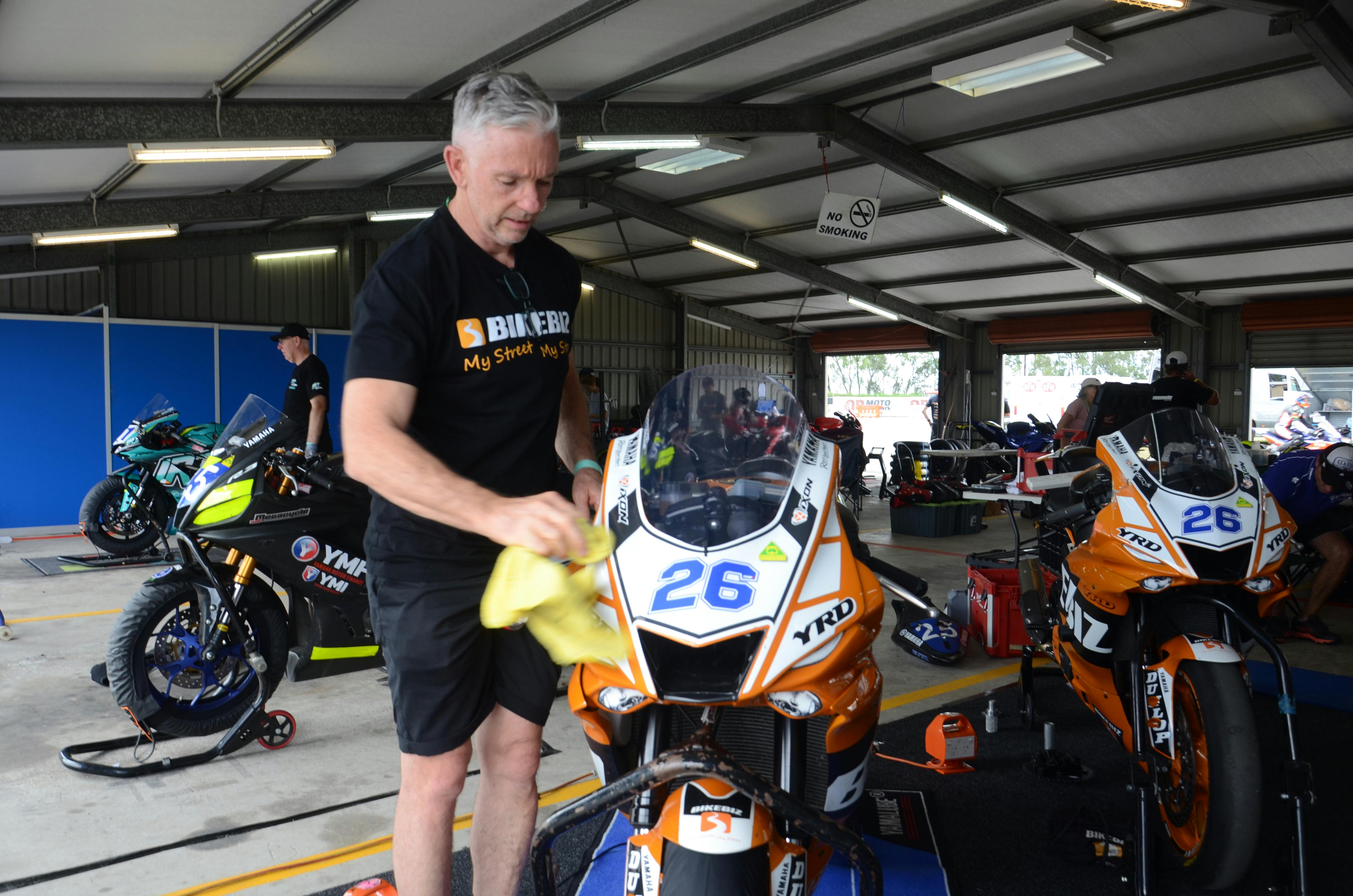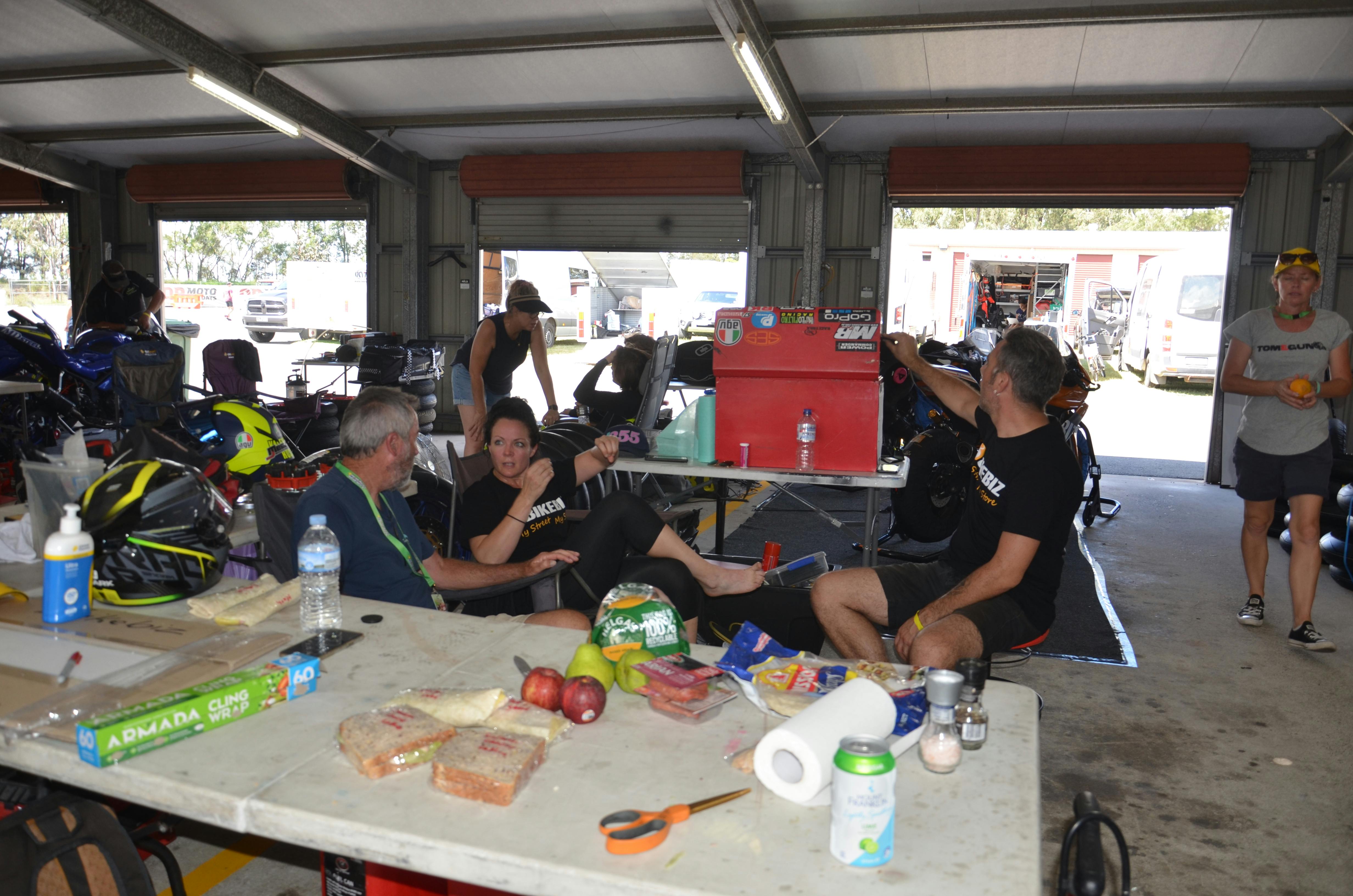 Day 2
Tom Edwards
Day 2 of the Queensland ASBK round started with blue skies and fresh weather which is always a great start to a day made even better when you are fighting for a championship. As a spectator/reporter of the race events you can feel the intensity of today compared to the free practice session on Friday, more people are buzzing around the pits and the racers have their game faces on for a day of qualifying, this is evident in watching Tom.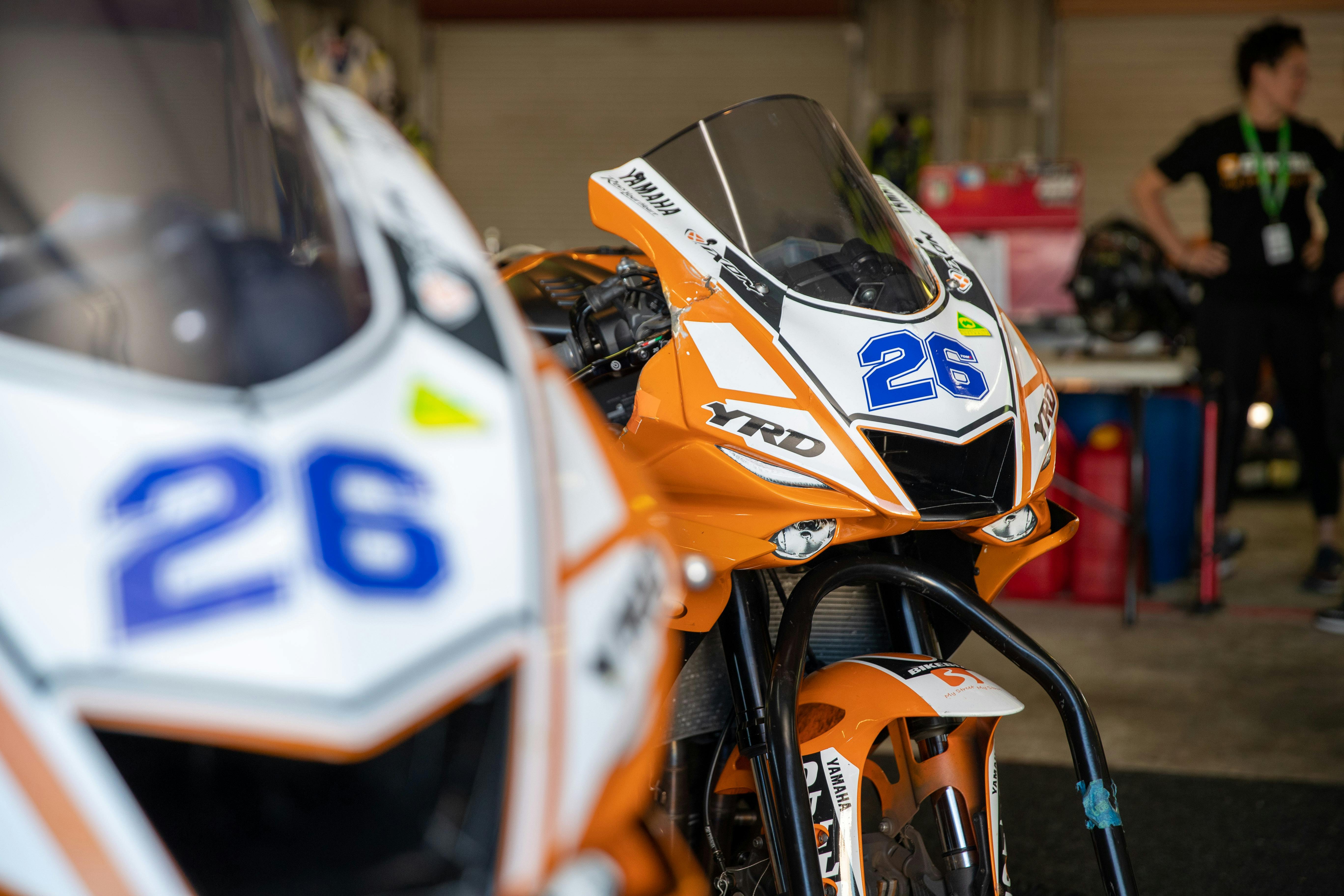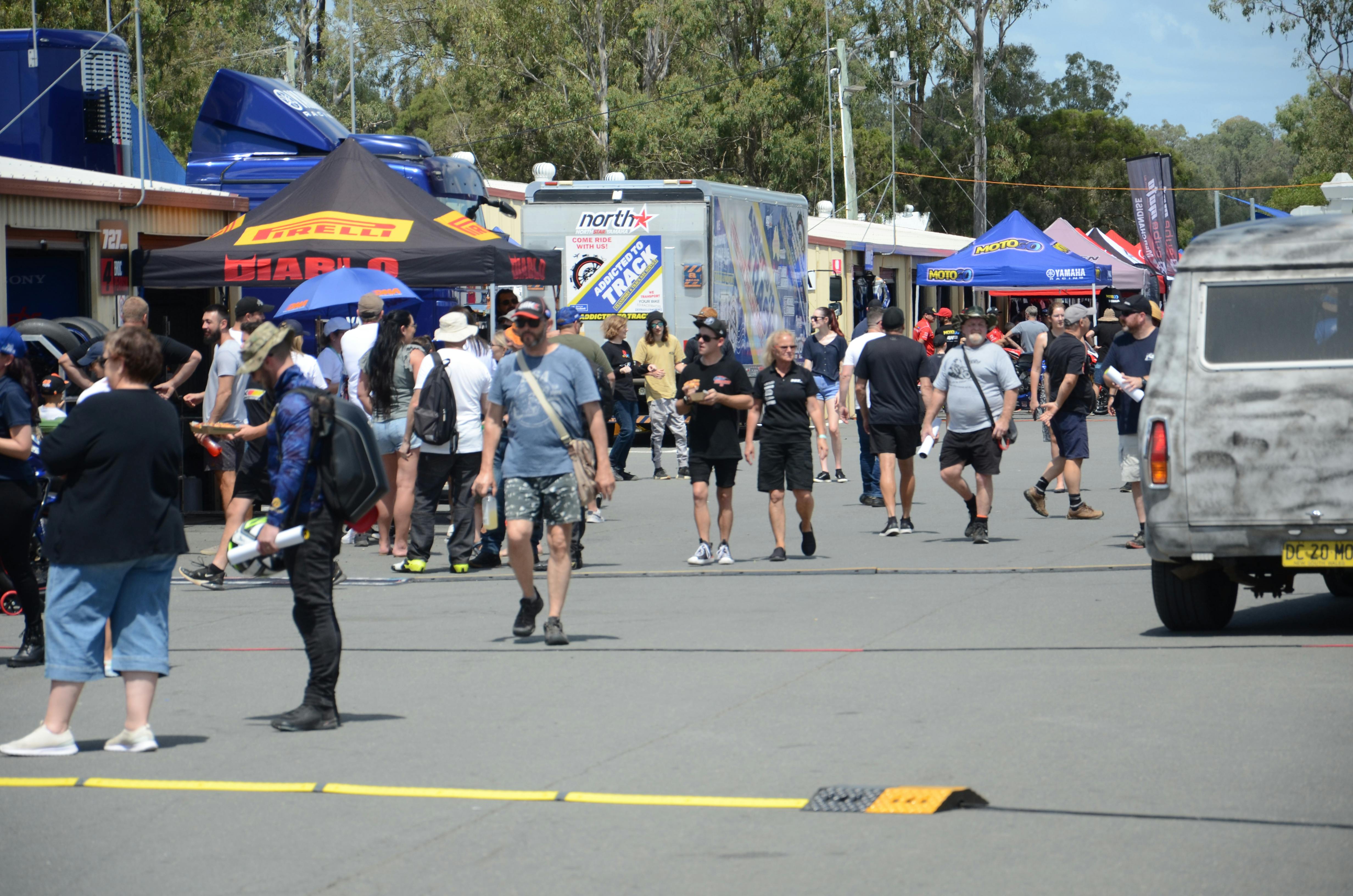 Tommy was looking fierce and ready to fight as he threw his leg over the Bikebiz YZF-R6 machine for his first qualifying round chipping away at the top three racers ending up in P2 for his first session, "coming into qualifying I was pretty confident and I knew I had to pick up the pace from yesterday – Tommy Edwards".
Q1 ended on a high as Tommy went a second faster than Friday gearing him up for Q2.
Preparing for Q2 Tommy was satisfied that he had the second position and decided to use the same set of Dunlop tyres from Q1, the game plan was to learn how the tyres were going to work over a race distance. "I felt comfortable after 5 or 6 laps and kept getting faster and faster so I decided to turn on the heat which helped me set a new qualifying lap record at 1:11.180 and positioned me on pole for tomorrow's race – Tommy Edwards".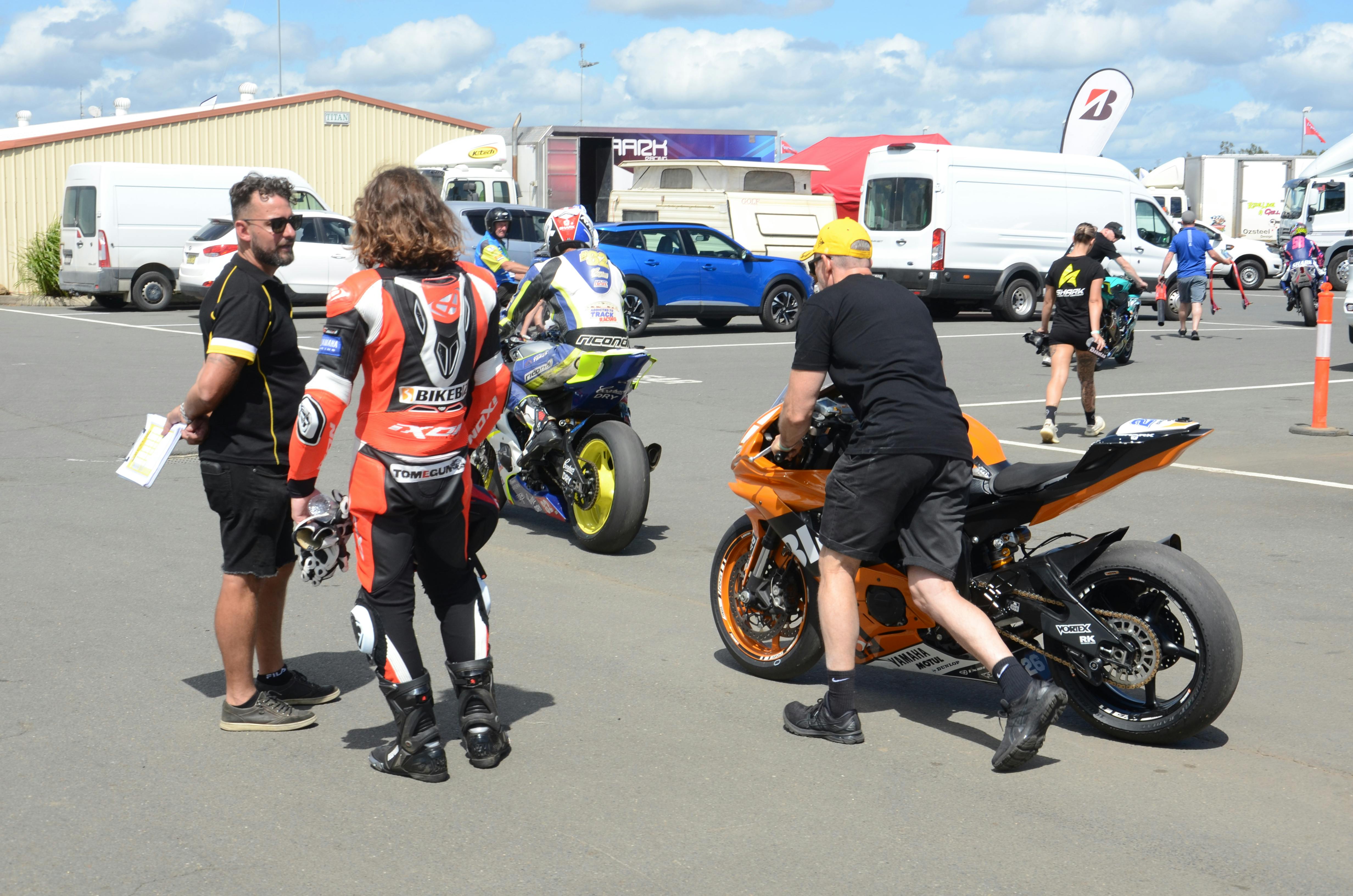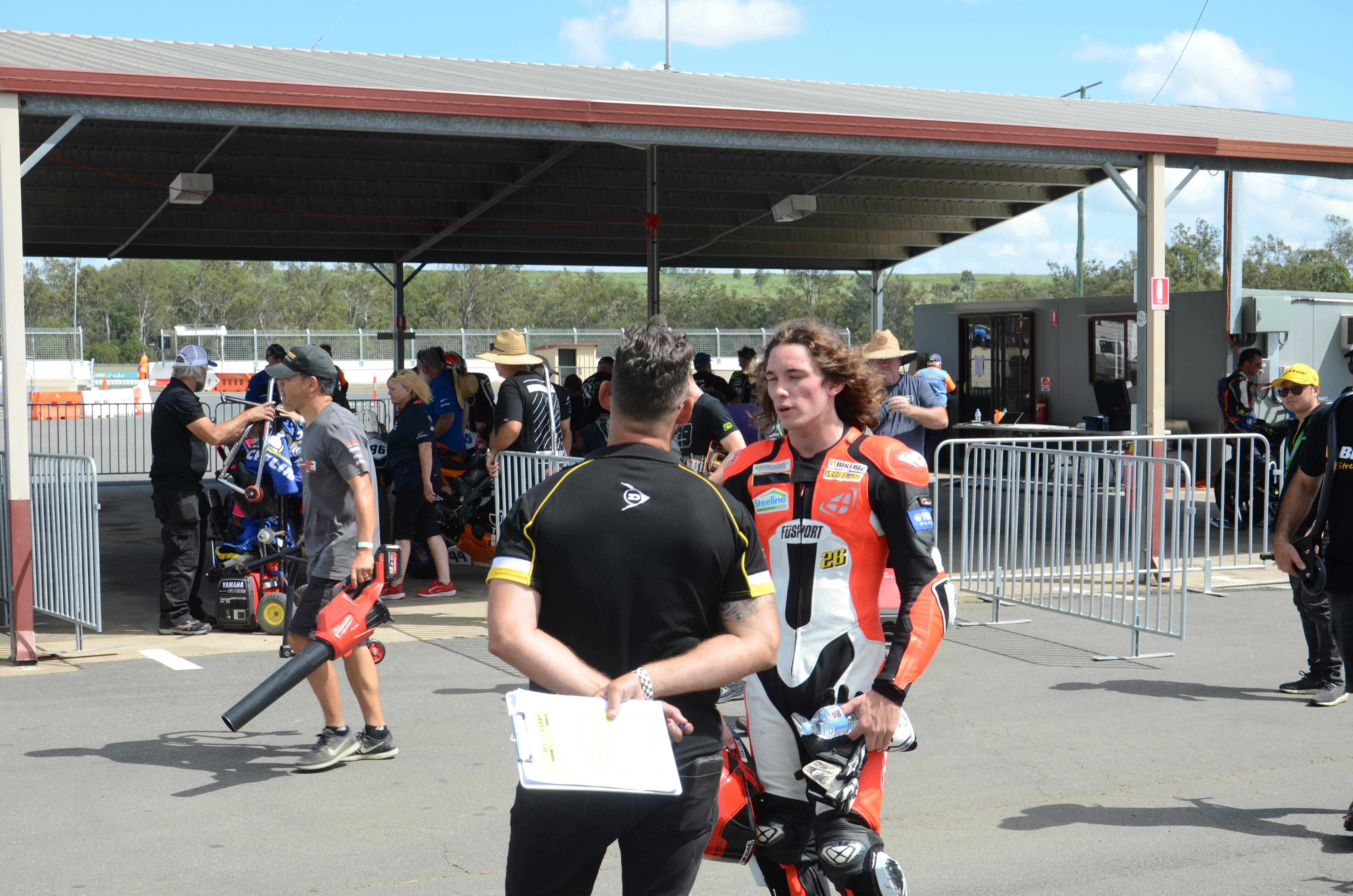 Sunday's action-packed event sees Tommy starting on pole for his two races.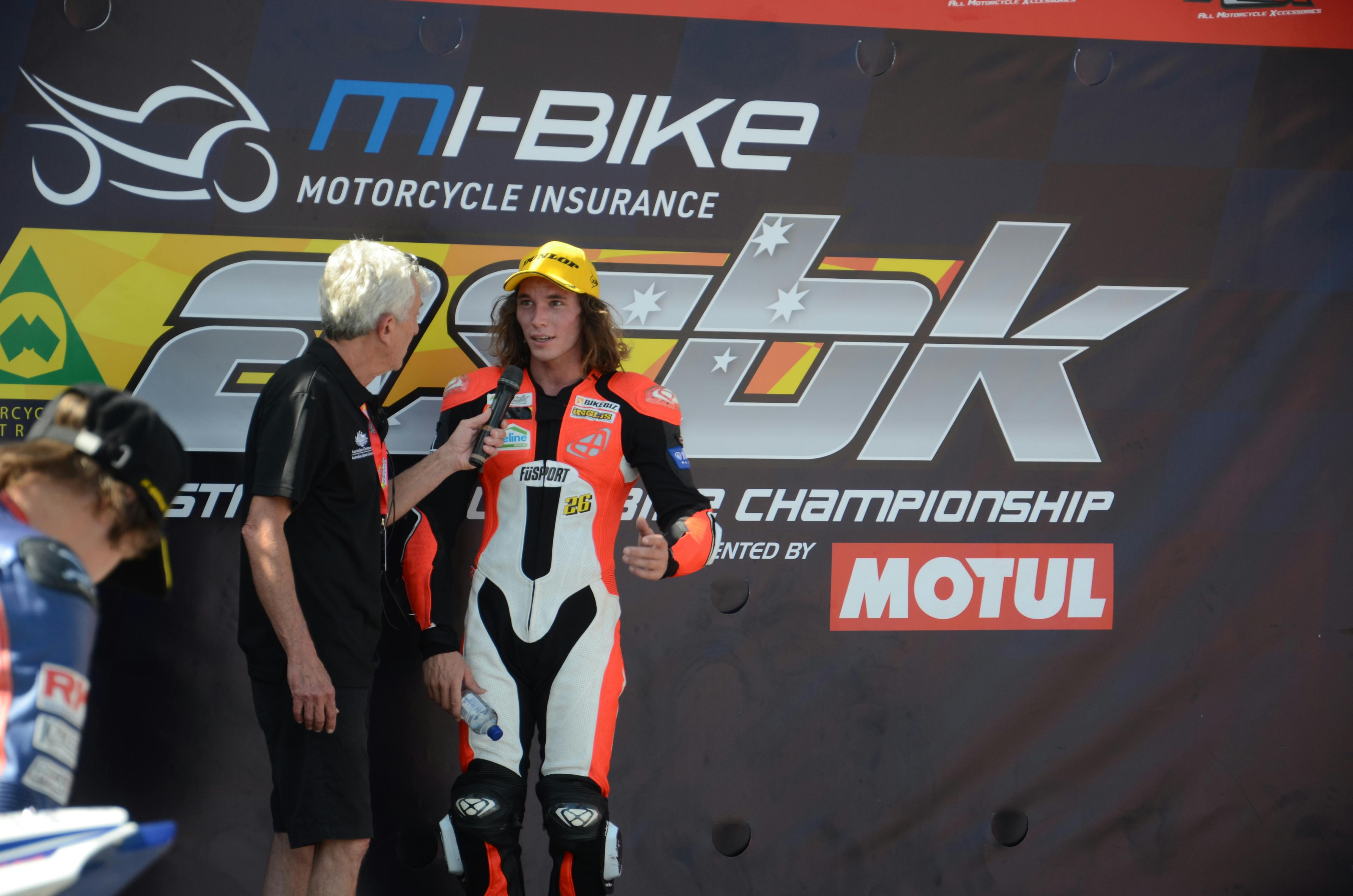 Laura Brown
Laura Brown is as tough as she is dedicated to this sport and on day 2 of ASBK Laura did more than show off her skill as a racer.
Laura jumped out of the Bikebiz pit door in the morning ready to take on Q1 in the Supersport 300, "the first round I didn't qualify very well, and my lap could have been much better but I am looking forward to my next session – Laura Brown".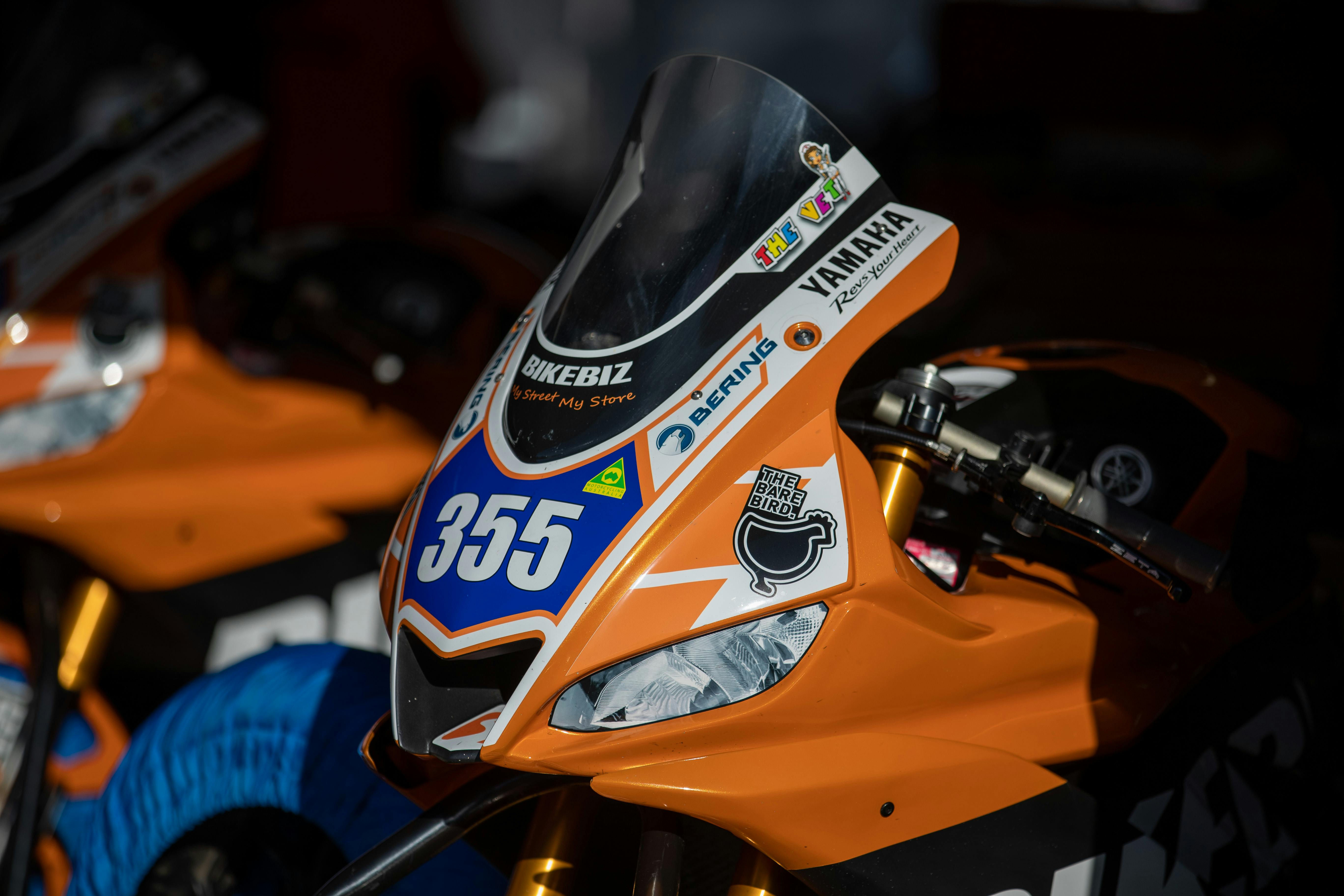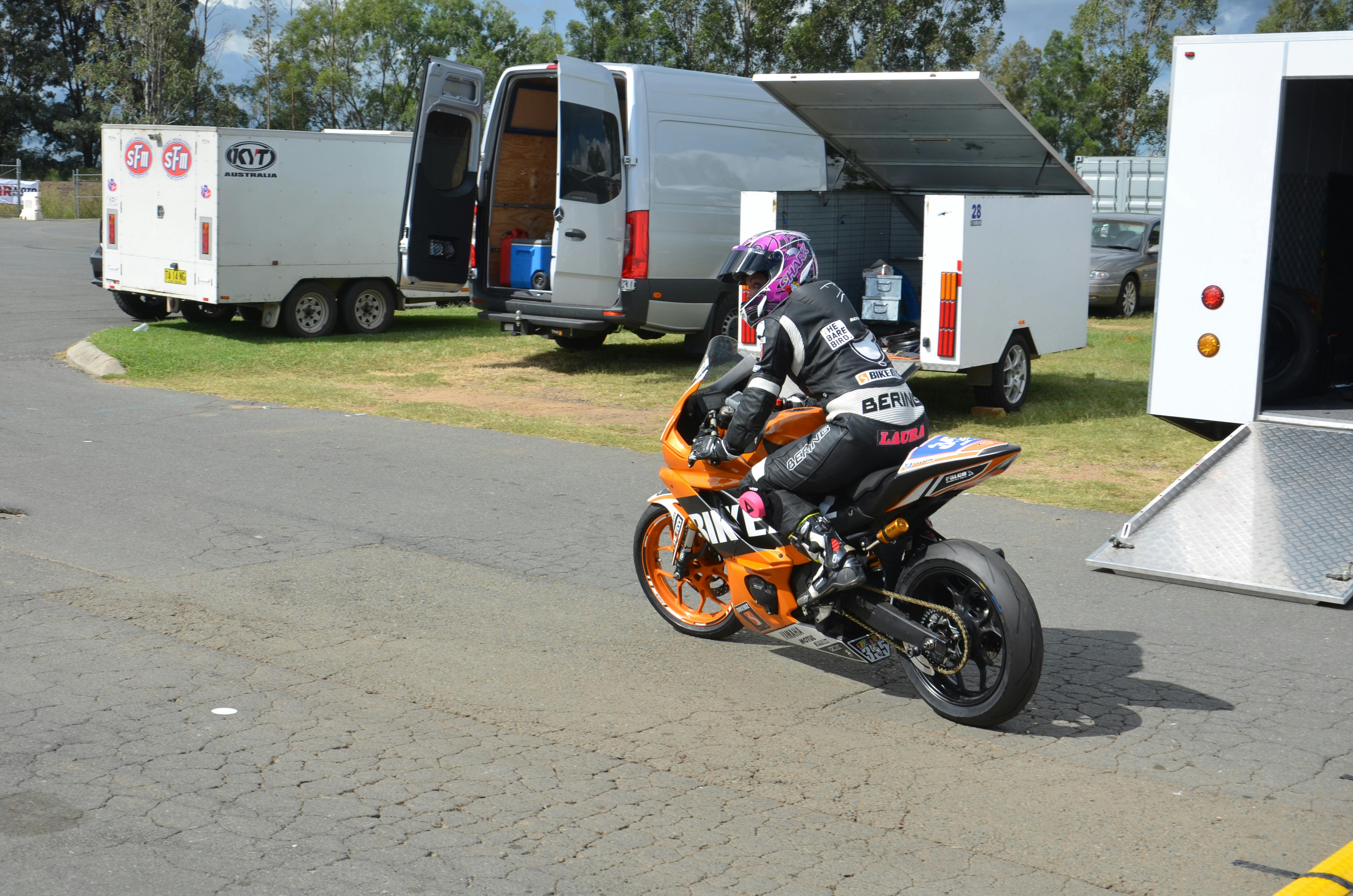 The R3 Cup qualifying round was up next and Laura set herself up for an almighty session, "I had a much better session this time around and ended up 0.6 of a second off P2". Little did she know this would be her last completed qualifying session of the weekend as she rode back into the pits.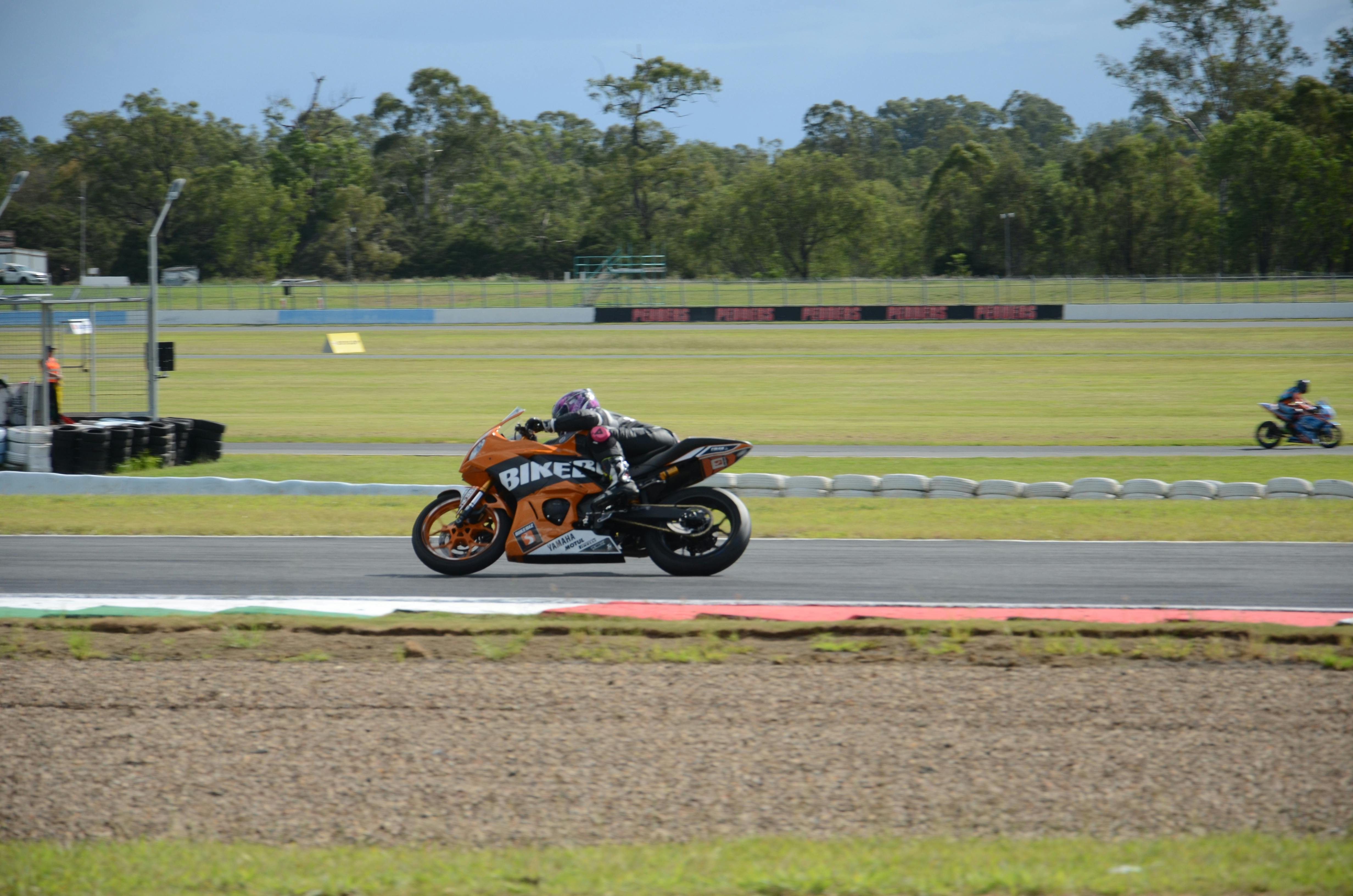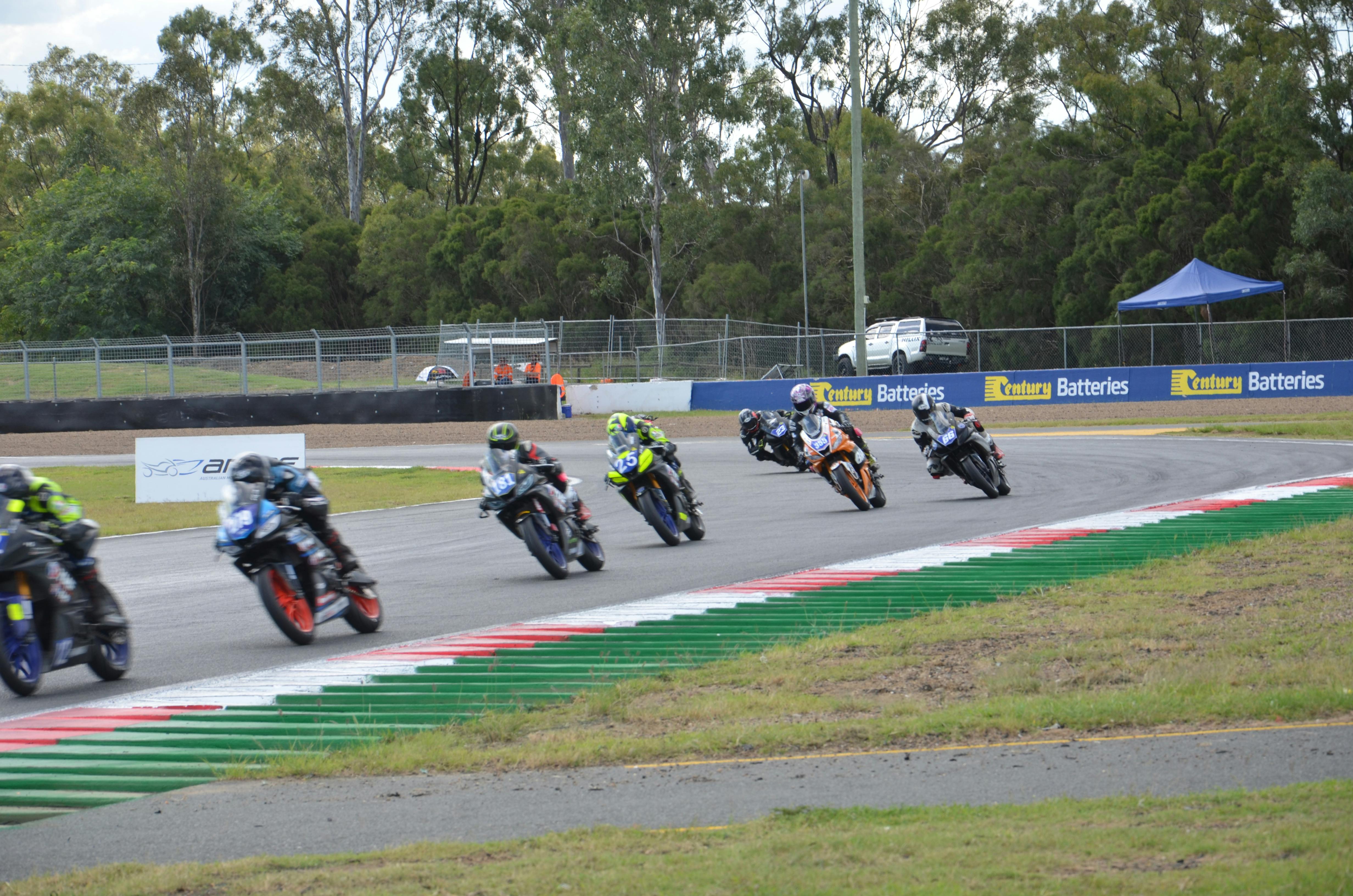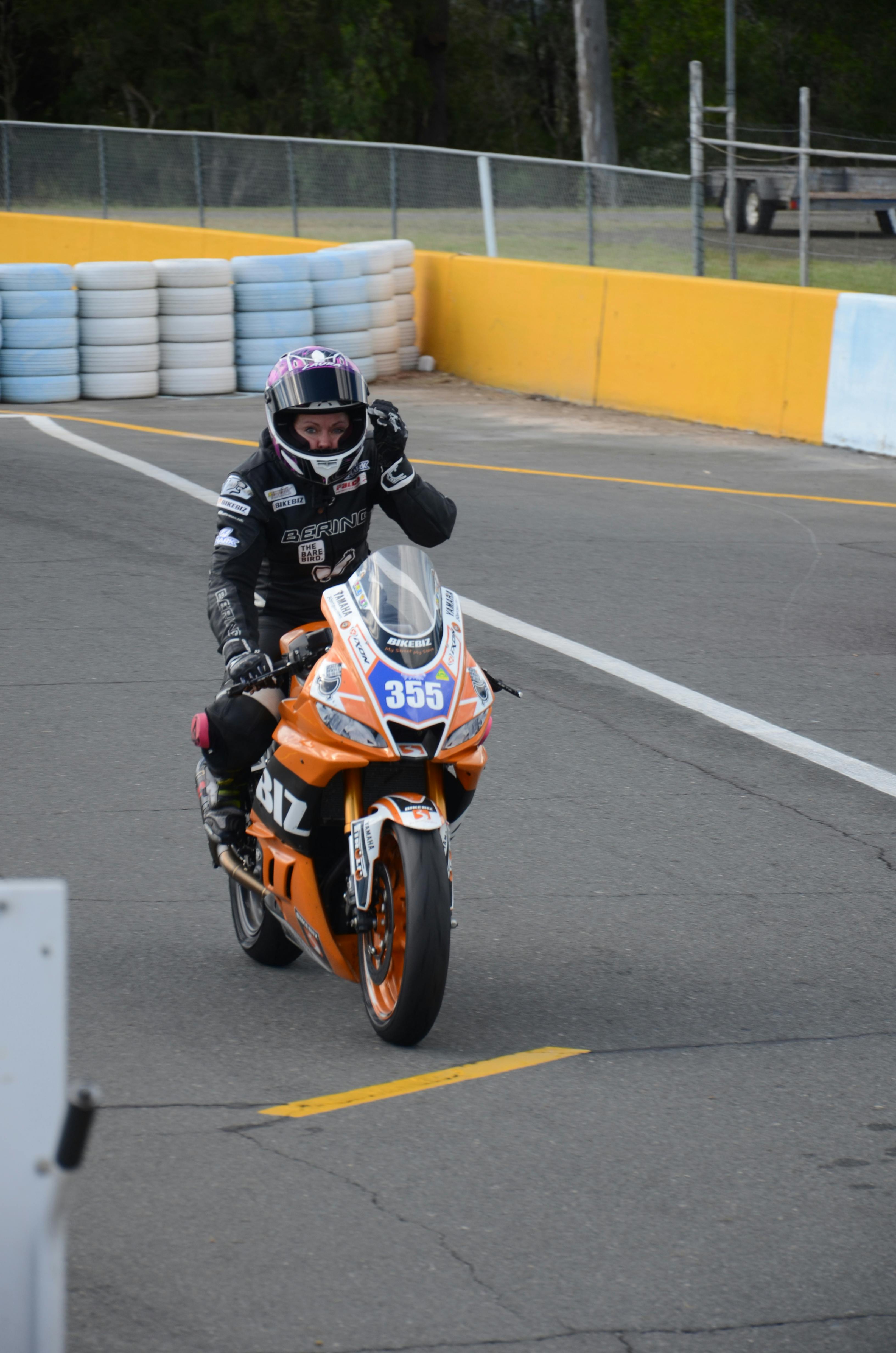 Laura headed into her final R3 Cup qualifying round a little after lunchtime with high hopes and determination in her eyes, but misfortune was around the corner. "I was going so well in the R3 cup, I managed to tag onto the back of one of the fastest riders in the field but unfortunately, I out braked myself into the last corner which ended in a broken collar bone" – Laura Brown.
Witnessing Laura from the sidelines I could see that she had great pace, Laura's strength appeared to be her braking and I could see Laura trying to build on this as she was braking later and later getting underneath other riders into the slow corners. As Laura came to the final turn of the track, I had my camera ready for her to punch past me on the main straight but unfortunately, I never got the shot. Twice she had the back wheel a foot off the ground trying to get the bike stopped to bring it around the corner but it wasn't to be in the end, it was the slowest of slow crashes she just tipped over and that was it for her weekend.
Laura made a quick trip to the Hospital which confirmed her collar bone and her fate for this round of the ASBK. Laura Brown is a tough competitor in a male-dominated sport, Saturday was a true judge of her character as she casually walked back from her crash to the medical tent and her conversation to me was centered around her being back on the bike for the next round at Wakefield Park.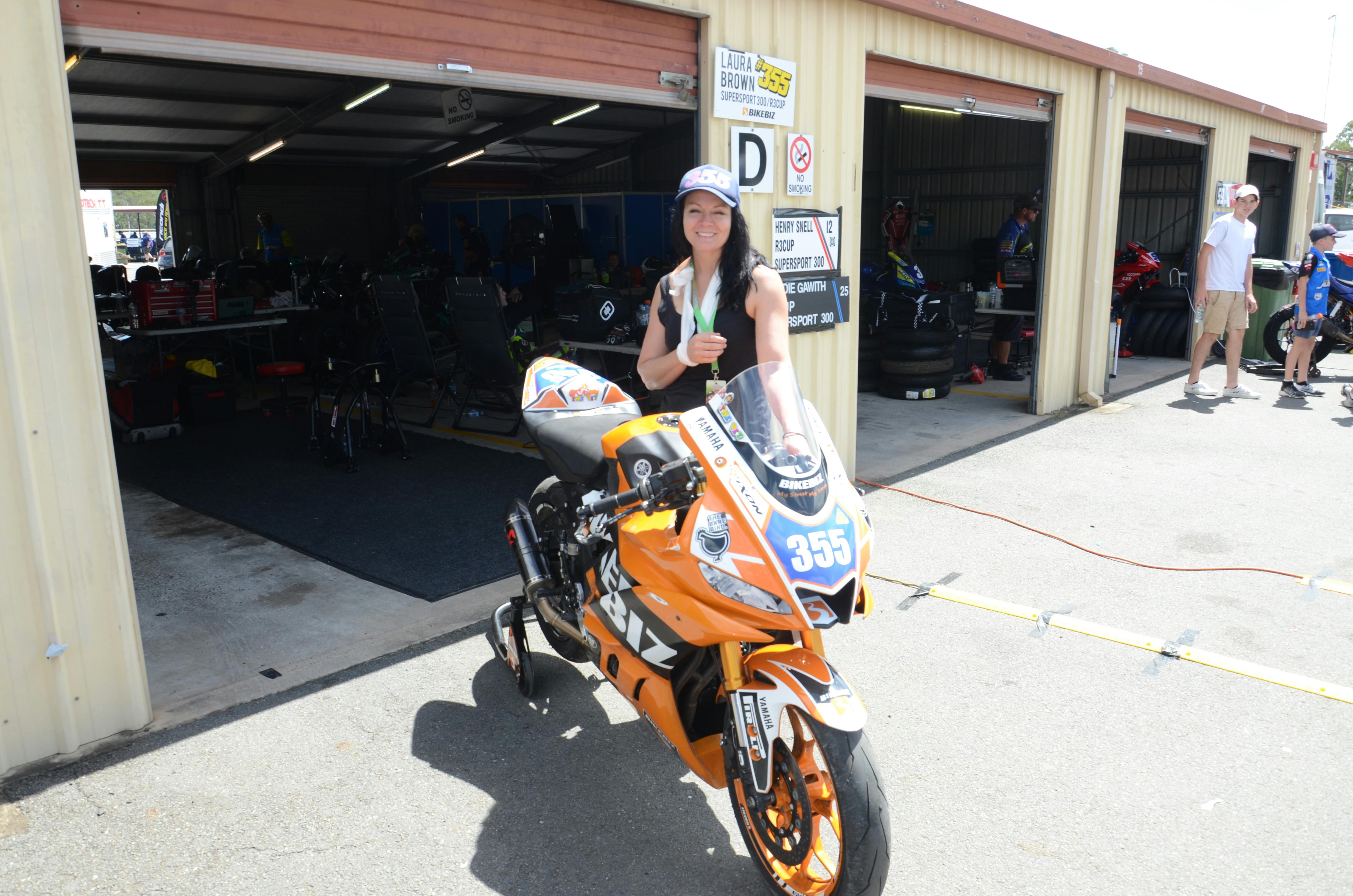 Day 3
With one rider down and the other at the top of the grid, the Bikebiz pit on Sunday morning had a different feel to it. At the core of all racers is winning, which is the Job the Bikebiz team and Tommy still had to complete on this final day and Laura was due at the track later in the morning but had already contacted Tom to fire him up for his first race of the day.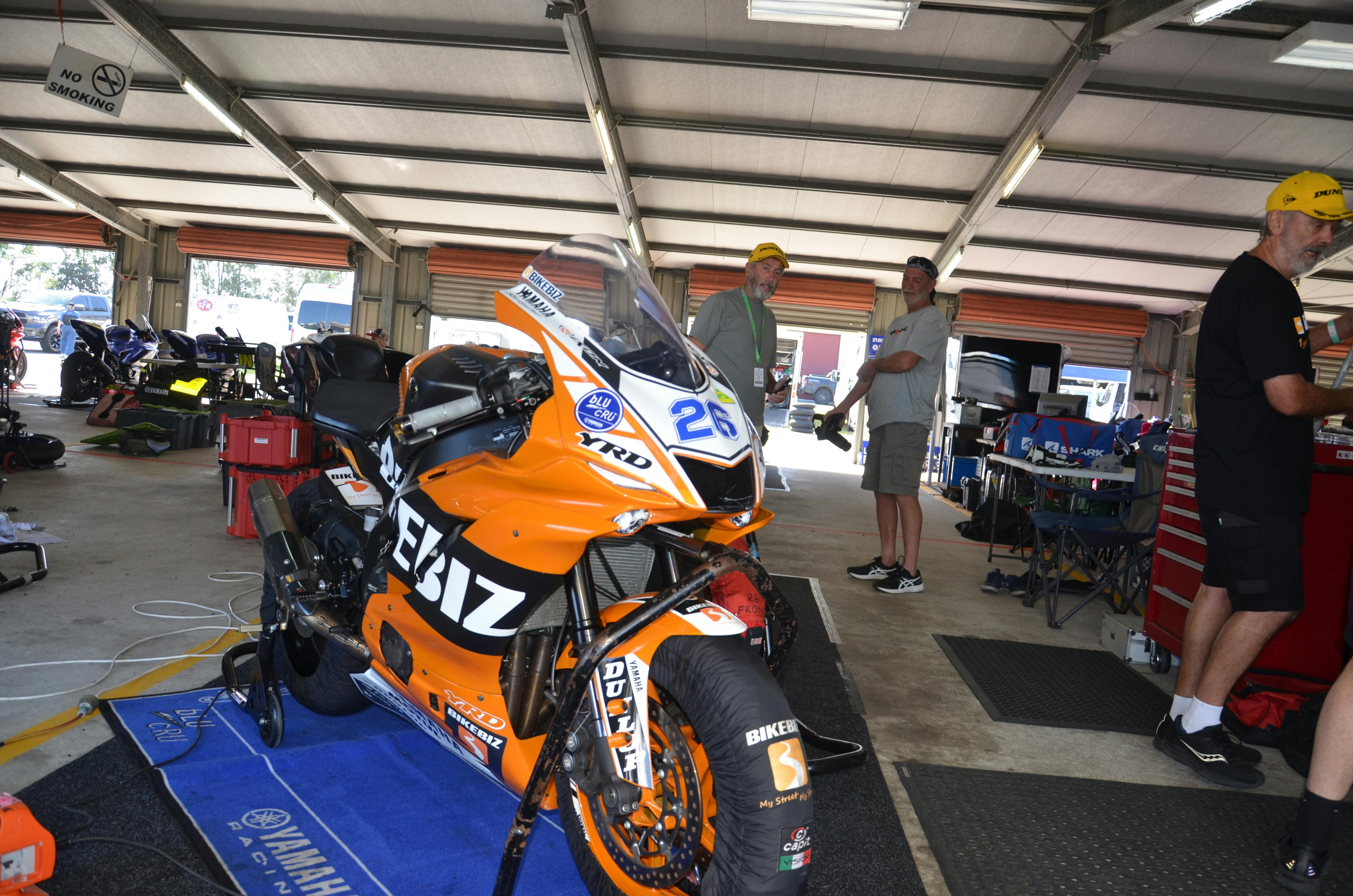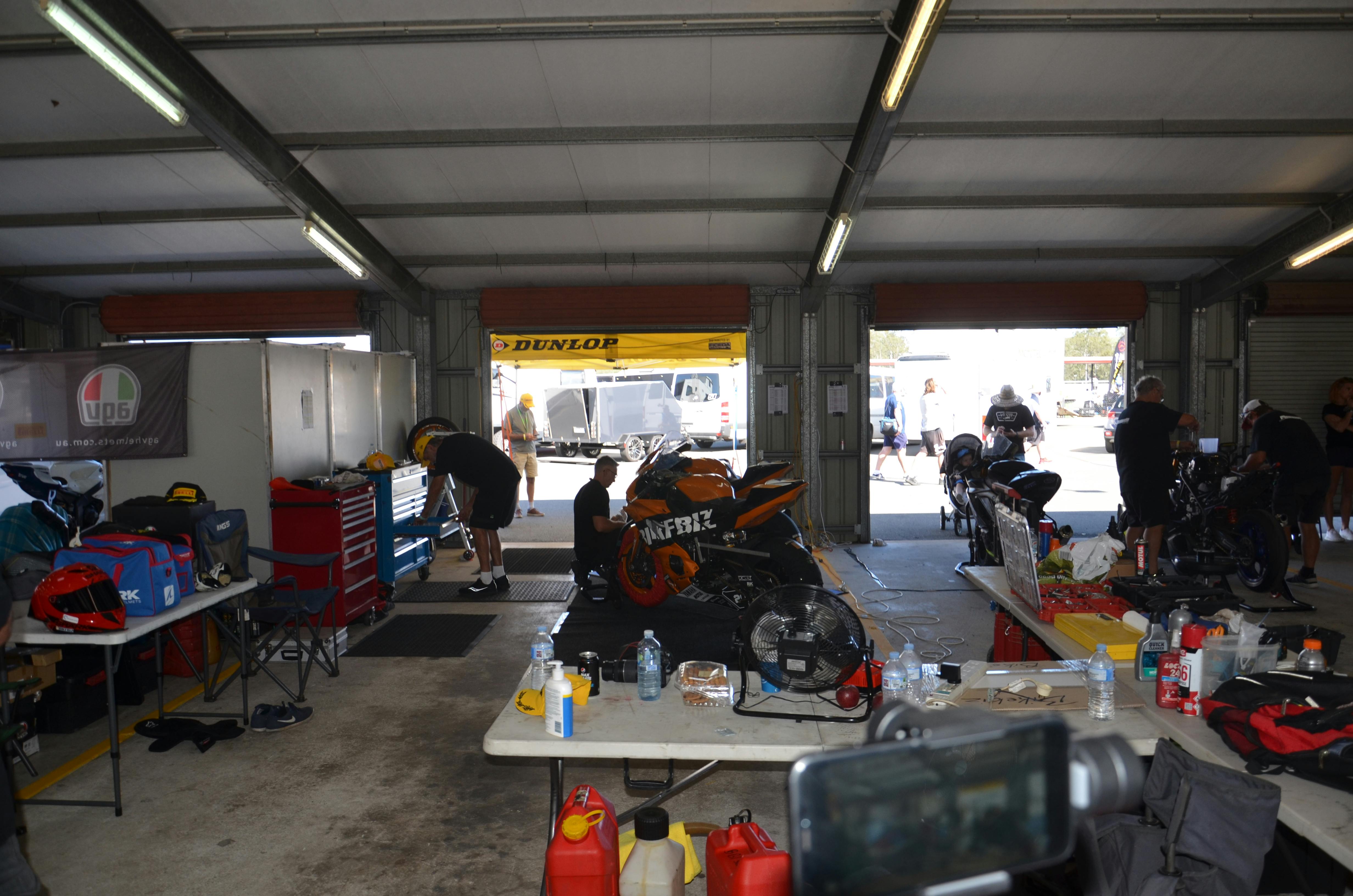 The day could not have been better, the sun was shining the weather was at a cool 25 degrees and Tommy and his amazing team were pumped and ready to hit the ground running.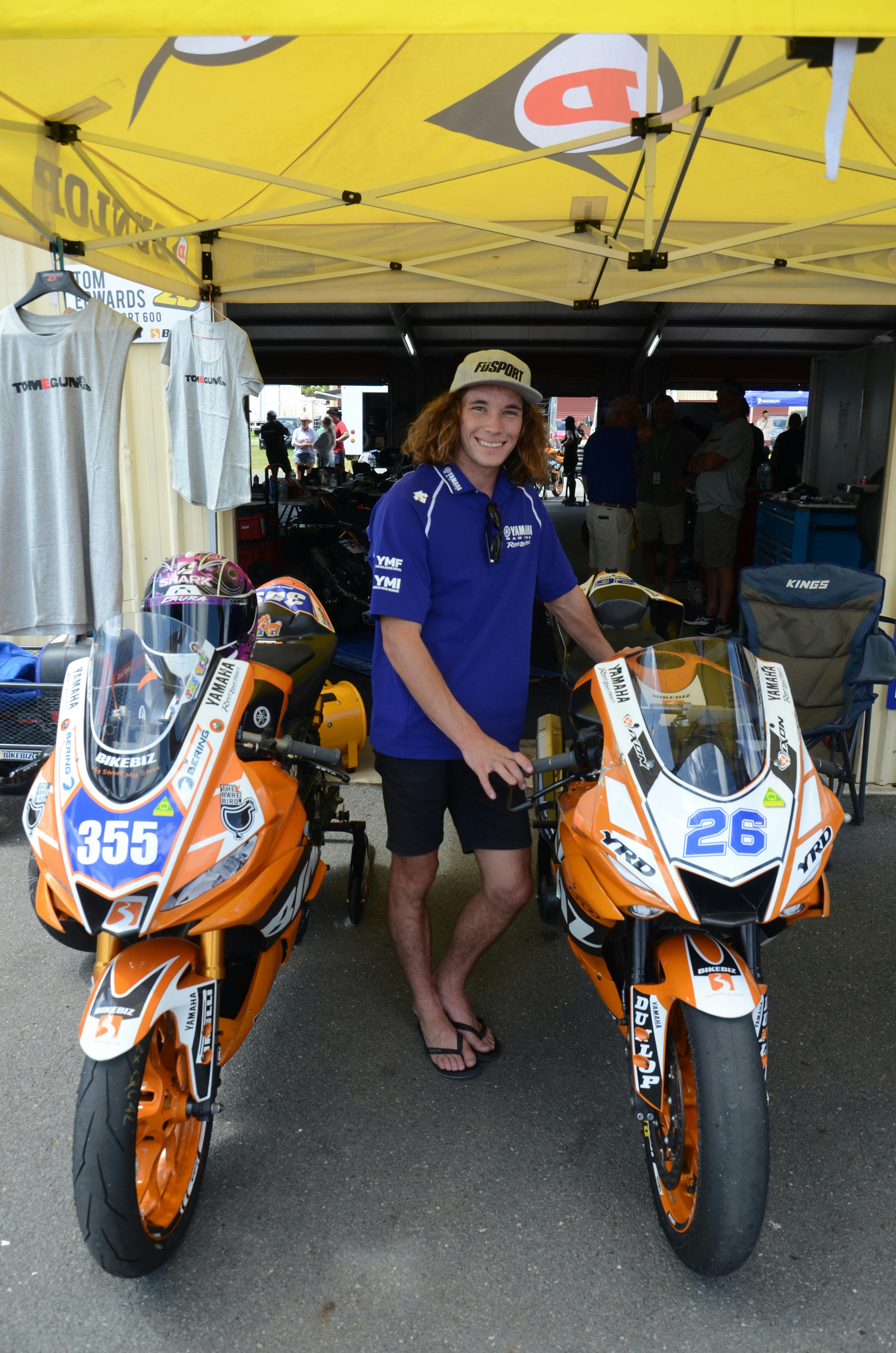 The First Race
I had the absolute privilege of standing on the grid next to Tommy and our team which gave me a true first glance into the pressure and professionalism Tom and his whole team goes through, throughout the weekend. Running onto the grid holding a front and rear Paddock stand was an exhilarating experience that I will treasure for a long time, and standing on p1 watching the Mechanics throw on the tyre warmers, set up the bike, and prepare for the race ahead gives you a rush of adrenaline I honestly wasn't ready for. After Tom completed his interview and the teams were ushered off the track, the racing began.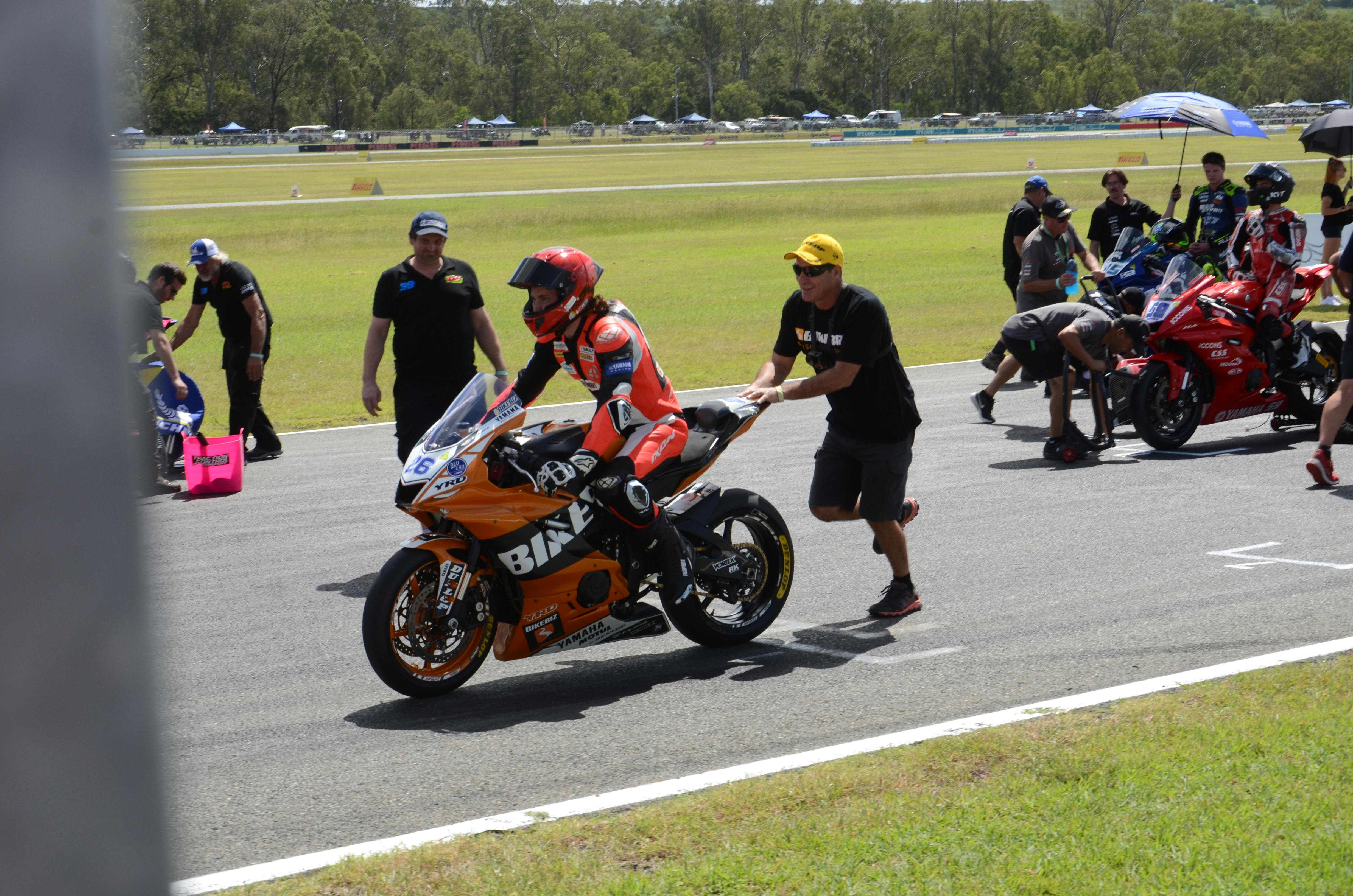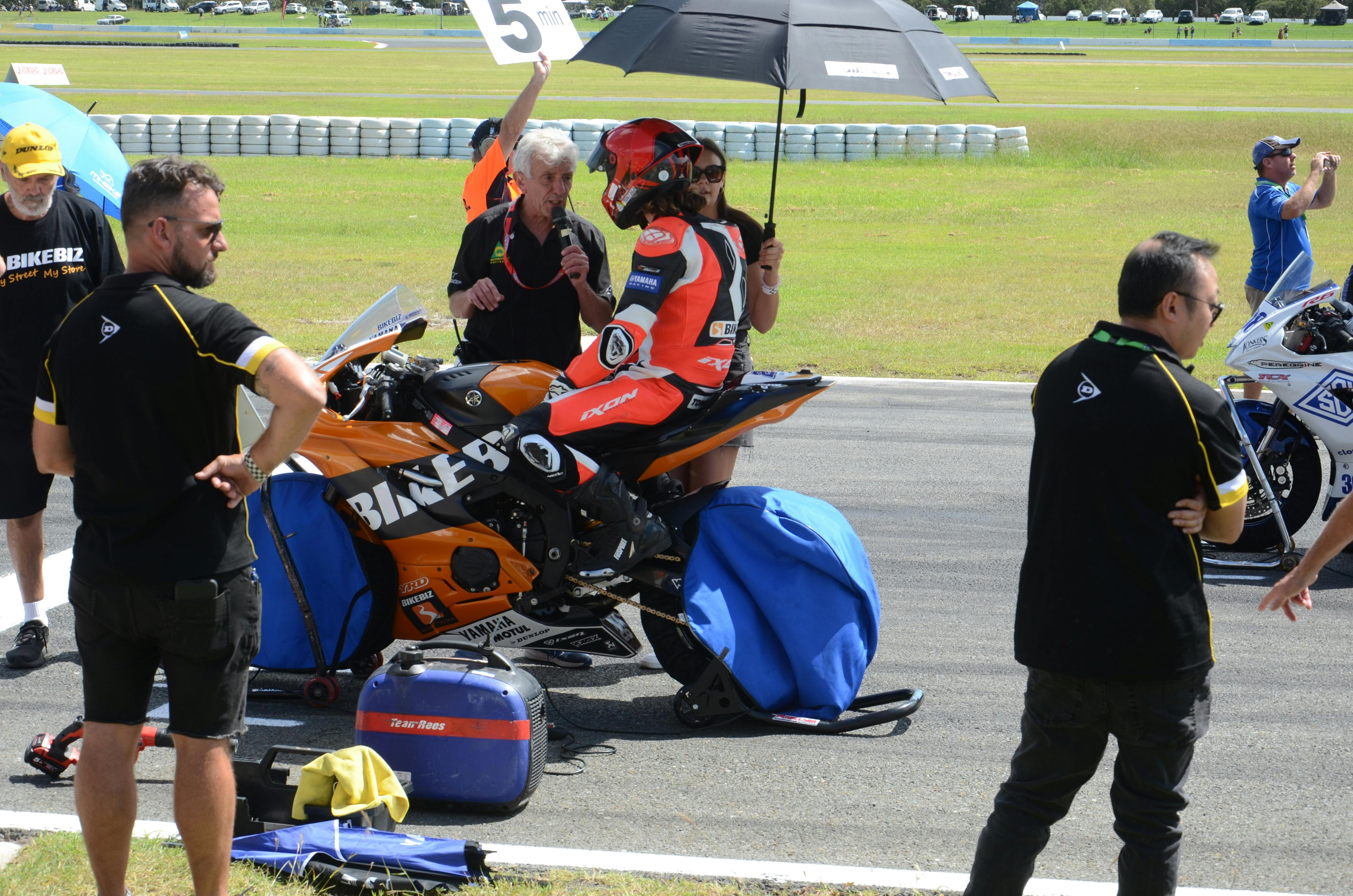 Tommy started the grid on P1 but was taken over by John Lytras in turn 1 on the #308 machine putting Tommy down into P2 then suddenly out of turn 1 Olly Simpson #45 took Tom's P2 position pushing Tom into P3. This was the beginning of a race Tommy did not want but if there's anything you can say about Tommy Edwards it is that he loves the hunt, and he will catch you.
By Lap 3 Tommy made his move on Simpson and jumped back up into P2 and by Lap 4 through the Michelin corner, Tommy retook his rightful P1 spot. By the final lap, Tommy held a strong 2.6 second lead over Scott Nicholson on bike #39 who had fought his way up from P4 to P2, which saw Tom take the victory and secure P1 for Race 1 of round 2 of the ASBK.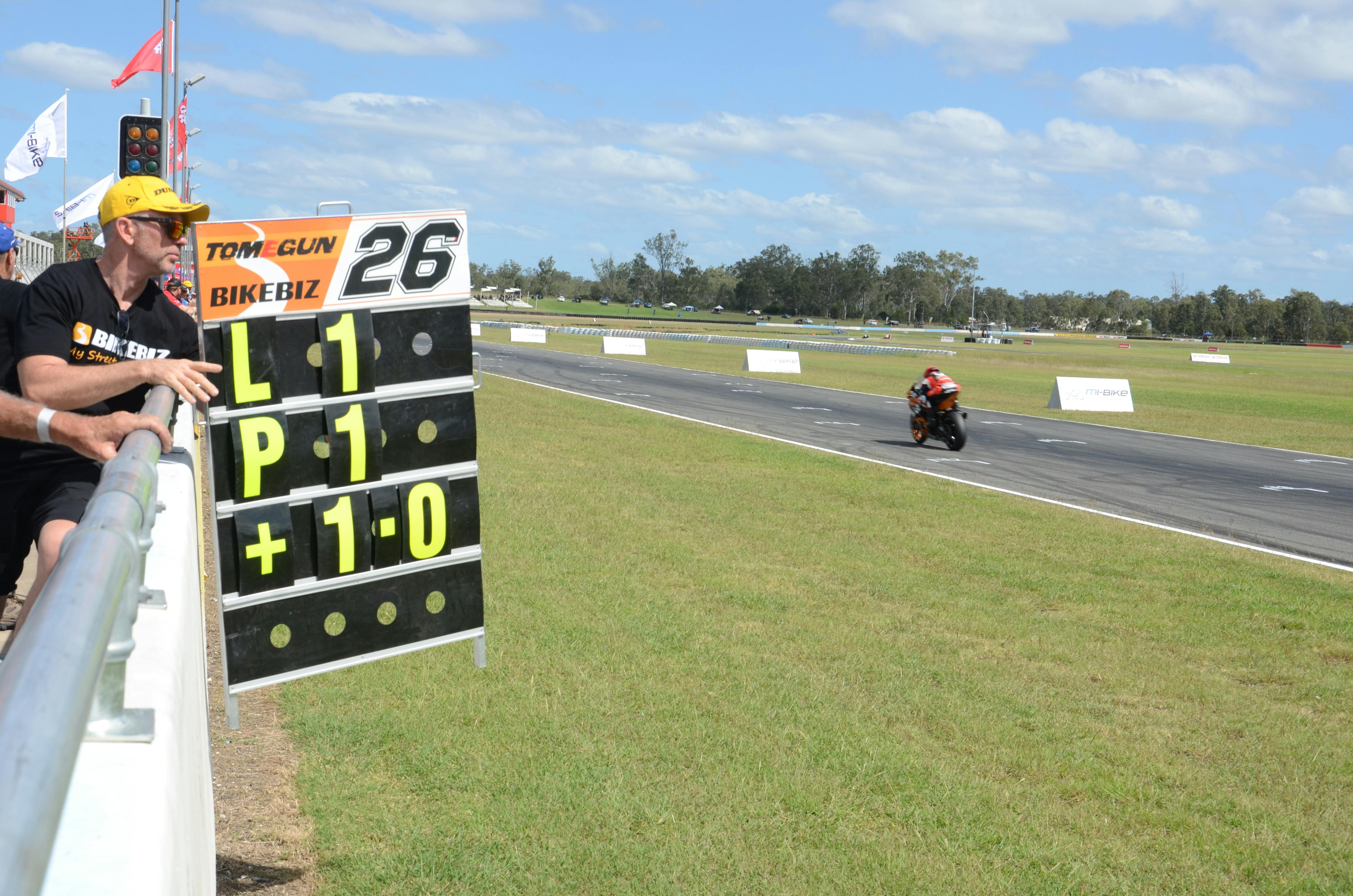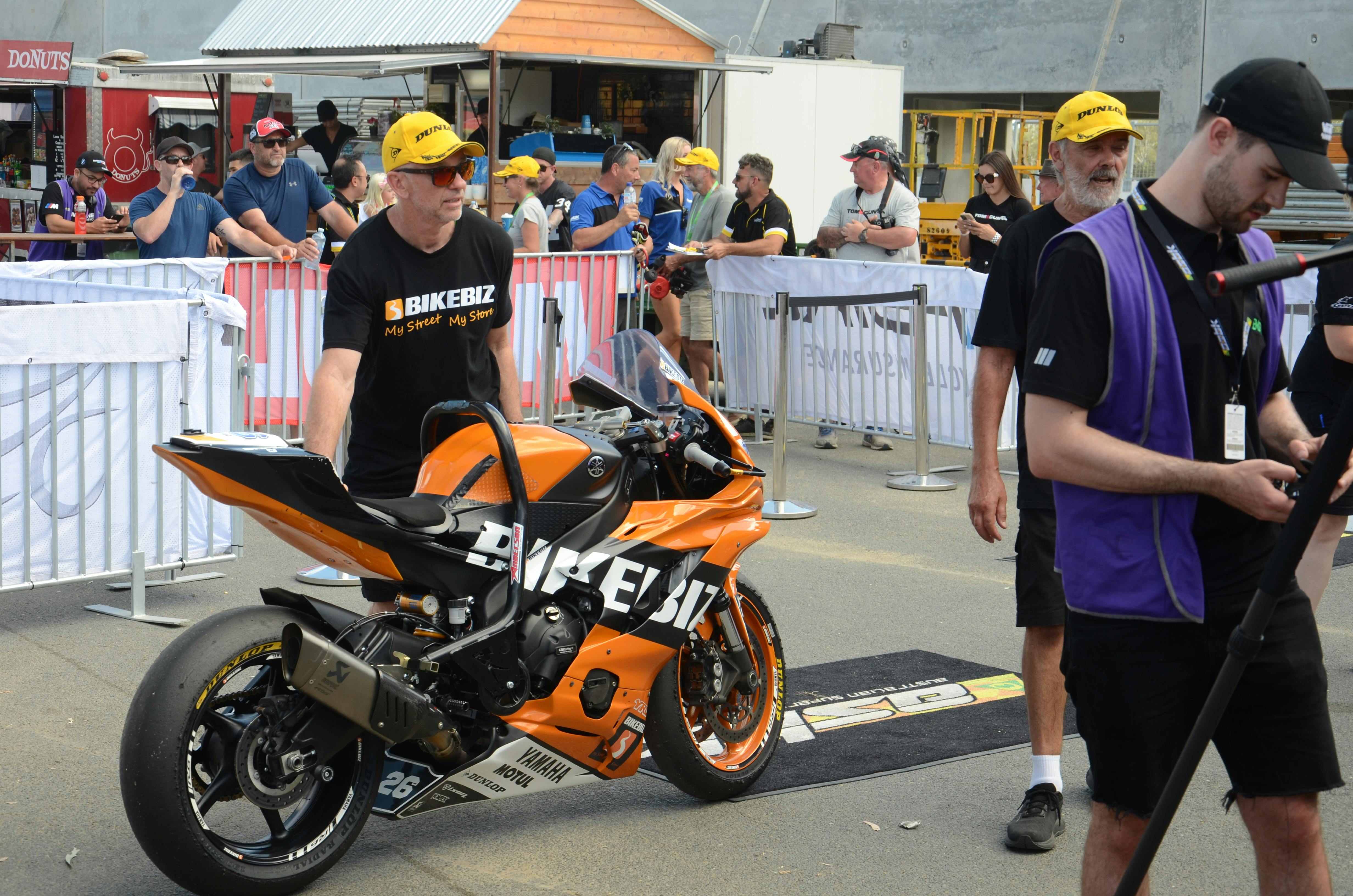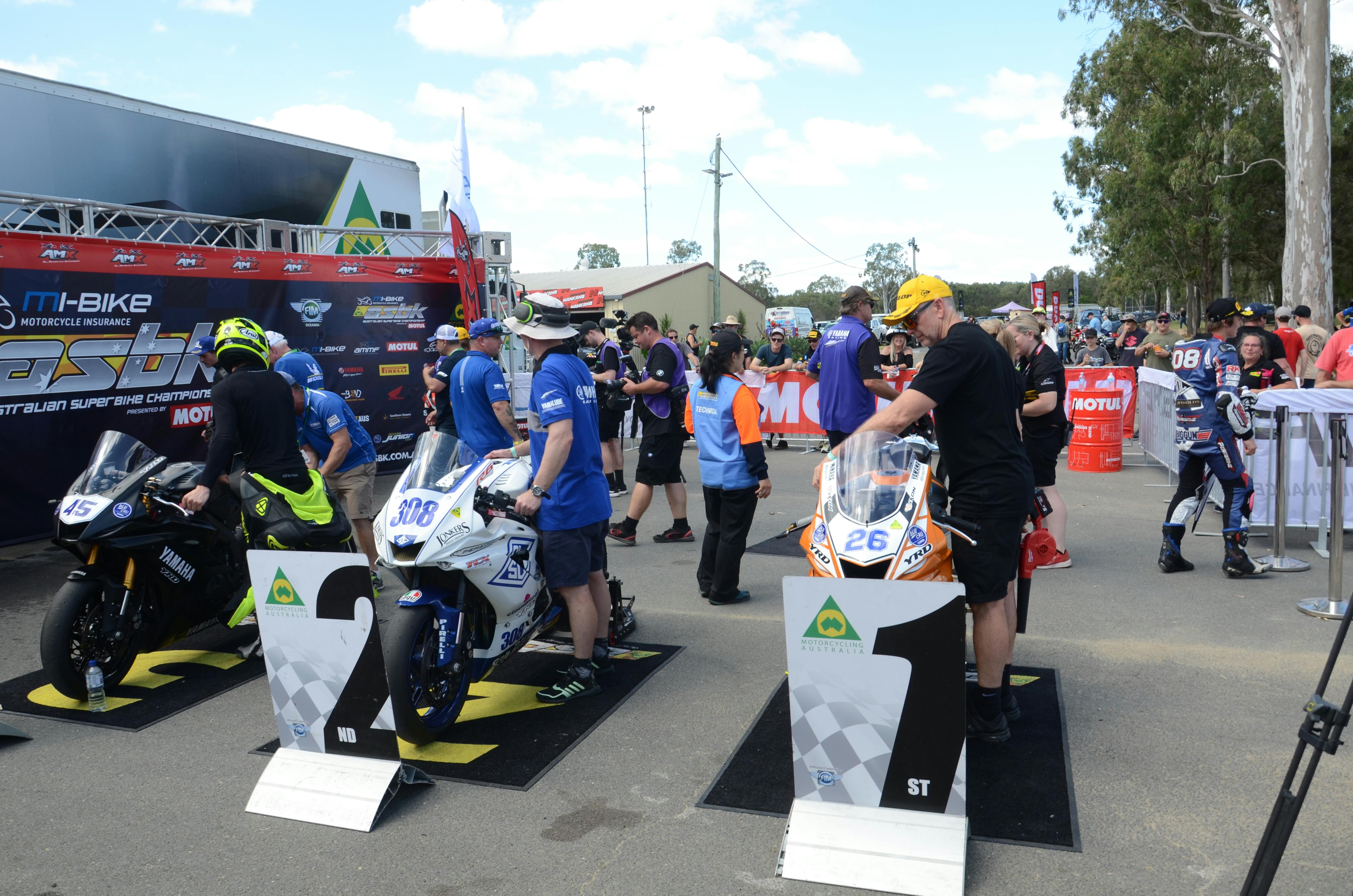 The Second Race
After taking home Race 1 the pressure was now on for Tom in race 2, his competitors knew how quick his pace was and they were hungry to take it away from him. With all this pressure and expectations Tommy Edwards kept a cool head and focused on the job at hand. It is amazing to see a young man like Tom so calm, friendly, and collected off track to then somehow flick a switch in his head to become an absolute racing machine almost within seconds after putting that Shark helmet on.
Tommy set off in Race 2 in P1 and didn't look back from then on, he stayed in P1 throughout the whole race blitzing his competition and securing the championship Lead with 2 Race wins, a Qualifying lap Record, and a Race lap record now under his Belt. The weekend was Tommy's and the Bikebiz team had completed their mission for this round of the ASBK championship.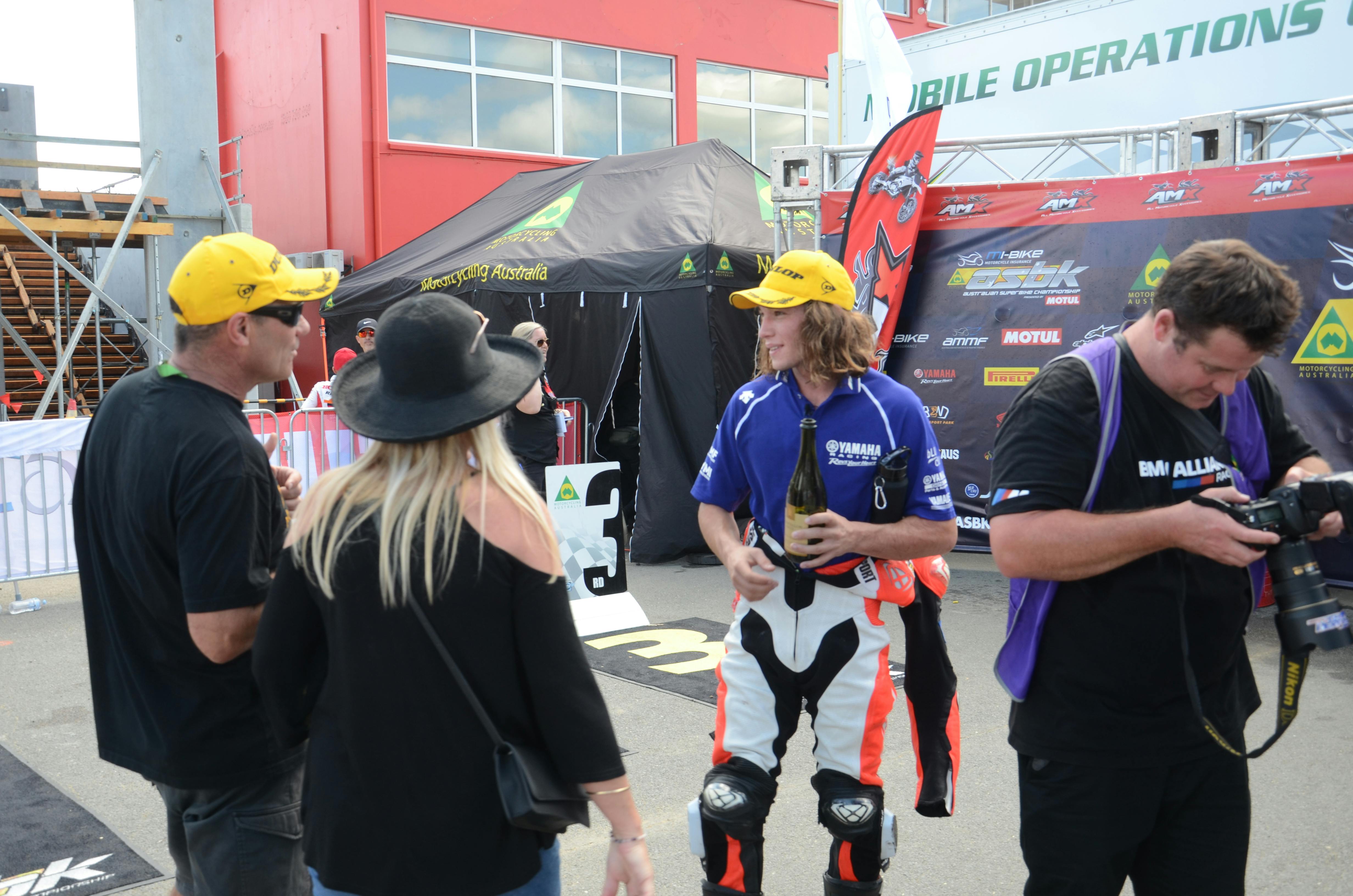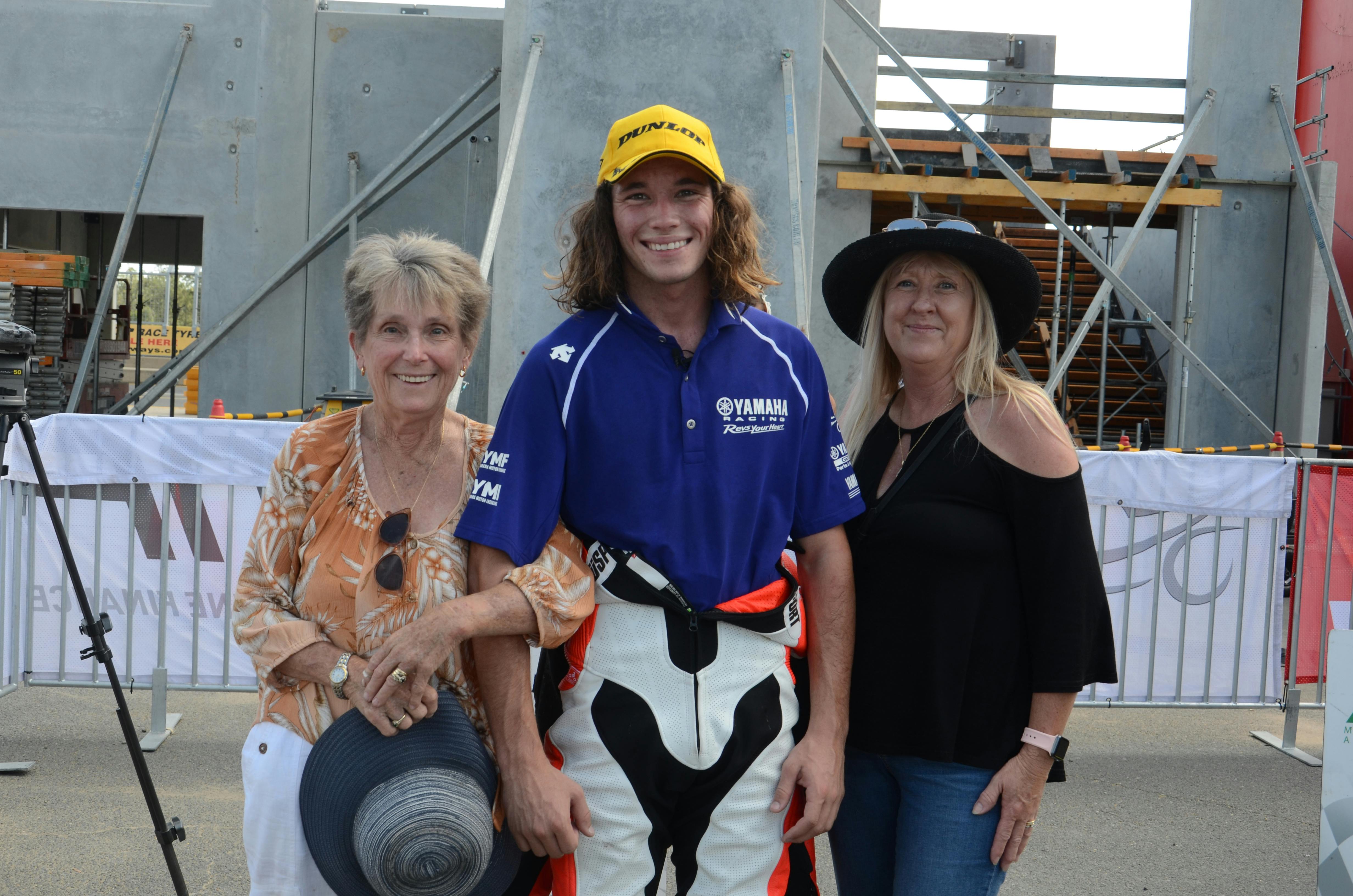 The Elephant in the room…
After this magnificent day, the Bikebiz team started packing up for their long journey back home to Sydney but there was one missing component to this pack up, the bike…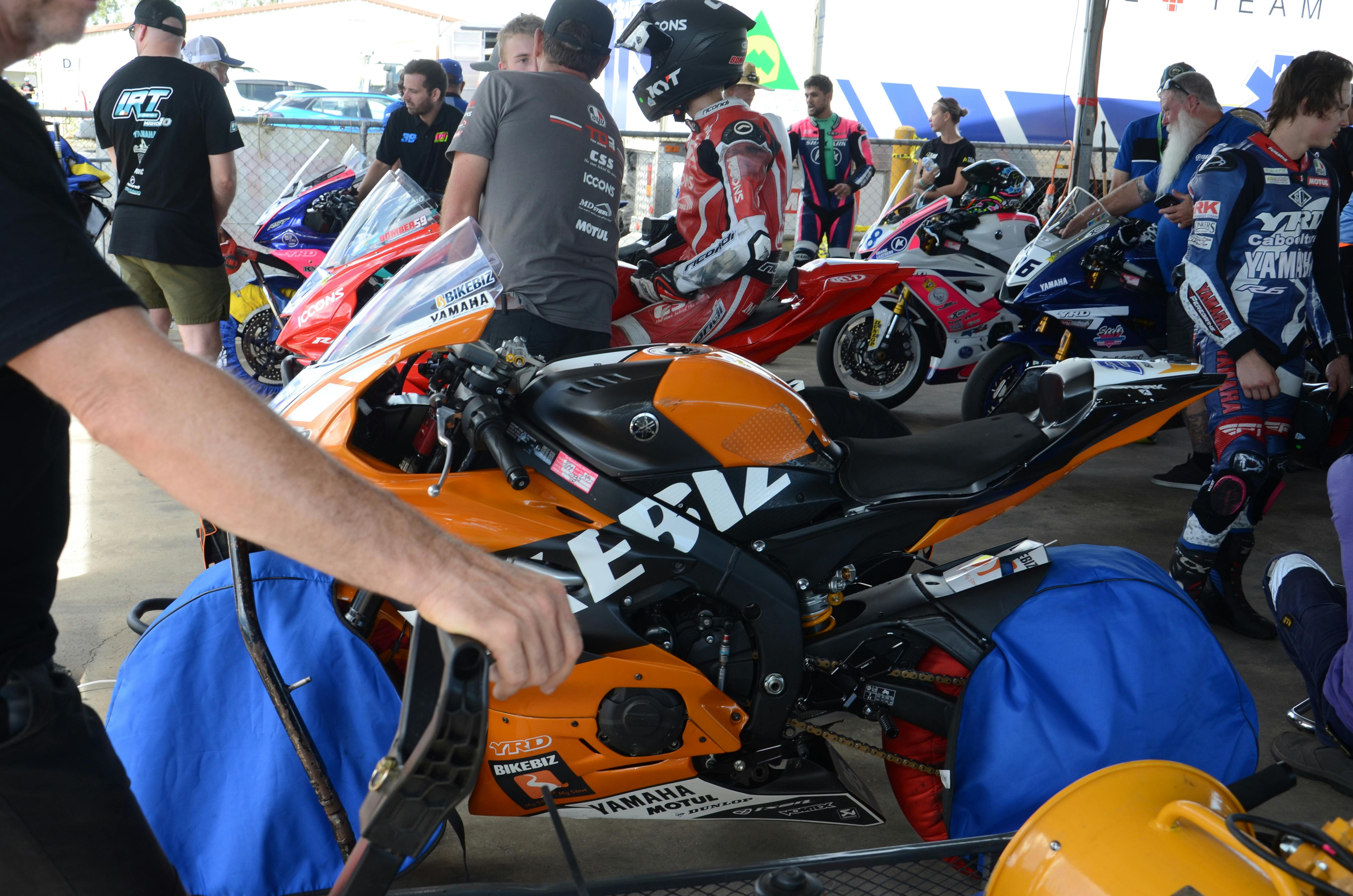 After the race, ASBK inspected the top 3 finishers. During this inspection, the Bikebiz R6 was found to be in breach of regulation due to the removal of casting marks in the inlet port area. Our R6 engines are race-prepared interstate by an independent engine builder and although we had been informed that this breach has been considered to be minor, it was deemed a breach of ASBK regulations. Unfortunately, as a result of this Tom Edwards lost all points for the Queensland round including the loss of recognition of a new lap record.
The devastation following this decision was indescribable for all Bikebiz Team members, with Tom Edwards at the top of that list. Coming from the high of a perfect weekend that is every race team's dream to win 2 out of 2 races and for it to be ripped out from underneath you is a feeling like no other.
Bikebiz has publicly apologised to Tom Edwards, the Edwards Family, Frank Pons, their sponsors, supporters, ASBK & fellow competitors. Their apology can be found on the Bikebiz Facebook page.
The outcome of this round is truly regretful for all concerned, however, we are confident that the championship is not out of reach for Tom and the Bikebiz Team.
Watch this space...