So who are these TCX people, anyhow?
TCX boots are not new on the bike gear scene. While the TCX brand here in Oz might not have quite the familiarity that some of the really high profile brands enjoy, they offer a very decent range of high quality boots. TCX got started back in 1999 and pushes its Italian heritage hard, along with a proud 'focus on boots' byline and brand partnerships with the likes of Gore Tex and Michelin. Half a glance at their corporate videos shows that TCX is a manufacturer that's serious about its development, testing and quality as a specialist boot manufacturer
Riding style, context and comparisons
I'm a sports bike rider and sometime club racer. I have big feet that get in the way at proper lean angles, even on the road, so I know all about grinding boots to dust, despite having switched to 'GP shift' (one up, five down) ages ago to try to get my toes up higher more of the time. I've worn, and worn out, a lot of boots and so I look for a good deal of durability, a no-nonsense approach to safety, and enough comfort that I can walk around the paddock at track days now and then without feeling like I'm wearing plaster casts below both knees.
Booting up – first impressions
Bikebiz sent along a pair of TCX RT Race Pro Air boots in fetching black, grey and (if I was allowed to I'd say 'Rossi') yellow. Right out of the box the immediate look and feel is that of a premium race boot, with some familiar design cues and some new stuff unique to TCX as well.
Now, I reckon good boots are like good helmets - the best are those that you put on and don't think about. They don't distract you, don't get in your way, there are no little niggles or gripes. They just do their job and you don't think about them. So I didn't think about it. I didn't read any instructions or marketing stuff that came in the box. I just put them on and proceeded to spend a day clomping around the house. Clomping around the house is not the most important test of a pair of race boots, but it's a good start and it does have the added benefit of annoying my wife. Seriously, in my experience if they're reasonably comfortable even just walking around, you're headed in the right direction.
Putting on boots shouldn't be hard, although there are some boot designs on the market festooned with gadgets and doodads that make it a chore. Happily the TCX RT Race Pro's slip on with no need for an engineering degree. There's a side zipper and a simple lace-up inner boot lining that TCX call 'Fasten Fit Control'. There's also a ratcheting calf fit system that's simplicity itself. Unlike some other brands I've tried, the TCX system has enough adjustment range to cater to my weedy calves. Fantastic.
Initial impressions? The Race Pro's are a nice fit for my standard-issue USA size 12 feet, fairly comfy but by no means supple. Just walking around there's less natural 'hinging' at the ankle than some other race boots, and in part this is due to the TCX boots' Double Flex Control system – but we'll get into that in more detail shortly. Although quite comfortable, the TCX's are stiff at first wearing and feel like they'll benefit from some good old-fashioned breaking in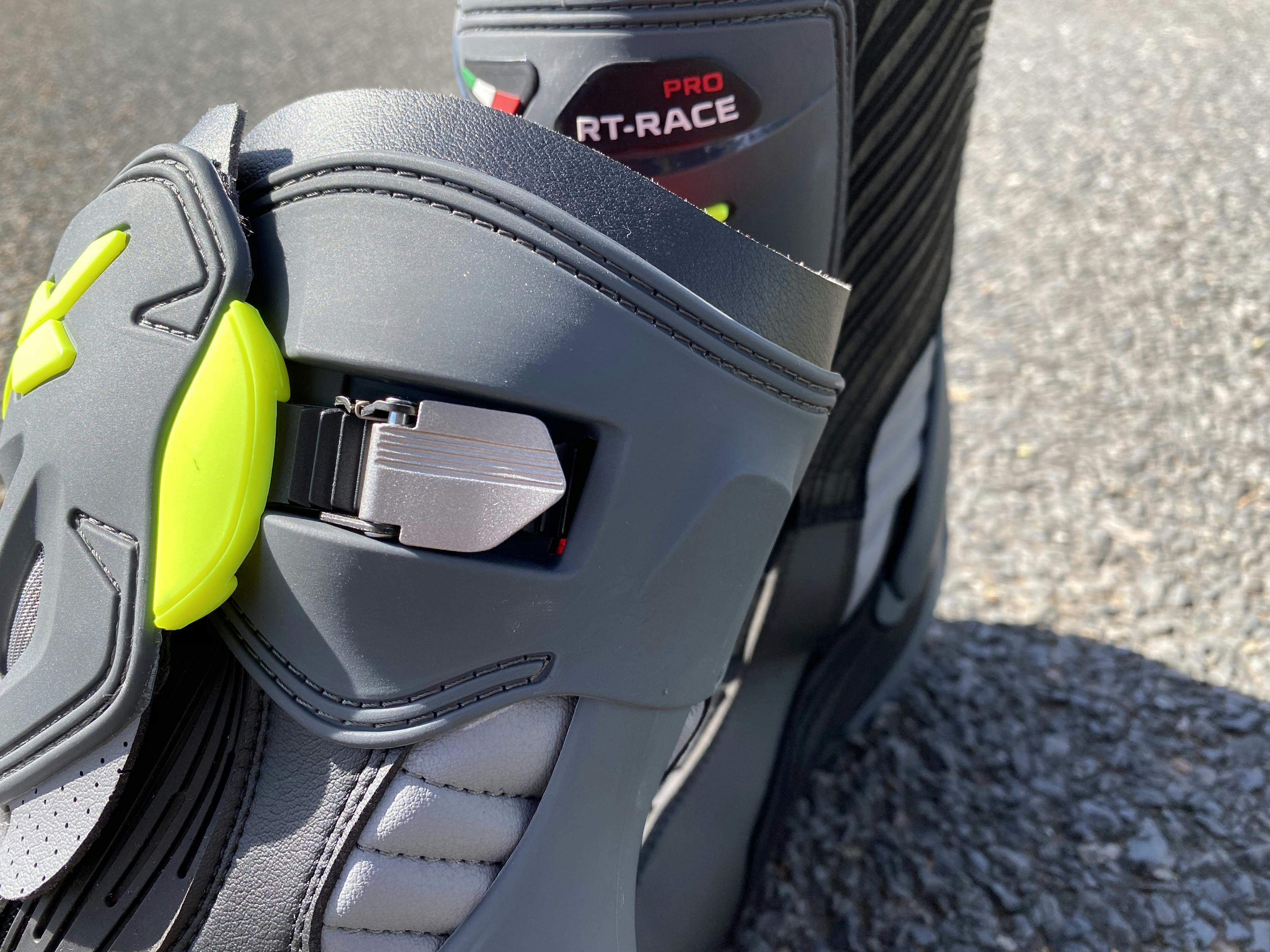 Ratcheting calf closure - quick, simple, tough
Double Flex Fit Control
The party piece of the TCX RT Race Pro is undoubtedly the Double Flex Control System. This system takes the shape of a polyurethane frame attached with a series of screws and lugs. The frame pivots at the ankle and slides in two 'safety lock' pockets at the back of the boot. It's designed to give protection through stopping ankle overextension both forwards and backwards. The frame is also designed to slide rather than grip and cause tumbling during a fall and there are metal side and rear sliders to help this further. The heel counter is a very solid piece of kit created to absorb impact energy. All in all it's a distinctive looking system at the back of the boots that has a robust look and feel.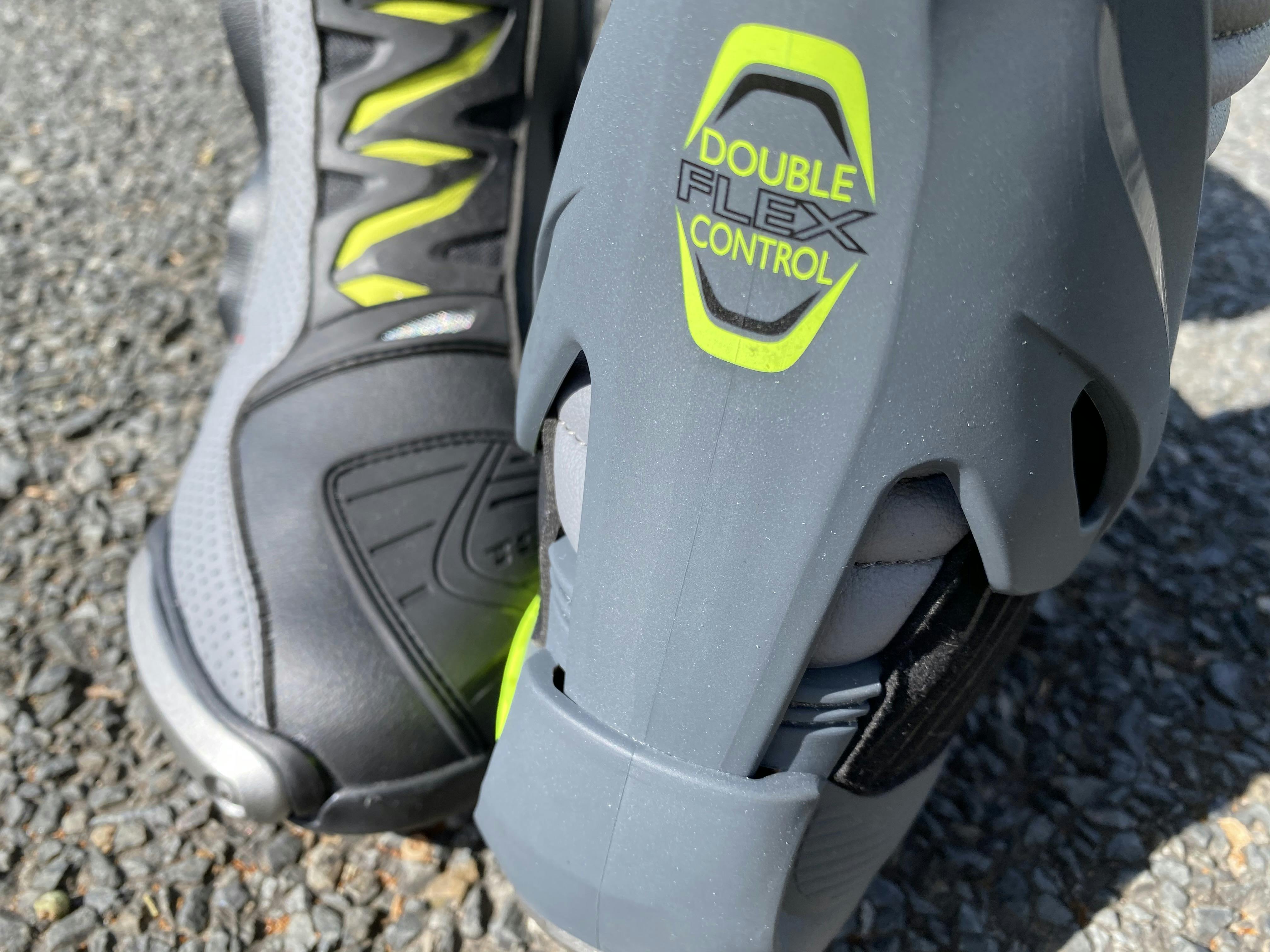 Double Flex Control: designed to stop over extension
The sole of the Michelin man
I mentioned brand partnerships earlier and Michelin has jumped onboard with TCX to help create the amusingly named 'Michelin Burnout Sole'. Apparently inspired by Michelin's Power Supersport Evo tyre, the sole has both macro and micro sculptures - yes, really – designed to enhance sole grip and stability on the pegs. The heel angle has been created to help enhance rider foothold on the pegs, too, and the whole deal is tear and abrasion resistant. While it all sounds a bit like it's made out of pure marketing, it has to be said that the sole on these boots is ridiculously grippy. If you've ever struggled for footpeg grip out on a racetrack, you'll appreciate the importance of a boot sole that does what it ought to. We'll come back to the Michelin man a bit later on.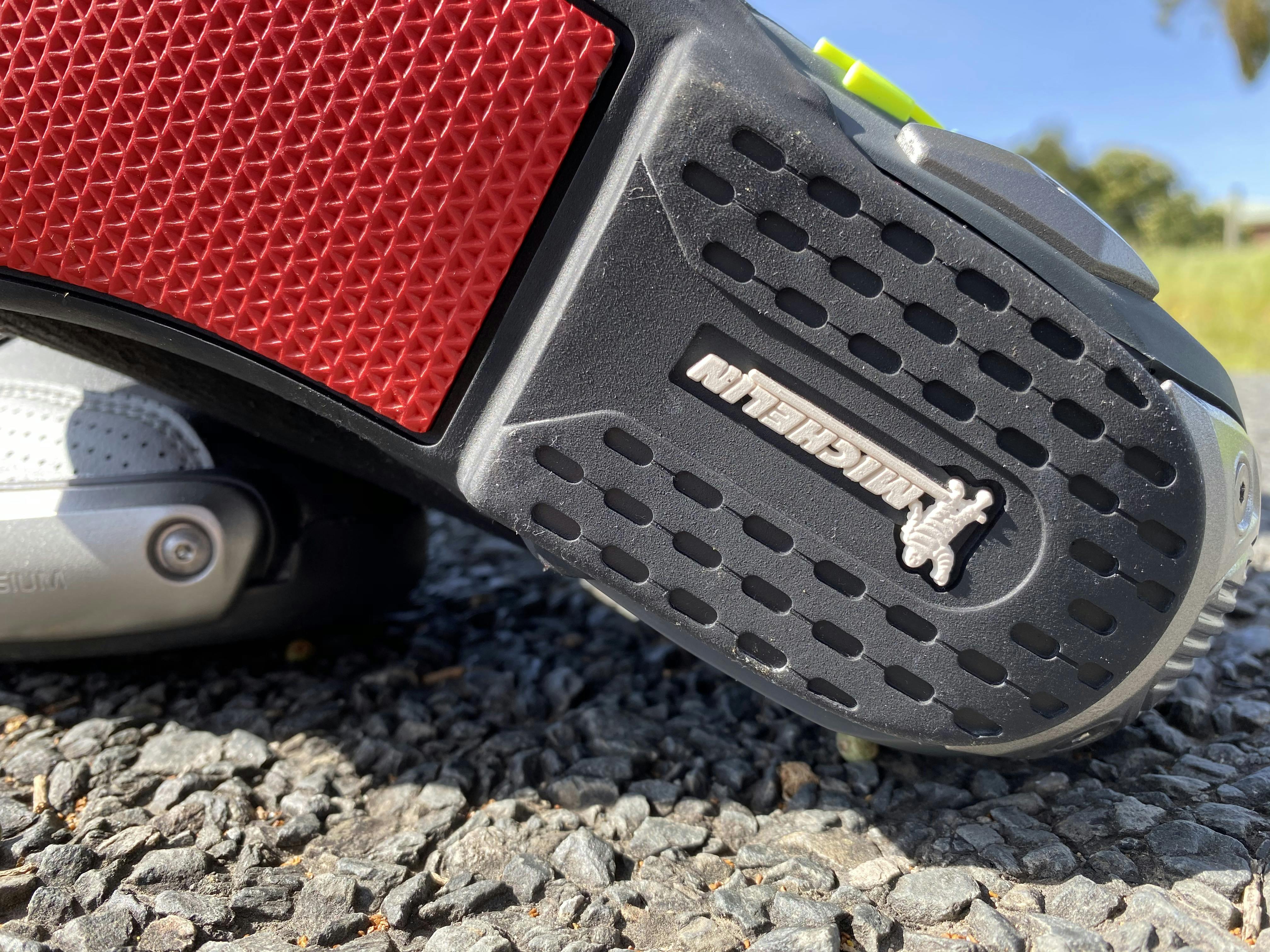 Upper by TCX, sole by Michelin
Bells and whistles
The TCX RT Race Pro Airs have magnesium toe sliders screwed on up front. Magnesium doesn't spark, so it won't get you kicked off the track for impersonating The Human Angle Grinder. It also wears better than plastic. Screwed on? Hell yes. I've had 'clip on' toe sliders that come off too easily and others that are bloody impossible to get off, so I'll take screwed on every day of the week. TCX helpfully provide spare screws and even a small Allen key with each pair of boots. Sorted. Toe sliders can be all that stop you grinding your way through an expensive pair of boots in the space of a couple of laps, so sliders that last well are worth their weight in gold. In my experience magnesium beats plastic, no contest.
Many ventilated boot designs feature all manner of switchable intake and exhaust vents but TCX have kept this side of things refreshingly simple, using ample perforation up front as well as a handful of meshed vents. It certainly flows air well enough for me, with no complication. In warm weather there's nothing worse than taking off your boots and feeling like you could almost wring out your socks.
Helpfully, the inner side of the boot (the one that faces the bike…) is smooth and covered in a soft-finished synthetic leather that won't gouge the hell out of the sides of your bike as you clamber all over it at the track. It's a thoughtful touch that not every race boot features.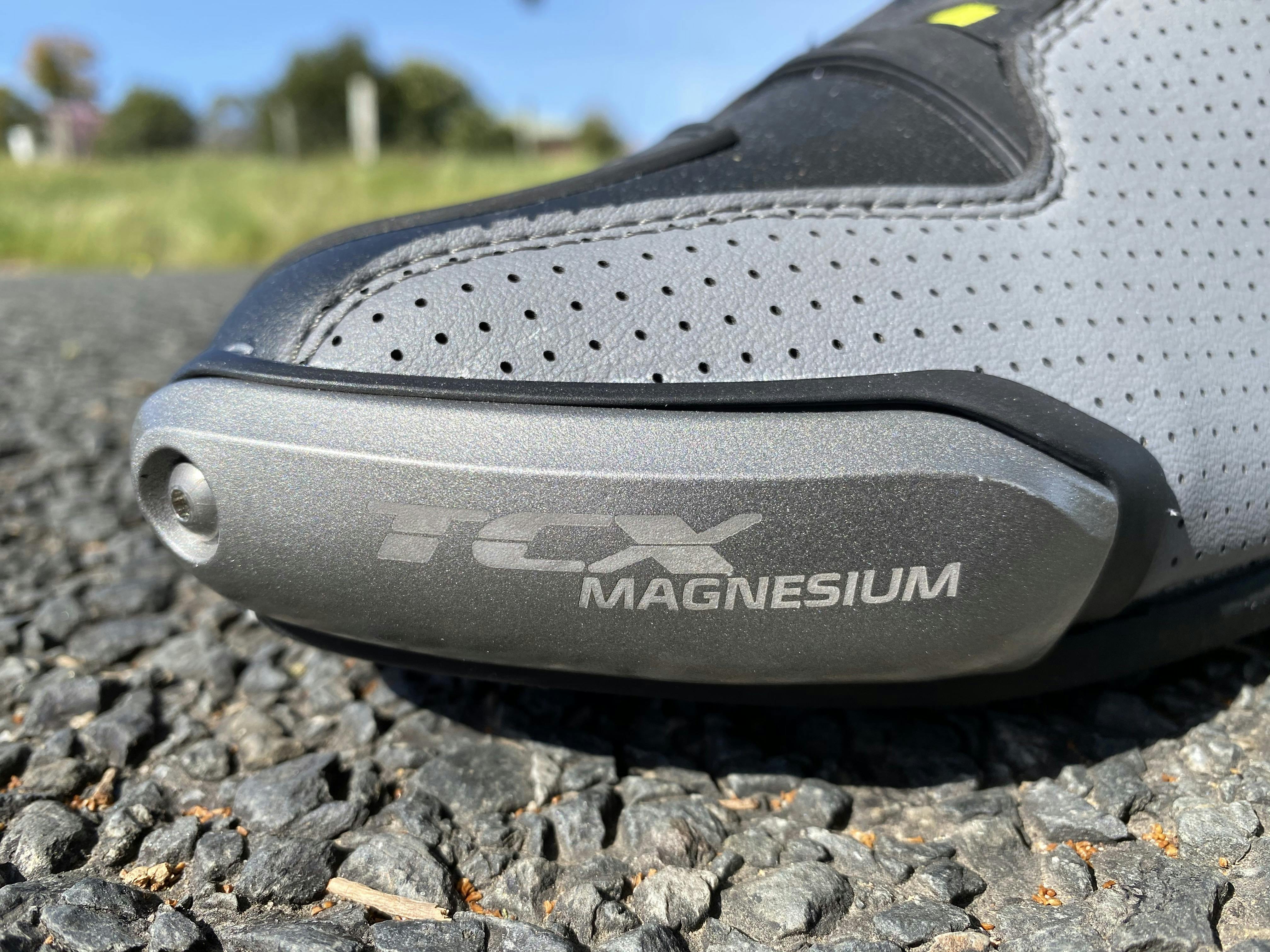 Non-sparking magnesium toe sliders for happy track scrutineers
On the bike
I ride with the balls of my feet on the pegs, in fact sometimes almost with my toes on the pegs, perhaps a habit picked up from grinding too many pairs of boots to bits. This stance seems to suit the RT Race Pro's well and to my surprise a lot of the stiff feel disappeared as soon I was on the bike. The boots seem to favour an aggressive posture and this makes sense; they are, after all, a track-focused design. Certainly the Double Flex Control System seems to be functioning in its natural range when you are crouched over and going for it, with gearshifts and use of the rear brake all feeling nice and natural.
Control feel through the boots is decent. And I'm sorry I made fun of the Michelin man a few paragraphs ago, because grip on the pegs is lovely, bringing lots of confidence to the ride. Track riders will understand how welcome this grip can be when feeling through the pegs for what the tyres are doing, and when pushing hard on the pegs as part of race cornering technique.
Perhaps the best 'on the bike' compliment I can give the TCX boots is that I'd not been on the bike long before I forgot I was wearing them and just got on with the job at hand. As I said earlier, my favourite riding kit is always the stuff I don't notice while I'm riding. And that's been my experience with these boots – they're comfortable, capable and natural on the bike, even if they remain a bit stiff once you're off. That's not a deterrent for me - if they're like virtually every other pair of boots I've owned they'll most likely become less stiff as they break in. When you're dressing for the race track, gear that's as soft as a pair of old socks is seldom the safest. Besides, all the cool kids change into a pair of slides to walk around the paddock in between track sessions, right?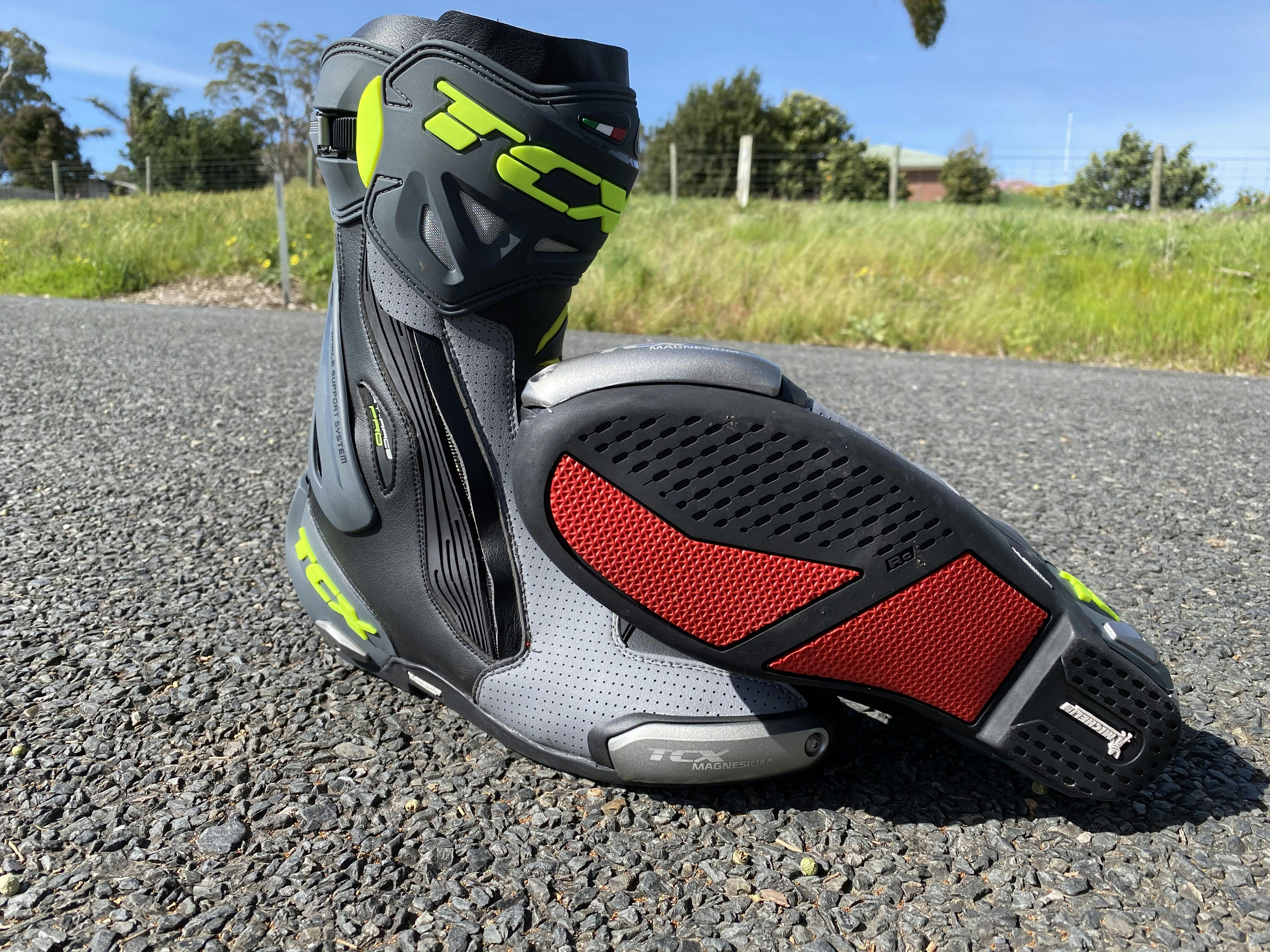 Grippy as, and almost too cool looking to walk on
TCX RT Race Pro Air boots – features at a glance
Perforated microfibre upper, padded flex areas, Fasten Fit Control lacing system, side zipper, ratcheting calf closure with microfiber gaitor, abrasion-resistant microfibre heat guard
Dual Flex Control System
Polyurethane shin plate with metal mesh air intakes
Polyurethane heel counter
Replaceable magnesium toe slider, rear and side heel sliders
Replaceable anatomic footbed
Michelin 'Burnout' double compound rubber sole with grip area inspired by the Power Supersport Evo tyre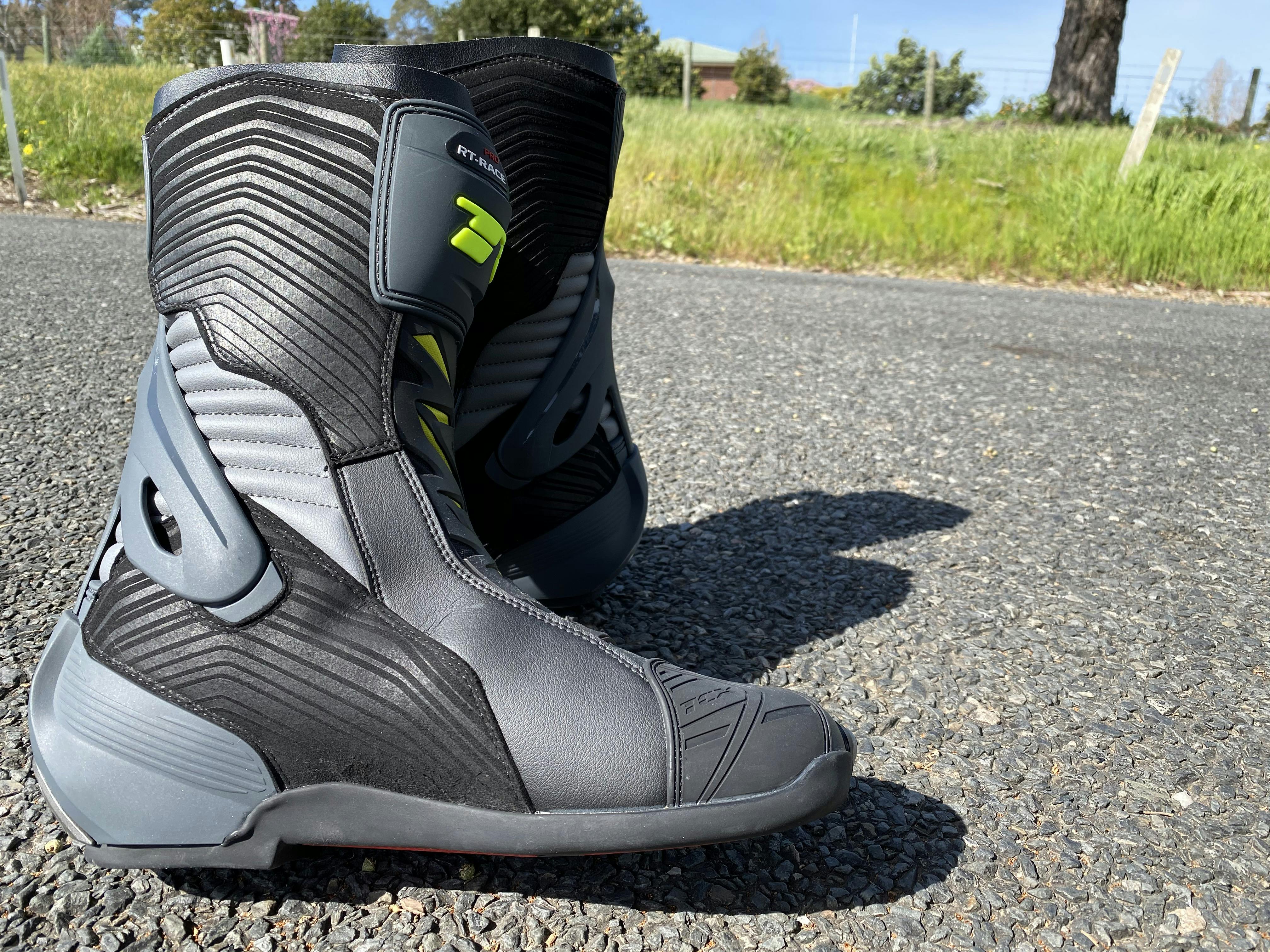 Soft materials close to the bike keep scratching to a minimum
What works and what irks
The good
Beautifully made boots featuring high quality materials
Lots of protection
Easy to get into and out of
Excellent sole grip
Natural feel and function on the bike
Quality, replaceable toe sliders
Decent, functional ventilation without gimmicks
The not-so-good
Stiff feel off the bike
Michelin man logos might clash, depending on your choice of tyres…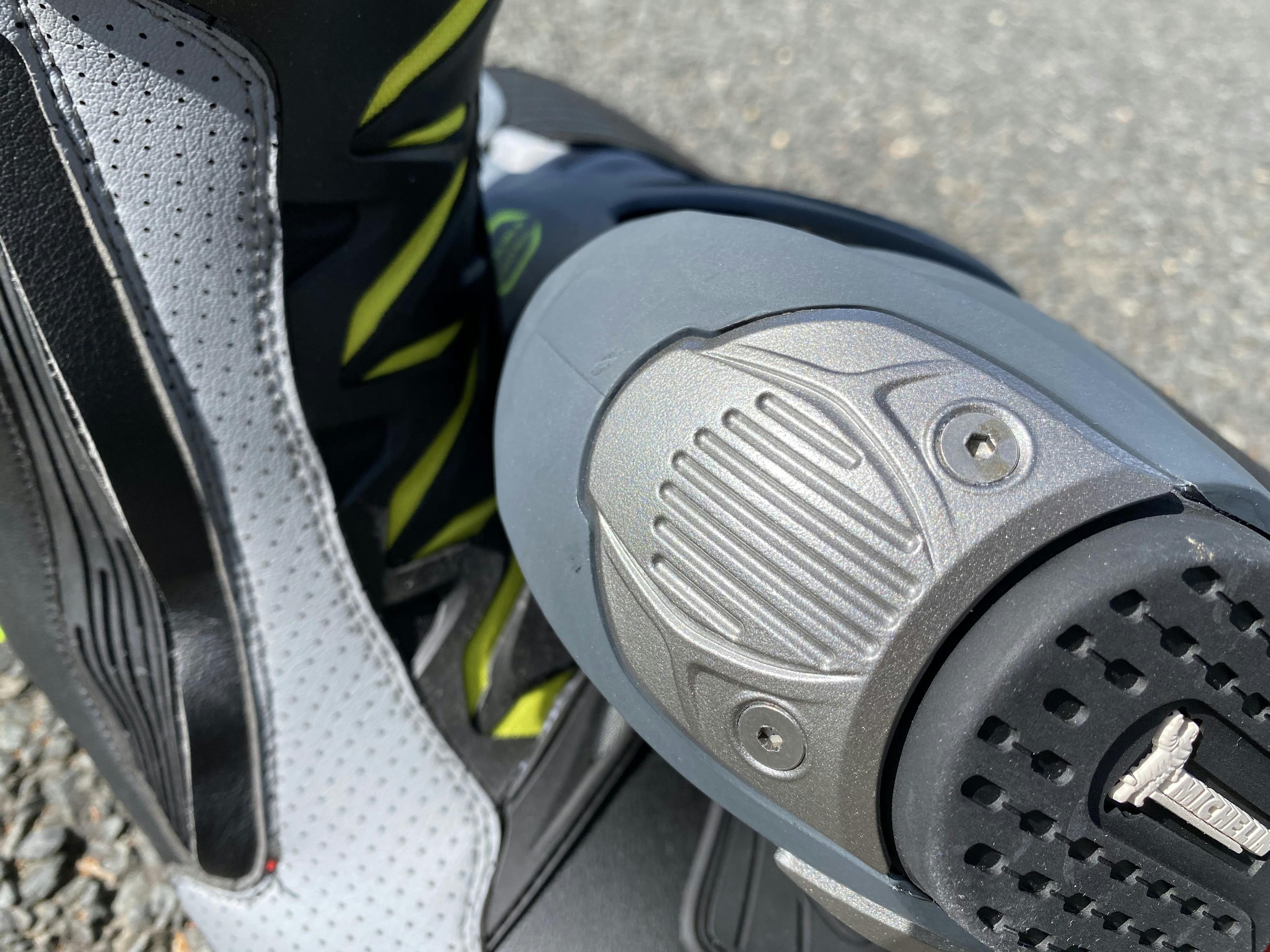 Magnesium on the ankle cup designed to save your soft bits without making sparks
In summary…
The RT Race Pro Air boots from Bikebiz are TXC's top shelf trackwear for your feet. Of course there are plenty of motorcyclists that don't ride the track who might choose race boots regardless, and I can understand that. After all, when things turn pear shaped, it's often your feet that are in the line of fire, whether you choose to pound them into the bitumen or get them stuck under the bike as you slide along through the scenery. It makes sense to choose the best protection you can find for the bits of you that are usually closest to the tarmac.
The TCX's aren't the cheapest in their category, but nor are they the most expensive. They're a design that offers a different take on some areas of protection, but some proven favourites when it comes to easy fitting and adjustability. Feel is good, peg grip is great and it's easy to feel confident that your feet are in a safe place. They're natural and easy to ride in but a bit stiff off the bike, which can be said for more than a few race boot designs. They're certainly good looking boots and draw plenty of positive comment from fellow riders, not the least because they're not the most common brand out there. If ease of use and premium quality safety features are high on your list, you could do a lot worse than look beyond 'the usual suspects' in the world of bike boots, and try on a pair of these.
The TCX RT Race Pro Air boots are available online or in store at Bikebiz at $599.95 in sizes EU 40 to EU48, in a wide range of colour combinations.