Heated riding gear.
I've always considered it about as sexy as bowel cancer screening, and very much the domain of beardy old guys wearing brown oilskin jackets. In freezing weather I reckon the average Aussie rider can almost see the point, but never gets past the nasty idea of being wired to the bike and having to unplug every time he (or she) has to pull over for a break.
Of course all this can change following that one ride you never forget. The one where it rains liquid ice and doesn't stop. There's an icy trickle down your bum crack five minutes after you hit the road. At the half-hour mark you start shivering uncontrollably. And when you pull over, you realise that you can't even take the key out to unlock the tank and refuel, because you simply can't feel your hands any more. Which brings me conveniently to the point of Five's heated gloves. Keeping your mitts warm should be easy. Five have addressed all the traditional gripes about heated gloves, making them simple, effective and attractive. Sexy, even. But we'll get to the sexy bit in a moment.
The backstory in brief
Five have made a name for themselves in premium quality motorcycle gloves. That's a good starting point. Look around and you'll find some battery-powered heated gloves on sale, but you can't help but feeling that many are sold as motorcycle gloves in some markets, maybe ski gloves in others. Five's gloves are built for bikers, make no mistake. Double stitching, reinforcing, knuckle armour, scaphoid protection – these gloves look the part, are tough where it counts and built with brand name insulation and waterproofing materials, too.
HG1, HG3 - two pairs of Fives
Bikebiz sent along two pairs of Five heated gloves – their HG1 model as well as a pair of HG3's. The HG1 is Five's top-end heated glove, promoted as the choice for long-distance rides. The HG3 is positioned more as an everyday commuter choice. The heating component is the same for both. Of the two, the HG1 has a good serve of leather, armour and reinforcing in its outer shell, looking much like a sport or race glove. The HG3 has an outer shell comprising polyester and nylon, the palm being synthetic leather. Both are gauntlet-style gloves, offering a good weather seal over jacket wrists.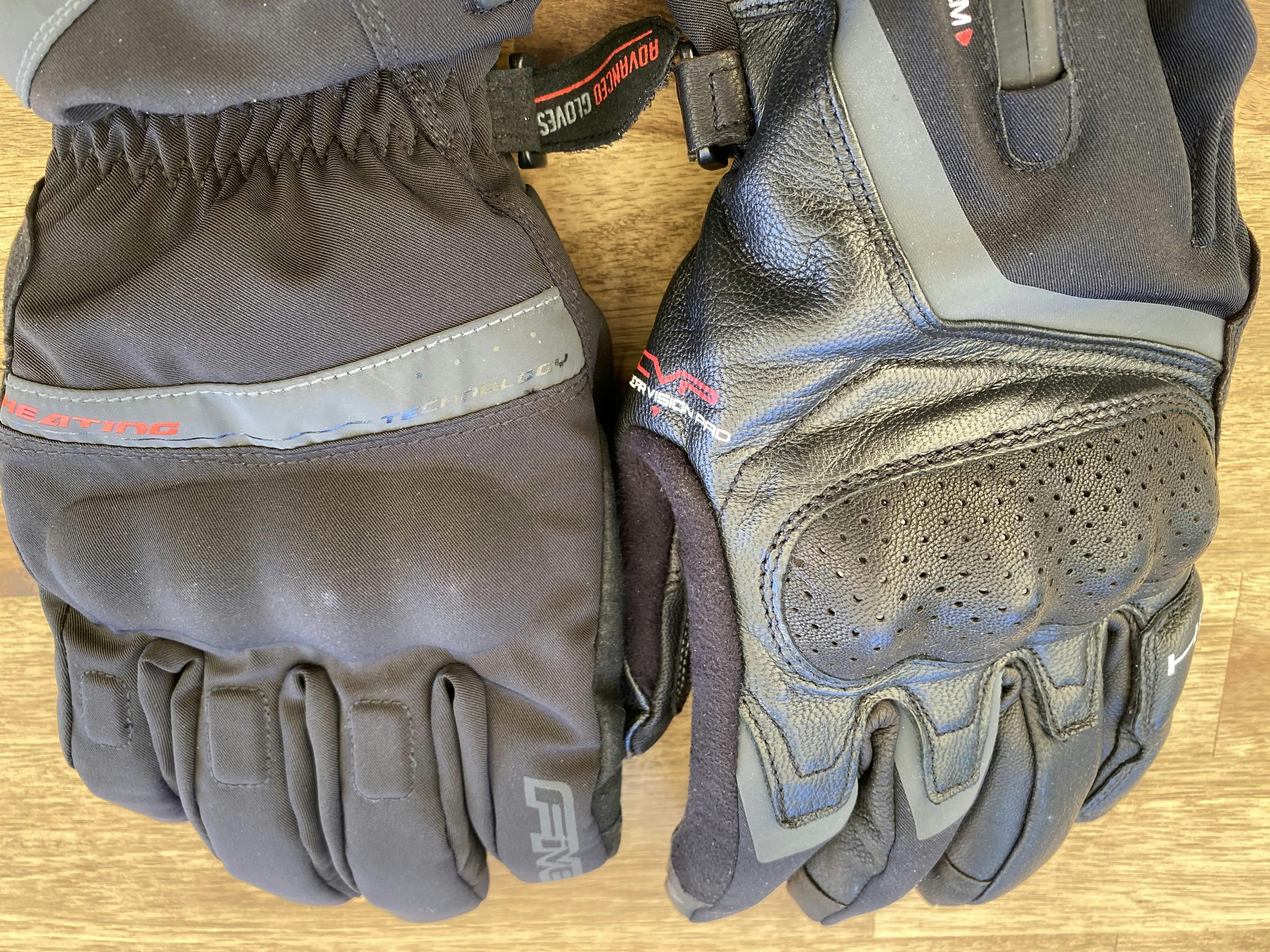 Pictured - on the left, the 'everyday commuter' HG3, on the right, the 'long distance' HG1.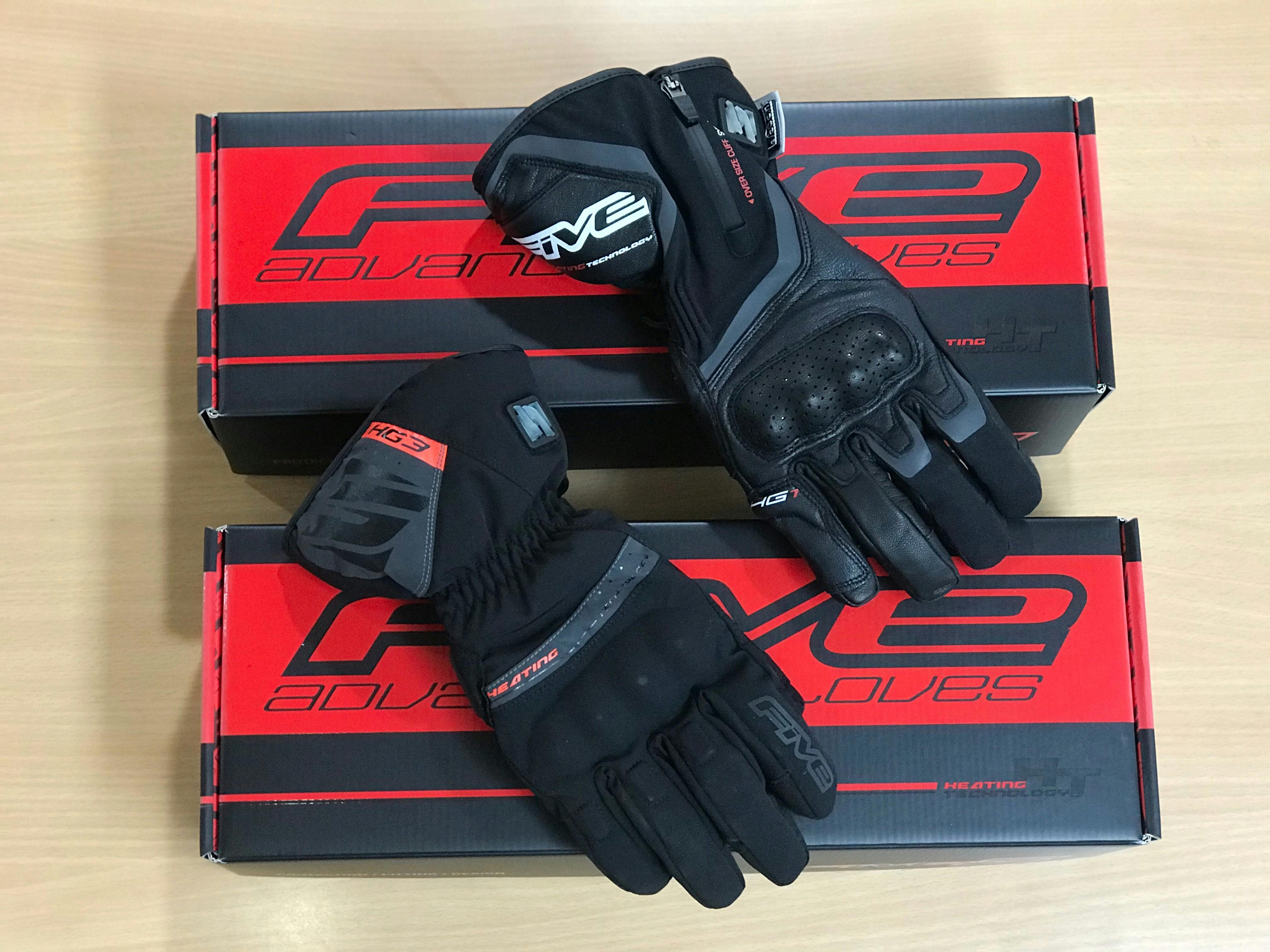 Pictured - on the left, the 'everyday commuter' HG3, on the right, the 'long distance' HG1.
Wireless warmth…seeing the light
Five's HG1 and HG3 gloves share the same batteries, connections and chargers, namely a pair of matchbox-sized 7.2 volt, 2200MAh Lithium Polymer batteries and a wall charger with two tails, so you can charge both batteries simultaneously via their single-pin connectors. And that is absolutely as technical as we're going to get.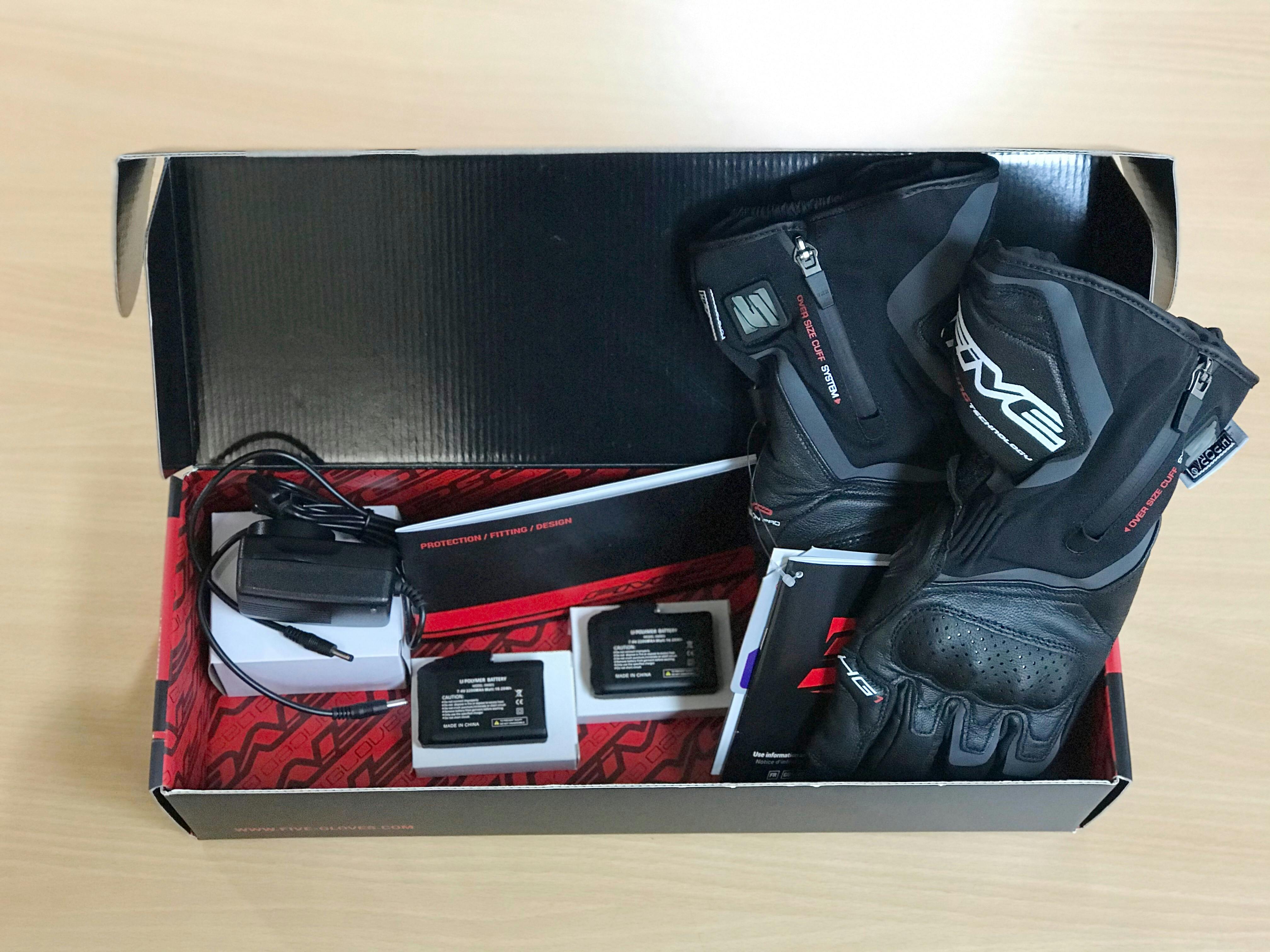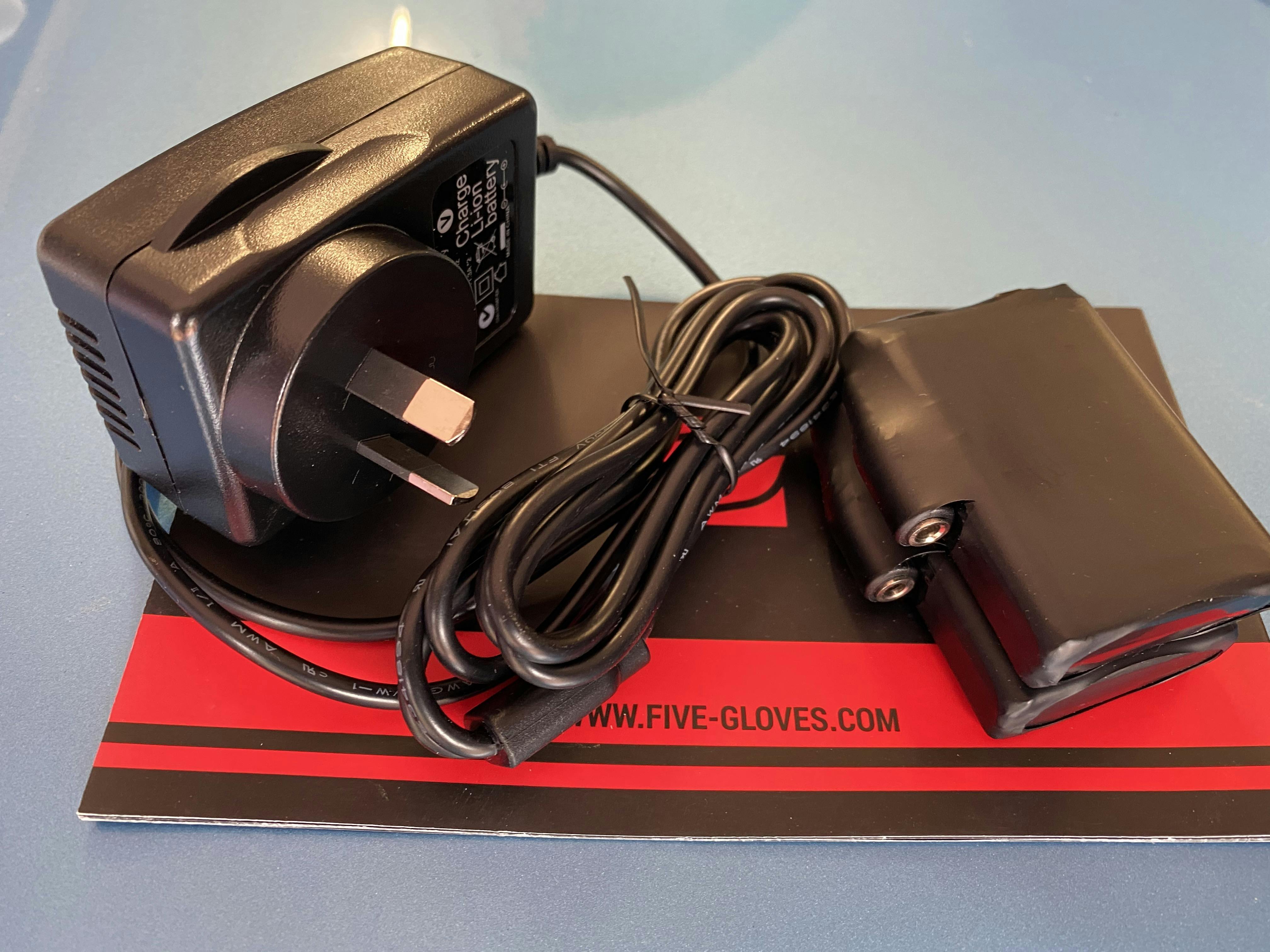 Pictured – wall charger and compact batteries.
Like a lot of riders, I lean towards simplicity - bikes and gear you can just use without reading pages of instructions. Having unboxed the Five gloves, I didn't even look for instructions, I just found the batteries, plugged them into the charger and then rummaged around in the gloves themselves looking for battery pockets, which are in the lower cuff. Think of them as motorcycling marsupials – each has its own pouch. The charger does what you'd expect, showing a red light while charging and green when the batteries are ready to go.
And so we come to the sexy bit.
With the batteries juiced up and installed in the glove, press down for a couple seconds on the Five logo on the cuff…and it lights up, glowing red. Seriously. The eight-year old kid in me just about lost it. But it gets better. Press lightly again and it glows white. Once more and it turns blue. You. Are. Shitting. Me!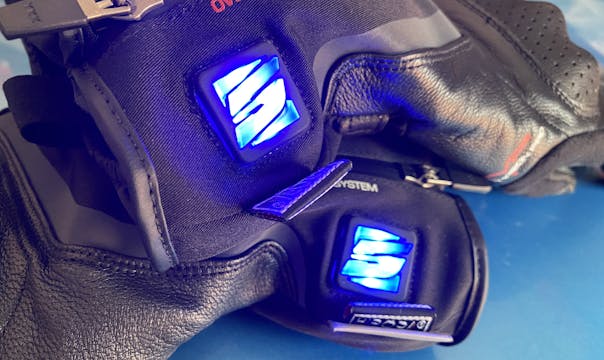 Pictured – blue lights indicate the lowest heat setting of 45 degrees Celsius. Still very toasty, thanks!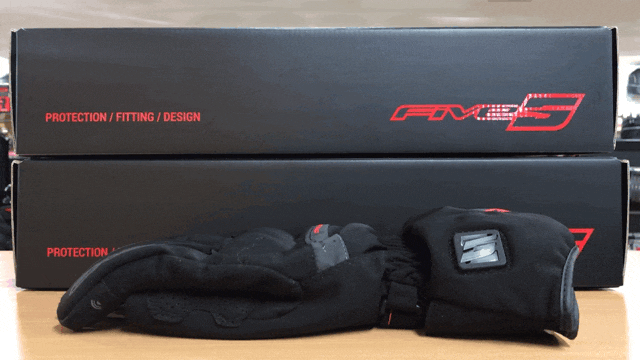 I was in the middle of a mad little juvenile dance of joy when I noticed that on the box the gloves arrived in there are simple diagrams explaining it all. With the red light glowing the gloves will heat to 60 degrees – Celsius – for two hours. On white they'll toast your digits at 55C for a half-hour longer than that and on blue you'll get three-and-a-half hours at 45 degrees. So for some real-world context, I could select the red light, leave Phillip Island in the chill of the morning and blast through Melbourne to Ballarat, enjoying warm fingies all the way. What's more, I'd have no wires to worry about and a cool factor of 10 for the whole trip, provided I didn't crash into something while staring at my own glowing little cuff lights. Who ever thought that we'd ever see 'sexy' and 'heated gloves' in the same sentence?
Practical magic
The longer I stared at the '60 degrees' claim, the firmer my resolve became on three opinions:
1.    60 degrees? Bullshit
2.    Isn't 60 degrees way too hot?
3.    60 degrees for 2 hours? No way.
So I grabbed my digital thermometer, selected the red zone on the HG1's and prepared to smirk. Except that the display climbed steadily to just over 60 degrees and stayed there. For two hours. And having inserted my paw into the glove mid-test, I can say that yes, 60 degrees is pretty damn warm but it's on the toasty side of warm, not the 'ouch' side. Importantly, there's plenty of warmth where it counts most – in the fingers.
The gloves heat up quickly. A minute or two after switching them on you can slide your mitts inside and already feel the warmth spreading. So you can switch on your Five gloves, start your bike, strap on your helmet and your hands would be toasty shortly after takeoff.
From new, the batteries will easily keep supplying heat for the claimed time periods, and recharge with the supplied wall charger in a couple of hours. Take your Five heated gloves touring and as long as you can find some room for the tiny wall charger, you're good to go. Five also offers spare batteries at $49.50 each for those who plan long rides without any downtime to recharge – that's handy. All in all, this is about as uncomplicated as heated gloves with real-world performance could get.
Fit, feel and something for the ladies
I own a lot of biking gloves of many different types and I always seem to have XL-sized hands. (There's a joke about hand size and willy size but I'm not touching it). Happily, the Fives are no different – a perfect XL. The lining in the HG3's is fleece and seems to move around a little as you pull the gloves on and off. The HG1's are fleece-lined too, (okay, Bemberg™ comfort lining) with an added super thick, 'woolly' layer in the upper cuff.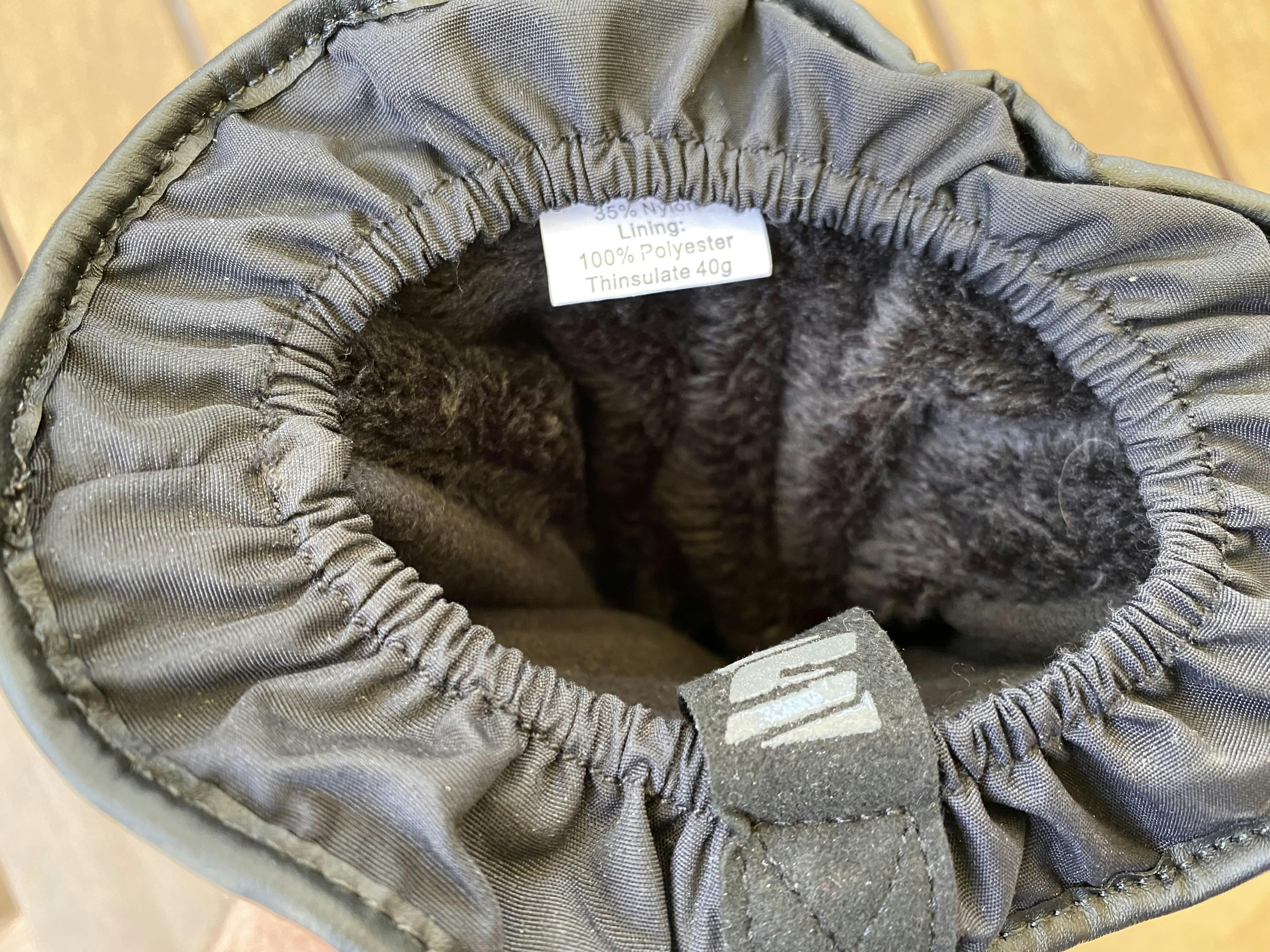 Pictured - it's warm inside! The welcoming interior of Five's HG1.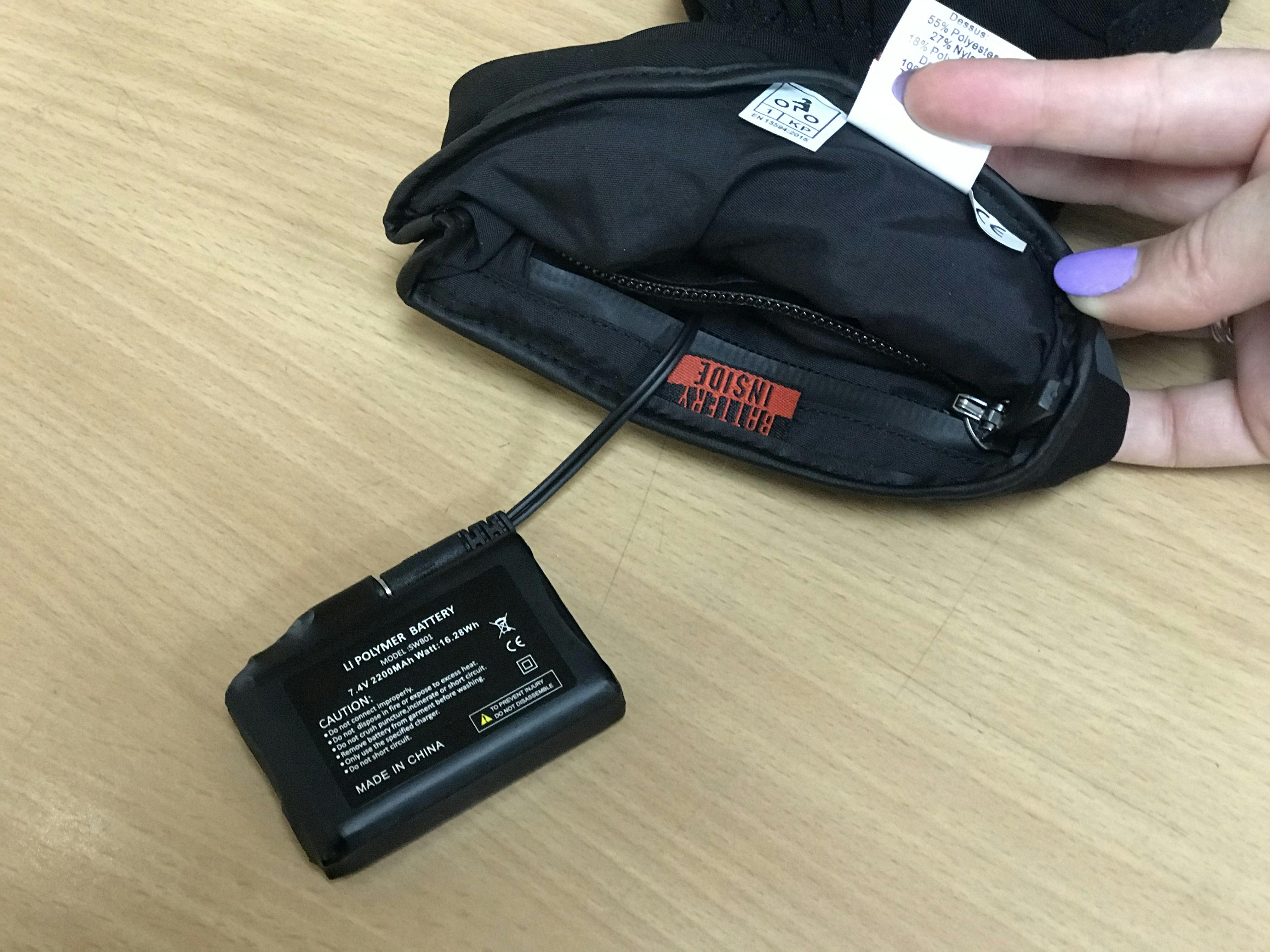 Battery and it's pouch on the ladies glove
The lining moves around far less than that in the HG3's. Both models have a simple wrist closure using a Velcro tab that pulls through a buckle. Easy, and enough closure range to snug down nicely even on canary-sized wrists like mine.
Five's HG1 gloves are available in men's sizes XS to 3XL, with their HG3's sized from men's SM to 3XL.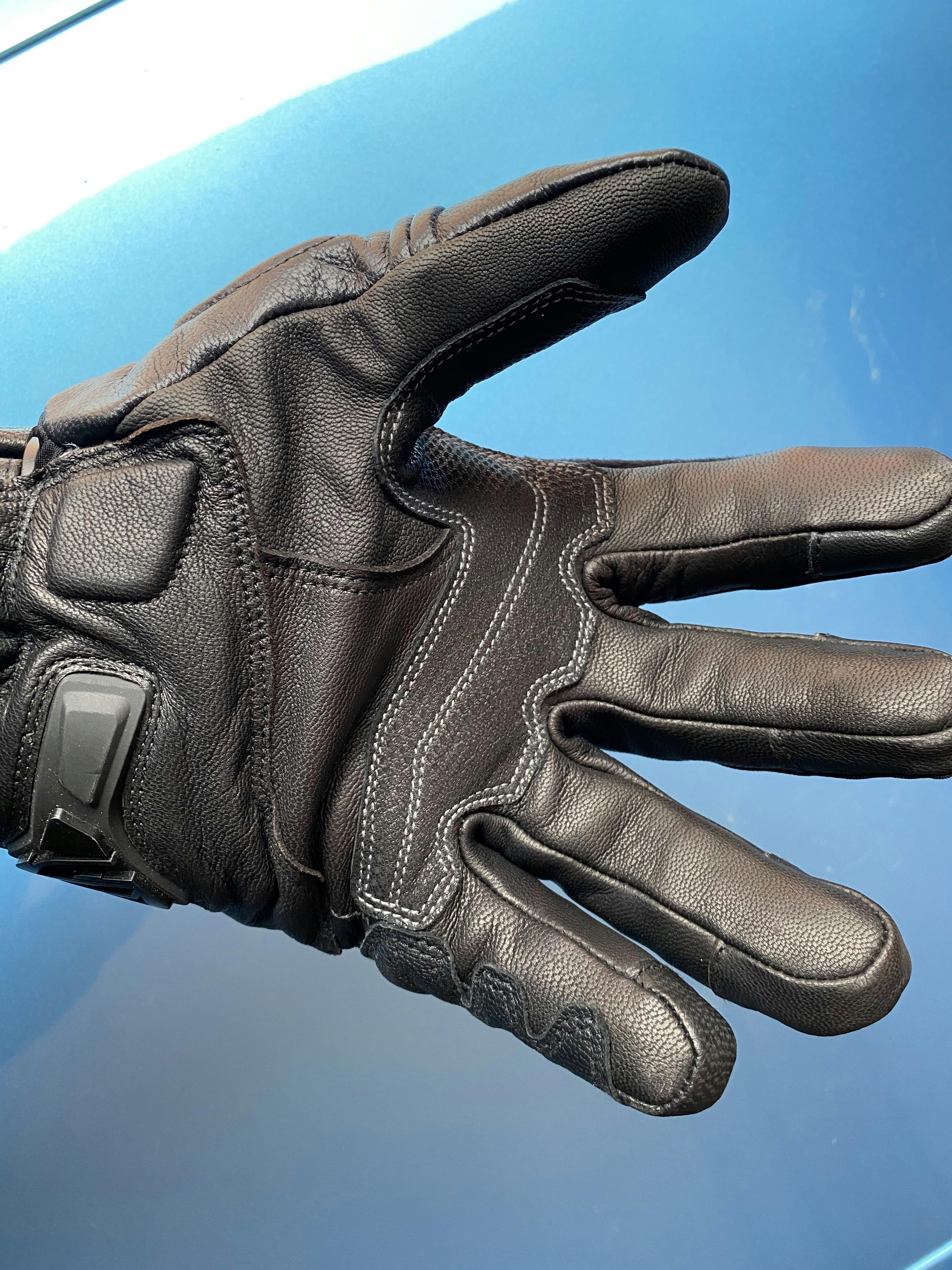 Pictured – Five's HG1's are available in a wide range of men's sizes, with the HG3's offered in sizes for both men and women. (HG1 shown here).
Five also offer their HG3 heated gloves in women's sizes XS to XL. That's great news for the ladies who ride and of course it'll be welcomed by the women who up until now, have been perched on the pillion seat copping frostbitten fingers!
There's no use building a heated feature into a summer weight glove and Five have pulled no punches, using maximum thickness, name brand insulation on both models as well as an industry standard breathable, waterproof liner (both models claim to be waterproof, rather than just water resistant). The result is warmth even before the heating feature is used, and gloves that have the slightly bulky feel that all winter gloves have. Somewhat lighter on protection, the HG3's are the more compliant of the two models but neither gives that nasty 'boxing glove' feel that you can get with cheap winter gloves.
On the bike
Five's HG1's and HG3's both have some reasonable bulk about them, but on the bike it doesn't get in the way of decent feel. In fact there's no more getting used to how they feel than there is with any new pair of gloves.
They warm up fast and stay warm for ages. So on my regular half-hour commute they've turned me into a complete soft arse. My non-heated winter gloves haven't been used since the Fives arrived.
While riding, if I can't take my hand off the throttle to operate the switch on the left glove, I just push the switch of the left glove against the end of the handlebar. Easy. Oh, and the fact that the switches glow softly actually makes operation easier at night, too.
I'm a skinny boy and I really feel the cold, but nonetheless most of the time I feel no need to select anything warmer than the blue setting, which delivers 45 degrees of warmth.
As a reviewer I've fallen a bit short by not riding for hours in drenching rain in these gloves – blame that on climate change, okay? But I've ridden through some decent showers without any leaks sneaking through. I also ran the gloves under a cold shower for awhile. Yeah, really! Again, no leaks. Both models have Hipora® waterproof liners. In my experience, gloves with this lining tend to stay waterproof unless damaged or simply worn out through extended use.
In the rain, the 'Clear Vision Pro' material panel on the left HG1 glove is a helpful visor wipe, although not as good as the 'windscreen wiper rubber' insert you'll find on the finger of some other gloves.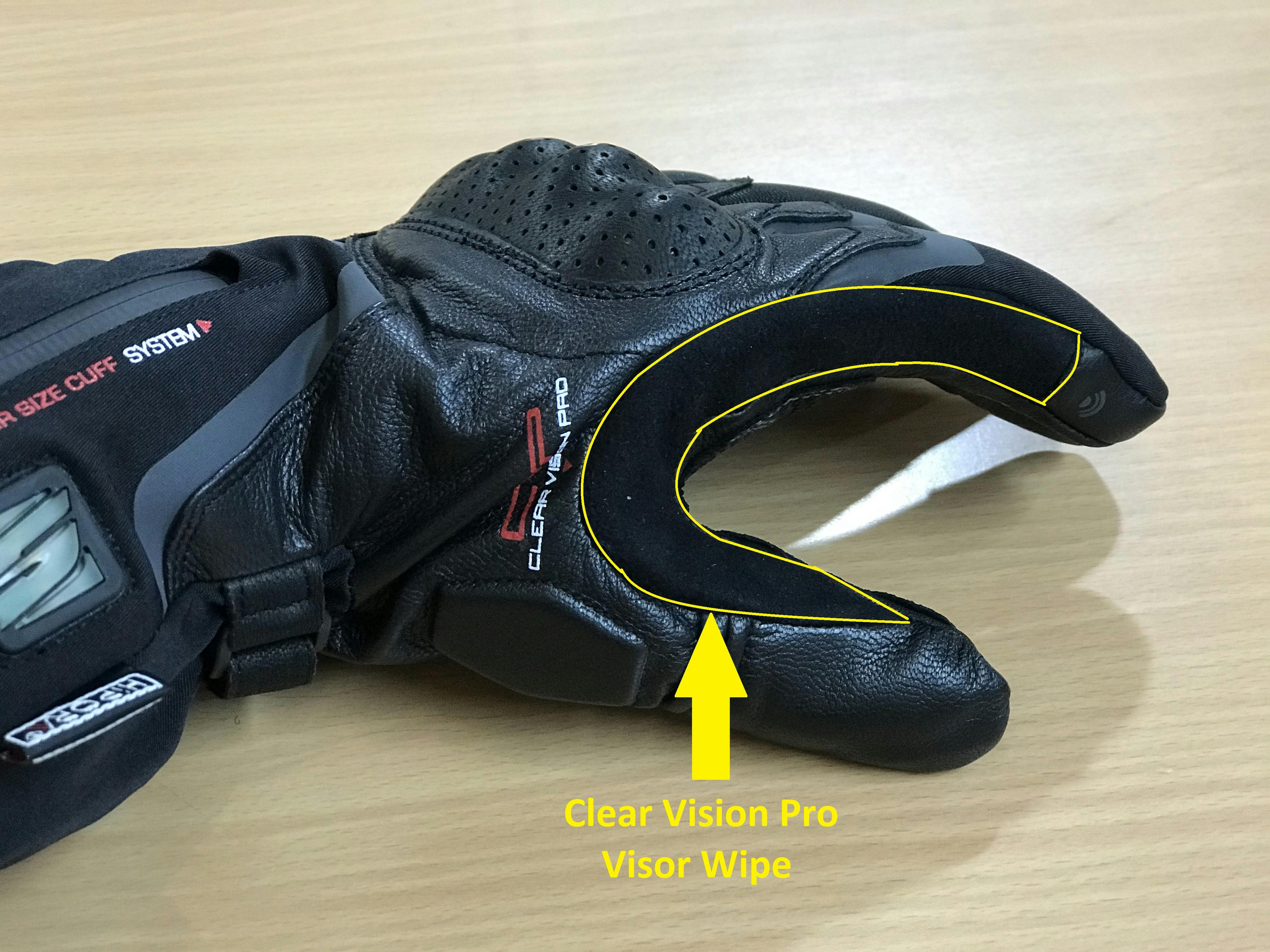 Pictured – not a windscreen wiper, but Clear Vision Pro is a handy feature on Five's HG1's. Simply wipe across the visor to clear water and anything else on your visor!
Speaking of vision, the reflective strips on both Five models are very welcome – just another practical touch. And if you really must keep up with your Twitter feed, the index finger on both hands of both the HG1's and HG3's is tipped with material that works reasonably well on touch screens most of the time. You might want to pull over first before checking your Insta followers, though.
Pros and cons
Five's HG1 and HG3 gloves are high quality protective gloves, packing a no-fuss heating system that delivers what it claims to do. They're easy to use, comfortable and even deliver a bit of cool factor with their glowing cuff switches – which, in use, are actually very practical.
So for your money, these Five gloves offer the benefits of heating without any of the hassle. Comfort, protection, ease-of-use and the added safety that comes though actually being able to feel your hands when the windblast is really bitter.
Cons? Okay, let's get really picky: 
The lining in the HG3's moves around a bit within the glove as you put them on and take them off. Not really a big deal.
The HG3's have a zipper for the battery pocket, the HG1's have Velcro. The zipper is better. Why not have it on both?
The batteries are tiny, black and hard to see in pockets and bags. Perhaps I'm a moron…but maybe yellow or red would be a better colour choice than black?
An option to charge the batteries using a USB port would be nice
The touch screen fingertips don't always work perfectly.
Summing up
Five's heated gloves aren't exactly cheap at $299 for the HG3's and $379 for the HG1's. That being said, I've paid well over $300 for a quality pair of race gloves in the past, and I'll always hand over proper money for high quality protection.
If you regularly ride in the cold and wet, Five's heated gloves offer protection, comfort and the security that comes with having all the feel you need to keep riding safely. For me, their convenience and ease-of-use really seals the deal and if you need any more convincing, there are always those cool little glowing cuff switches. It's been a long time coming, but finally someone has created practical, high-performance heated gloves you'll be happy to be seen in.
Click here to shop the HG-1 Mens, HG-3 Mens and HG-3 Women's online at Bikebiz!
See below for Prue Mottram's video in store on the Five heated gloves