Need a phone holder for your motorcycle?
Can't decide on what you want?
Let me run you through one option called Quad Lock.
Quad locks developed in Melbourne by Chris Peters. After not being able to find a phone mount that he likes for his push bike, he experimented and created his own. After developing the Quad Lock, it was brought to the market by Crowd Funding, social media and ecommerce. Since launching in 2011, it is now been shipped to over 4,000 cities in 100 countries and sales only continue to grow.
The Quad Lock system is a combination of a phone specific case, and a mount. The patent pending dual stage locking mechanism ensures the phone will never accidentally dismount from its mount. It's also very quick and easy to use with its "Twist, Lock & Go" system.
There are several different mounts for all of the activities in your life. Each quad lock comes with an allen key if required, so you don't need anything else to attach your mount.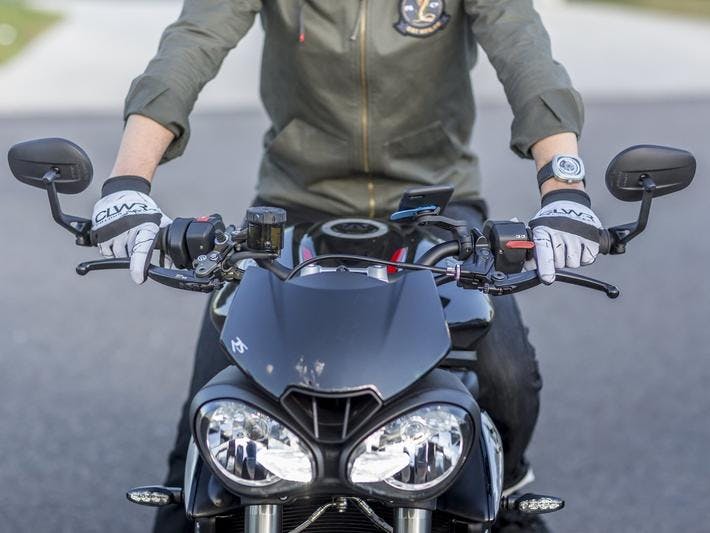 The Quad Lock system is a secure and simple way to carry your phone on your motorcycle
Motorcycle Handlebar Mount
If you have a couple of centimetres of space on your handlebar, you have room for a handlebar mount. The handlebar mount comes with rubber rings to make the mount fit either a ⅞" (22mm), 1" (25mm), 1-⅛" (28mm) or a 1-¼" (32mm) handlebar. Depending on its placement on the bike, you can use the included extension arm. The extension arm also provides 360 degree rotation so you position it anywhere and in any direction.
Motorcycle Mirror Mount
More popular with scooters, the mirror mount will go on any mirror arm, providing it is cylindrical in shape. You just need to ensure you have enough room to rotate your phone onto the mount. The mirror mount comes with rubber rings to make the mount fit either 10,12,14, &16 mm mirror stems. 
Motorcycle Fork Stem Mount
Does your motorcycle have clip on handlebars? Well you may just need to use the fork stem mount. Coming with 2 expandable inners, the fork stem mount should it any diameter fork stem hole. (If there is already a nut in there, please do not remove it or your bars may fall right off!) You can use the hex key to angle and lock the mount into the best view position for you.
1" Ball Adaptor
Got an old mount that you want to upgrade? Quad Lock do a 1" ball mount that works with other mounts like Ram. Simply remove the old mount, and add the ball adaptor.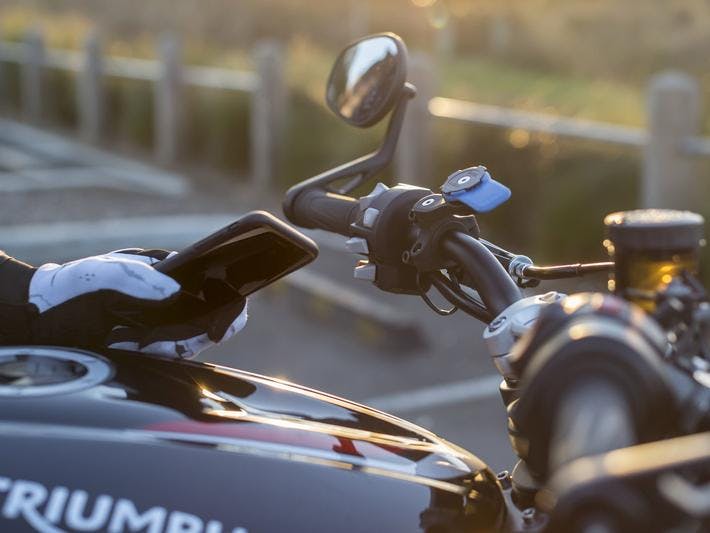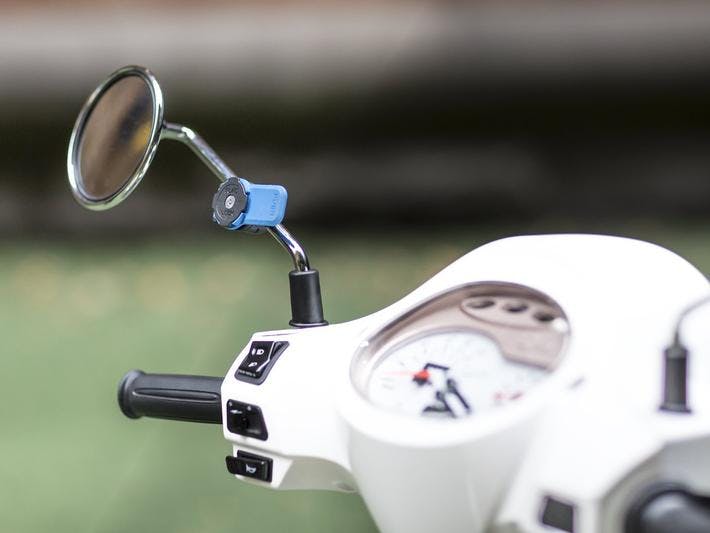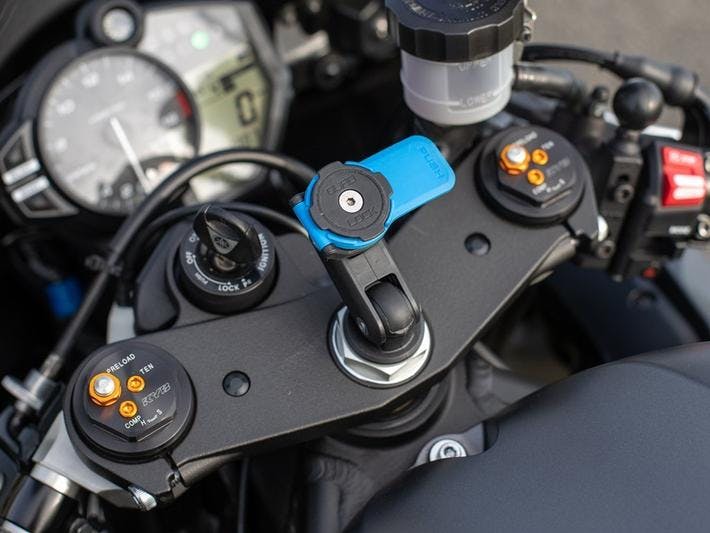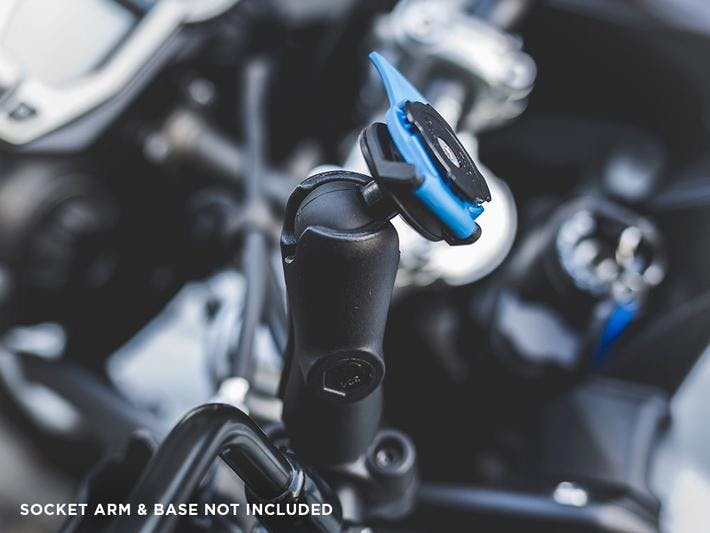 Charging on the Go
Need to charge your phone on the go, or simply using your navigation for a long trip? Quad lock have a couple of charging options for you. Both of these options are comparable with all of the mounts listed above.
The USB Charger sits between the Quad Lock stem and the Quad Lock attachment head. Run the connection cables down to to your battery and its ready to go. With Surge and Polarity Protection, your phone is safe for say incorrect installation or a misfiring battery. the IP66 Water Resistant rating means unless your taking your motorcycle swimming, you charger won't be affected by rain or bike washing. Quad Lock also do a 30cm USB to Lighting and USB A to USB C charging cables because you don't need a long charging cable getting in the way.
The Wireless Charger features 5W, 7.5W & 10W charging for a fast charge, and has a IP66 Water Resistant Rating. It will work with the following phones;
*iPhone 11 Pro Max, 11 Pro, 11, SE (2nd Gen), X/Xs, Xs Max, XR, 8 Plus, 8
*Samsung Galaxy S20 Ultra, S20+, S20, Note10, Note10+, Note9, S10+, S10, S10e, S9+, S9, S8+ and S8
*Google Pixel 4, 4 XL, 3, 3 XL
*Huawei P30 Pro
Note, the Wireless Charger is not compatible with the Universal Adaptor.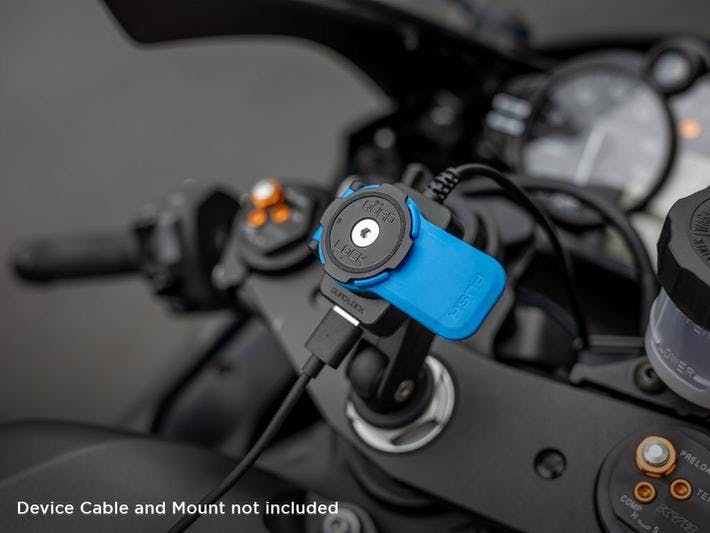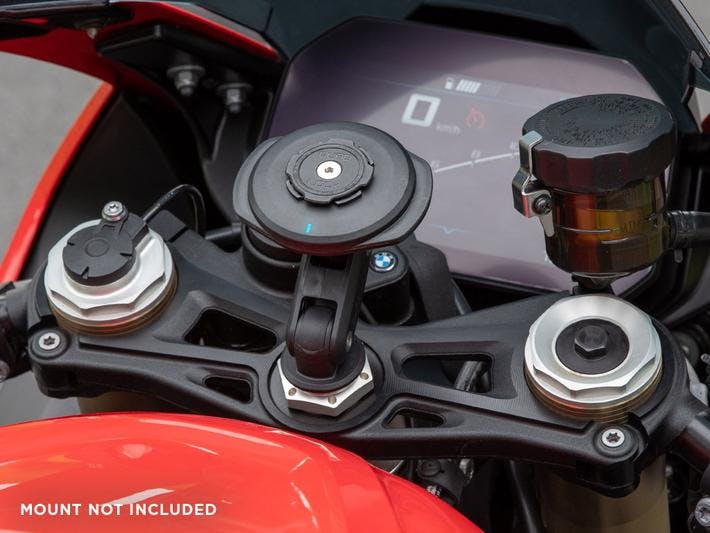 What else is out there
Quad Lock do a range of other mounts for every day life such as a couple of cycling mounts, an arm band mount, a car mount, a desk mount and even a tripod adaptor mount! With just one phone case, you can mount your phone anywhere you require it, and know its secure.
There are also waterproof ponchos available so if your phone isn't waterproof from the factory, it is now! 
If you had any questions about the Quad Lock System, I hope I've answered them!
Both Bikebiz stores stock the Quad Lock system, as does our online store here.
Ride safe and have a good one!
Got questions? Send me an email at webshop@bikebiz.com.au