Pinlock inserts.
In my personal opinion, they are God's gift to motorcycling.

What is a Pinlock insert?
A Pinlock is a helmet anti fog device. Designed to fit into a visor with Pinlock pins, they stay in the visor and don't need to be reinstalled or removed. 
Why use a pinlock insert you ask? Every rider knows that there isn't much worse than a foggy visor, that just keeps fogging up! There are products that you can use that rub onto the visor, but you have to reapply them often, and who has time for that?!
Pinlock inserts are made out of a material that contains moisture absorbing properties, which reacts like a sponge and absorbs moisture effectively.
The inner part of the pinlock insert has a silicon seal, creating basically a layer of air between your mouth and the visor, similar to a double glazed window. With a Pinlock, your visor is virtually un-foggable! It's the most effective, durable and affordable anti-fog solution on the market.
Every visor is different, so not every visor can use the same Pinlock. Thankfully, there's a Pinlock for every visor! There are 5 types of Pinlock inserts;
Pinlock 30
Pinlock 70
Pinlock 120
Pinlock Evo
Pinlock PT
Each vary in fog resistant level, standard, lens fit and colour options.
Oh yes, they even come in different colours, creating the effect of a new visor for a lesser cost. Depending on the visor, the colours available are;
Clear
Light Smoke
Dark Smoke
Yellow
ProtectTINT - the lens reacts to UV light by darkening its tint color automatically while keeping your visor fog-free at the same time.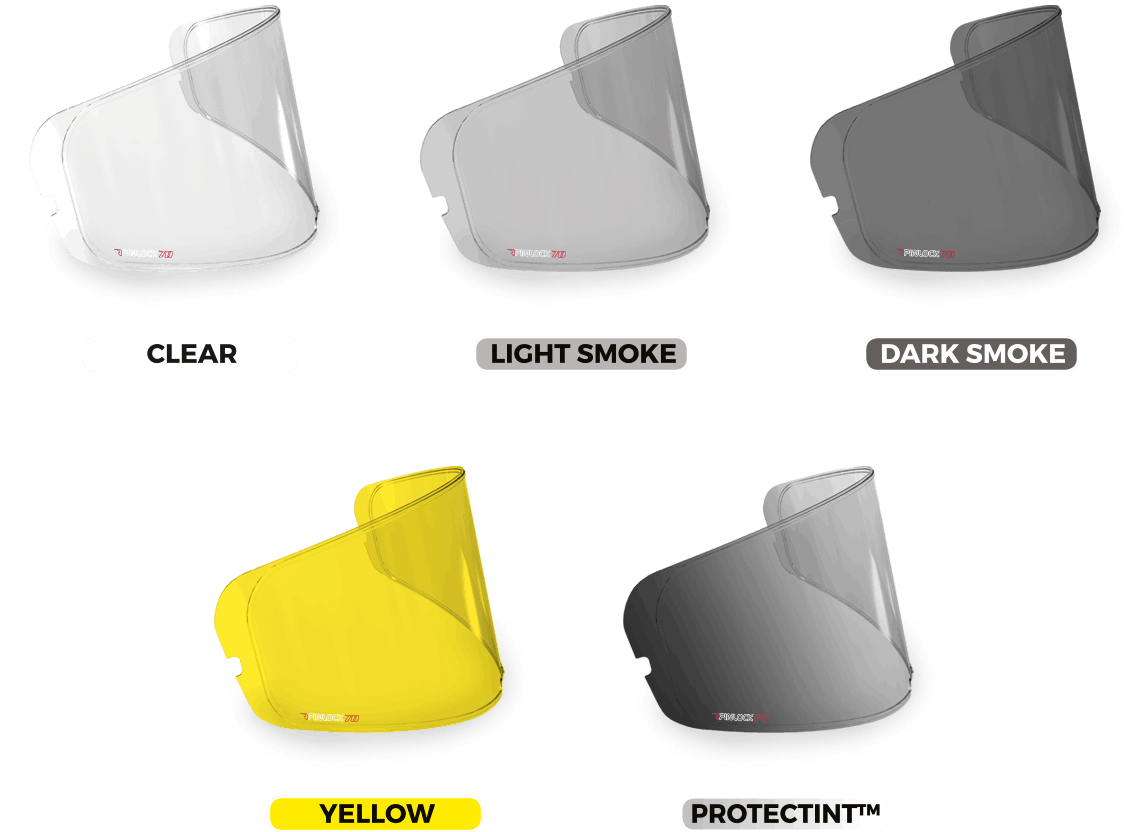 All the different colours - clear, light smoke, dark smoke, yellow, Protectint.
For those who like to hit the track, Pinlock also do pins that support tear offs.
Not all Pinlocks inserts are created equally - they aren't a one size fits all. You need to ensure you are getting the right one for your visor. Many helmets nowadays come with a Pinlock in the box. However, if you're like me, you have more than one visor for your helmet. Maybe you have an older visor without pins? Then we can help you get a new visor with pins, and the Pinlock insert to match.
Want to learn more or check them out in the flesh? Come one down to either of our stores and chat to our friendly Accessories gurus, or check out our webstore https://www.bikebiz.com.au/apparel/motorcycles-visors/pinlocks/road
Ride safe and have a good one!
Got questions? Send me an email at webshop@bikebiz.com.au