Are you female?
(If not, don't bother reading this)
Are you looking for a new leather jacket that is comfy, warm and looks great?
Well I have got the jacket for you!
I got the chance to road test and review the Merlin Mia Ladies Leather Jacket. And I have to say, I am a big fan!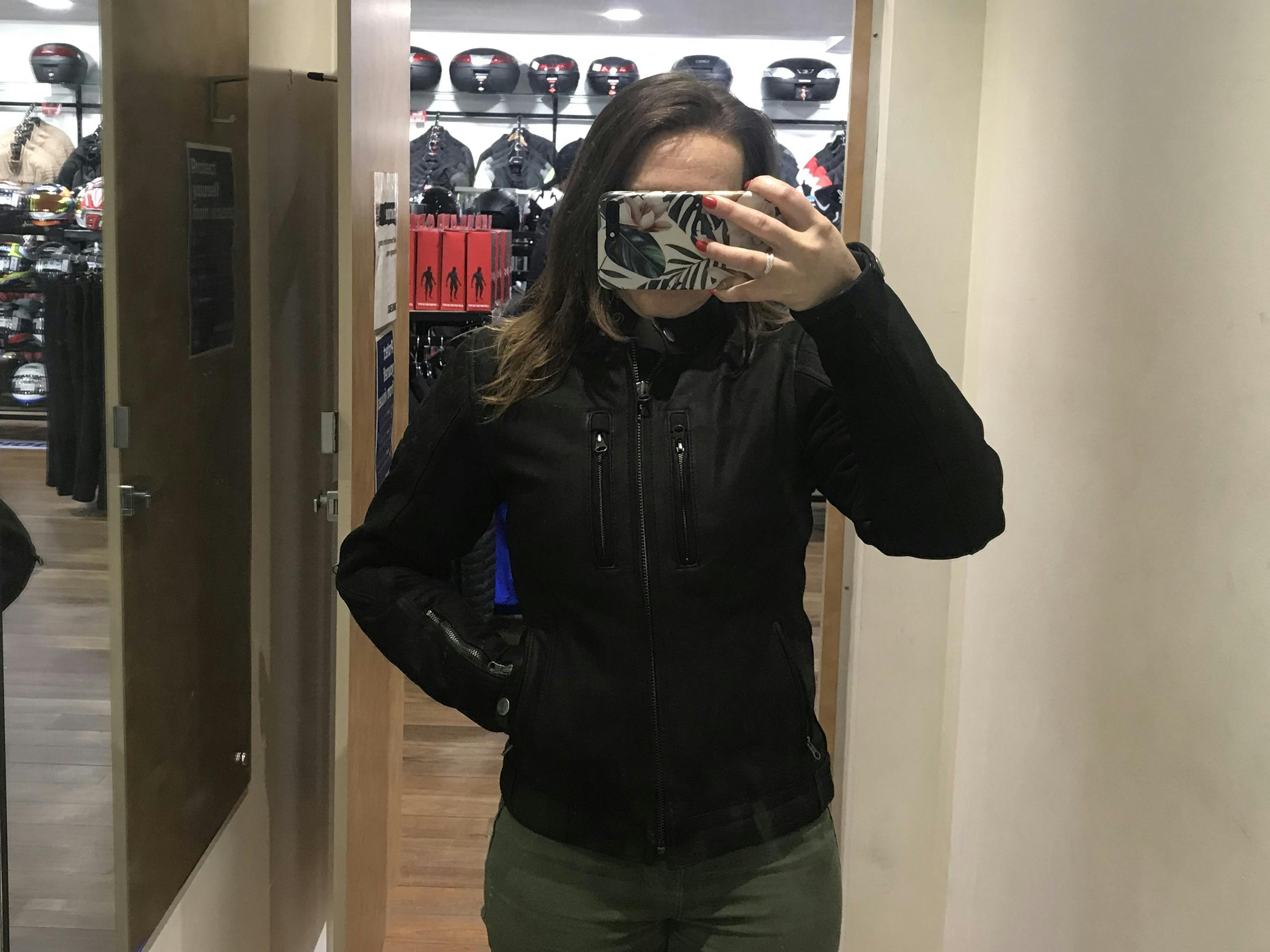 This review starts with a funny moment. In the same box that my jacket arrived in, we also received a size 18 for a customer. (Oh yes ladies, this jacket comes in sizes 8 to 18)
I just saw the jacket and was so excited, I didn't check the size! I put it on and go oh no, I've ordered the wrong size! Took it off, checked the size, packed it back up and found the correct jacket. Blonde moment! 
Anyhoo, if you don't know who Merlin are, here's a little background knowledge.
Merlin was launched in 2011 in the United Kingdom and are a proudly 100% owned partnership operating in the UK. Over the past 3 years, their annual growth has exceeded 50% each year since the launch, and is the fastest growing UK brand. 
Merlin staff are motorcycle riders themselves, and are determined to produce gear that they themselves would ride in, in turn appealing to other riders out there.
Back to the jacket. When I first saw the jacket, my initial thought was quality. It's made with a premium Aniline matt finish cowhide leather with a removable 100g quilted thermal lining. The beautiful thick leather that instantly gives you a feeling of safety. I know that if I came down in this jacket, I would keep all my skin (the thought of road rash gives me the creeps!)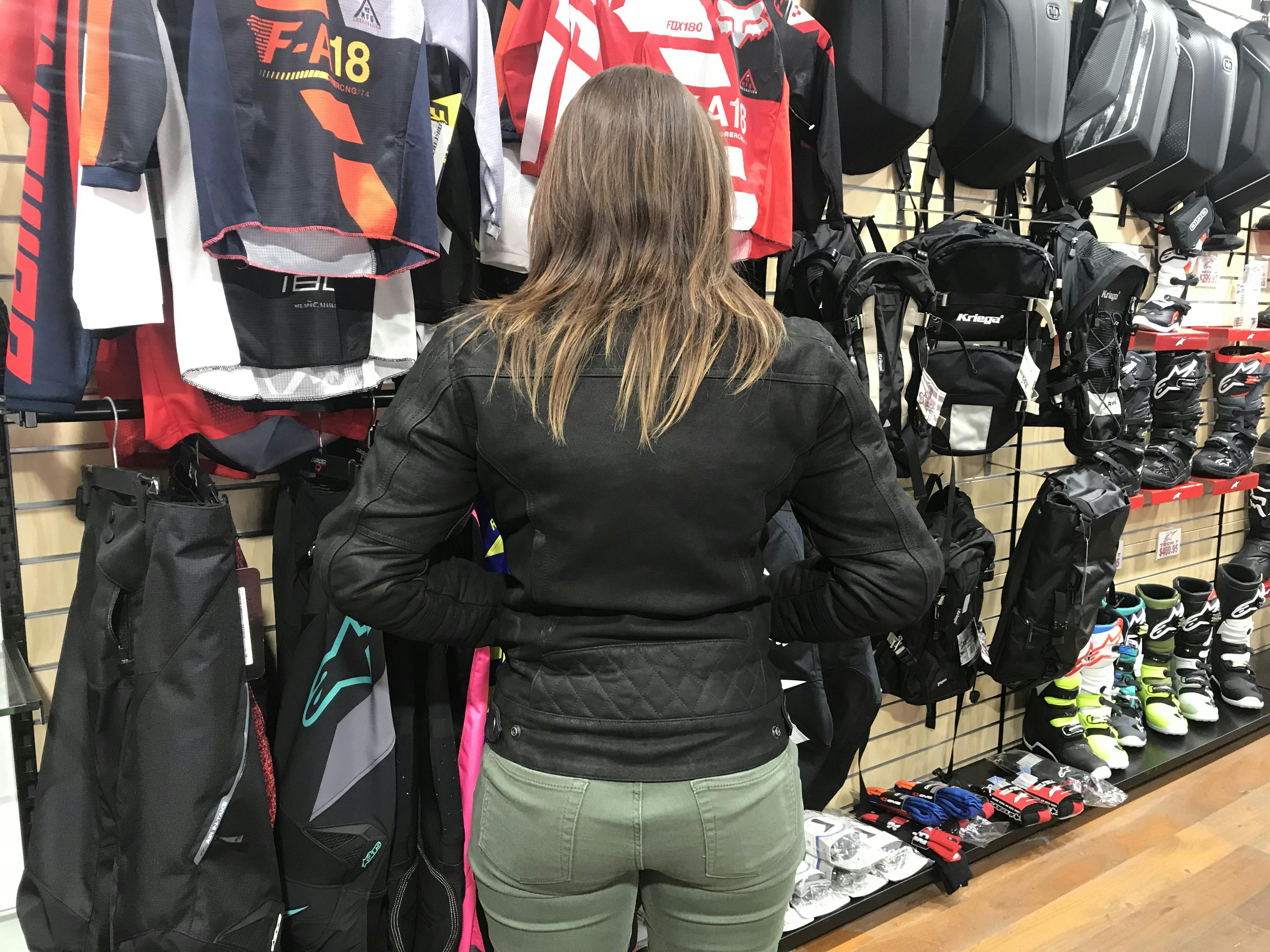 The back of the Merlin Mia Jacket
Italian CE Level 2 shoulder and elbow armour by Safetech were snug to my joints and surprisingly comfy. The jacket does have a pocket ready for a back protector, that I will definitely look into getting for next time. The great thing about Merlin jackets is that they are manufactured to meet or exceed the new CE Safety Standard.
Throwing it on, I was surprised with how well it fit. It was nice and snug around my torso, arms felt great and not too long (short girl problems). The removable thermal vest is great if I get too warm on my ride, meaning it will be used in more extremes of weather. I'm usually a 8-10. With the 10 being listed as small, I decided to give it a crack and it was spot on!
Walking to the mirror, and daymn it looks good! It sits nicely on my hips, covers my lower back well and is comfy on the neck line. There is a beautiful quilted detail on the shoulders that I just love!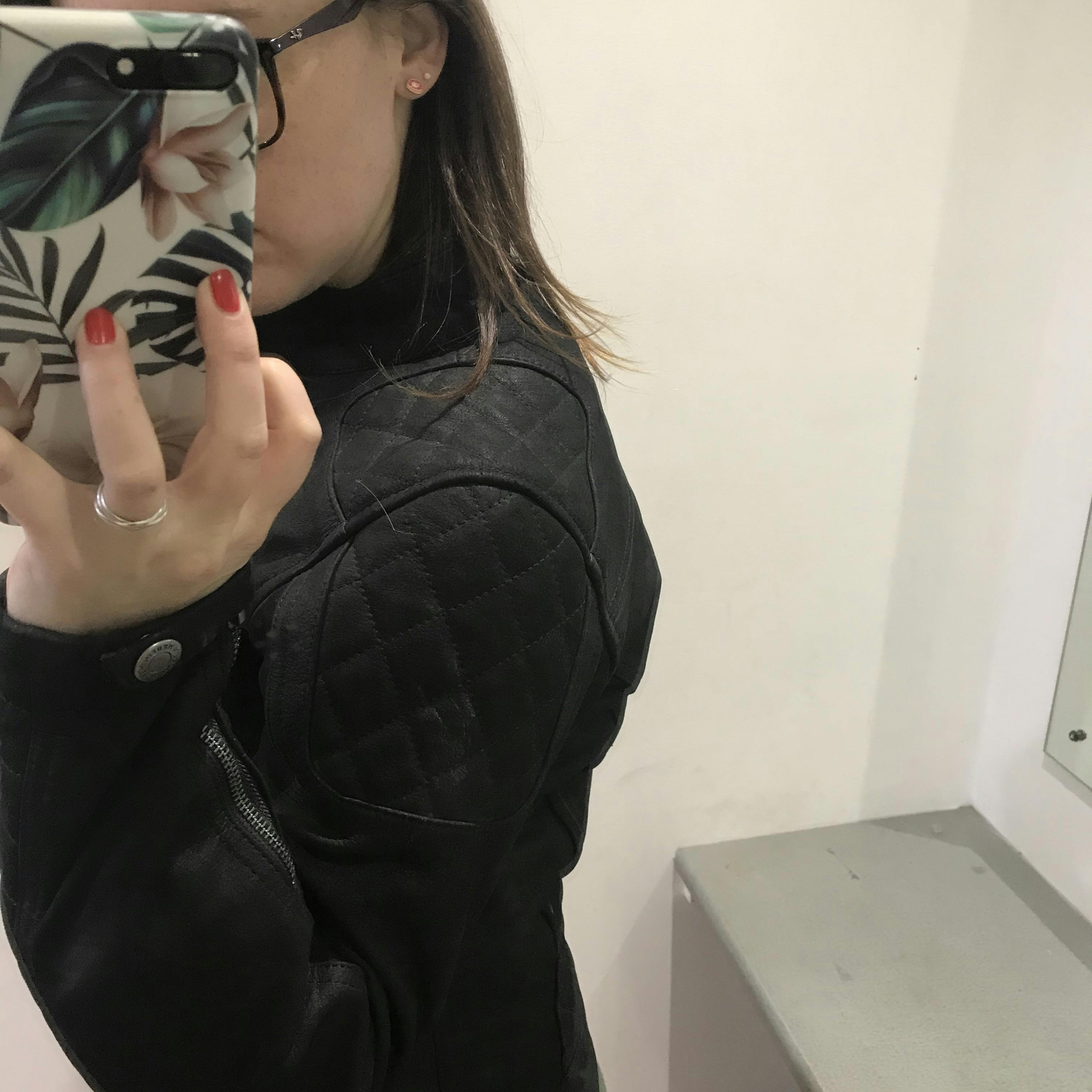 The shoulder quilting on the shoulders of the jacket
And the pockets!!! Ladies, we all know we all love pockets! There is a pocket on the left arm where you could stash a Motorway pass, or I'd stash my house key in there. Looks great too!
Inside the jacket, there are more pockets!
*On the left of the thermal vest with a press stud closure
*On the right inside the jacket with a zipper (that is accessible through a slit on the thermal vest)
*On the left near the main zipper of the jacket, perfect for my mobile phone
*On each side down the bottom front with zippers (hand warmer pockets)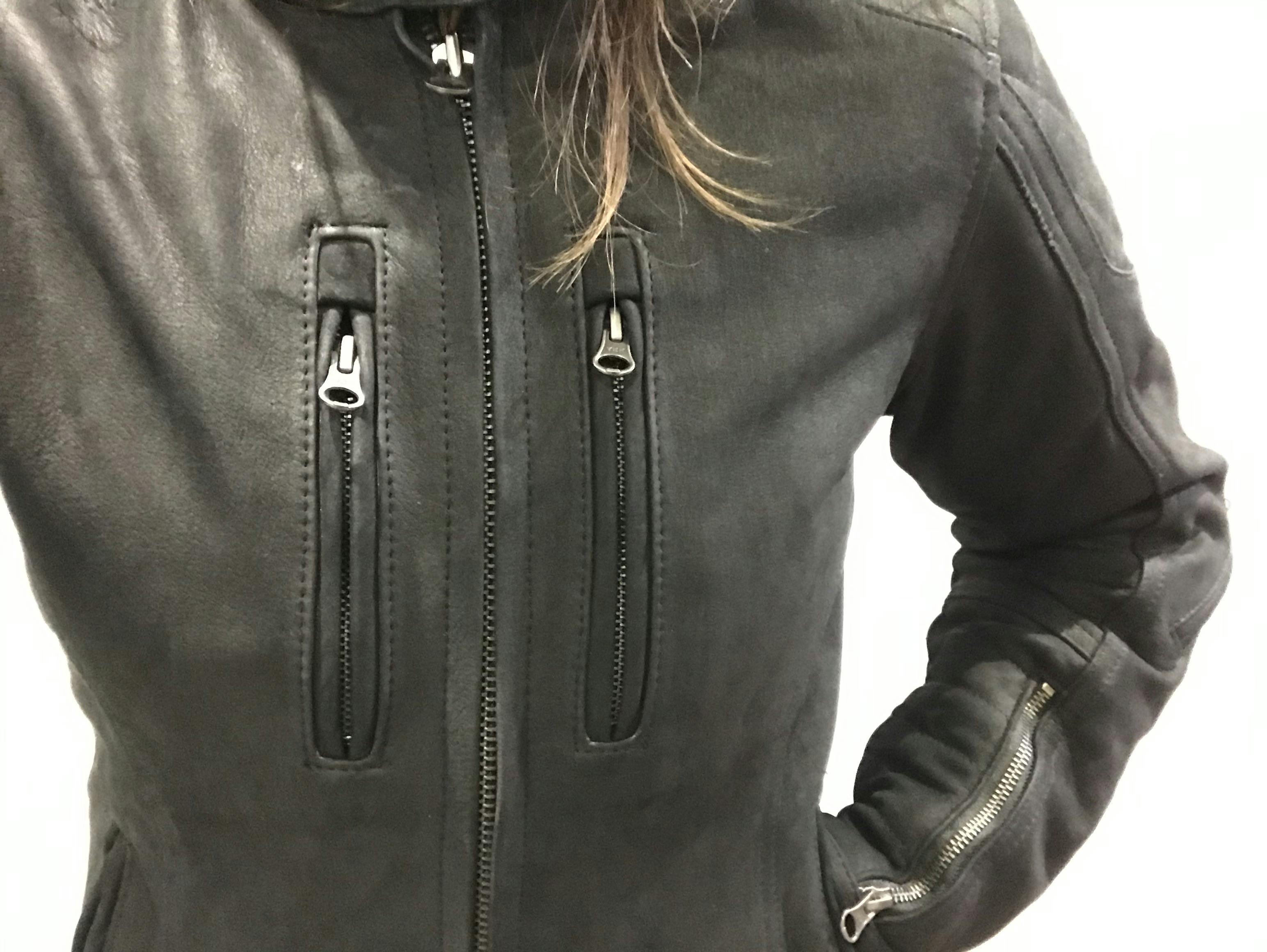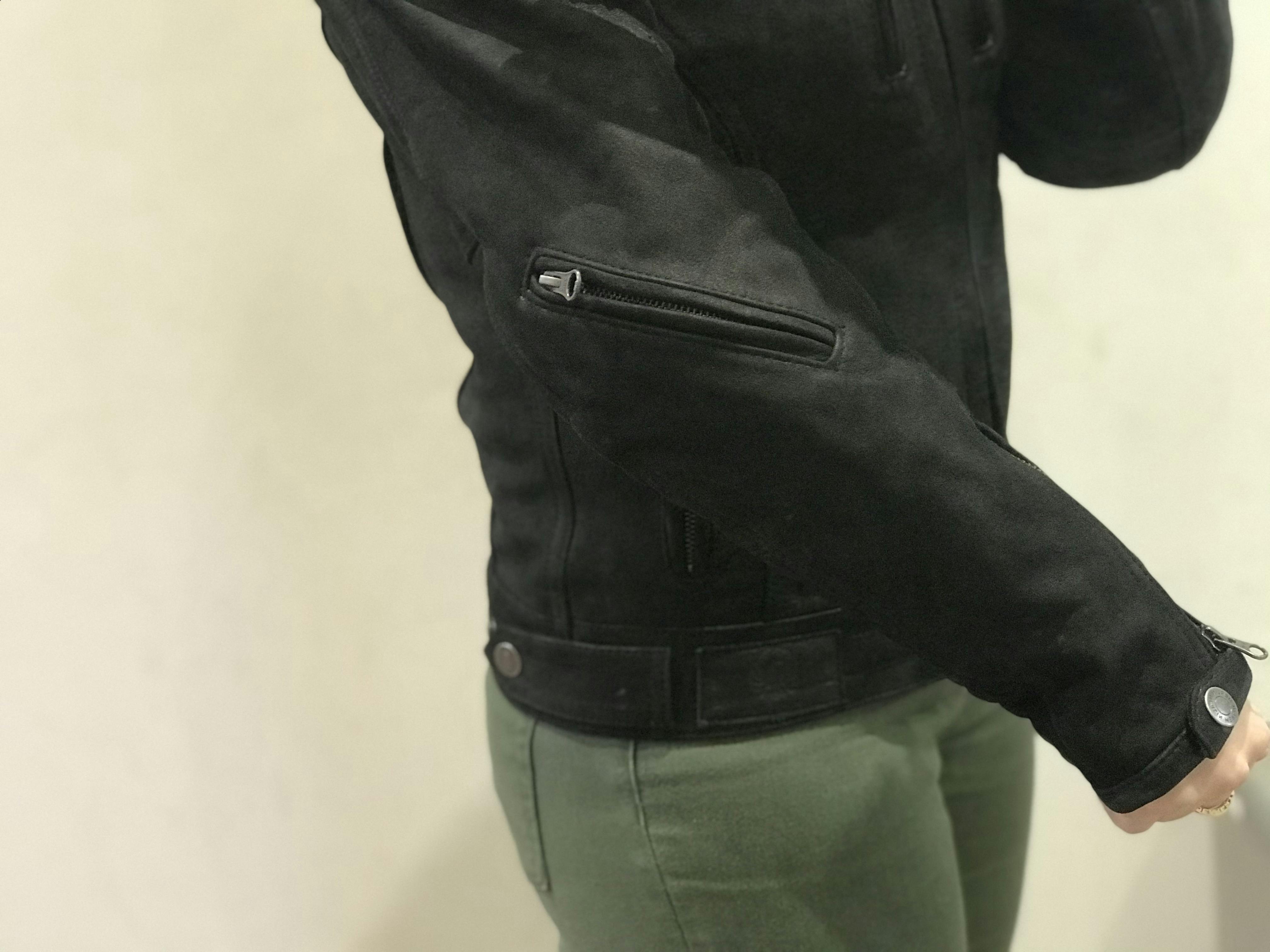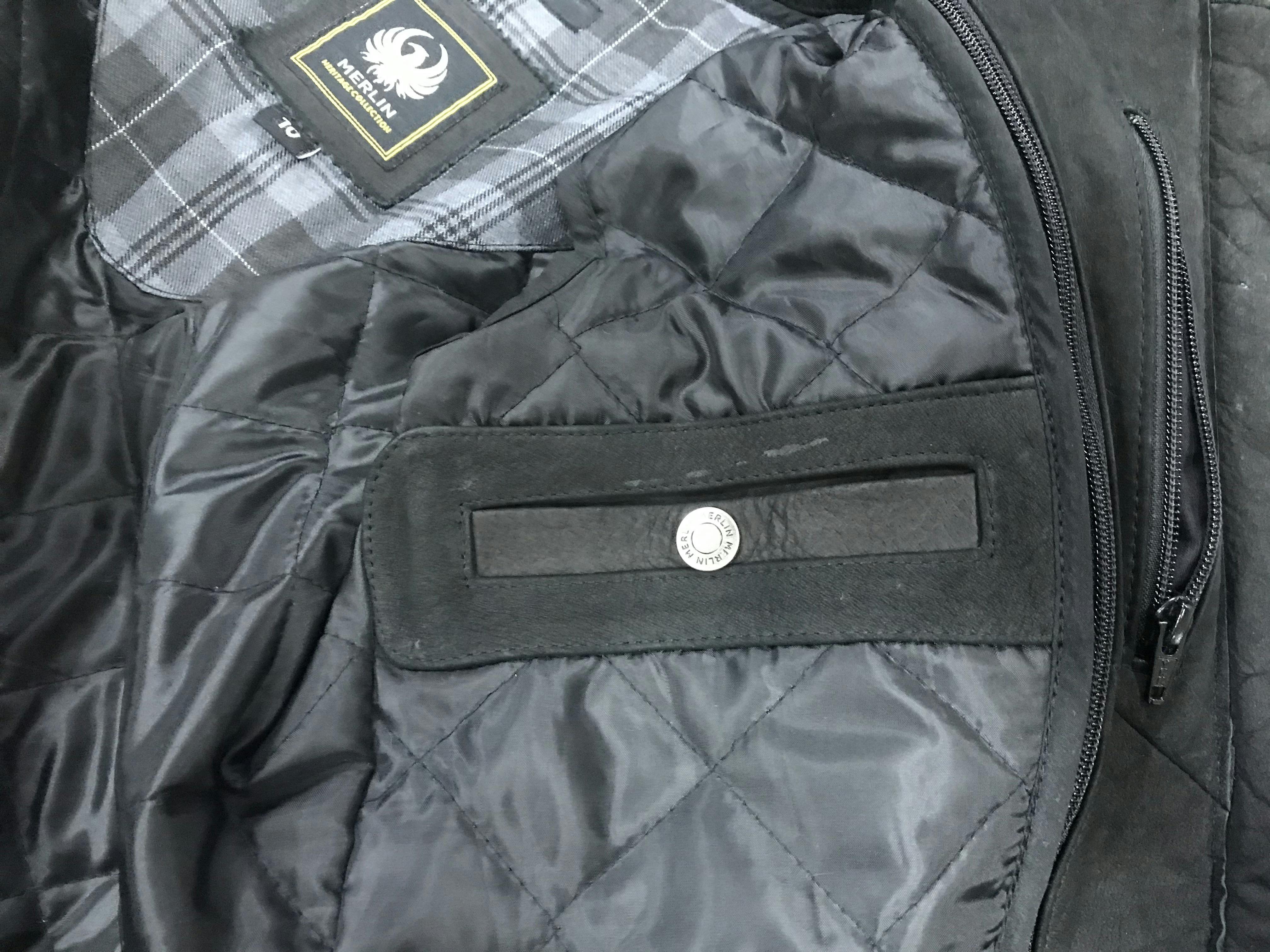 The inside phone packet that just fits my iPhone 7Plus and another interval pocket
Taking it off and checking it out, I see that there are some extra zips on the front and back. They're closable ventilation! Sweet! Two vents on the chest, and two vents on the back. So if I start needing some air flow, I have it in 2 seconds flat!
So after a few minutes of twirling around and checking myself out, it was time to hang it up and wait until I could take it out on the road!
Then it was time!
So of course the first time I ride it, I had to really test it. I left band practice* at about 9:30pm when it was about 8 degrees. I was pleasantly surprised without how warm it kept me! It was so comfy when I was on the motorcycle as well as just walking around in it. It definitely has some breaking in to be done like all leather jackets, but it's soft enough that you're comfy in it from the get go.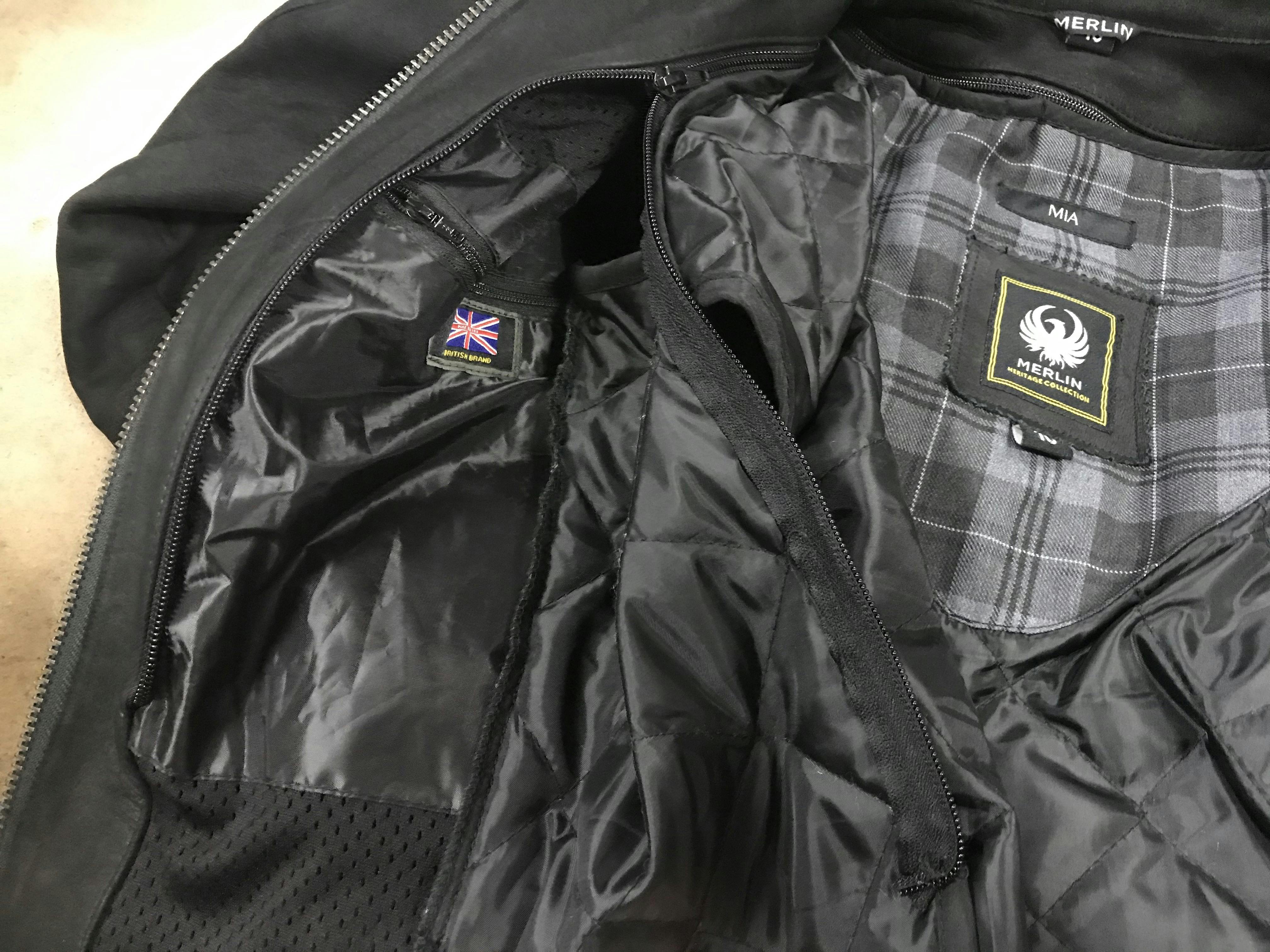 The internal liner just zips in and out for quick and convenient climate change
After a couple of rides to and from work and I was a very happy chappy. I never felt like I couldn't move around on the jacket, and I got many compliments with the occasions "there's not way that's a motorcycle jacket". The jacket kept me warm whether I rode in the early morning, or on the commute home. 
While I could detail the details of the weather on my commutes, you can imagine that they are slow and cold in the morning and slow and chilly in the evening. For a girl who lived in -30degree weather, you'd think I could deal with the cold better!
This is definitely my new favourite jacket, and I plan on wearing it until the scorching summer graces us with it's presence once again.
After a comfy, good looking, great jacket that will make you look good and feel great as well as protected? You've got it in the Mia jacket!
Ride safe and have a good one!
Got questions? Send me an email at webshop@bikebiz.com.au
*Oh yeah, Bikebiz has a band…shhh…our little secret!