Australian summer. 
It's hot.
It's dry.
It's only going to get worse.
Some of us ride our motorcycles to commute to and from work. Some of us ride for pleasure. Some of us ride in hopes of impressing that cute guy down the road that works at that bike shop (or is that just me?)
Whatever the reason, riding in summer has its challenges, mainly the heat and what gear to wear.
Thankfully, there is some awesome gear tailored to riding in the summer. 
From gloves to jackets to cooling vests and boots, there's something for everyone. 
There are of course, those people who don't wear any gear...we're lucky if they ever wear a shirt sometimes! Here are some tips on choosing the right gear for you.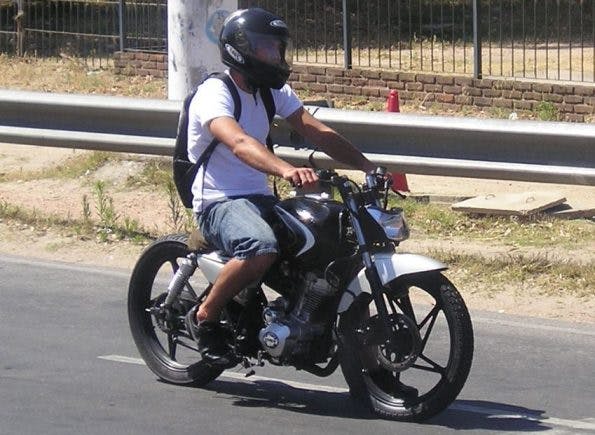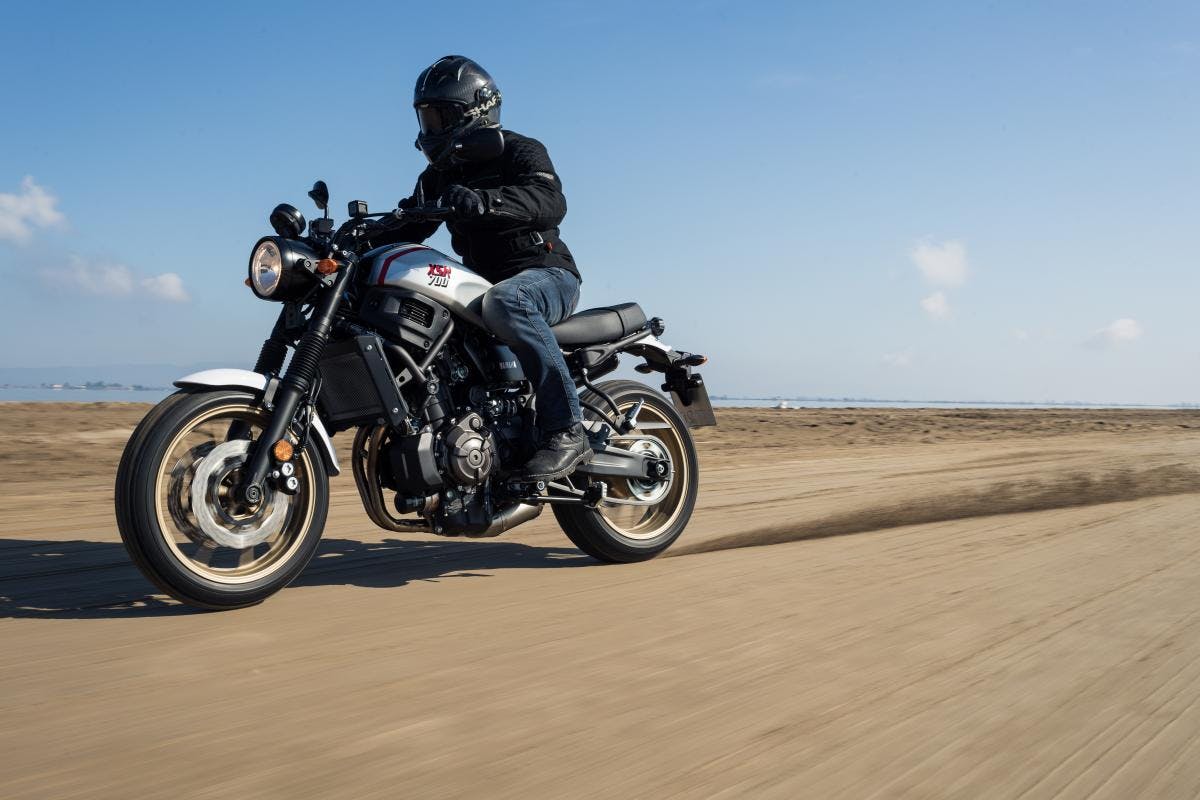 Starting from the top - Helmets.
All full face helmets have some form of ventilation. Generally in the chin area, the forehead area and sometimes the back of the head (think exhaust vents). Generally the more money you put into a helmet, the better the ventilation will be. Keeping in mind that some helmets are designed for the more upright riding position, and others are designed for the hunched over sports riding position. Your friendly Bikebiz accessories staff member can help you out with finding the best one for you and your riding.
Modular helmets give you that option of opening the front of the helmet up, providing maximum air flow.
Of course, open-faced helmets have nothing covering your face, so maximum air flow is always there for you. Choose the right helmet for you and your riding style.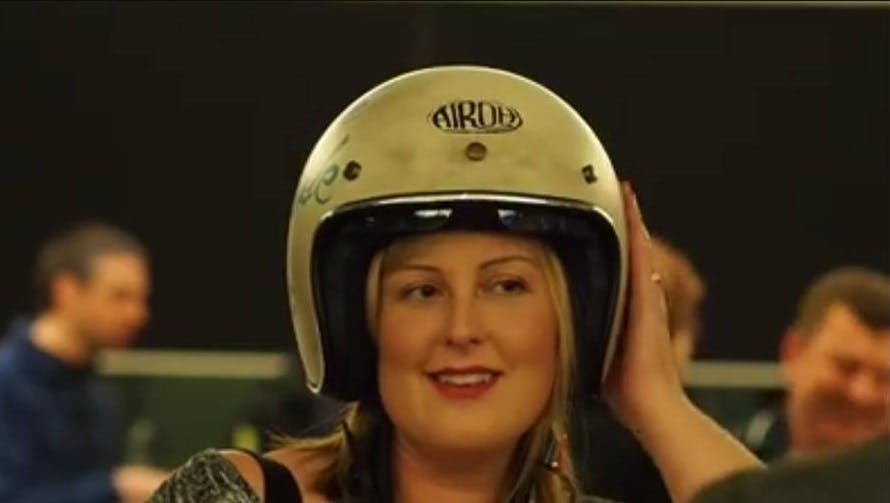 Jess in an Open Face helmet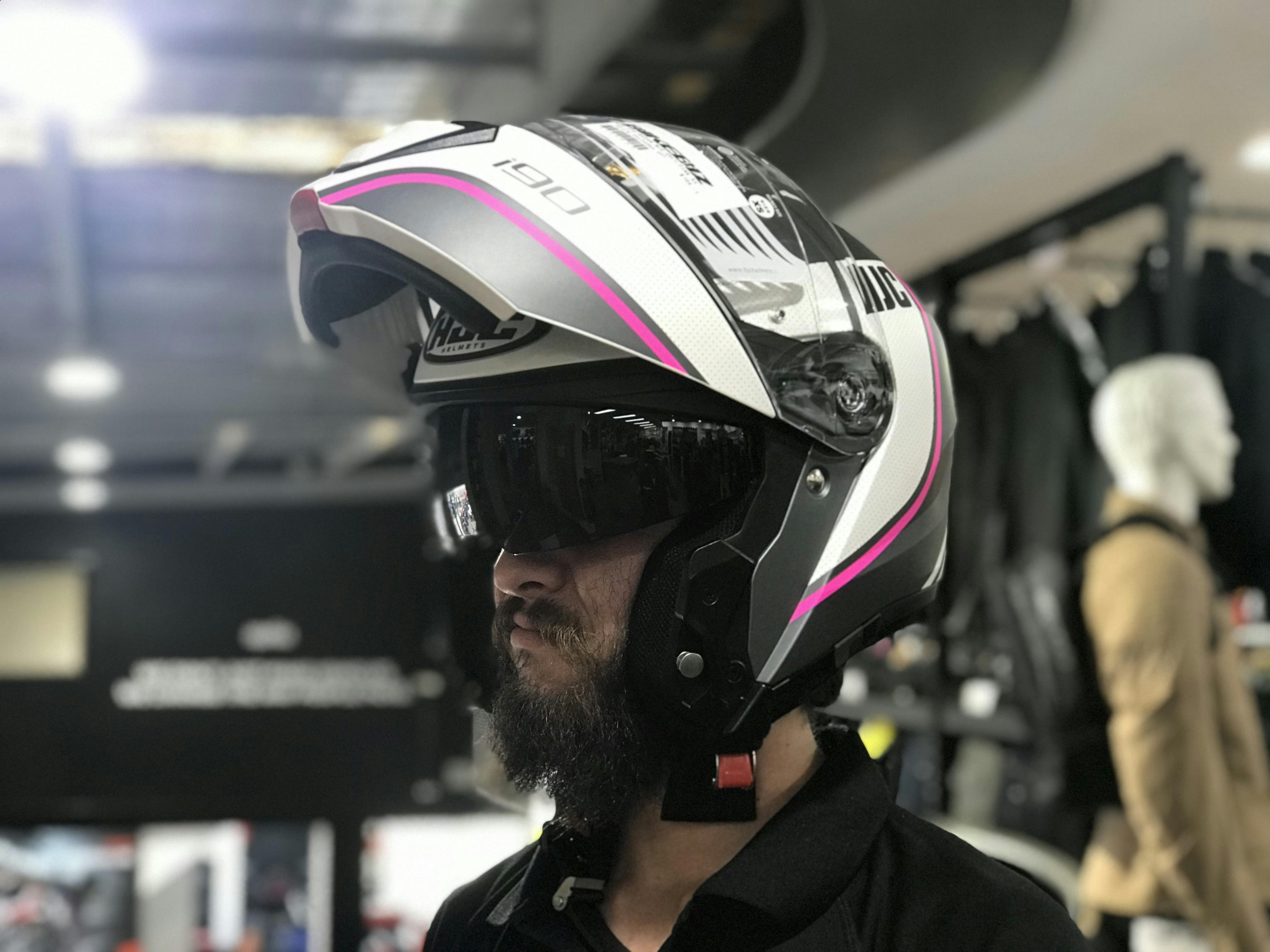 Andrew in a modular helmet
Jackets.
There are so many summer jacket options out there. In summer, mesh is your friend! I currently wear a Dri-Rider Air Ride 4 jacket, and it's great in summer! Yes it's got a lot of black on it, but that doesn't make it hotter to wear necessarily. Once you are moving on the bike and the air is flowing, you'll cool right down.  My jacket has a removable windproof/waterproof liner, just in case the rain or wind hits. 
For those of you who don't want to have a jacket for every season, there are jackets All-Season jackets out there. These jackets usually have both a removable water/windproof liner and a thermal liner. There will be zips on the front for ventilation that can be opened or closed. Not as cool as a fully ventilated jacket, but it will certainly do the job. 
Only have a winter jacket? Check for removable liners. That will make it less thick. You could roll up the sleeves, but that leaves your skin open for either sunburn or road rash. You can crack the zip a little bit, but not too much, or it won't protect you if you do happen to come off the motorcycle. 
Partial to leather? There are leather jackets out there that have perforation or close-able ventilation. Cool and safe!
No matter the heat, I always recommend wearing a back protector. Whether it's a small one that slips into the back of the jacket, or a race one that you wear like a backpack and clip into the jacket, you only have one back.
Whatever your options, please still wear a jacket. Sunburn sucks, as does what could happen if you have an accident. Dress for the slide, not the ride.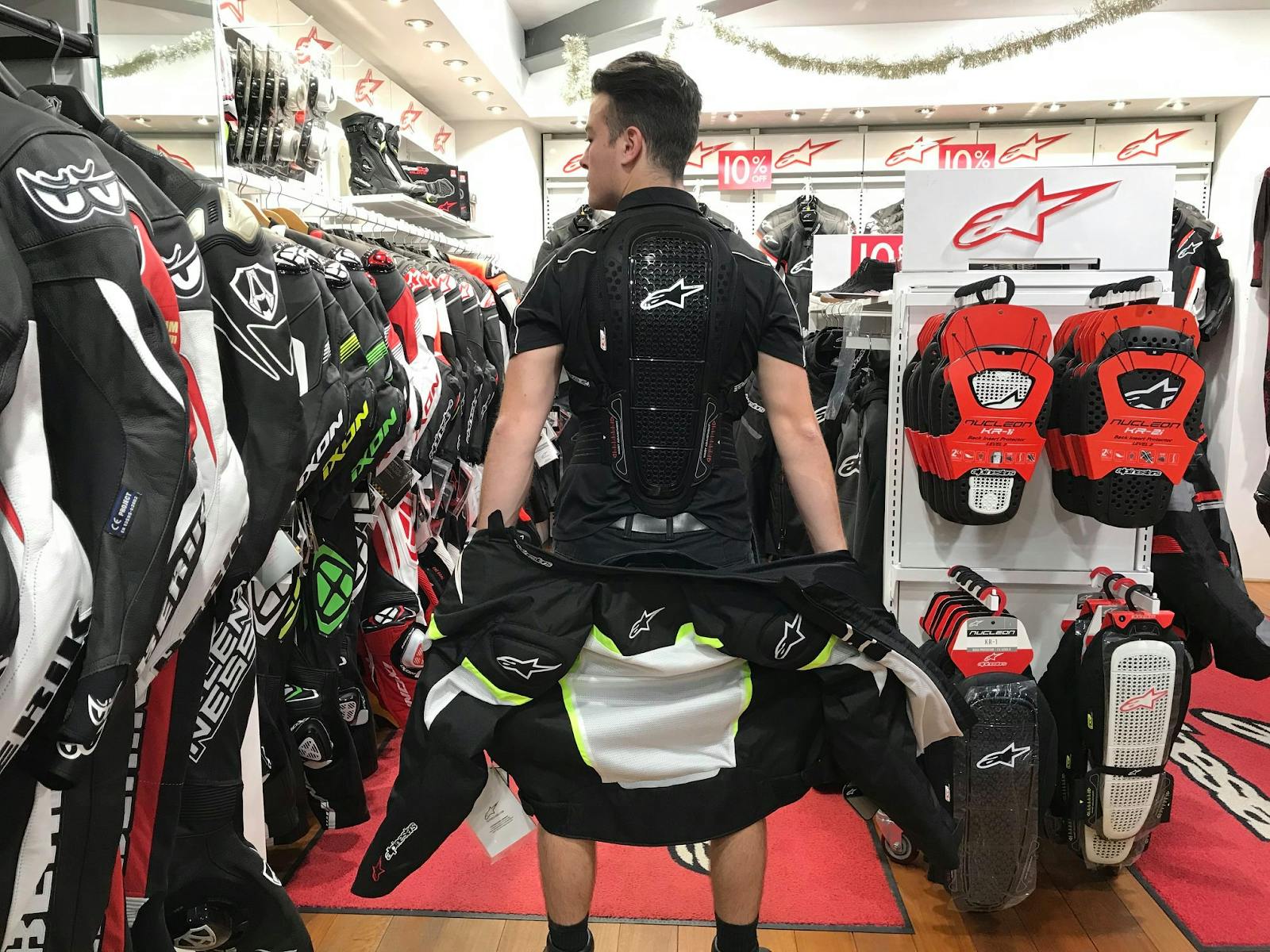 Alpinestars T-GP Plus V2 Air Jacket with a Nucleon KR-1 Road Back Protector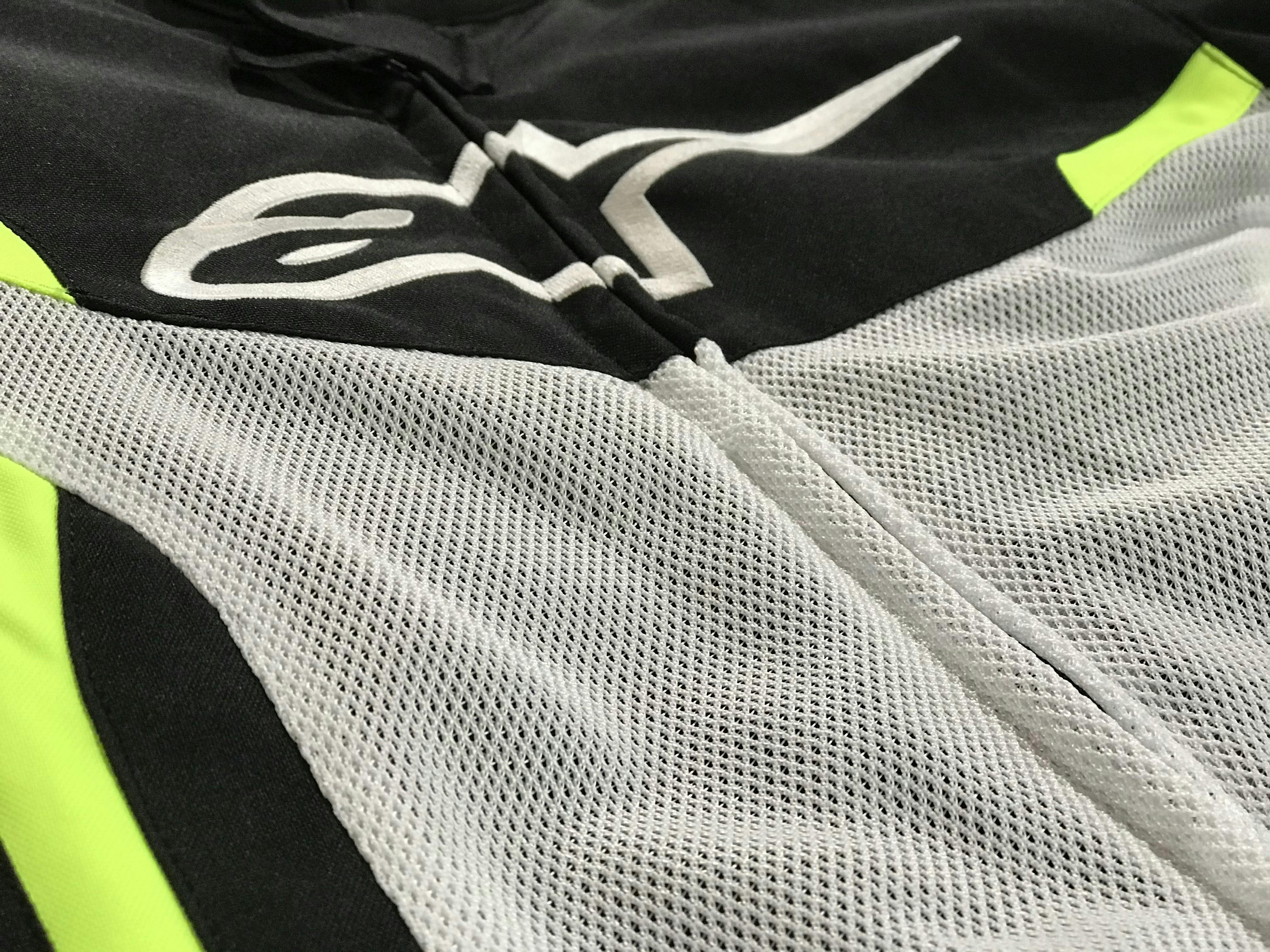 Close up on the mesh on the Alpinestars T-GP Plus V2 Air Jacket
Gloves.
Your hands are so important! You use them everyday, and more importantly, to control your motorcycle. There are so many gloves on the market out there that are designed specifically for summer. My personal favourites are my Five Stunt gloves. Super comfy, highly ventilated, short cuff and they have all the protection I need. 
Just because a glove is thin, doesn't mean it's going to be right for summer. There are some thin leather gloves out there that will still make your hands sweat. When looking for Summer gloves, look for mesh. Air will go through that mesh and cool down your sweaty hands, as well as still protect you from sunburn.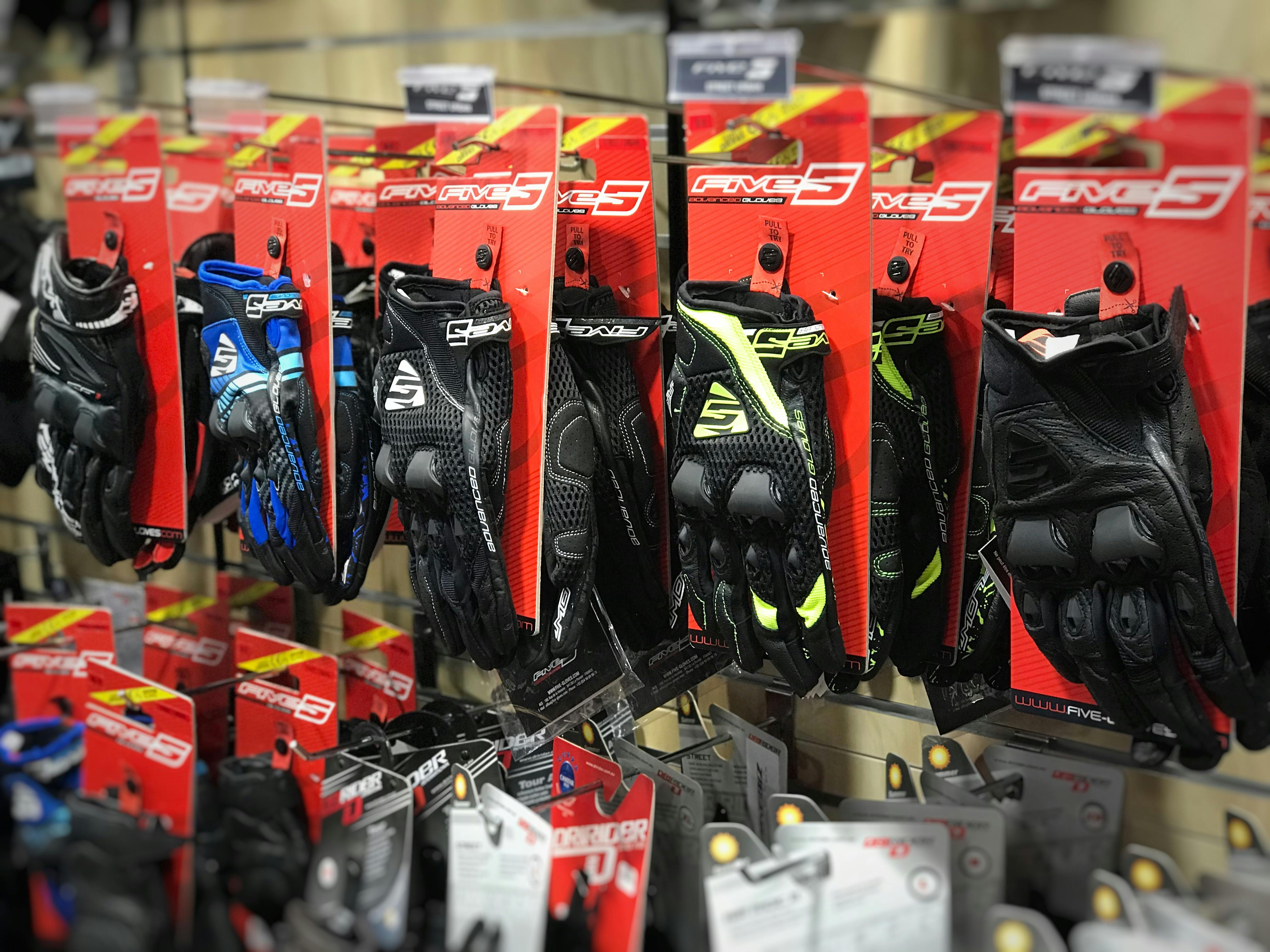 Five vented short cuff summer gloves - Stunt, Stunt Airflow & SF-1 in store at Bikebiz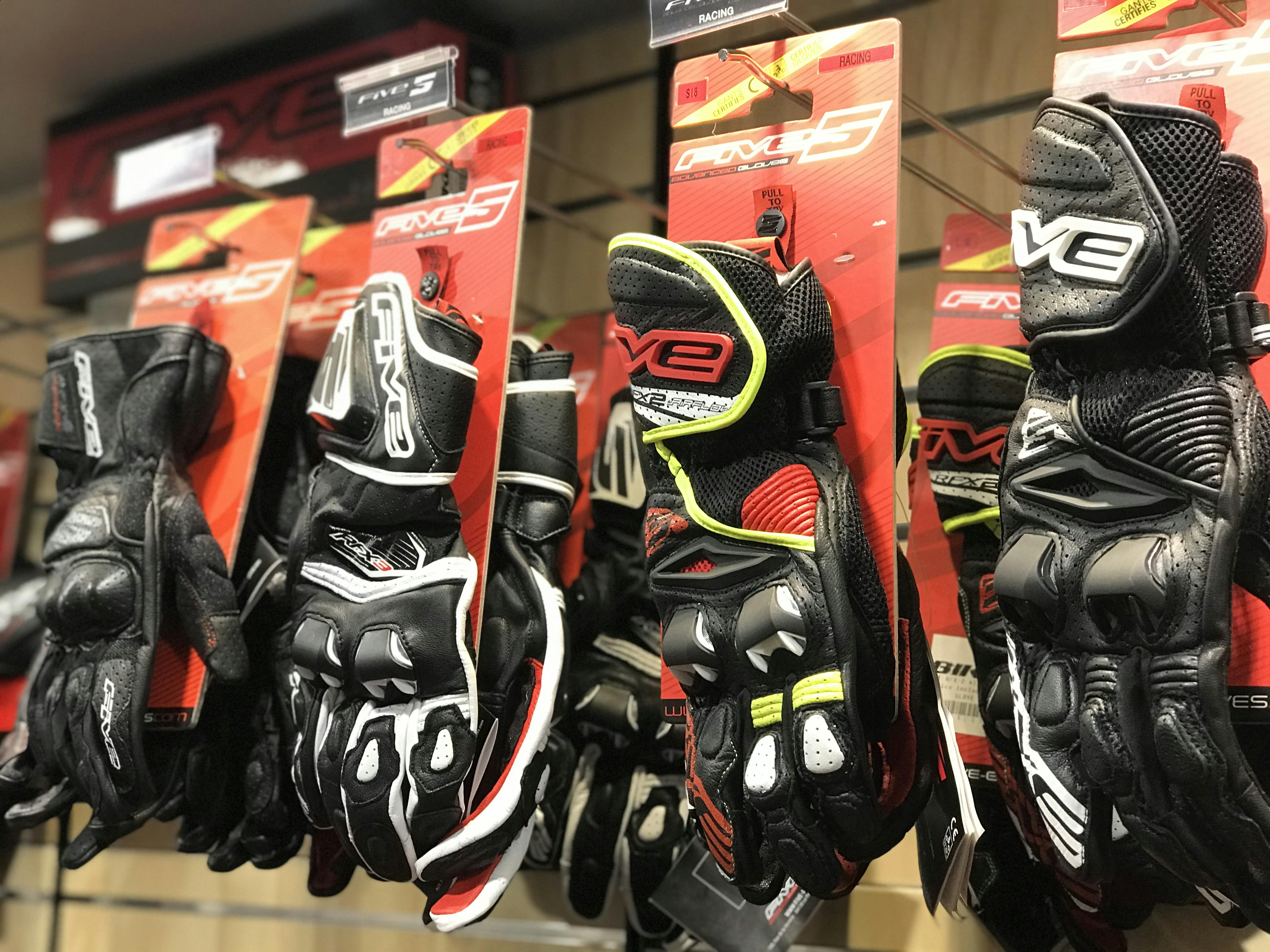 Five vented race gloves - RFX-2 Airflow in store at Bikebiz
Pants.
Just to reiterate what I've said, sunburn sucks! As does road rash, or so I've been told. So riding in shorts in summer isn't the best idea. Kevlar jeans are a great alternative. Kevlar jeans have come a long way, and the kevlar itself is a lot thinner, and therefore cooler, than it used to be. If you are a textile pant fan, there are pants out there that have mesh sections or close-able vents.
I actually wear Kevlar lined leggings! Oxford do a pair called Super Leggings that are super comfy, high-waisted and look great! Knee armour is included too. I'd definitely recommend checking them out ladies.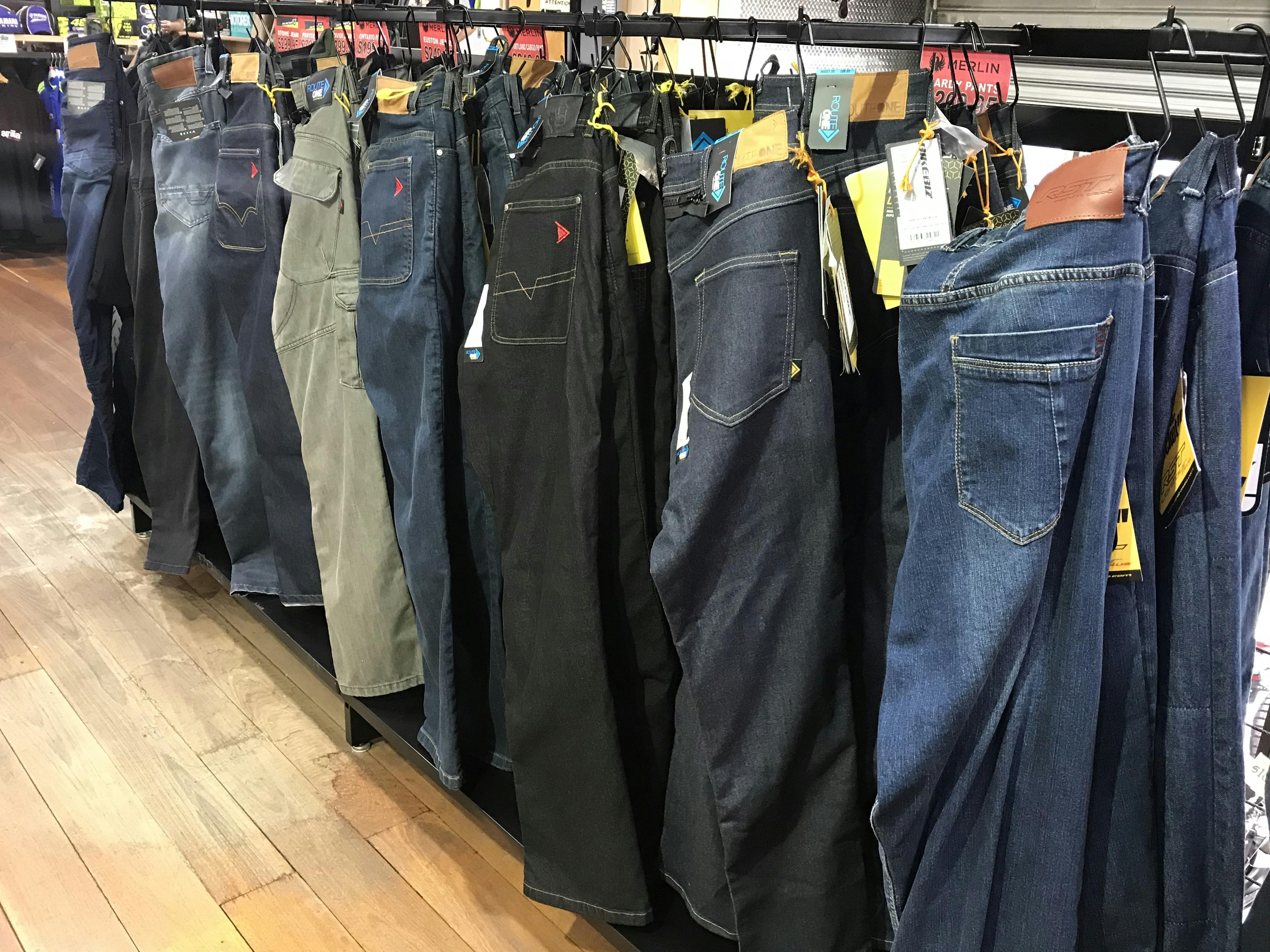 Merlin and Macna Kelvar jeans in store at Bikebiz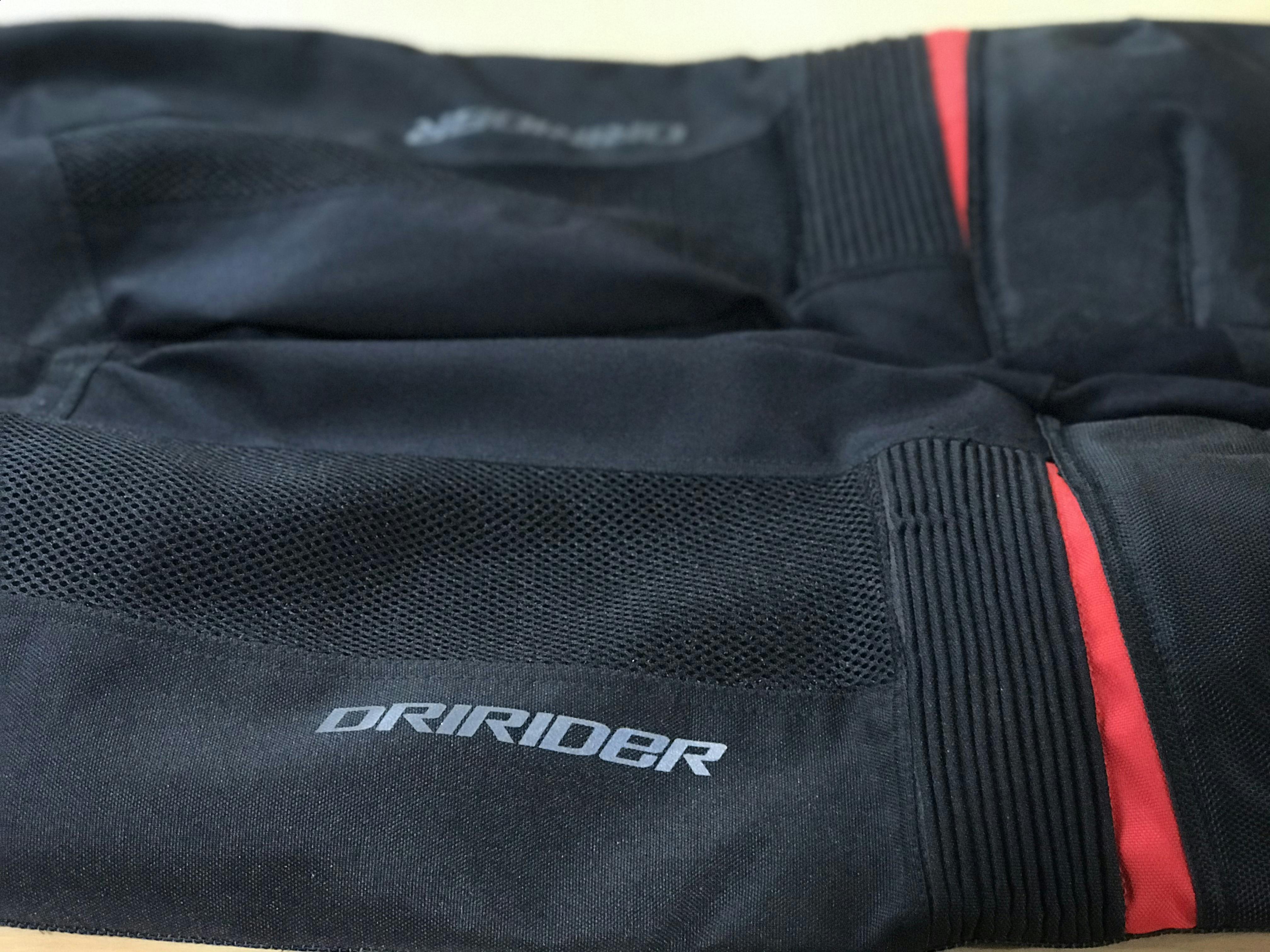 Dri Rider Air Ride textile pant vents
Boots.
You don't have to wear your waterproof, thick or tall boots in summer. There are a few options for you out there.
There are boots with perforation in both short and tall boot options. The air will flow through and help keep your feet cool. Just look for those tiny pinprick holes in the boot.
Short boots are a great option as they cut out the material around your calf. While you can't wear them at your 35 degree track day, you can wear them for your local commute to work or down the road for a coffee. Personally, I wear the SMX-1 boot. Short, comfy and protective.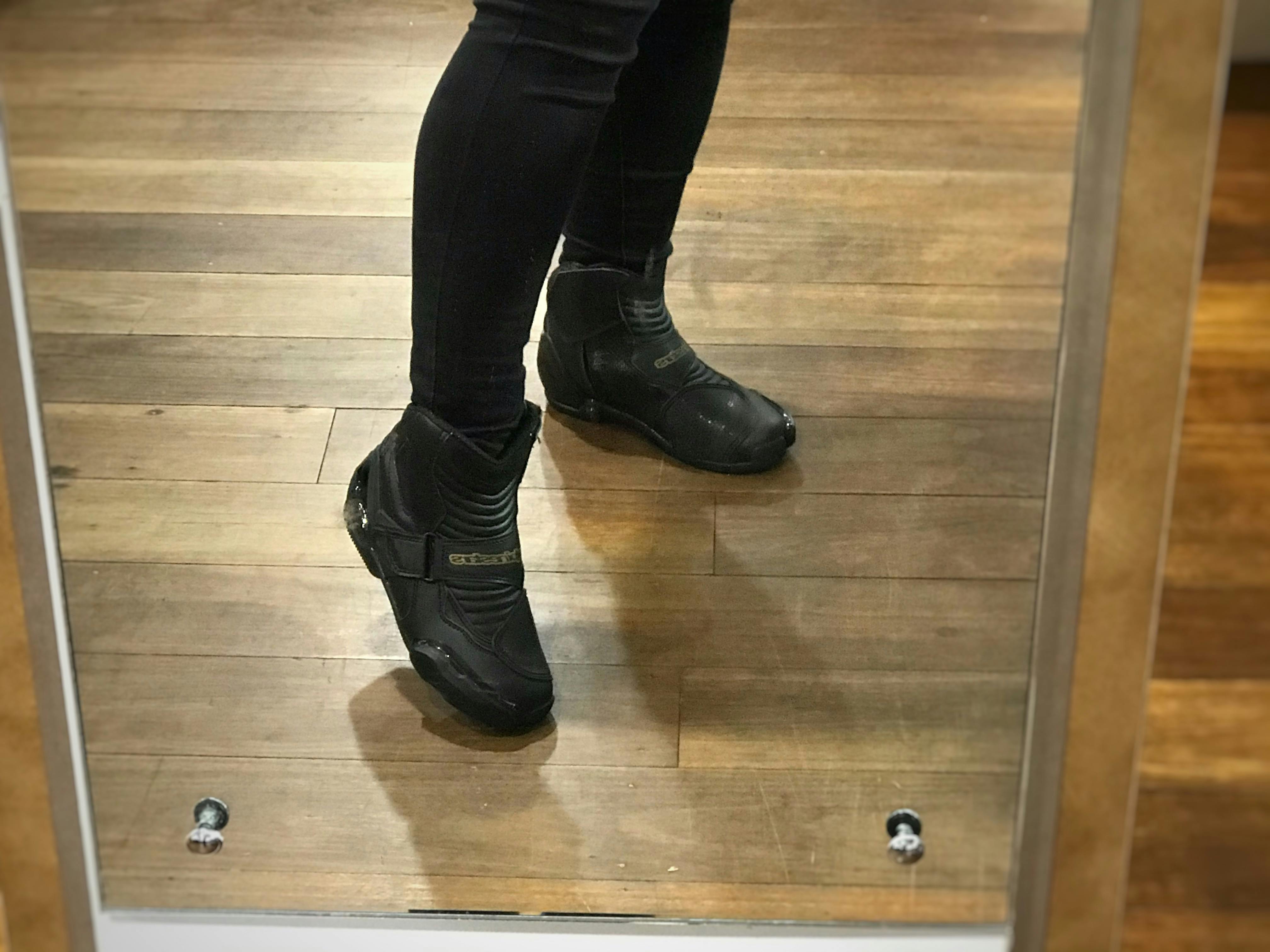 My Stella SMX-1...which I love!!!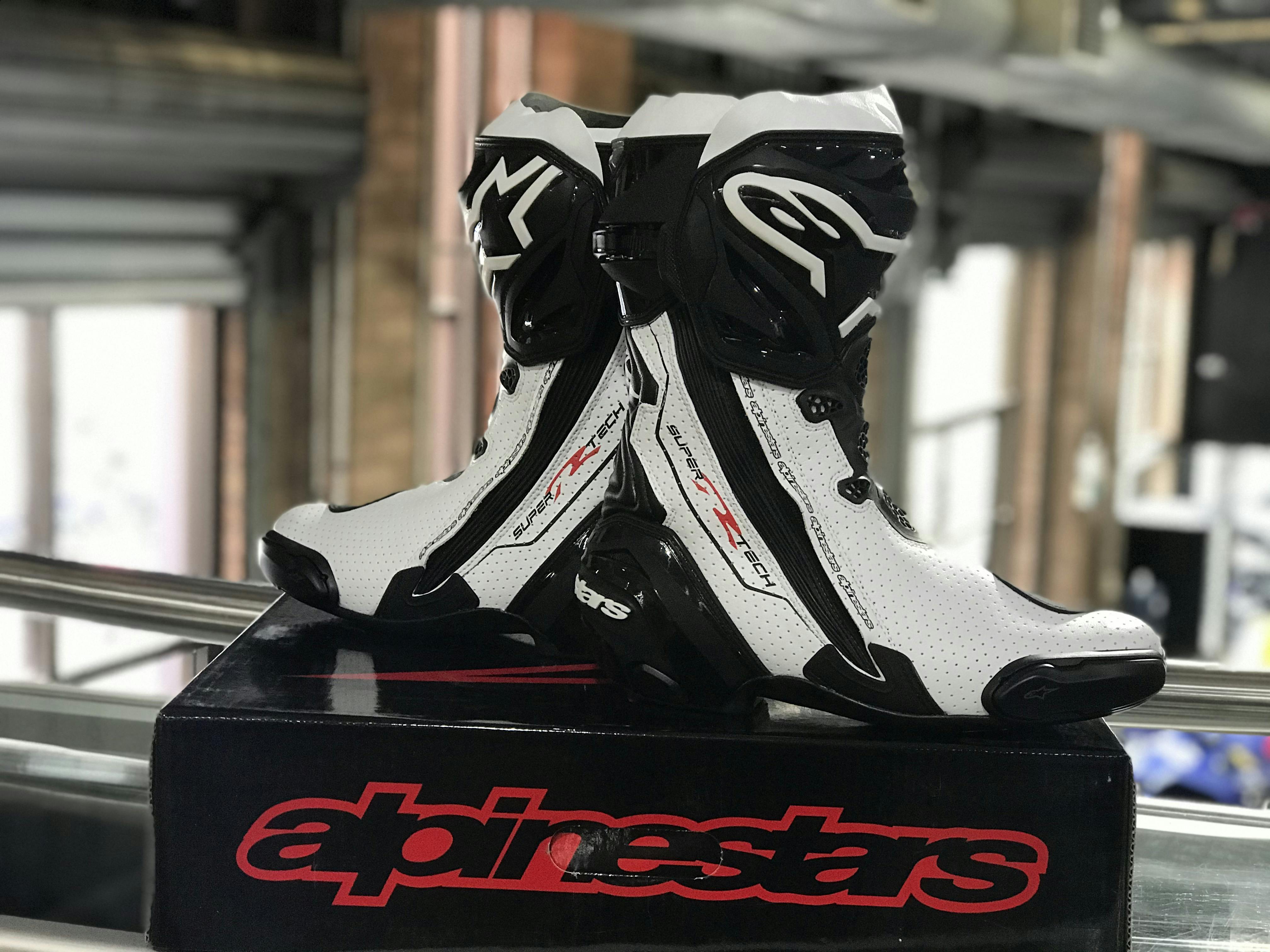 Alpinestars Supertech R Vented - great for the hot days on the track!
Bonus extra.
There are other things you can do to keep cool on the bike. Some jackets like the Dri Rider Rallycross Jacket, have a water bladder in the back to help keep you hydrated. Great for those days off road.
Macna do a wet and dry cooling vest. The wet one you just dunk in water. The dry one you fill the pouches with water. Either one will allow the water to slowly evaporate with your body heat, keeping your skin cool, and your body temperature down.
James in the Dri Rider Rallycross Jacket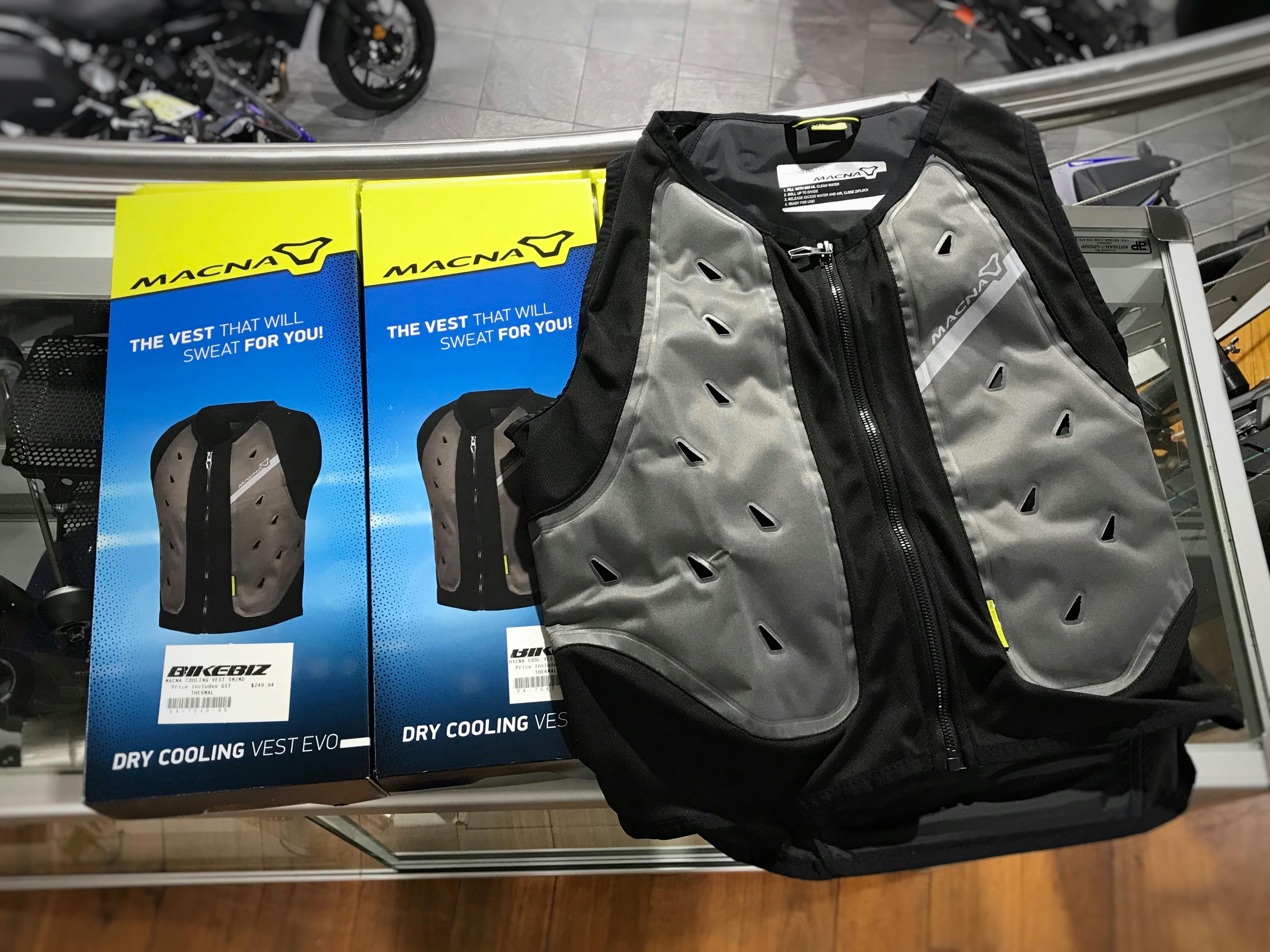 Macna Dry Cooling vest in store at Bikebiz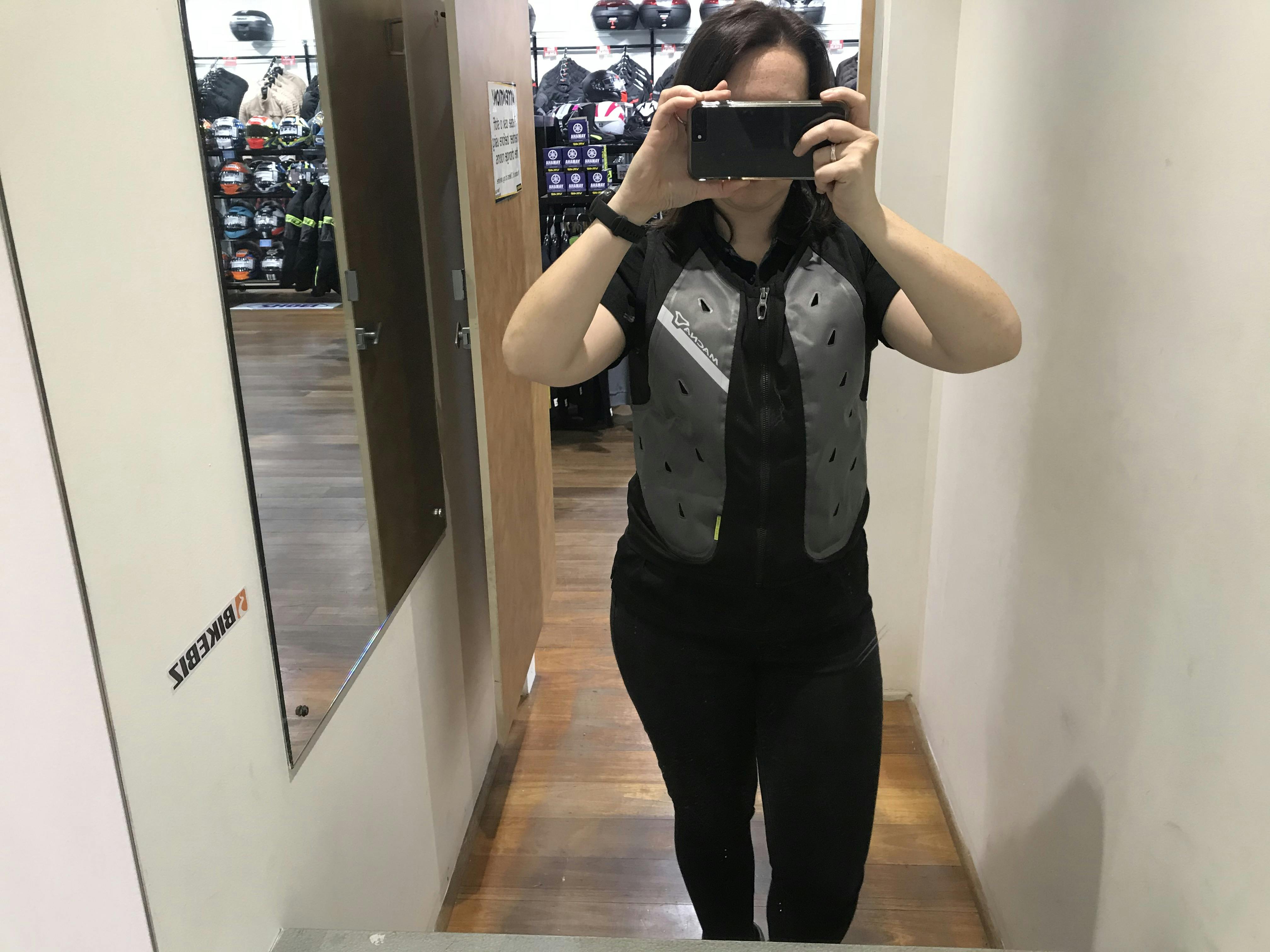 Prue wearing a XS-SM Macna Dry Cooling vest (empty)
Hopefully these tips will help you stay cool in summer, and stop the heat from making your riding experience a not so pleasant one. 
Ride safe and have a good one!
Got questions? Send me an email at webshop@bikebiz.com.au