How often do you clean your helmet? 
Probably not often enough. 
Are you unsure of what to use? Fear no more! I'm going to tell you.
Oxford is a name you've probably heard of before. A company from the UK, they are UK's largest distributor of motorcycle clothing, helmets, accessories and parts. They sell in over 90 countries around the world. Here at Bikebiz we sell, use and trust many of their products. One of such products is their Motorcycle cleaning range called Mint.
They do a heap of Motorcycle specific stuff, but I'm looking at the Helmet Care products today.
Quick tip, no matter what product you use, always use a clean microfibre cloth to avoid scratching your helmet.
Just like your car windscreen, it seems that motorcycle helmets attract bugs, especially on a long ride. You get to your destination or back home, and you realise that your the reason you couldn't see so well wasn't because the sun was going down, but because it was covered in bug smear! Enter the Helmet Cleaner. A quick spray and wipe with this stuff and your helmet and visor will be as good as new! If you have an iridium visor, let the product soak for a couple of minutes so the dried bugs don't scratch your mirrored visor (that would suck).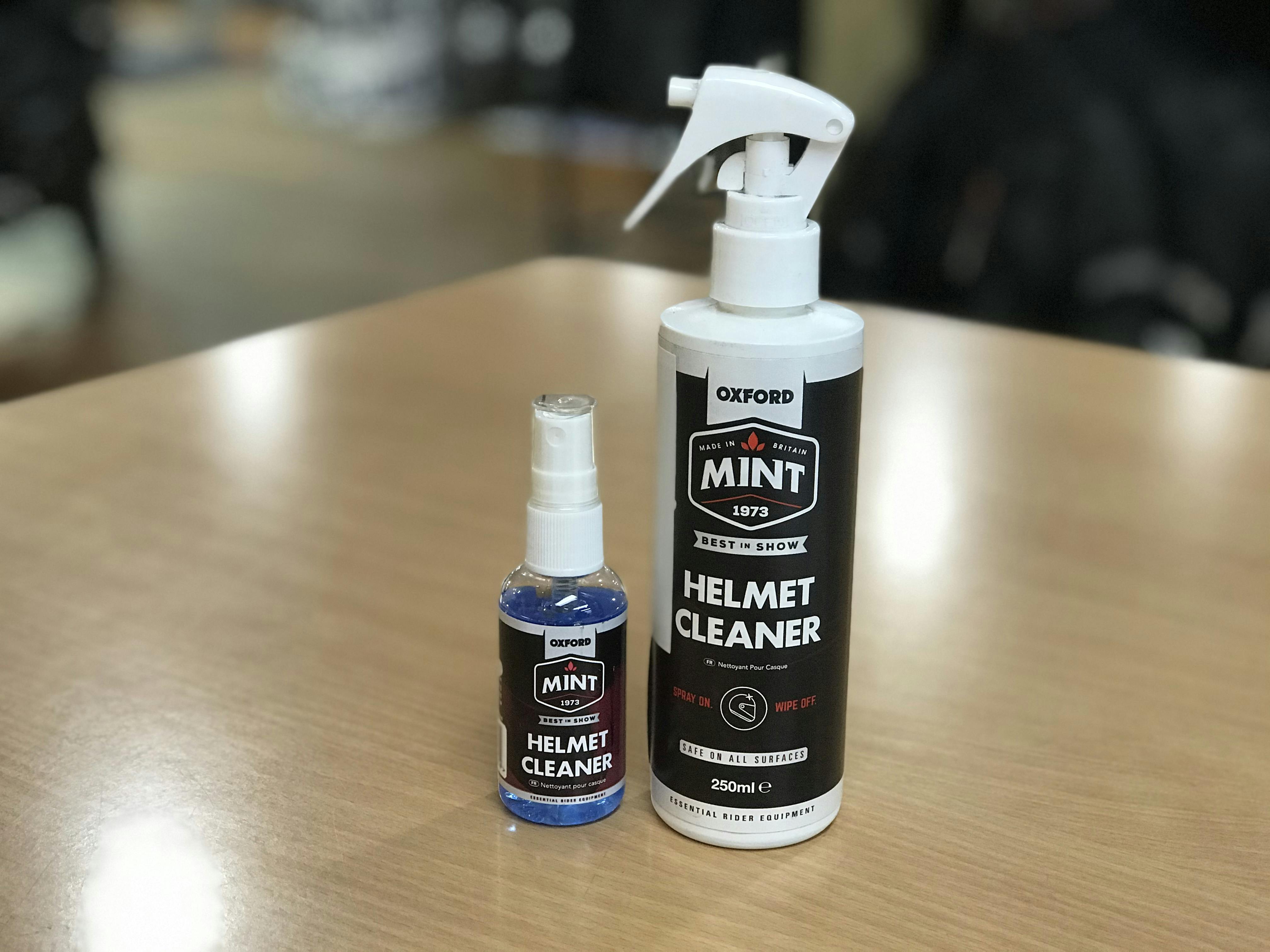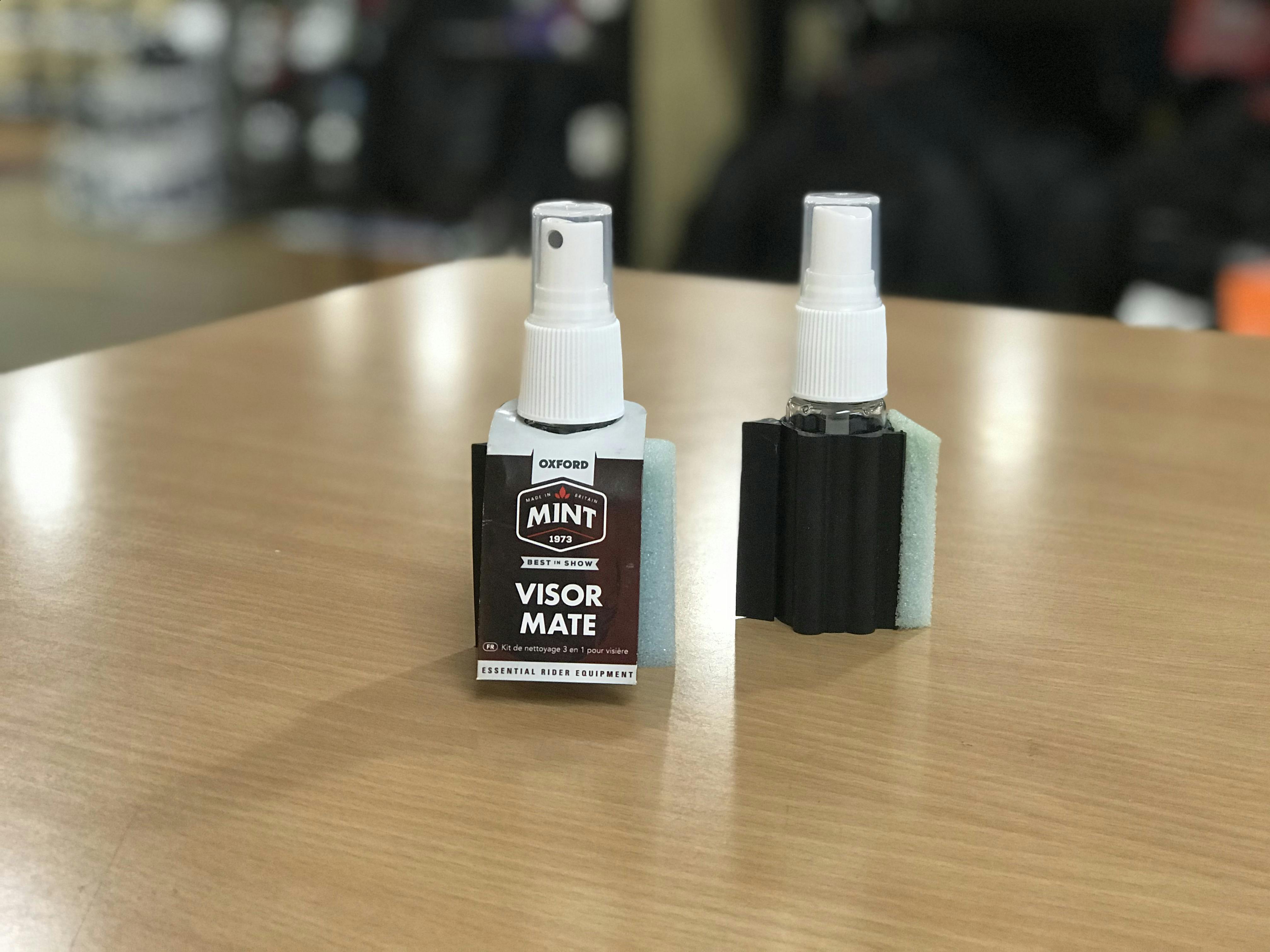 No matter who you are, your helmet will get a bit smelly and dirty on the inside eventually. Ladies, we all know your cheek pads are covered in foundation…I know mine are sometimes. There's a product that can help with that called the Helmet Sanitiser. It's a foam that you just fill your helmet with, let it soak in, pat it dry and then let it finish drying in a cool dry area. It will leave your helmet clean, sanitised and smelling 1000% better than it did before. It also works for gloves and boots as well! Those of you with tried and trusted touring boots, or dirt bike boots know they can get a little stinky sometimes. 
Is your visor fogging up and there's no pin lock option available? Then the Anti-fog Spray is the way to go. Just spray on the inside of your visor and buff away with a microfibre cloth. Like any spray or balm that is applied, it will need to be re-applied every so often, but not as often as you may think.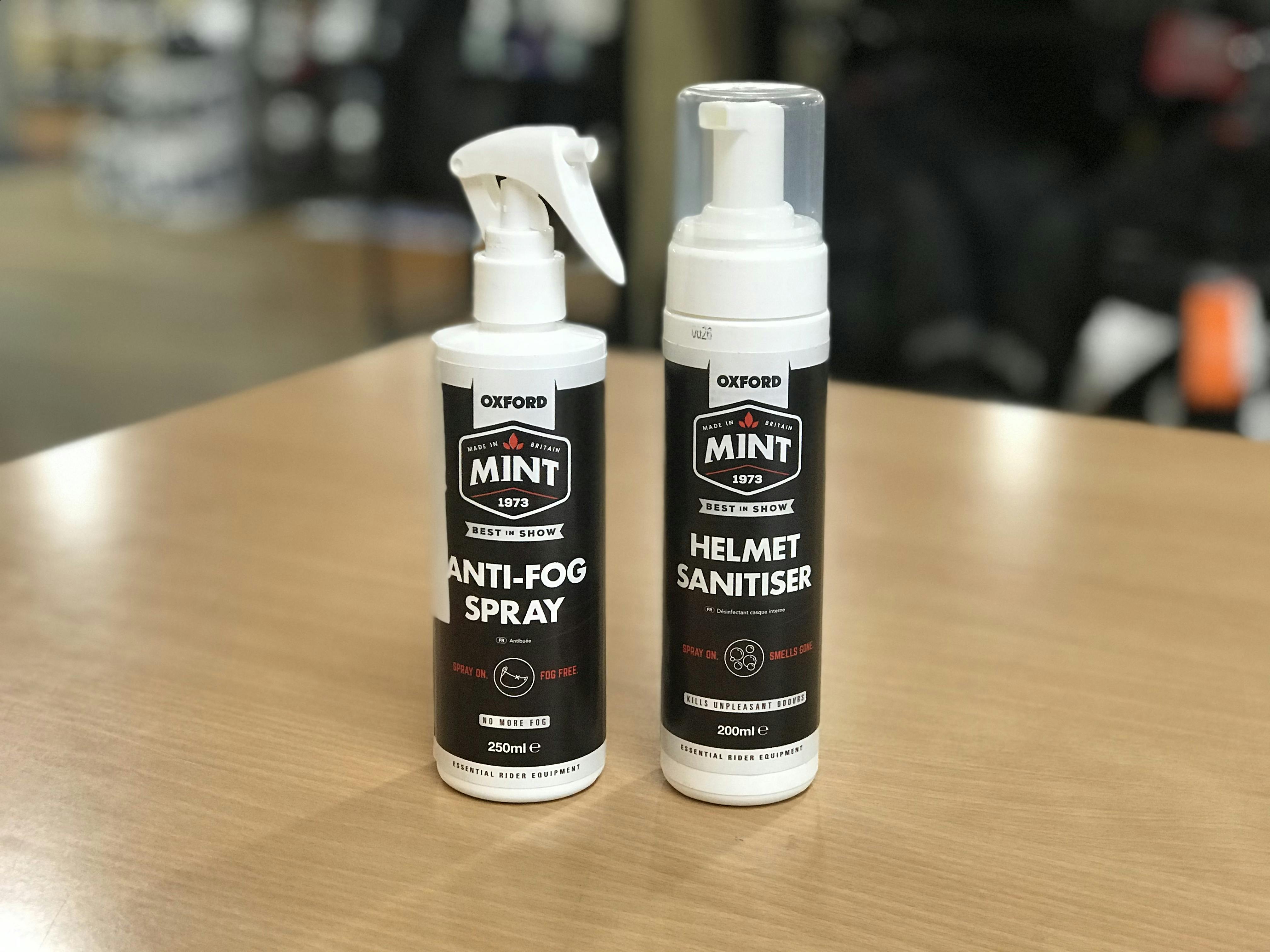 Anti-Fog Spray & Helmet Sanitiser.
On the road a lot? There is also a mini Helmet Care Kit available! The kit comes mini bottles of Sanitiser Spray, Anti-fog spray and Helmet Cleaner, along with a small microfibre cloth. Encased in a handy carry case that you can stash at the bottle of your bag, top box or pannier, you can always have a clean and clear helmet and visor no matter where you are!
While we're on wearables, Mint also have a Wax Coating reproofer. This spray will re-waterproof your wax cotton jacket/pants as well as protect them from stains. Just spray, let soak in and ride away!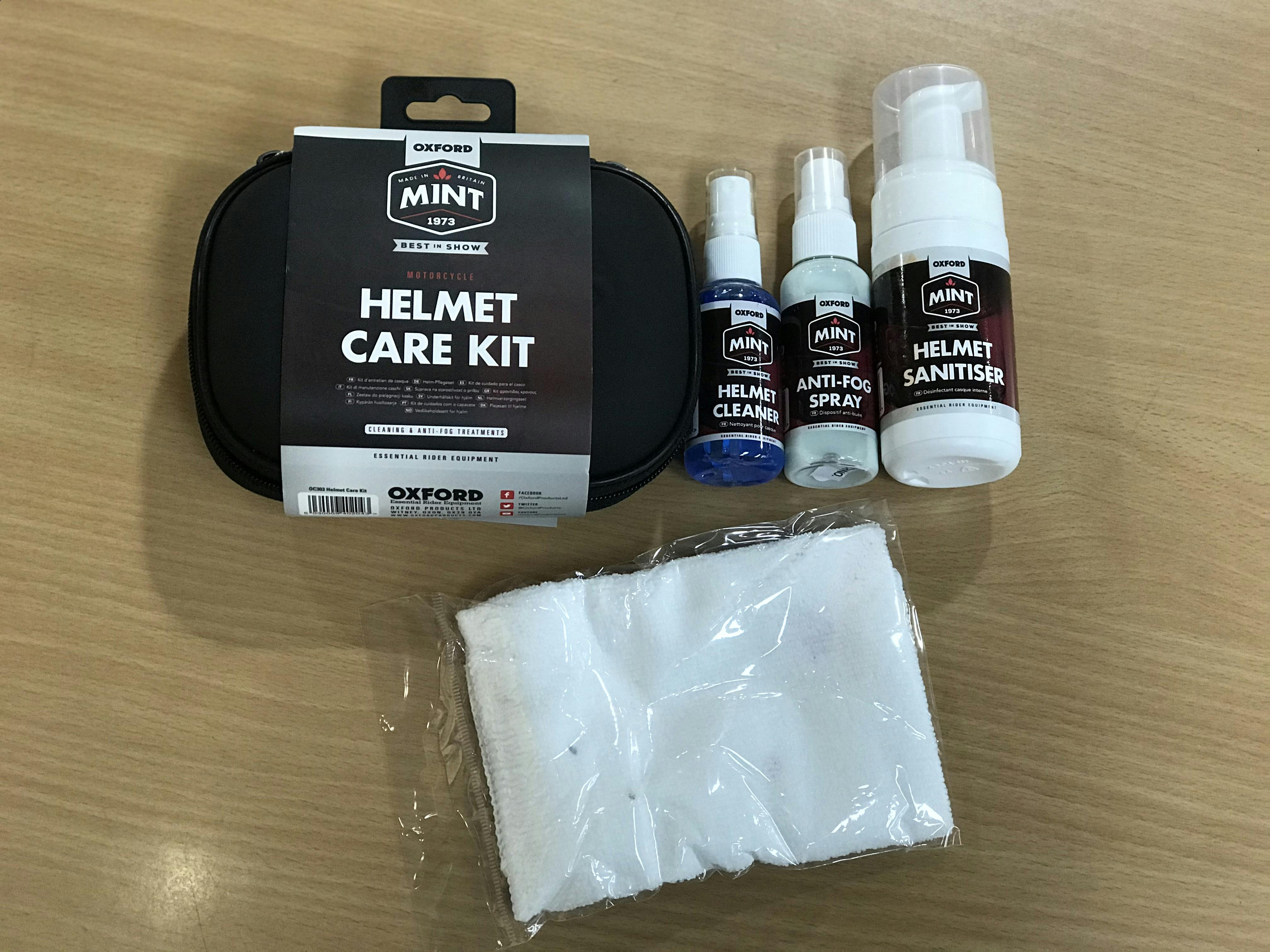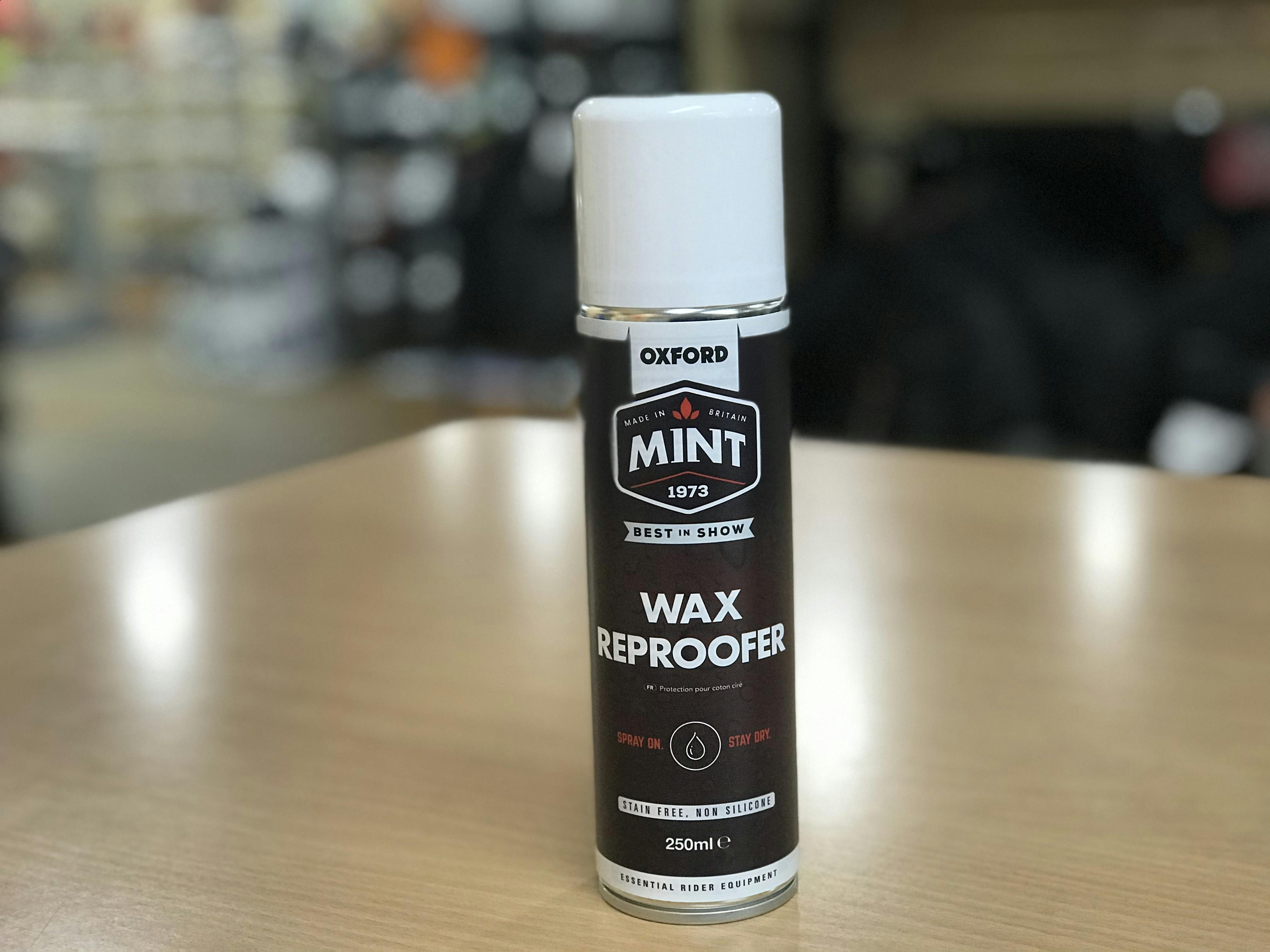 The helmet products are currently available to try before you buy at our Parramatta store right now! Not near us? Then click here to buy online.
Ride safe and have a good one!
Got questions? Send me an email at webshop@bikebiz.com.au