So you've just walked out of the RMS with your full motorcycle license.
WHOO HOO!!! DANCE PARTY!!!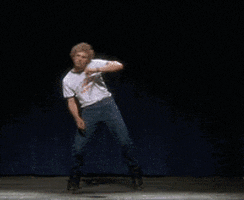 How I feel at new Motorcycle time!
You know what this means right? New motorcycle time! 
With new motorcycle time come a tonne of questions. The main one being, how big should you go?
When I finally upgraded from my CBF250, one thing was for sure. I wanted a Kawasaki Supersport bike. Really wanted a green one, but figured if I couldn't afford a new one, the green could wait. 
There were 2 motorcycles that I was looking at. The Kawasaki ZX-6 and the Kawasaki ZX-10. Both bikes were sports bikes. Both bikes looked sexy AF. Both bikes made me look good! The question was, which one?
These are some of the questions I asked to help me make my decision.
What can I afford?
This one you would think is an obvious question, but it's one that is sometimes over looked. With so many finance options out there, sometimes we pick our dream bike and purchase it no matter the consequences. 
That brand new 2020 motorcycle may be awfully shiny, but it may be just out of reach. No motorcyclist has the same bike forever, so don't be worried that this purchase will be your last. I may sound like your mum here, but stay in your limits. 
I ended up with a 2012 motorcycle. Just a couple of years old at the time, but a few thousand dollars cheaper. That meant I could afford an exhaust, a new helmet and better insurance. I mean, who buys a motorcycle and keeps it stock?
In general, the more cc's, the more money for the motorcycle. Wanting to save costs? Look at a smaller cc'd motorcycle.
Physical size.
Ok so I kinda stuffed up on this one personally. The ZX-10 has a lower seat height then the ZX-6, which is a big thing for a girl of my size. Especially when you are coming off a light LAMS bike, most full powered motorcycles are a lot heavier and take some getting used to. 
However, I know that there was no way I could jump onto something like a Yamaha R1, or an adventure motorcycle. They are just too damn tall and too damn heavy for some at the time.
Have a think about what you'll be using your motorcycle for the most. 
If you're planning on commuting and lane filtering, a big and wide adventure motorcycle may not be the go. I wish you luck if you think you're fitting a R1200GS with crash bars through traffic on a jammed up highway.
If you're planning on doing a lot of all day Sunday cruises, a tiny sports bike may get pretty uncomfortable after a few hours.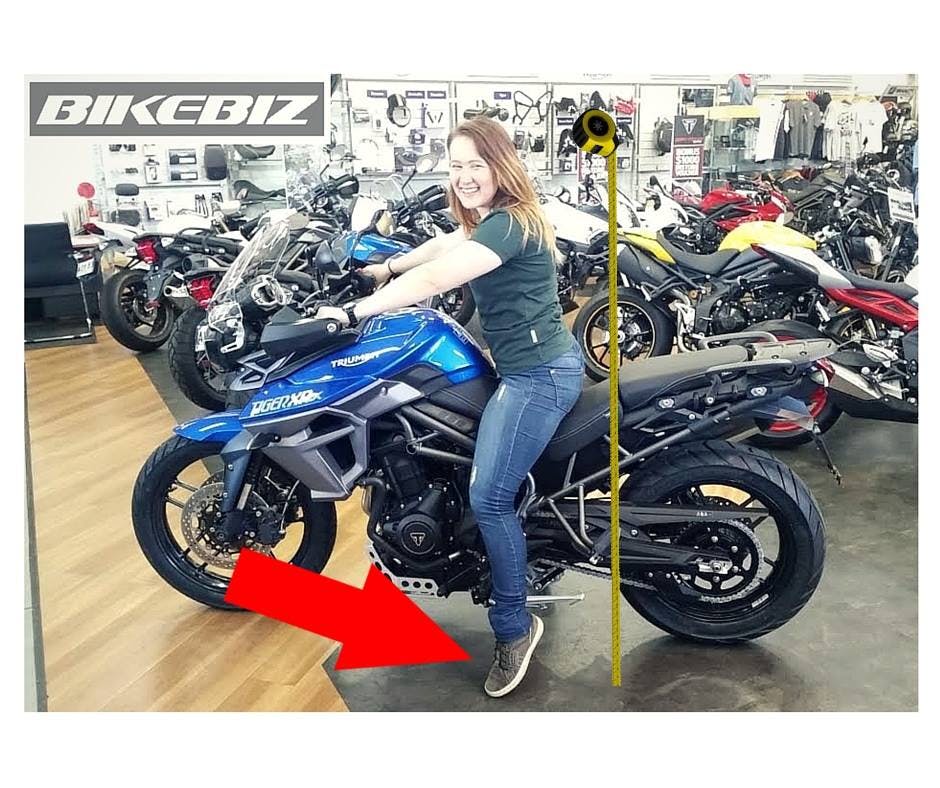 The one Adventure bike that I've found, that this 5'1 frame can stand up...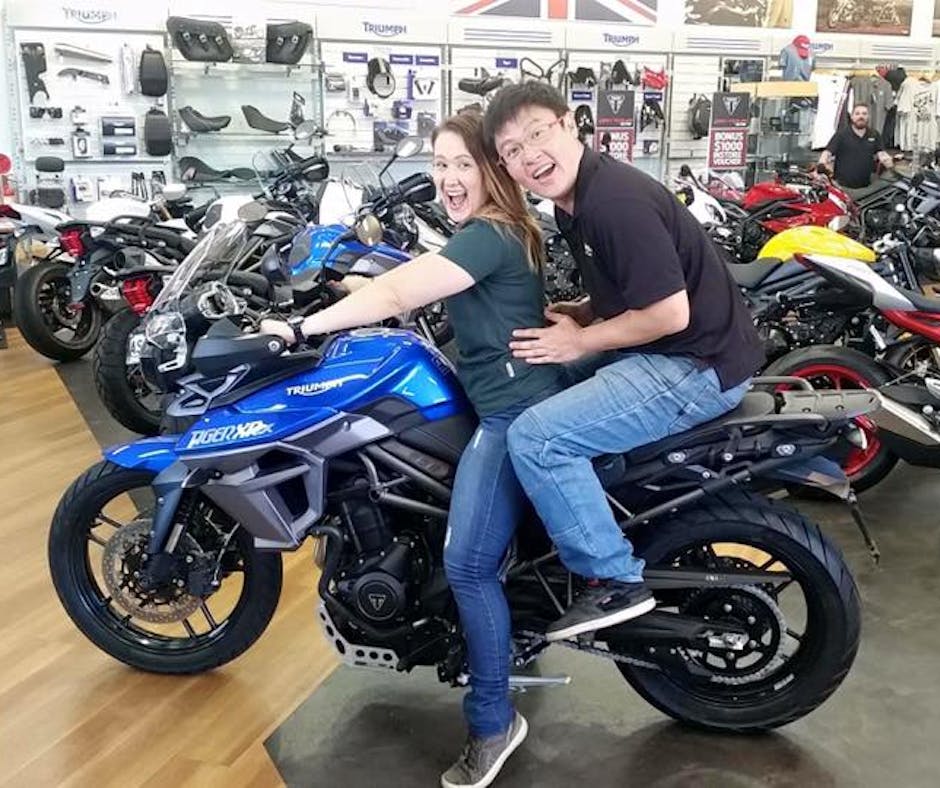 ...and have someone on the back too! The Triumph Tiger XCX Low…
Engine size.
At the time, I didn't own a car. So my motorcycle was my daily ride to and from work, to and from the shops and also my weekend pleasure cruise. So I needed something suitable for every day. No road in Sydney allows your to use the full capacity of a 1000cc motorcycle, especially when you're stuck in bumper to bumper traffic, regardless of your lane filtering abilities. 
My weekends are generally packed, and with Sundays being my one day off, I didn't get to go for a 4 hour blast up the mountains every week. I did the occasional track day, but often just the short circuit at SMSP. So did I really need 1000cc's? Not really no. I would never get to use the full power of the motorcycle, and that's just cruel to the bike. 
Plus, being older and able to skip my Green Provisional licence, I also only had a year and a half experience under my belt. So jumping to a 1000cc motorcycle wouldn't have been the smartest choice.
However, if you know you'll be doing tracks days on the regular, maybe it's worth getting something that you'll get to use and can grow on.
Are you a solo rider, or will you have a pillion?
Personally, I know I will never have a pillion. I mush prefer to ride by myself, and sometimes I can barely hold up the motorcycle, let alone an extra 80kgs!
If you are planning the same, then this isn't something you need to take into consideration.
If you are planning to having a pillion, there's a couple of things you may want to think about. 
Will the pillion ride with you often? If so, do you need to look at something like a backrest, hand grips and a comfier seat?
Will the pillion just be there every so often? If not, maybe it's not worth spending money on the comfier things in life.
Will you travelling with the pillion? If so, do you need to look at panniers and a rear rack to carry all the luggage?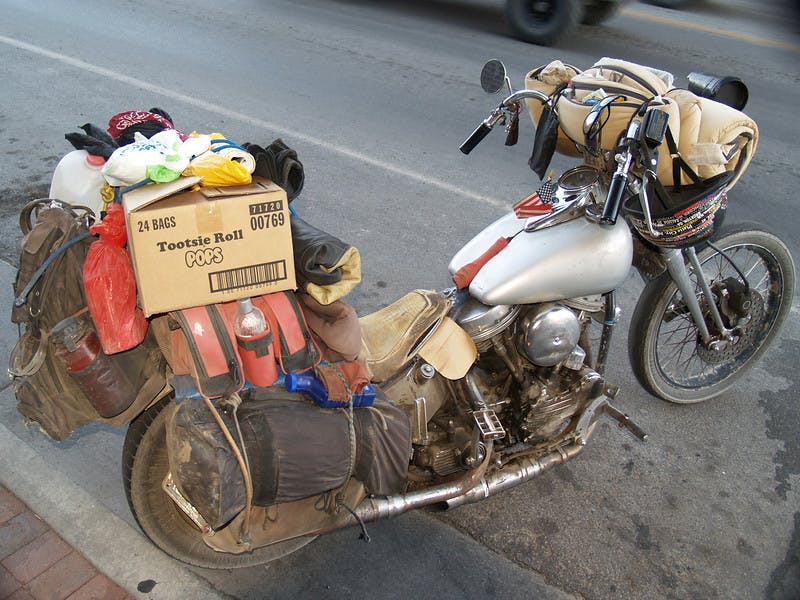 I think this motorcyclist needs a rethink of his luggage choices...a pillion definitely wouldn't fit on here!
That's the main thoughts I have for you. I hope I've helped you a little bit and now your journey to your first full powered motorcycle has begun!
Ride safe and have a good one!
Got questions? Send me an email at webshop@bikebiz.com.au