I must be going soft. A few weeks ago I didn't give a damn about heated gloves. Nowadays I put them on before I open the fridge to grab the milk. Mind you, a few weeks ago it wasn't winter.
I've been riding with a pair of Five's HG-1 heated gloves for the past few weeks, ever since it started getting cold down here in The Great Frozen South. To be honest, I thought the Fives were probably as good as it could get. Then a pair of Macna's Ion heated gloves showed up from Bikebiz and now things are not so cut and dried anymore. Warm and comfortable, yes. Cut and dried, not so much.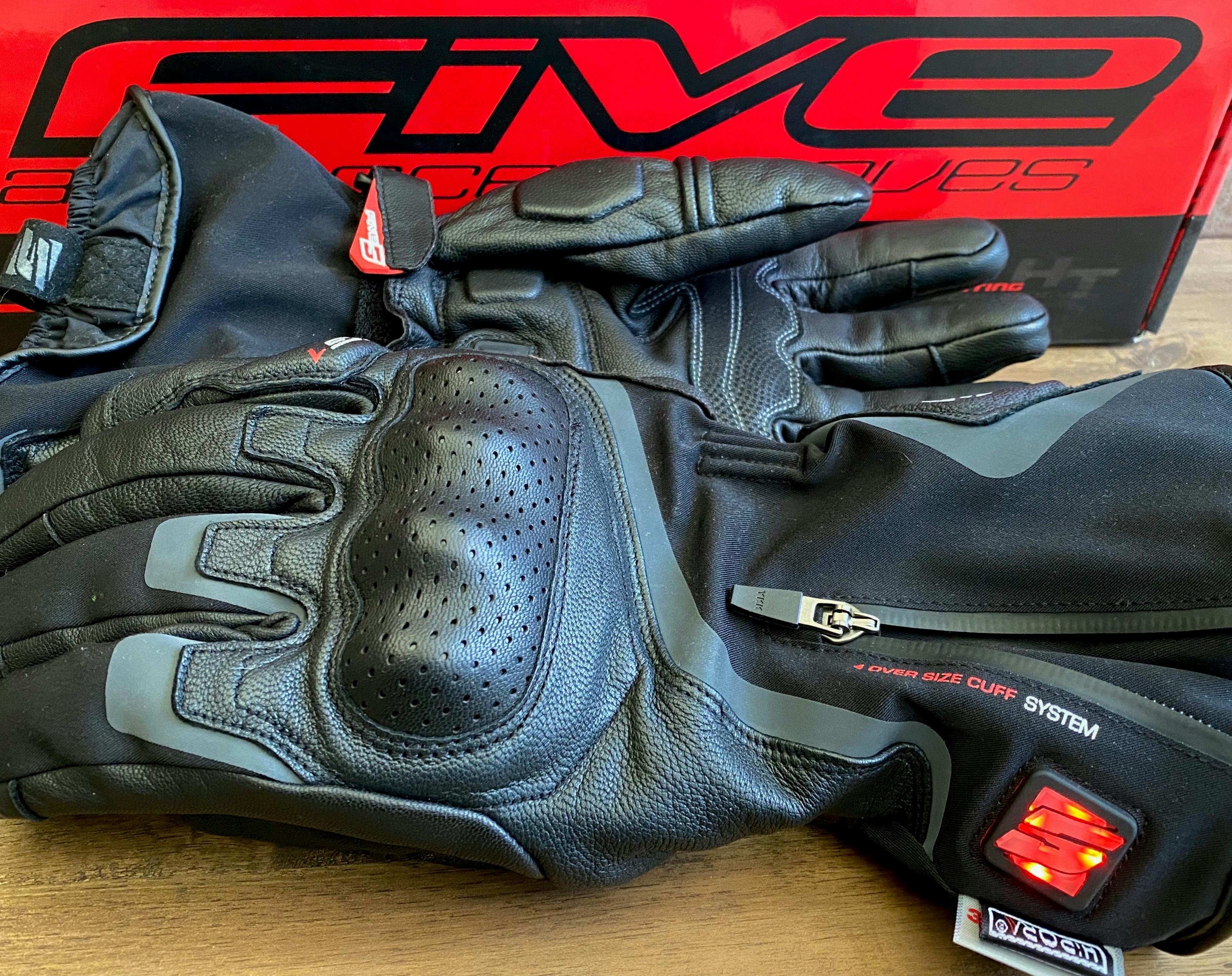 As you'd expect from Five, the HG-1's ooze quality, protection and premium features.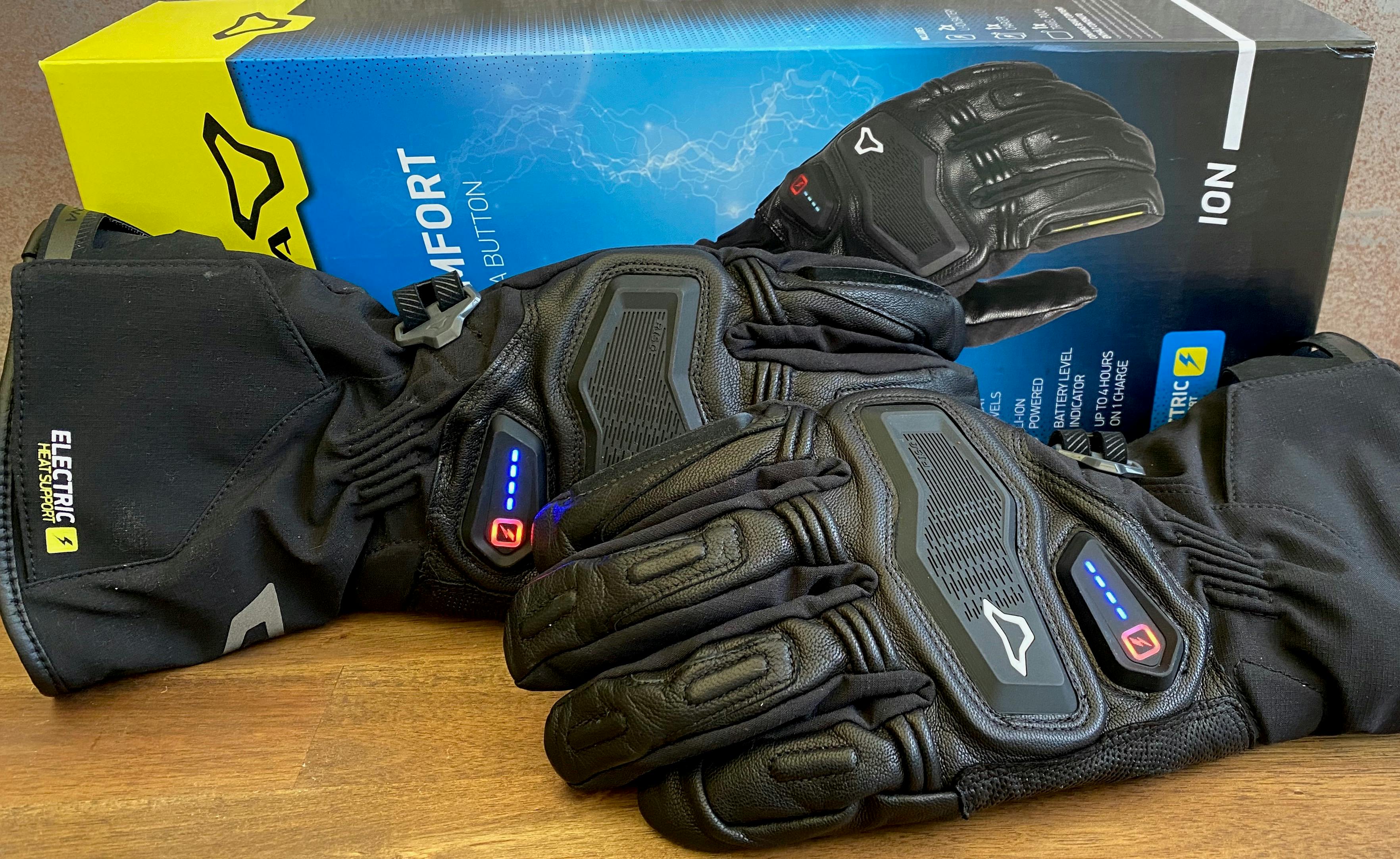 Macna's Ion heated gloves are fully waterproof and easy to wear.
The basics - separated at birth?
So let's begin with what these gloves have in common. What we're looking at is two pairs of heated gloves, both of which carry their Lithium Polymer battery packs in pockets inside the lower section of the cuff. Each has goatskin where it counts, plenty of Cordura and also armour at points like the knuckles and scaphoid. There are Velcro wrist closures and features that help clean visors and operate touch screens. Both gloves claim to be waterproof, the Macna's lined with Raintex, the Five's with Hipora.
Even the 'basic' features list of both the Five and Macna gloves reads like War and Peace. And with so much in common you'd be tempted to think that there's nothing to separate the two. But you'd be wrong, because down where the goatskin meets the grips, details count.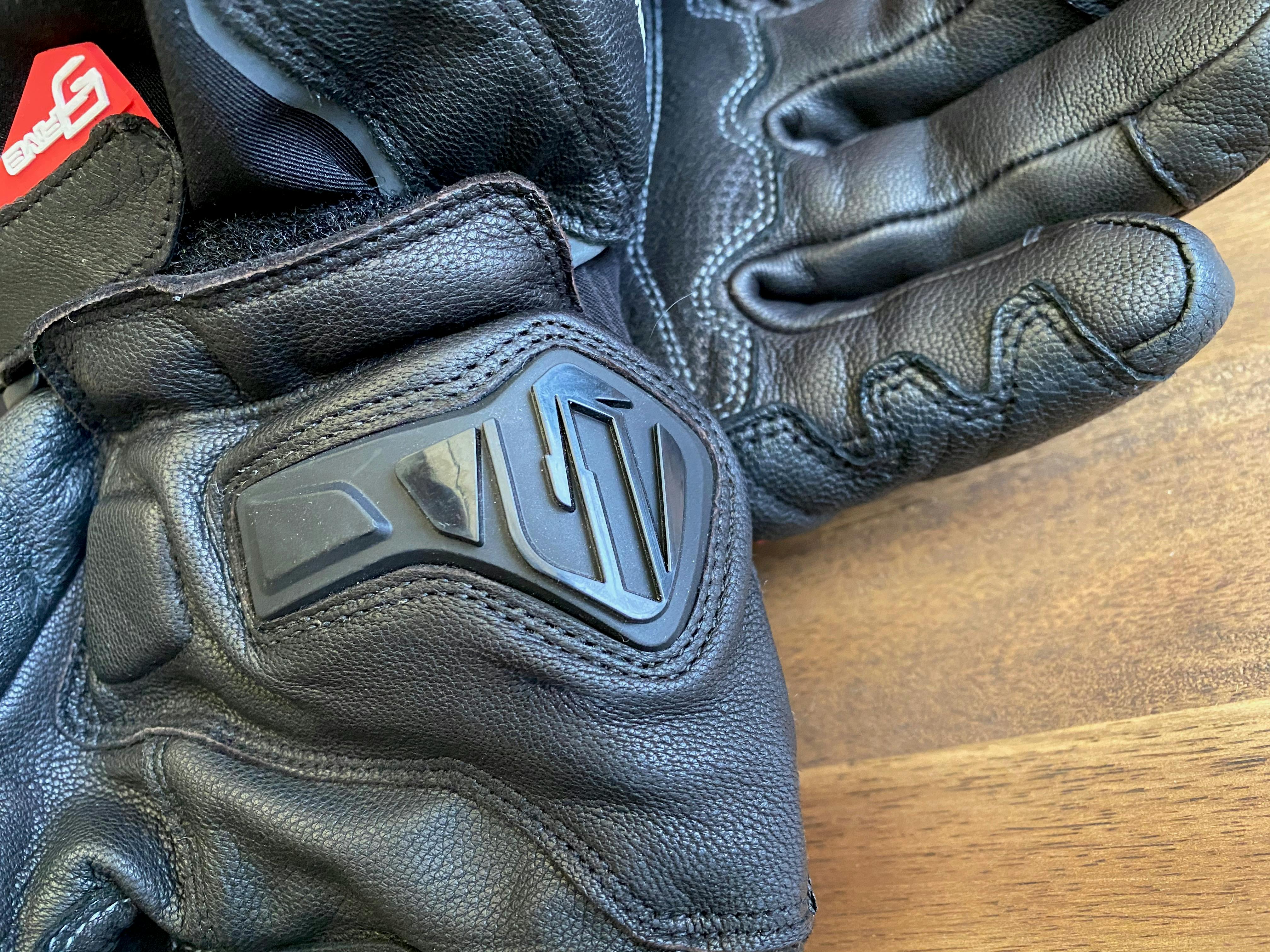 Five's HG-1's feature some well thought-out armour in the places where it counts.
Where's the heat?
Both Five's HG-1's and Macna's Ion gloves are operated using handy (sorry…) push-buttons on the back, where they're easy to see and get to. Both buttons glow to indicate the heat setting via various coloured lights, the Macna's boasting four, the Five's having three ranges of heat. On the highest setting, both gloves will serve up at least 2 hours of warmth before the batteries run down. In my own experience they'll last well over 3 hours on lower heat settings. 
All of this sounds similar until you wear a Five HG-1 glove on one hand and a Macna Ion on the other. Because the Five's undeniably focus the heat on the back of the palm and fingers. The Macna's concentrate their heating on the inner fingers and palm by comparison. While it doesn't take a genius to realise that the brunt of the cold is copped by the outside of your hand when you're riding, it's not quite that simple. Because while the Five's have an edge in really biting cold, the Macna's run them close. I guess keeping the inside of your fingers nice and warm really does go some way towards keeping them warm all 'round. For commuting or shorter rides in fairly cold conditions, both gloves are magic. But if I had to face down a really icy, extended ride, I'd be reaching for the Fives.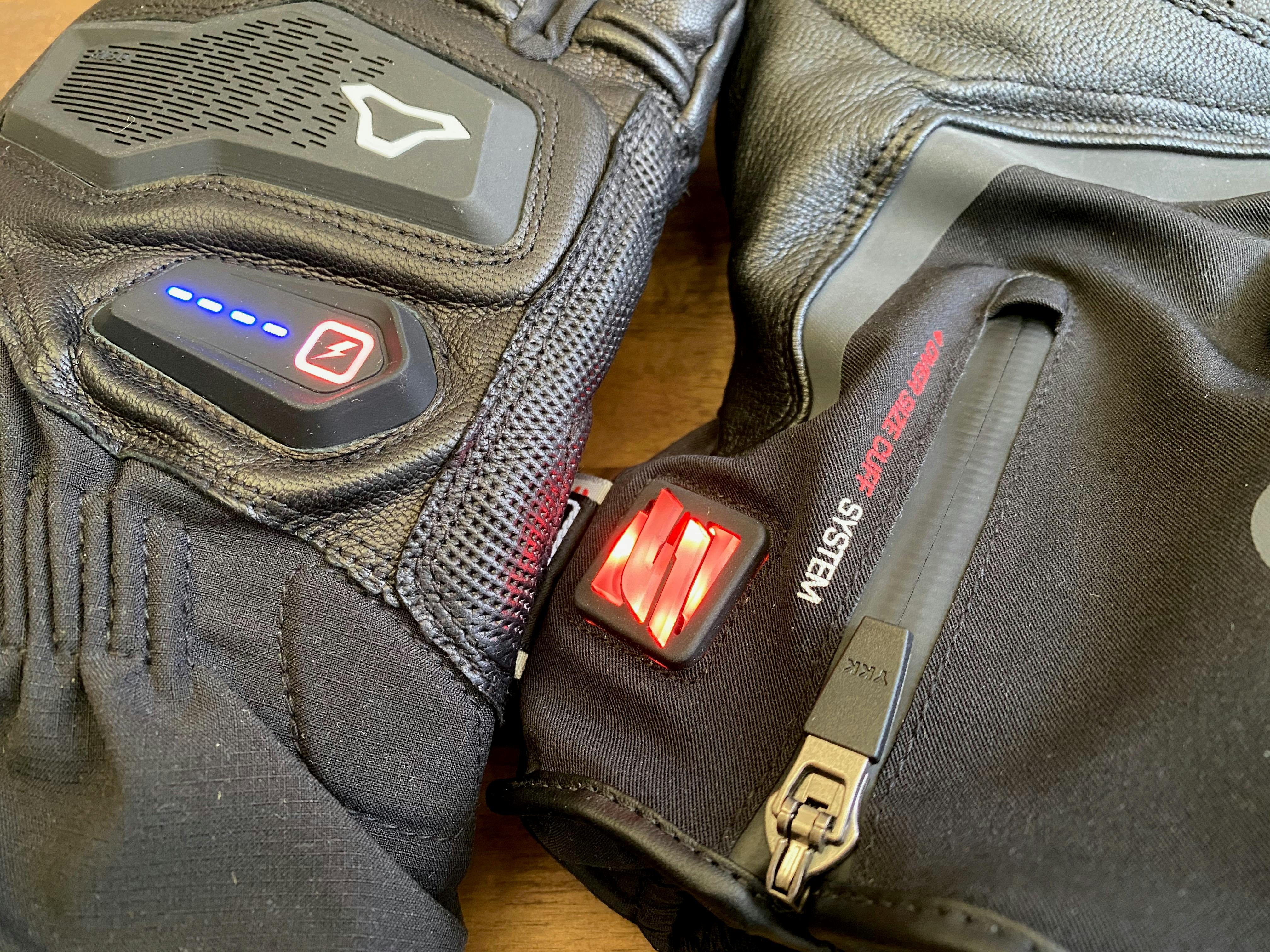 Control buttons on both gloves are well-placed, easy to use and glow softly to give that 'terminator' sense of cool…
Ease of charging
As I've already mentioned, the battery packs for these gloves live inside pockets in the lower cuff. The Five's have a single LiPo battery, while the Macna's have two small LiPo packs living in two pockets, 'daisy-chained' together with a short electrical lead. You'd think that would be a further point to the Five's….but the Five's battery pack has no lead, just a female socket. So you need to remove the battery from the glove to charge it with the supplied wall charger. The batteries in the Macna gloves each have a short charging lead, so they can stay in their pockets as you charge them – you just unplug the lead from the glove and plug the batteries into the charger without removing them from the gloves. While charging either battery pack is simple enough, the Macna's make it just that little bit easier.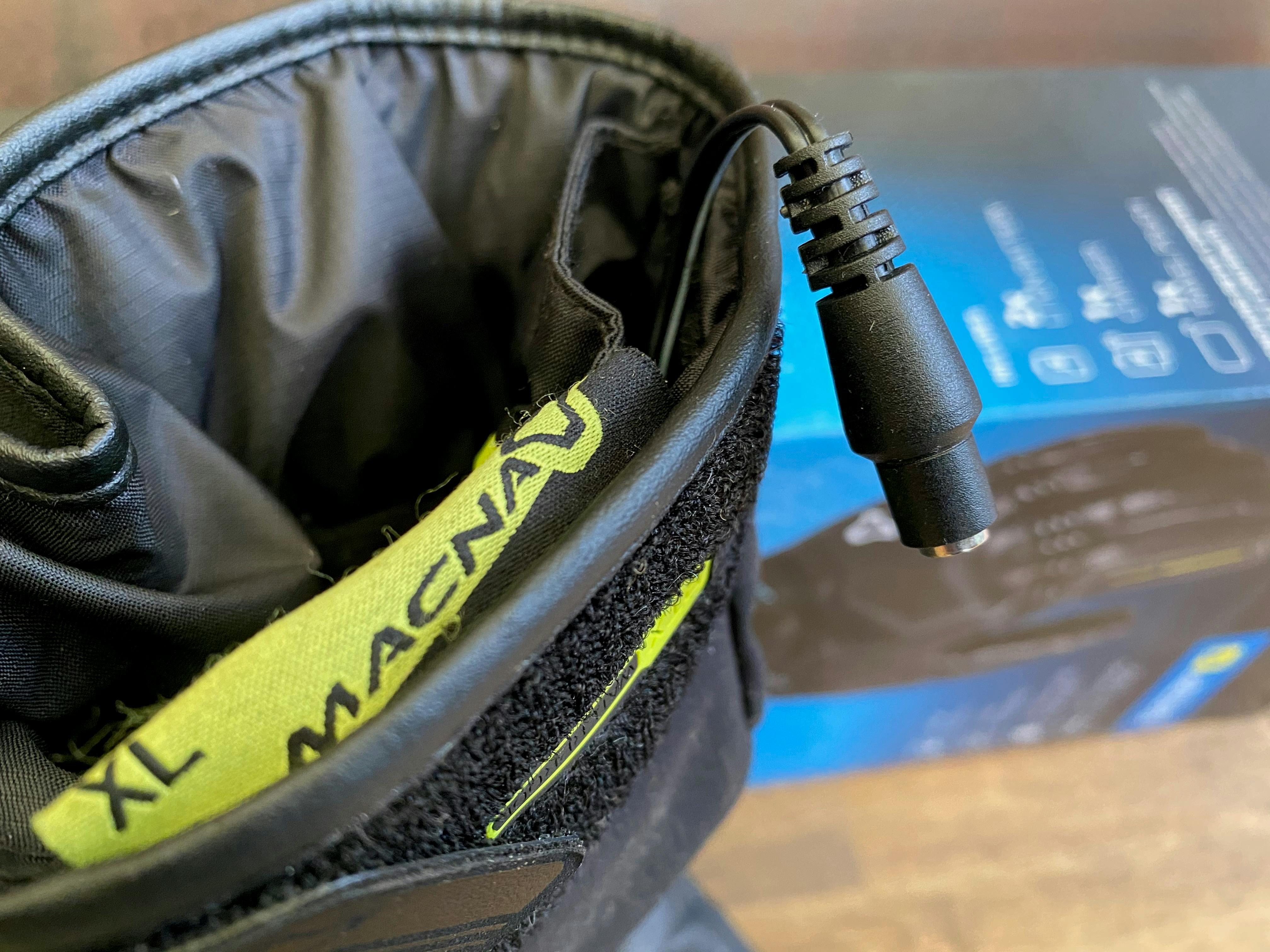 Charging batteries is just a touch easier with the Macna Ion gloves – disconnect this lead from the battery and connect it to the charger without having to take the battery from its pocket inside the glove cuff.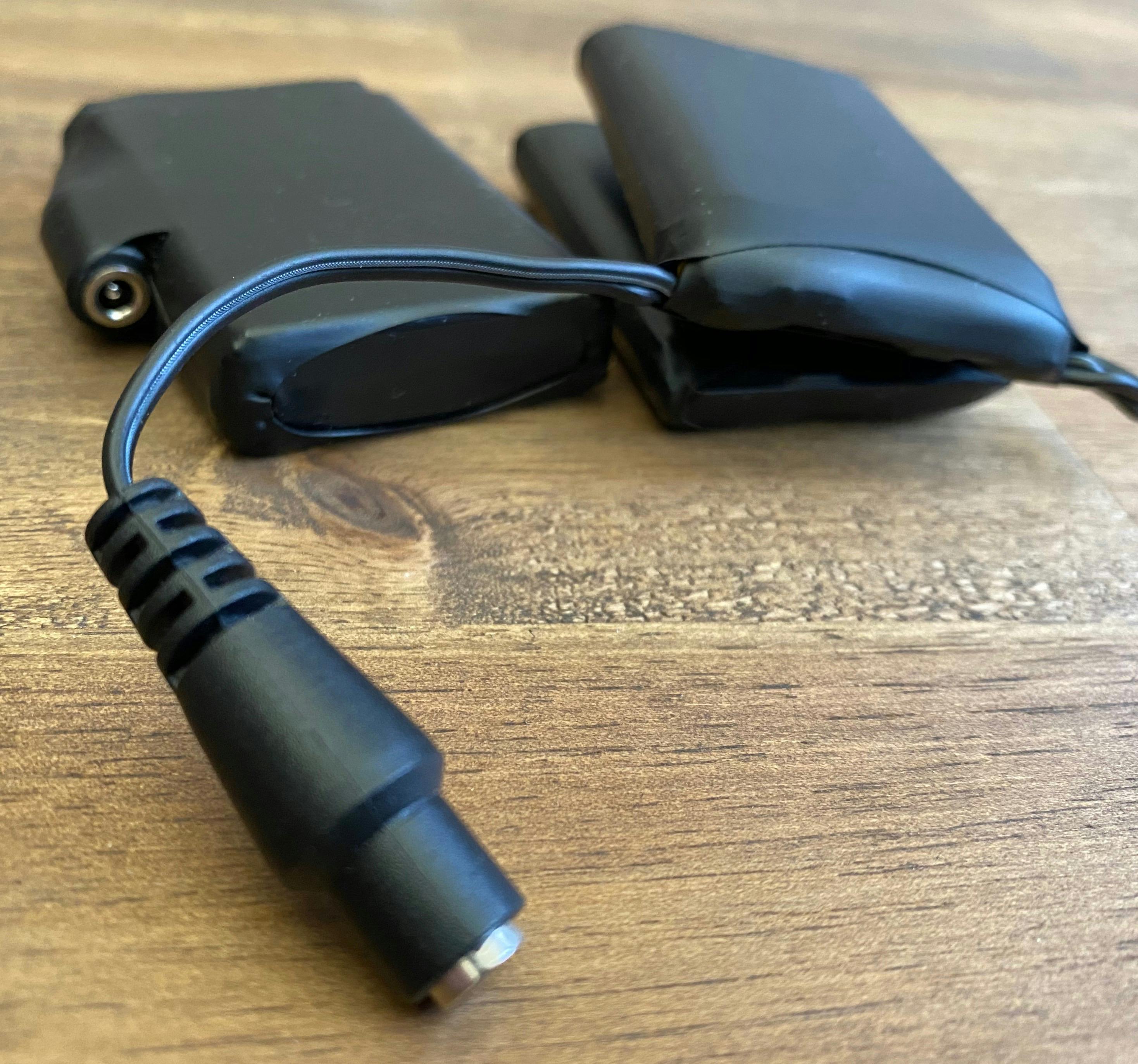 On the left, the Five battery, on the right, the Macna 'twin' battery. The lead on the Macna's makes charging with the battery still fitted a simple affair. 
Ease of wearing
You know that guy, the one who's still farting around with his zips, gloves and lid while everyone else is ready to go, sat on their bikes and waiting? He drives everyone nuts. I don't wanna be that guy. So I really value simple riding kit that's easy to get on and off.
The elasticated inner cuff on the Five HG-1's is a high-quality feature designed to form a tight seal over the sleeve of your jacket. But every time I use it I have visions of a vet in an elbow-length rubber glove shoving his arm inside some unfortunate cow. It's a struggle, a hassle to get it over your sleeve when you put your first glove on, and to then fit the second glove…let's just say there's a knack to it. I've got it down pat now, but the fact that I just wrote a paragraph about it probably says it all.
By comparison, the Macna Ions have a conventional and very quick Velcro cuff closure. Easy.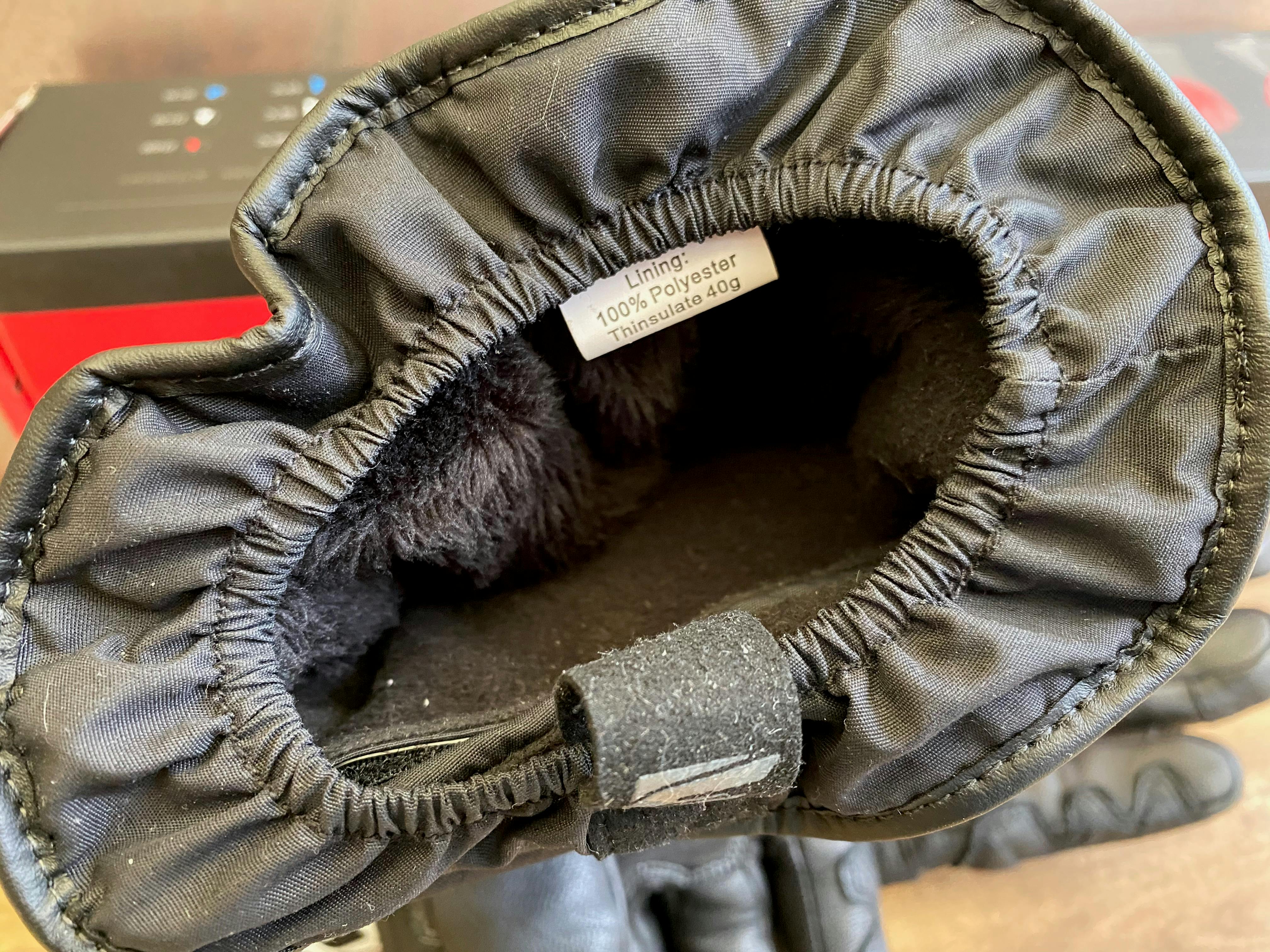 Five's elasticated inner cuff is designed to provide the best possible seal, but in practice takes some getting used to before the gloves can be quickly fitted.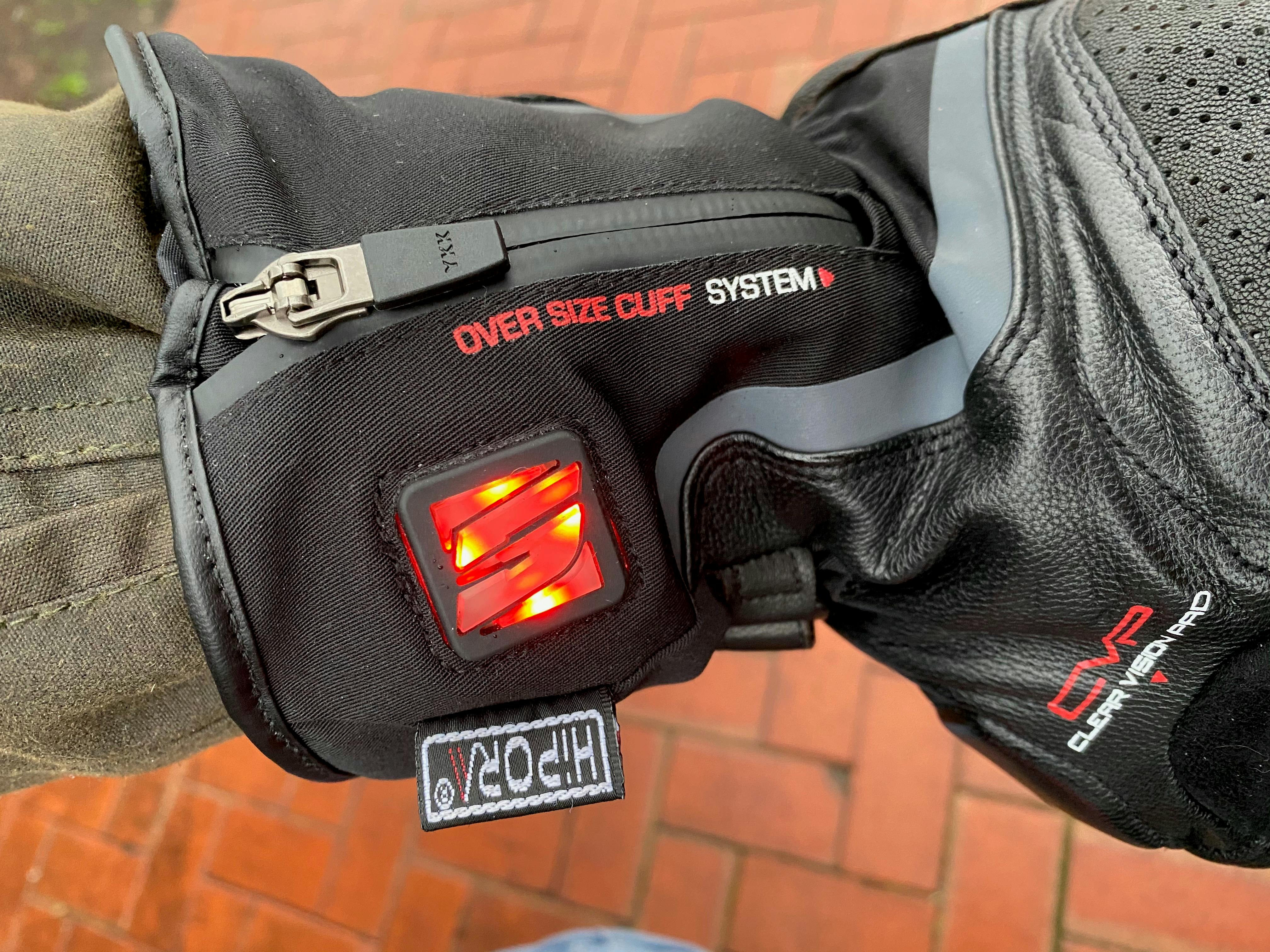 YKK zips, Hipora lining and enough features shouting at you to make a WRX driver blush – Five have loaded the HG-1's with all the good stuff.
Hands up if you're drowning!
Both the Five HG-1's and the Macna Ion's claim to be waterproof and that claim holds up pretty well. I have worn both gloves riding for an hour through heavy rain. Initially, rain just beads on the cordura outer. Eventually the beading stops, but although the rain gets through the cordura skin it never makes it past the waterproof liner and into the fleecy interior of either glove. So your hands stay warm and dry, too.
That said, I'm yet to witness a perfect method of sealing out the rain at the cuff when things get really wet. I mean…some water eventually just runs down your arm and makes its way into your gloves. I'm pleased to say that despite some ingress of water, everything continued functioning as it should on both gloves, no doubt thanks to well-designed, weatherproof battery plugs. 
Living with them for awhile, I've discovered yet another benefit of heated gloves. When you arrive at your destination, drying your gloves can be as easy as taking them off but leaving them switched on. Put a bit of forethought into battery management and you'll never have to face the misery of pulling on a wet pair of gloves in the morning.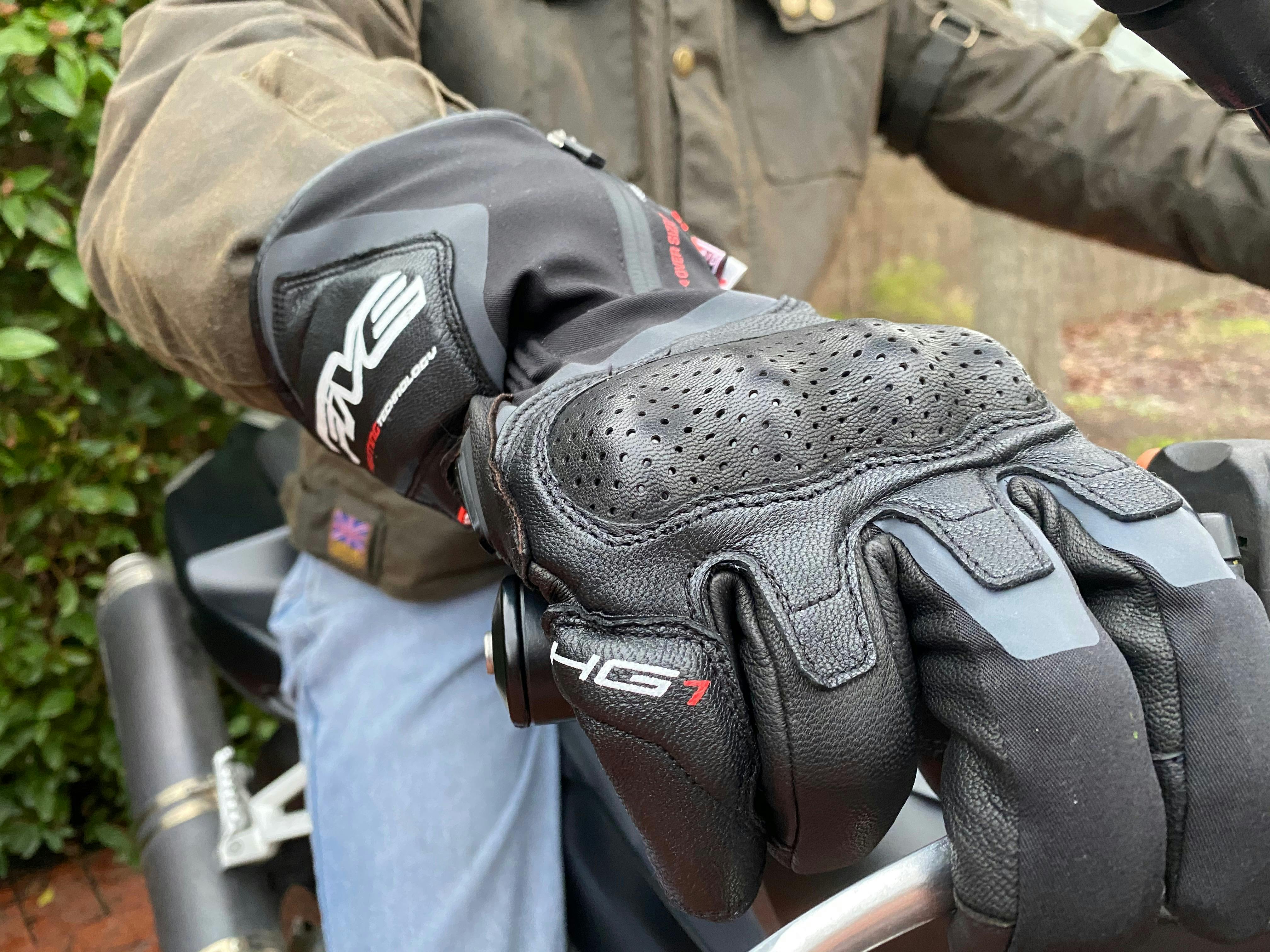 Five's HG-1's manage to make winter protection look sporty, and that can only be a good thing.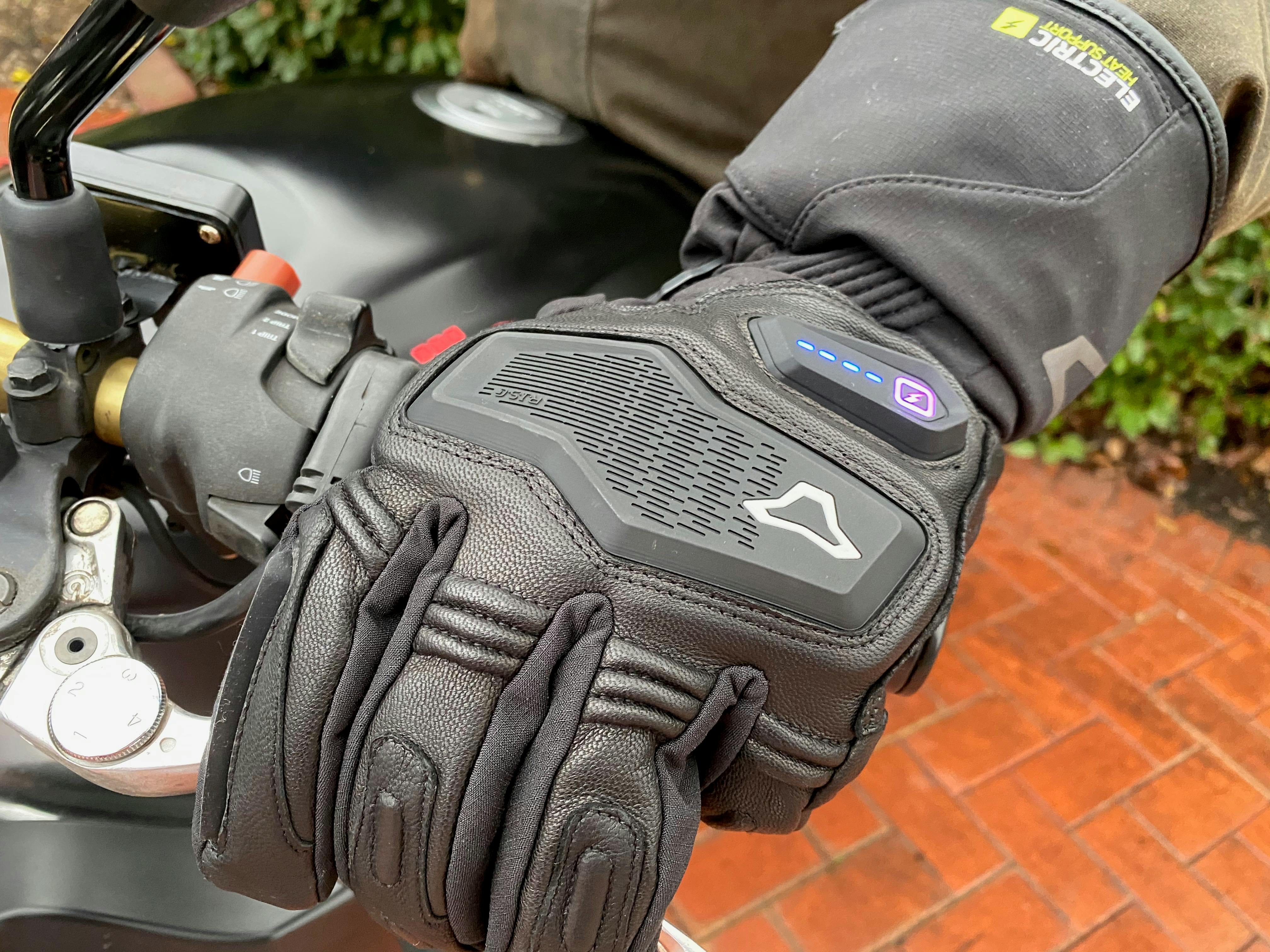 Macna's Ion heated gloves are superbly comfortable. The choice of rubberized knuckle armour is an interesting one. 
Even more little things
Both gloves have fingertip treatments that claim to work on smartphones and touch screen dashes. I can say with my hand on my heart that yes, sometimes they do work…
The Five's have a Clear Vision Pro material section sewn into the outer index finger and thumb of the left glove. It works pretty well until it gets grimy. The Macna's feature a rubber 'windshield wiper' on the index finger of both hands that works very nicely indeed. Both gloves have some reflective material here and there – sounds trivial, but I'm okay with anything that helps me be seen.
The Macna's come complete with a sweet little travel case for the batteries and charger – a nice touch. 
Macna's Ion gloves are available in sizes Small to 3XL. The Five HG-1's come in an enormous range of both men's and women's sizes. 
Bikebiz have the Five HG-1 listed at $379.95 and the Macna Ion's at $399.95.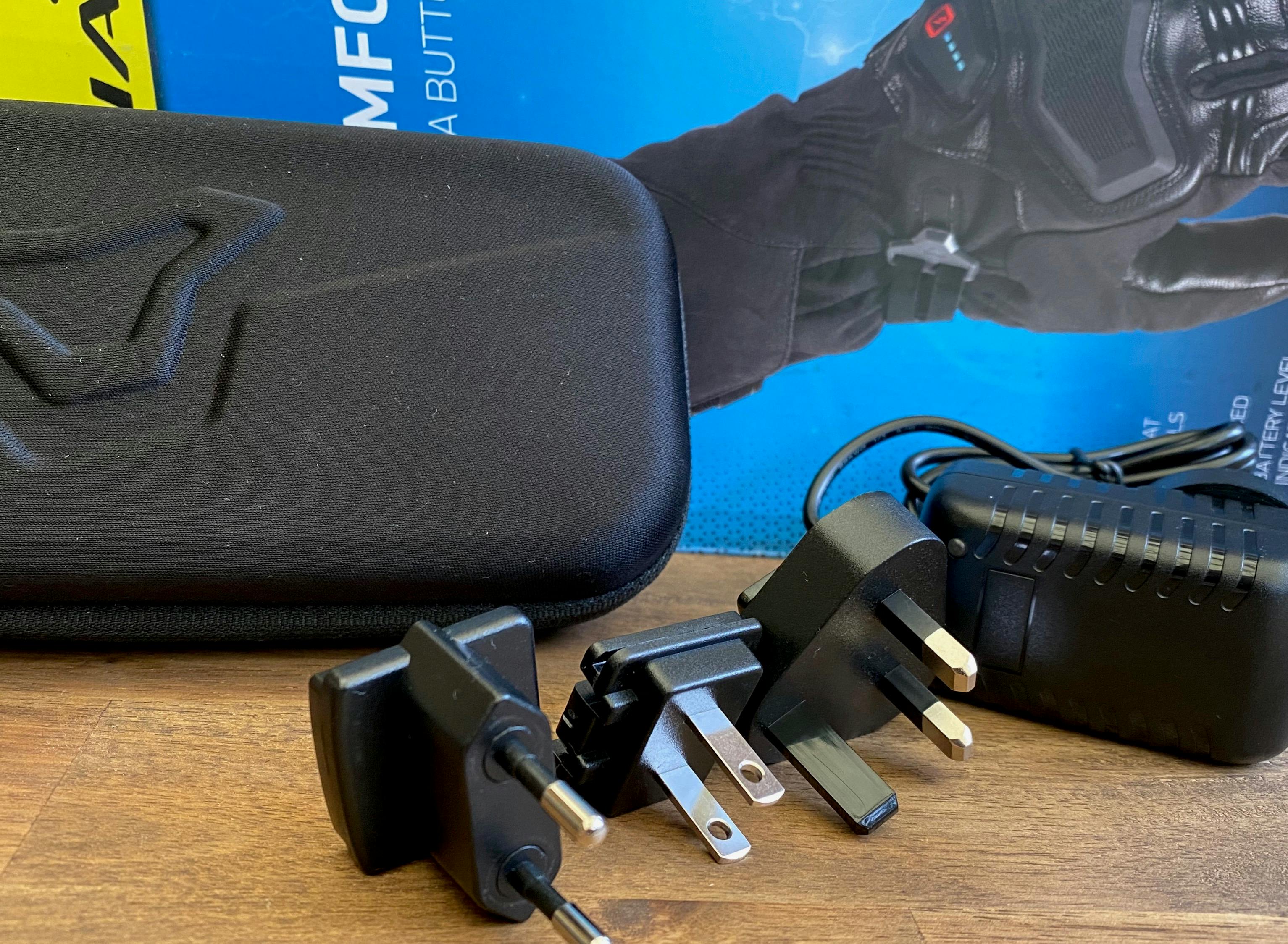 The Macna Ion gloves come complete with a wall charger, enough power pin adaptors to explore half the world and a nifty case to keep it all in.
A reasonably unbiased summary
Five have an established reputation for making high quality gloves and the HG-1's are no exception. They're beautiful to behold and a pleasure to wear. If you like a sporty/race aesthetic in your winter gear, these are a good choice.
The Macna Ion's seem a little lighter in the leather and armour department but if you're a fan of numbers, they exceed CE Safety Standard EN13594:2015. (I must Google that). They're also just that little bit easier to wear. 
Both of these gloves will keep your hands warm and comfortable for hours through proper cold. I've been wearing a Five on one hand and a Macna on the other while I ride lately and they are very hard to split. I'd go so far as to say that either will do the business for you unless you live in real alpine cold, where I'd favour the Five's by a nose. 
The bottom line is that both of these designs deliver lasting warmth, weather protection and a ton of other features for the price. So don't kid yourself that a pair of normal winter gloves is as good as a pair of heated gloves – these will change how you feel about riding in cold weather.
Take the car? Nah. Just give me a sec while I switch my gloves on…