CHAMPION, SHOWMAN, HERO, VILLAIN – ARRIVEDERCI, VALE!
So Valentino Rossi is finally hanging up the leathers. Too soon, or overdue by a few years? That topic in itself could fuel an epic debate. 
That 'The Doctor' was a unique brand of racer is inarguable. As a nine-time World Champion with a career spanning two decades, Vale is the yardstick for any aspiring MotoGP racer. In a brutal sport where big achievement fade fast and today's new sensations can quickly be relegated to next week's backmarkers, Rossi is one of only a handful of motorcycle racers through history who enjoy a timeless aura. Crucially, he's also been responsible for bringing MotoGP racing to the attention of a legion of fans who had scarcely a passing interest before the grandstands turned fluorescent yellow. It's safe to say that no rider in history has had such a profound effect on the image and popularity of premier class motorcycle racing.
Teaching new tricks to old dogs
Early in his career, Rossi set a pattern in 125cc and 250cc racing, spending two years in each class – starting out one year, and winning the World Championship the following year. He was a young man in a hurry, but I missed most his races in the minor classes, guilty of focusing most of my attention on the 500's.
Up in the big league the man I loved to hate was Max Biaggi, aka 'The Roman Emperor'. Max came across as a walking ego to me, and I was dying to see someone teach him a lesson. Under the mentorship of Mick Doohan, Rossi spent the year 2000 mixing it with the men he referred to as 'the old dogs', and getting a handle on the vicious bastard contraption that was the 500cc Honda NSR two stroke. He crashed, he learned, but won his first round by race 9 at Donnington Park. Many podiums followed, another win at Rio and a second overall during his rookie year, with Kenny Roberts Junior taking the Championship. Meanwhile, Biaggi mouthed off, muttering that young Vale was a mere upstart, without the skills or stamina to continue his streak for long.
Needless to say I was tickled when Rossi blasted through 2001 in dominant form, battling time and again with an increasingly frustrated Biaggi. Number 46 won the championship by over 100 points. Oh, and Rossi also teamed with Colin Edwards to win the Suzuka 8-Hour race in the same year, despite scarcely having seen a superbike in his life before.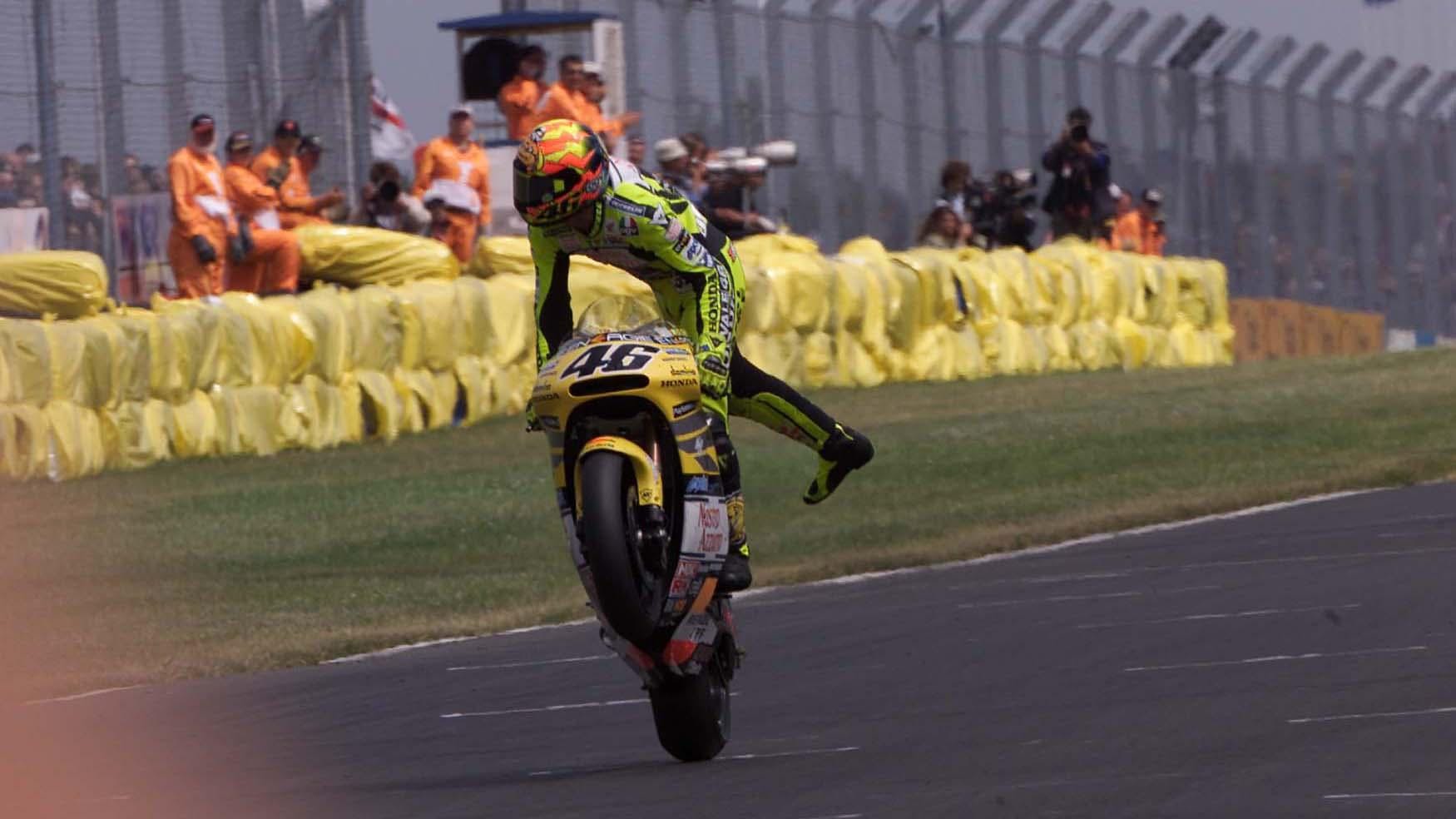 Okay Vale, you have my attention now. 
The Doctor's domination
Having streaked through 125, 250 and 500cc two-strokes, Rossi adapted quickly to the initially changeable MotoGP class. The problem for the competition was that now, free from having to adapt to constantly changing formulas, Rossi could concentrate on refining his form and his racecraft. As his dominance grew, he quickly became known as a rider of astonishing form. A fast starter, Vale was comfortable running away with a handy lead, but he shone best when forced into a fight. Pass VR46 and you could count on being passed back on the next turn. Leave a gap wider than a pencil and he'd find a way to wedge his bike in there. Brake late and he'd brake later. But most of all he was a master tactician, earning the 'Doctor' moniker over and over again. Plotting and pouncing, fooling his fellow riders into becoming too comfortable, or just as often wearing them down and forcing mistakes, glued to rear wheels like a bright yellow shadow in a 300kph slipstream.
Rossi has always been comfortable on any track, making a joke of those where bad luck struck now and again. Likewise, rain or shine he was a threat. And until The Great Ducati Disaster, he and crew chief Burgess adapted brilliantly to different makes of bike over the years. There can be no more attractive quality for a manufacturer, and no greater discouragement for the competition than to see a rider set about turning a bike into a winner, seemingly as much for his own entertainment as anything else. 
Respect, style, superstitions and celebrations
As most of his fans know, Rossi wore race number 46 out of respect to his father – it was the number that his dad ran during his own racing career. Like few others (apart from Barry Sheene) Rossi stayed with 46 rather than taking on the number 1 when he won a championship. Which he often did. The man has an ego, no doubt, but also a swag of respect for those he believed had earned it. He demonstrated this time and again as he passed milestones set by the racers who came before him, finding his own creative ways to pay homage to them, rather than simply blasting past in a wave of self-congratulation.
Vale's superstitions and pre-race rituals helped grow his legend, too, from putting on one boot before the other to crouching down and holding the right side footpeg before mounting the bike. And we've all seen him standing to adjust his leathers as he rides down the pit lane. Constant as seasons have rolled by, these and other Rossi habits help to separate him from the pack.
Rossi's creativity in celebrating was also there right from the start, from blow-up dolls as pillions to Guardian Angels and the legendary Osvaldo the Chicken. There was bowling, bogus speeding fines, rushed toilet breaks and dozens of other hilarious stunts. Fans lapped up Vale's big personality and sense of fun. As much and perhaps more so than his riding, Rossi's showmanship attracted a new wave of fans to the sport and changed our ideas of what a weekend of racing could look like. And for a couple of decades, its standout colour was bright fluorescent yellow.
An angel in yellow?
Rossi raced hard, and pushed plenty of 'forced passes' during his career. Though by no means an angel, as his legend grew he had the benefit of a legion of fans in whose eyes he could simply do no wrong. This was tested sorely in 2015 at the Phillip Island and Sepang circuits, as controversy raged over incidents involving Marquez supposedly deliberately holding up Rossi in order to benefit Lorenzo. When Rossi finally pushed Marquez off at Sepang, most European media stopped short of calling judgement on Rossi, but Australian commentators were more damning. Casey Stoner went so far as to suggest that anyone but Vale would have copped a black flag for the incident. Race Direction handed Rossi three penalty points. Perhaps the halo had slipped for a moment?
Most prefer to remember moments such as Rossi's breathtaking pass on Stoner through the Laguna Seca corkscrew in 2008, well onto the grass but somehow still finding grip. It was a pass so legendary that when Marquez turned the tables and served the Doctor his own medicine in 2016 on the same corner, MM93 went so far as to say that he'd pay Rossi copyright for using his move.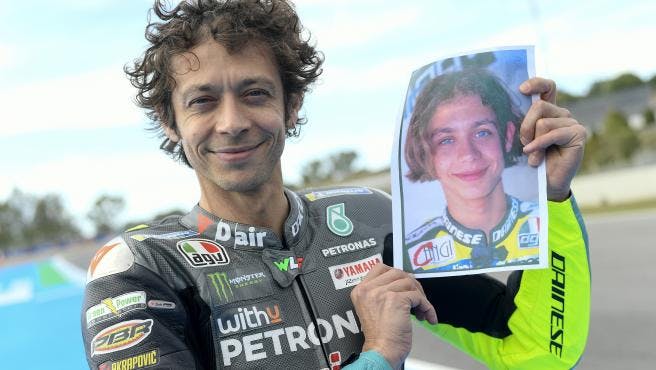 An Italian dream too far
There are plenty of Aussies who cheered on Casey Stoner as he wrestled the Ducati during his time with the team from Bologna. It was a sight to see, Stoner putting a shitload of body language into a powerhouse bike that obviously had more than its share of handling issues. Looking on, Rossi perhaps made two mistakes before switching from Yamaha to Ducati in 2011, amidst enormous anticipation. He underestimated how good Stoner was, and how bad the Ducati was.
Stoner's grin was never wider as he cleaned up on his new Honda. Meanwhile the previously unstoppable Rossi/Burgess team failed to deliver Italian dreams, and instead endured a nightmare with just one podium in 2011 and two in 2012. When Yamaha opened the door again for 2013, Rossi was back on the blue bike in a heartbeat. I've always admired Rossi's unwillingness to rest on his laurels and risk anyone claiming that his winning was 'all about the bike', but the Ducati move was a grave mistake. 
The legend and the legacy
Following the Great Ducati Disaster, Rossi gave his fans plenty to celebrate after stepping back onto his beloved Yamaha…but no Championship wins. There have been epic stoushes and breathtaking moves with plenty of textbook Rossi. But the likes of Marquez and, more recently, a super-competitive crop of newcomers, have kept Vale from regular podium appearances. Rossi switched from the Yamaha Factory Team to Petronas Yamaha SRT this year and announced his retirement in August. By any objective measure, Valentino Rossi is the most successful motorcycle racer of all time. 
So where to now? It simply wouldn't be like Vale to step back into a comfy chair and leave behind a life of speed. He's mentioned that he'll race 4-wheelers in the future, but remains coy about which championship he might be part of. More significantly, his presence will be felt as owner of the Sky Racing VR46 Team. Previously active in Moto3 and Moto2, the team will enter MotoGP in 2022, with textbook perfect timing thanks to The Doctor.
Oh, and the Sky Racing VR46 Team will be competing on…Ducatis. That has to make you smile. It seems Rossi hasn't quite given up of the Bolognese bikes after all.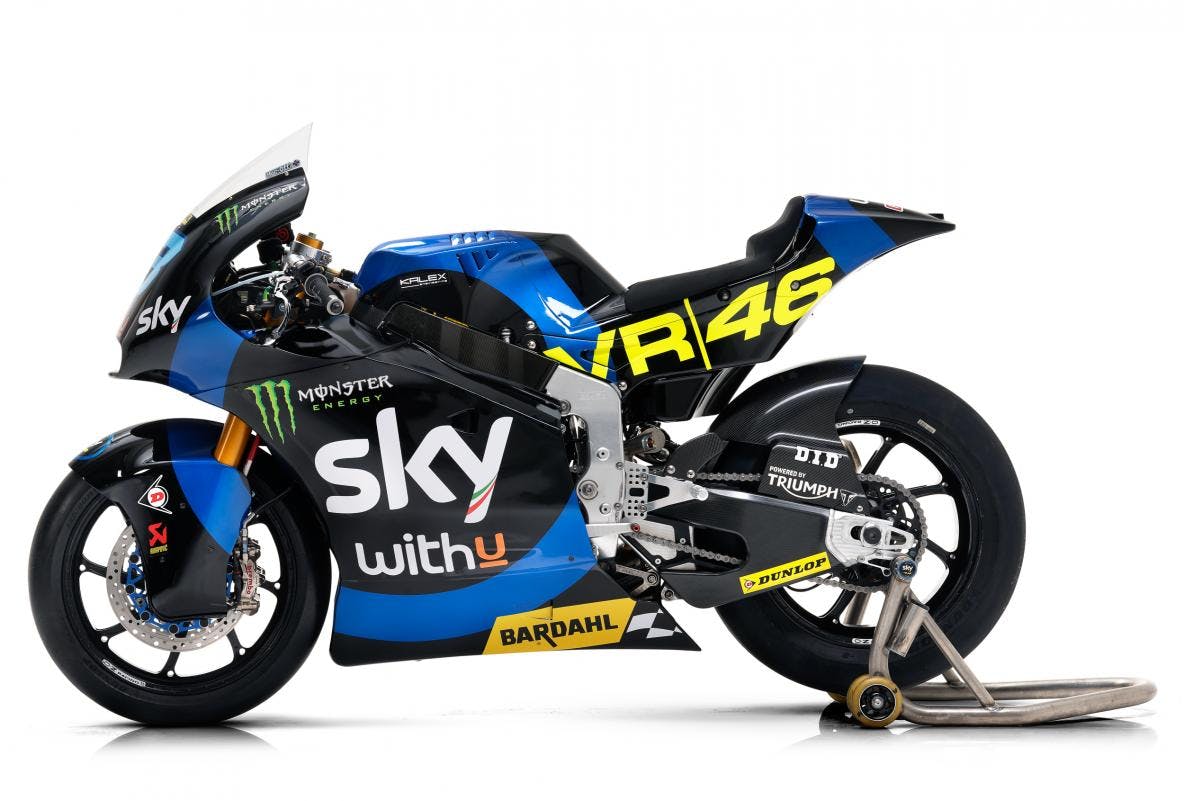 Nobody quite knows how much of the enigmatic Rossi we might be seeing in the future. But for now, a world of motorcycle racing fans thanks the Greatest Of All Time for an amazing and colourful two-decade ride on the wild side. Grazie, Vale!