A penny saved is a penny earned...or so the saying goes.

There's nothing worse, than to walk into a motorcycle spare parts department, hanging your head in shame. Why? Because that awesome deal for the new wheel bearings you just installed, turned out to be a dud, and now your $20 deal, just turned into a $200 fix job.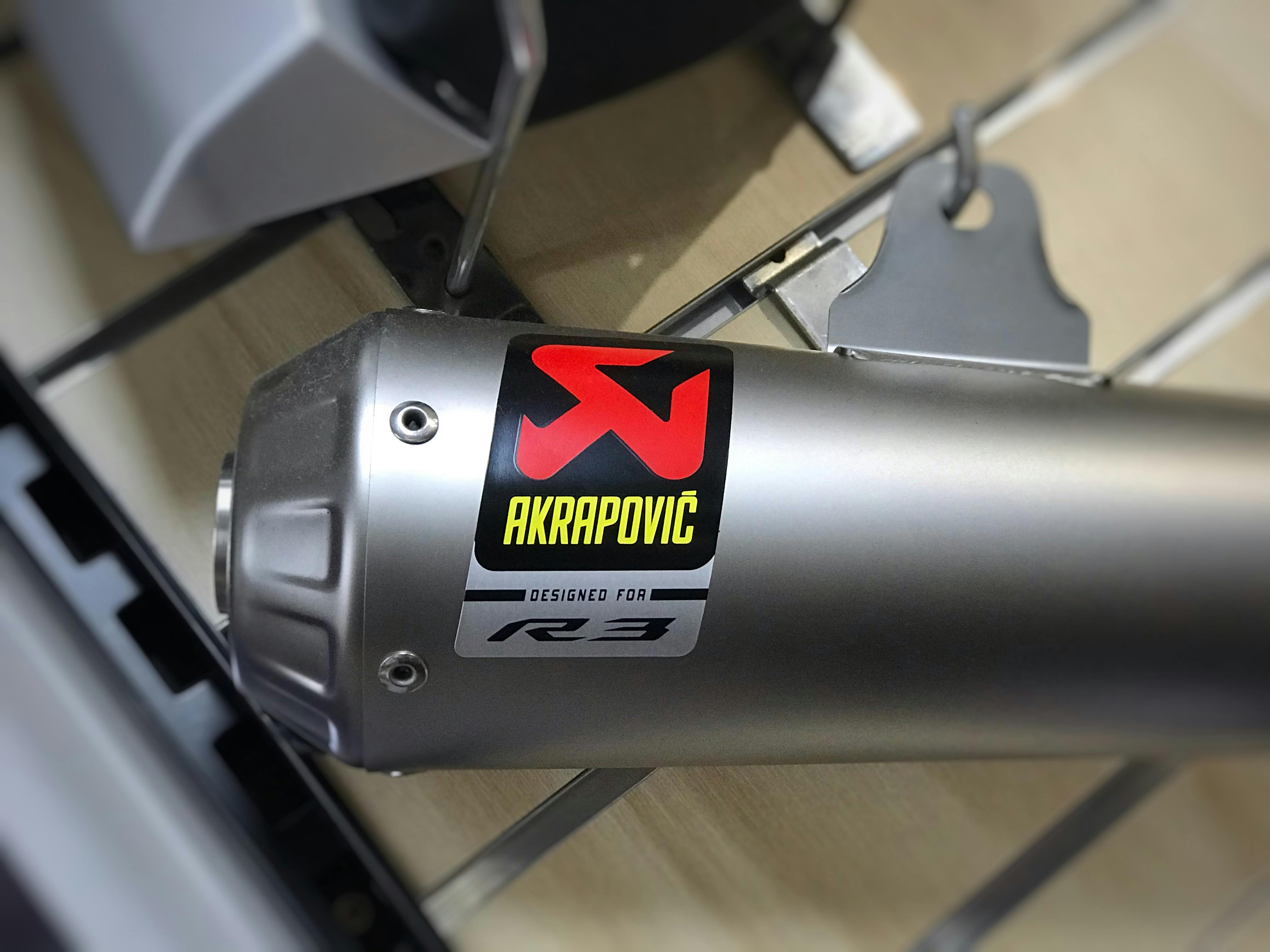 Genuine Akrapovic exhaust for Yamaha R3 from Yamaha Australia
Genuine spare parts and accessories are those that are from the manufacturer of a motorcycle, for example, Yamaha parts for Yamaha motorcycles by Yamaha themselves. They are designed specifically to fit a certain motorcycle/motorcycles. They are 99.99% a perfect fit every time (you never know what could happen, but chances are you have the wrong part if it doesn't fit).
There are times when you really should use genuine parts, as doing so ensures that the parts are covered under the manufacturers warranty. For example, if you purchase a brand new Yamaha motorcycle, and have a Yamaha/Akrapovic exhaust fitted to it by a Yamaha mechanic before you pick the motorcycle up, then the exhaust is covered by your motorcycles two year manufacturers warranty. Now I'm talking about two very trusty brands, but there's nothing like the peace of mind that if something, well exploded, you'd be covered,
Sometimes, using genuine parts is a heck of a lot easier. All motorcycle stores will have a parts look up and can get the exact part that you require. Searching under the vehicles VIN number assists in even more perfect results. (Keep in mind that a store that sells Triumph new motorcycles can look up Triumph genuine parts, but if they don't sell KTM, they can't look up and order KTM parts.)
After many years, only genuine parts are available. Aftermarket companies stop making parts for old or discontinued motorcycles, as the demand is lower, and they can't house parts forever. I know I would need a warehouse the size of a major shopping centre to house everything available for every Kawasaki out there, and who has the room for that?! Genuine parts do get discontinued, however it usually takes a lot longer for this to happen. You can still get parts for some motorcycles that are over 50 years old!
There are often parts that no one else makes apart from the motorcycle manufacturer. All those tiny pins and bolts, screws and nuts can often only be sourced genuine. Those Kawasaki and ZX-10R stickers can only be purchased from Kawasaki, as can the correct coloured fairings. Sure you can get aftermarket fairings that are possibly cheaper, however good luck matching the colour to the original. 
Motorcycling isn't a cheap sport, and sometimes you really have to weigh up the risk versus reward with the parts you are ordering. Is it really worth spending $500 on a new exhaust when you can get one for a third of the price? Chances are when you receive that knock off, it will look like it was assembled by a 12 year old hyped up on sugar and with their eyes closed. I know what I would do!
Some genuine parts are sold to the dealer with little margin in them, which doesn't allow the dealer to discount them any if at all. So please believe us when we say we can't discount a product, we have costs to cover too.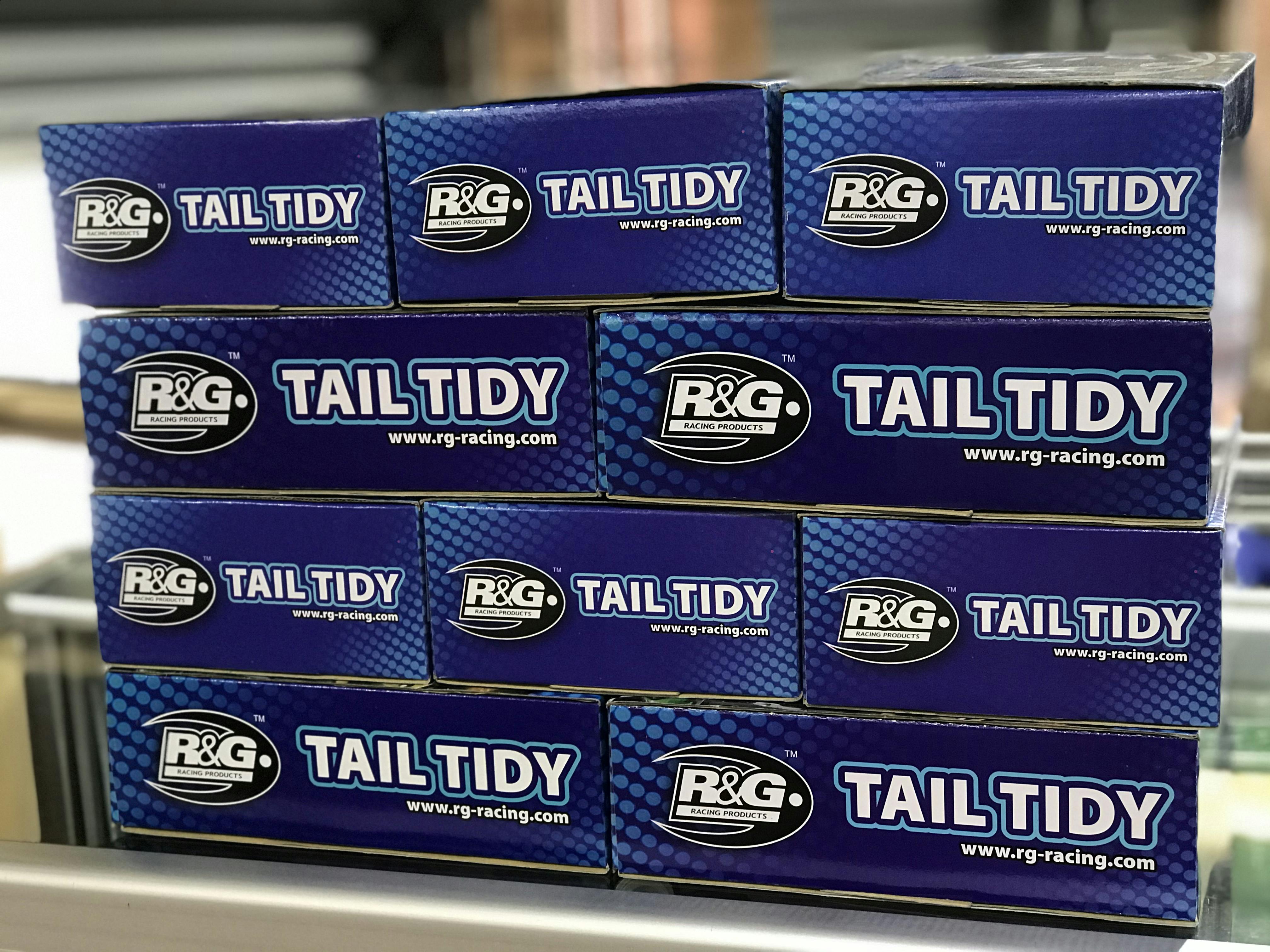 R&G Tail Tidies in store at Bikebiz
There are so many aftermarket companies and options out there. From the cheap overseas parts on eBay, to the high italian quality of Rizoma, the choices are huge!
Aftermarket are sometimes lower in cost compared to genuine. They are also highly customisable. Ever wonder why you saw a hot pink Ninja on the road, but can't find it at any dealer?
Want a red sprocket for your Honda? How about some adjustable and foldable levers? Want to reposition your mirrors to your bar ends and make them smaller? How about a charging port for your phone that can sit in your aftermarket phone holder. The sky's the limit! 
Luggage is a huge aftermarket option. Brands like Ventura do options that aren't available genuine. They create pack racks that sit on the back of the bike, and depending on what you choose, you can switch from a top box, to a 60L bag to two bags zipped together, to a grab handle for a pillion. Tank bags, rear seat bags and saddlebags are a huge market as well, with something for everyone. Ever seen those bags that your food deliver comes in? Yup, after market!
Sometimes aftermarket companies are a little behind when it comes to parts for new motorcycles. Don't expect all aftermarket options to be available 10 minutes after a new bike has been released. They are dependent on getting the specs, or even a part to copy, from the manufacturer. Sometimes they have to purchase the part, or even the bike, so they can ensure their parts are correct and will work as intended.
If there is an aftermarket brand that you love and trust, you can generally carry that brand over whatever bike you have. That can provide peace of mind to riders of trust the gear they have used before, and sometimes means you only need a portion of the part as opposed to the entire thing (for example you may just need the L-Brackets of a Ventura rack, and can use the old pack frame and bag on the new motorcycle).
Did you know, we have an online genuine parts store? Head to https://parts.bikebiz.com.au/ to order online now!
Unsure if genuine or aftermarket is the way to go? Come in store and chat to our experienced Spare Parts & Accessories staff, or give us a call and we can help you out. 
For Yamaha, Aprilia, Suzuki and Kymco call us in 02 88 300 500 ext 1
For Kawasaki, Triumph, BMW and Honda, call us on 02 9682 2999 ext 1
Ride safe and have a good one!
Got questions? Send me an email at webshop@bikebiz.com.au