Rainman confesses
I have a grubby, shameful secret that I've been keeping for years. It's not something I'm proud of. It's not something I'd do in front of my friends, either.
For years I've kept a pair of those awful, thin black plastic waterproof overpants under the seat of my bike. So when it's pissing down and I have to ride, I put on the rest of my gear, say my farewells, then slink out of sight somewhere, slide my awful flappy dacks over my riding jeans and get the hell out of there before anyone sees.
About the best that can be said about them is that they're waterproof. They are deeply unfashionable, but I've never really been aware of another easy option that I can rely on when it's threatening rain.
Does waterproof have to look daggy? Maybe things are finally changing…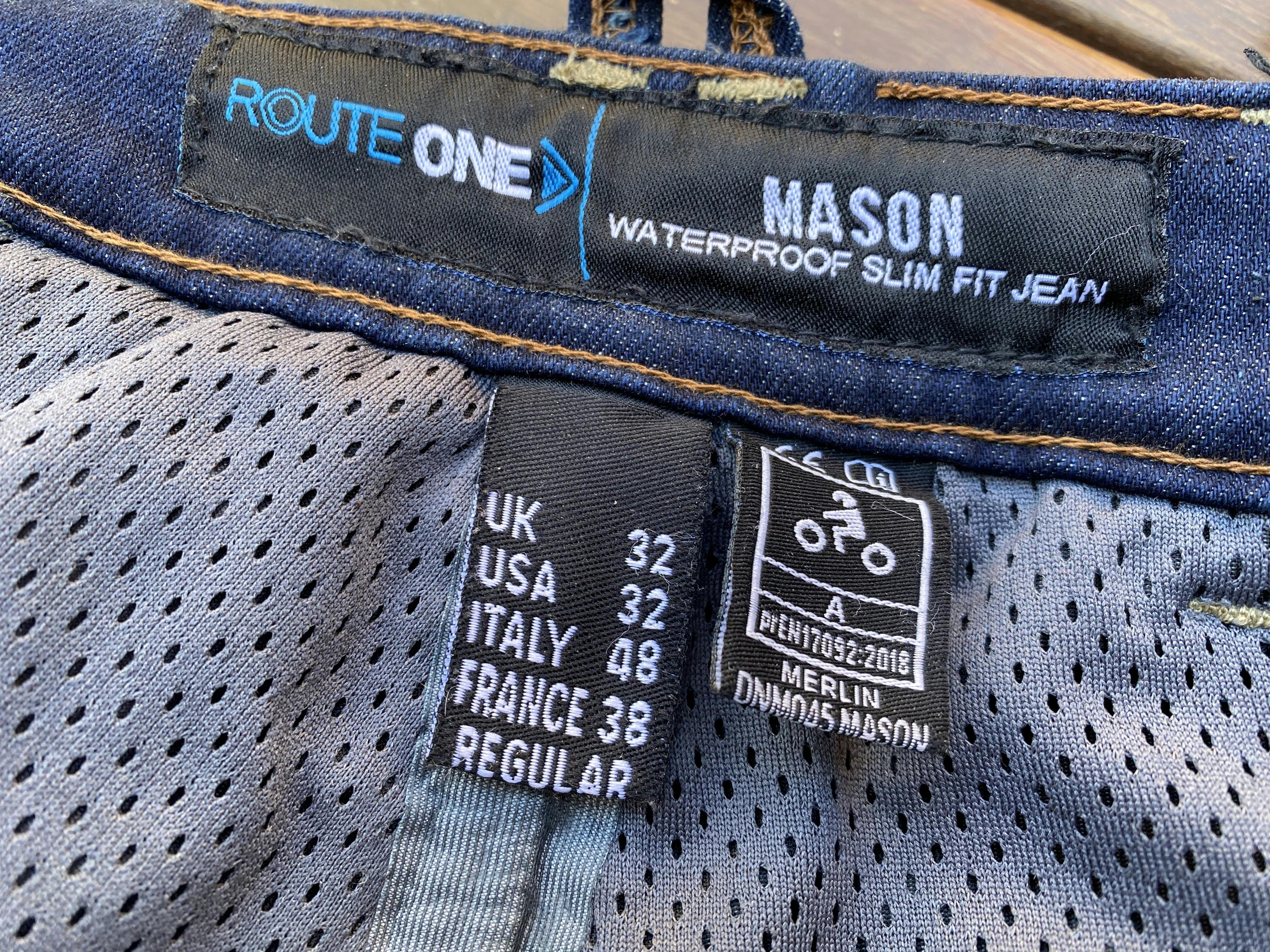 Enter the Merlin Mason Jean!
Jean splicing – the next step
When the Merlin Mason jeans showed up from Bikebiz, first impressions were that they looked just like normal jeans but were a bit heavier. Part of the extra gravity will come down to the brand name, 220 gsm Kevlar lining (bum, knees and hips), but it has to be said that the denim itself is properly thick too, at 11.5 ounces. Oh, and then there's the full Reissa waterproof membrane, carefully sewn in, with heat welded tape at the seams to form a perfect seal. Reissa? That's right – these babies are waterproof!
With fashionable looks and decent abrasion protection taken care of, weather protection is the next trick in a neat trifecta of features designed into the Merlin jeans. So not only do they look like the kind of normal jeans you might wear to the pub, they'll save your arse if you find yourself sliding down the tarmac and keep you dry if you get caught in an unexpected shower. It's a pretty decent skill set for a pair of dacks. 
I dragged them out of the box and slid into them to find that at size 32, they fit my skinny 189cm (6' 2") frame perfectly. A bit bulkier than regular jeans, sure, but I thought they looked just like normal jeans. I asked my better half what she thought. "They look just like normal jeans", she said, helpfully. I then spent a day in the office amongst the drones without a single person enquiring about my jeans. So the first test had been passed with flying colours. Merlin Mason waterproof jeans are perfectly capable of flying fashionably under the radar. Which is much better than could be said about my flappy black plastic dacks.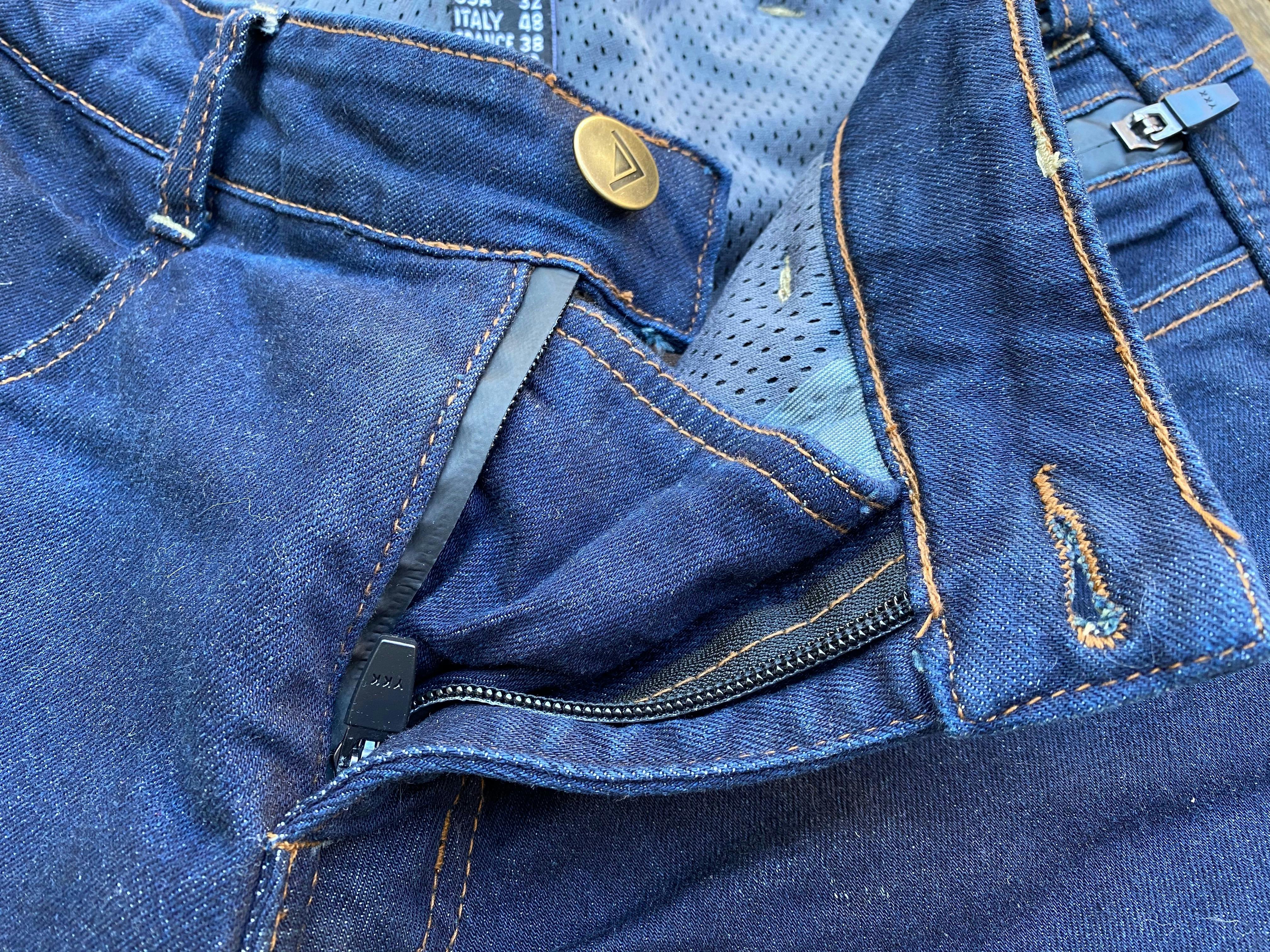 A handy flap behind the fly helps keep tackle dry!
There's a Huntsman in your pants!
So what we have here is a decent looking pair of riding jeans that also claim to be waterproof. If you've suffered even half as many soggy-arsed rides as I have over the years I expect you'll be keen to hear all the ins and outs. Which is convenient because as it happens, these jeans have both.
Outside, the Masons feature the amusingly-named 'Huntsman' water-repellant coating. And in addition to the Huntsman treatment on the outside, inside the jeans are fully lined with a Reissa waterproof membrane. 
On the bike, the immediate difference you'll notice between the Merlins and regular jeans is that they're warmer. The Reissa membrane definitely stops wind, because on a chilly morning it takes a lot longer to start feeling the cold in these jeans. For me, that's a huge plus right away.
Caught in a surprise shower (easily achieved at this time of year where I ride…) it put a smile on my face to watch water beading on the surface of the denim and running straight off. Neat trick. Twenty minutes later, after carving through city traffic, in a couple creases and folds here and there water had started to soak into the denim, but never got past the waterproof membrane. If you're okay with just a little damp patch here and there, you oughta be able to ride through some rain, get straight off your bike at your destination and go about your business without copping odd looks from co-workers, or leaving soggy patches on chairs.
Commuting through heavy rain for half an hour or so, the Huntsman didn't hold up perfectly – there were a couple of patches down low at the front of my legs where water made it through the denim. But the lining held up a treat and inside I stayed warm and dry. The only time I was ever prompted to call the 'waterproof' claim into question was during a brisk ride in steady rain, through the twisties in the hills near where I live. After three quarters of an hour clambering all over the bike, dampness started to creep through at the pressure points, namely the butt and upper legs. While I was riding in a far more animated way than I'd normally do in the rain, I think you'll agree that a wet bum is unwelcome regardless of riding style.
I guess the bottom line is that in my experience you can absolutely expect to stay dry in the Merlin Mason jeans if you get stuck in a shower while commuting. If you ride like a maniac in the rain – possibly not a great idea anyhow – you might be pushing their limits. 
Extras
Like most jeans, the Merlin Masons have the normal open front pockets, lined with waterproof material. Seeing as they are just open pockets, rain can still creep in easily from the tops of these. However, there's a waterproof, zip-sealed pocket on the front left side, as well as similar zip-sealed pockets adorning the butt of the jeans on each side. In short, plenty of dry storage for stuff like phones and wallets. 
Inside the jeans there are knee pockets to fit the soft knee armour that's included. At each hip there's an additional cloth pocket for any hip armour you might care to add yourself. 
There's a beefy, part-length zip at the back of the waist for those who might wish to secure a jacket to the pants – unsurprisingly, Merlin's own Barton waxed cotton jacket zips on with no fuss. That's a nice little feature to stop a jacket riding up in a fall, and it also helps keep out draughts while you're on the move.
All zips on the jeans are quality YKK stuff. Oh, and while we're on the subject of zips, there's an expanding fabric flap behind the fly zip to further help waterproofing. Just remember it's there when you pull over for any emergency pit stops…an extra second or two of fumbling with the plumbing can result in irrigation where you least want it!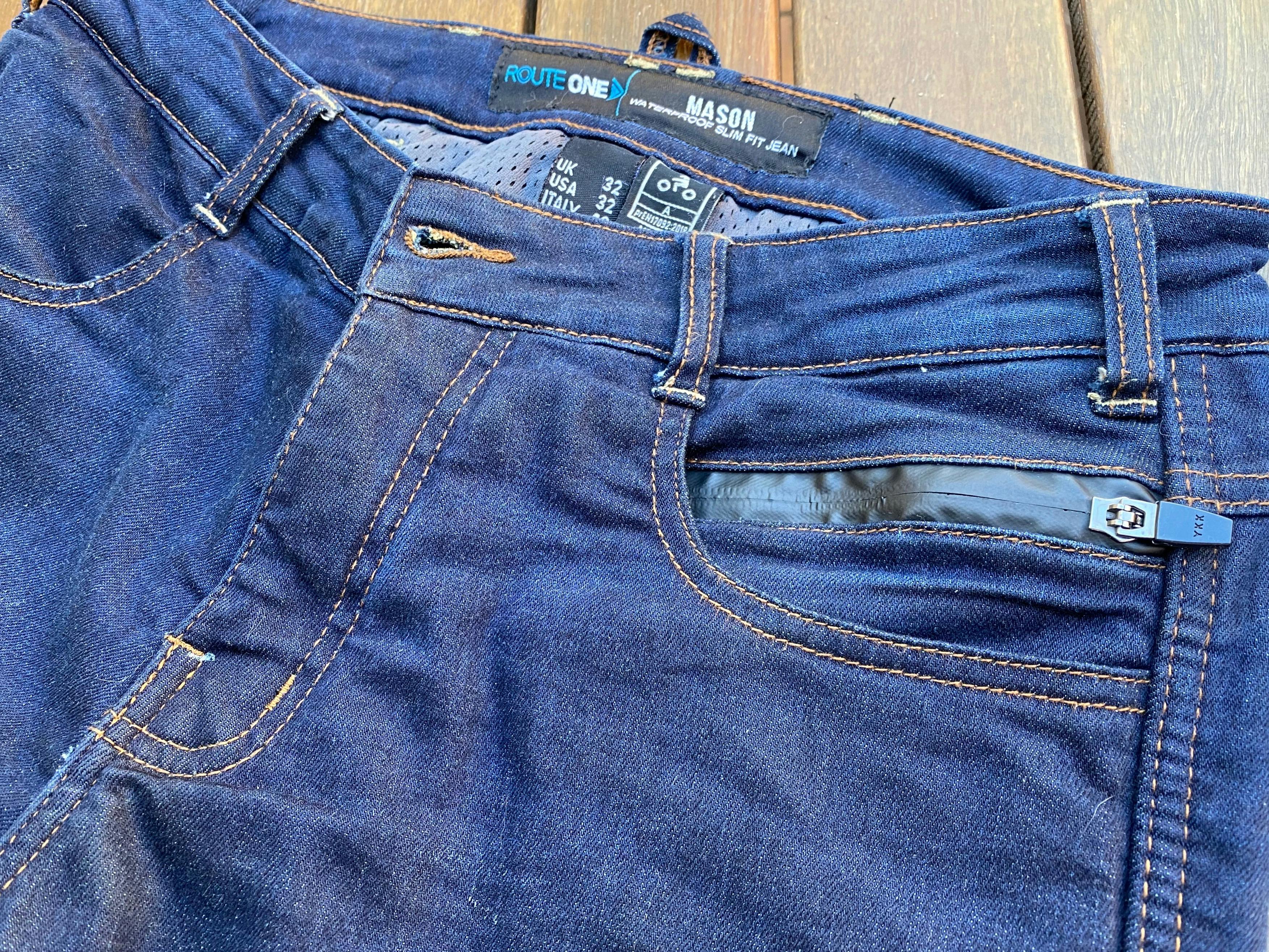 The Merlin Mason jeans are tough on every level – Kevlar panels inside, super heavy 11.5 ounce denim outside.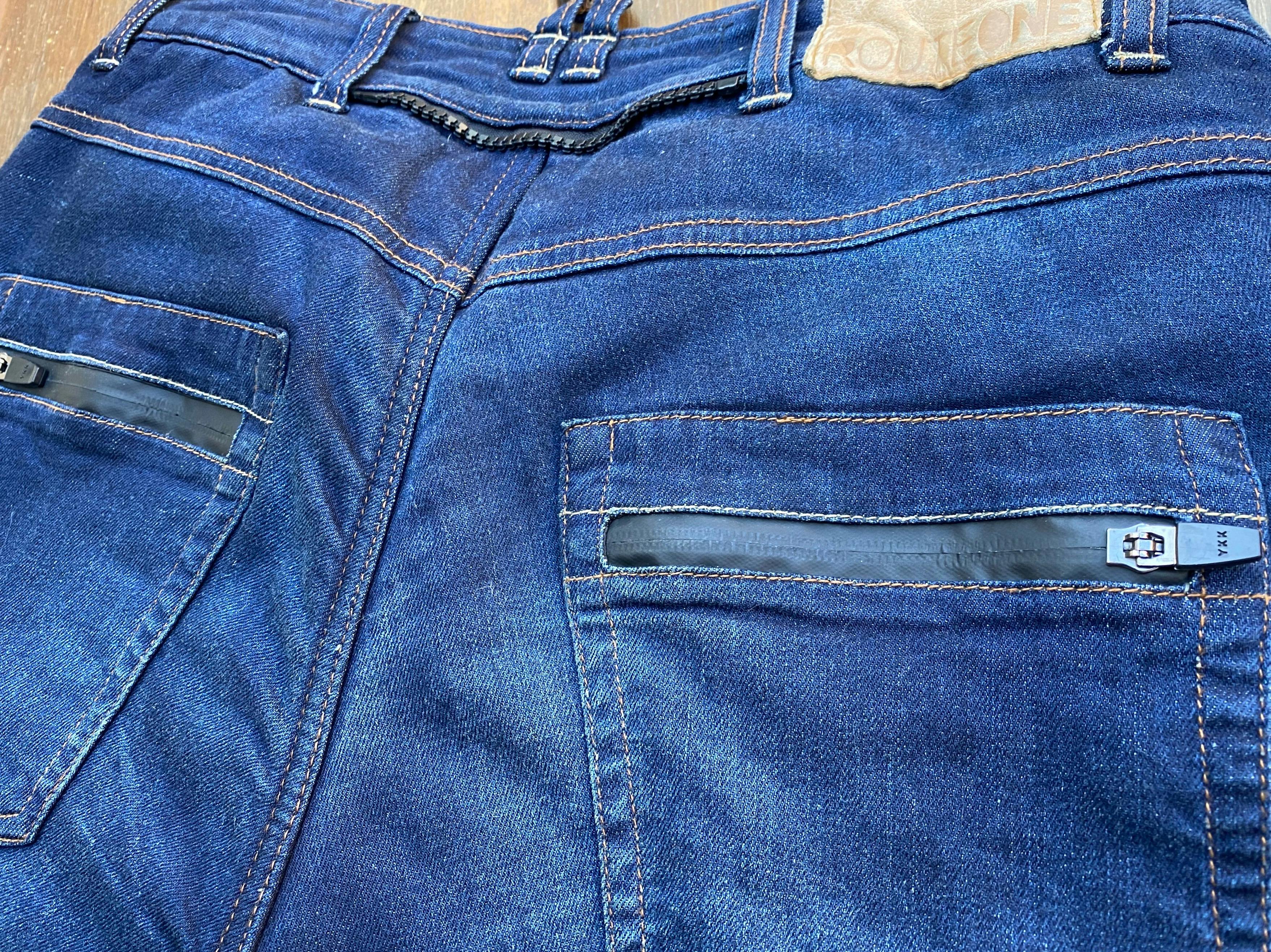 Both rear pockets are zip sealed so whatever you stash in them is far more likely to stay dry.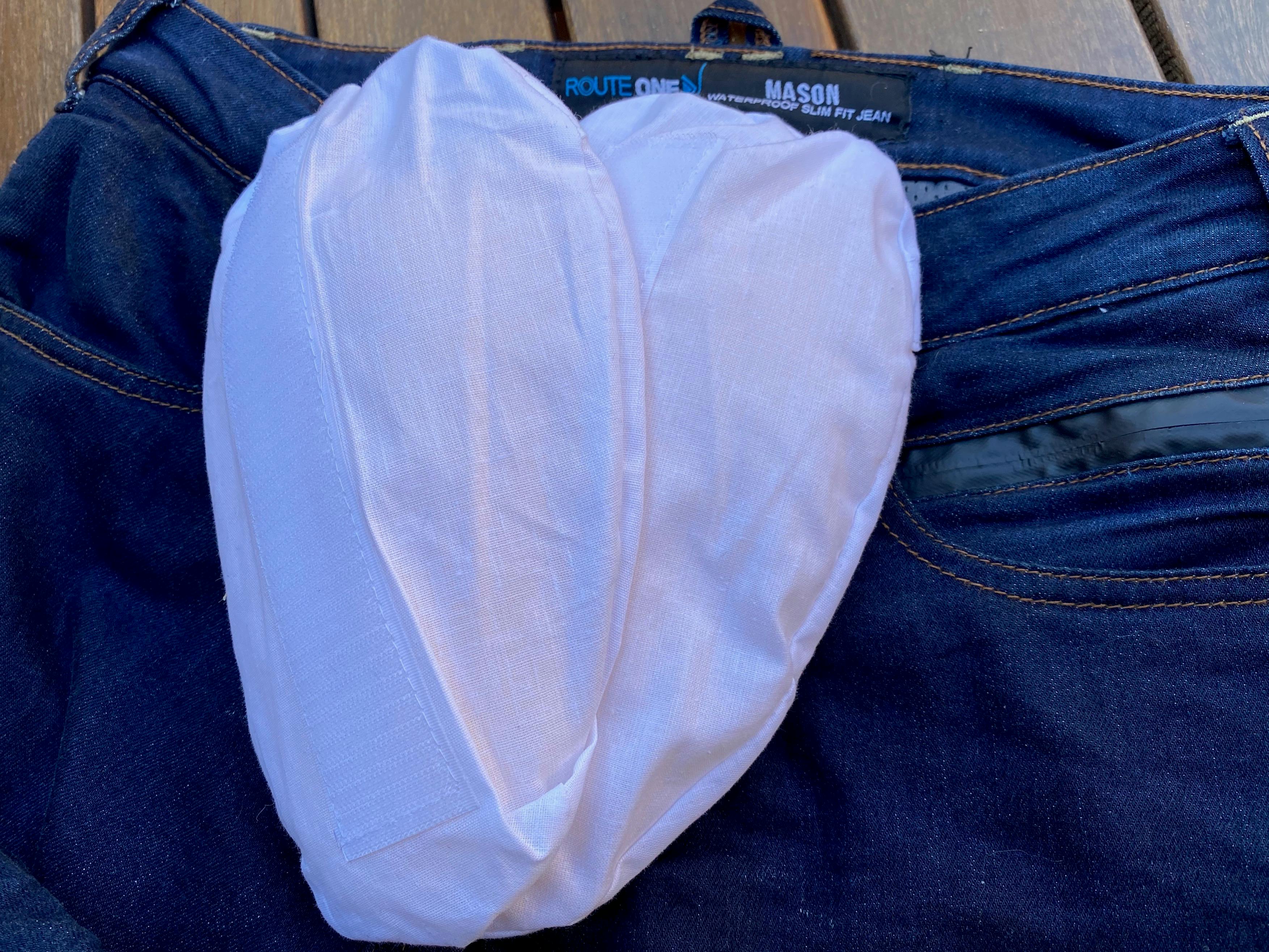 Included soft armour slips into knee pockets for extra protection.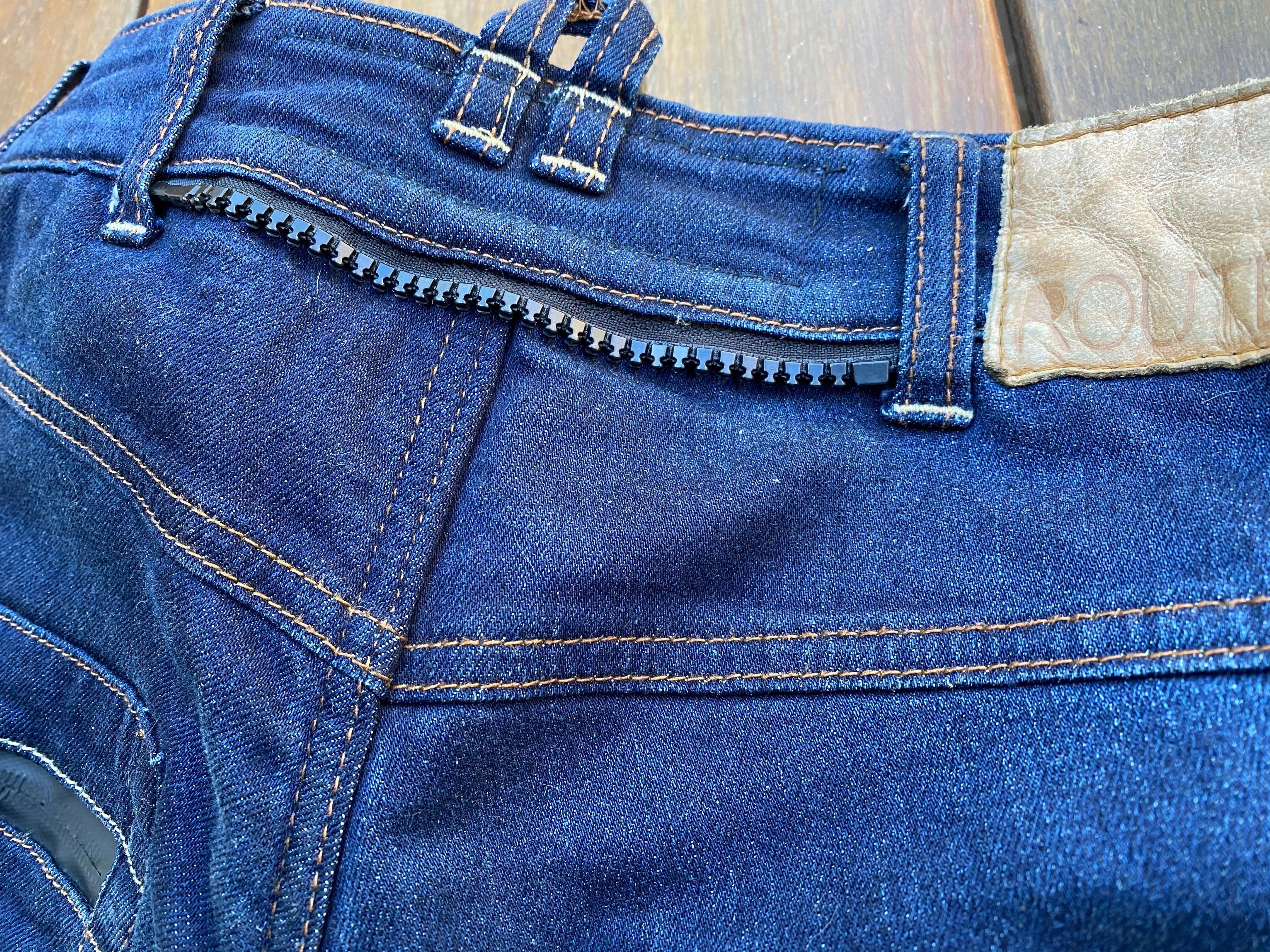 Tough 15-centimetre rear zip to attach jacket cuts down on draughts and can help prevent road rash during unplanned flat-on-your-back landings…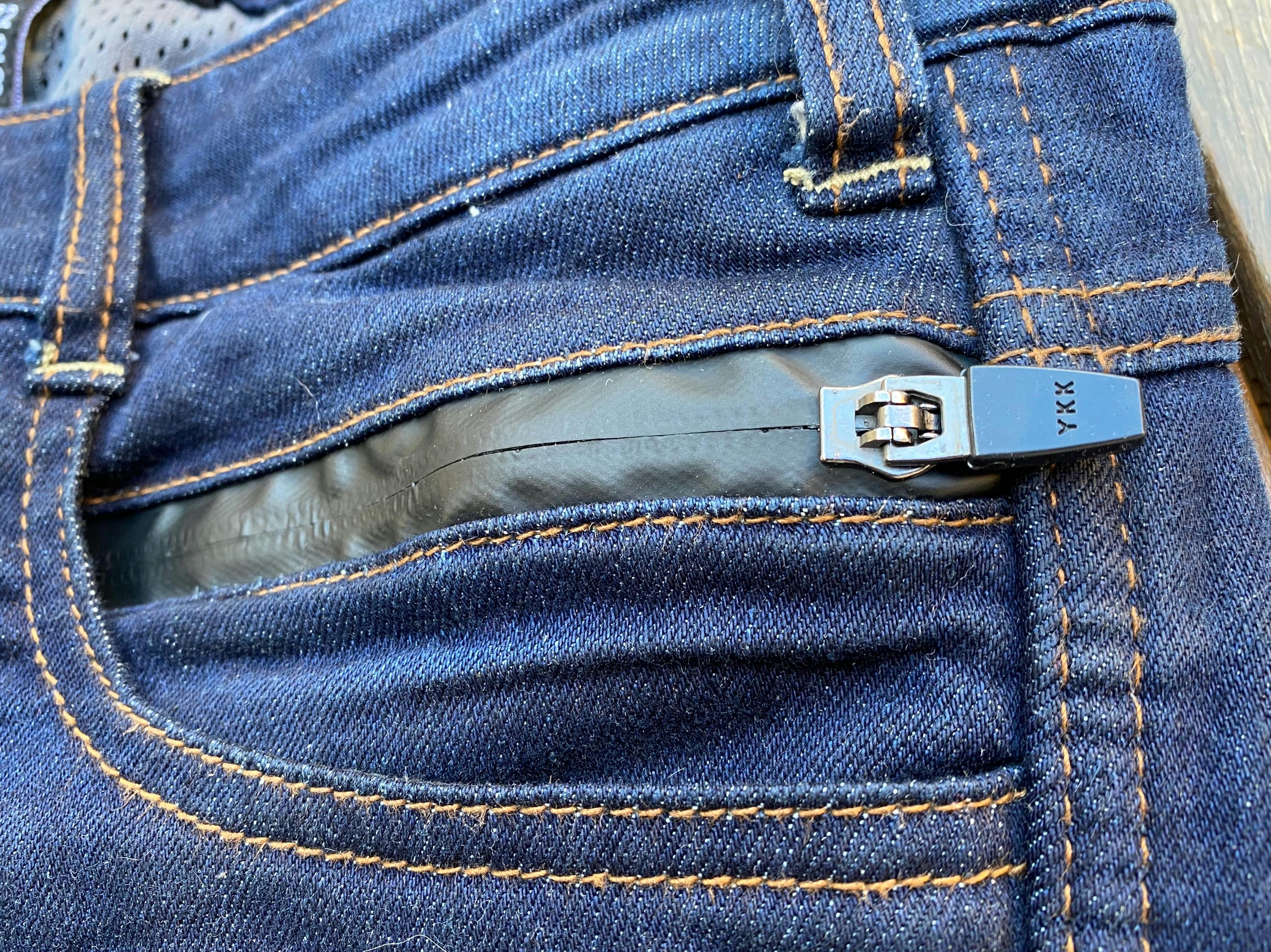 Left front pocket seals out showers. Decent quality YKK zips feature all round.
Features at a glance
Heavy duty denim, DuPont Kevlar lining, quality stitching and fittings
Water resistant Huntsman shell treatment
Waterproof, breathable Reissa lining
Soft knee armour included standard
5 pockets (3 zippered and waterproof)
The good bits
Comfortable jeans that look good
Premium quality build and protection
Compatible with zip-on jackets
Nit picking
Definitely showerproof, but not 100 percent waterproof in extreme conditions
Protection means bulk – not an ideal choice when the weather gets warm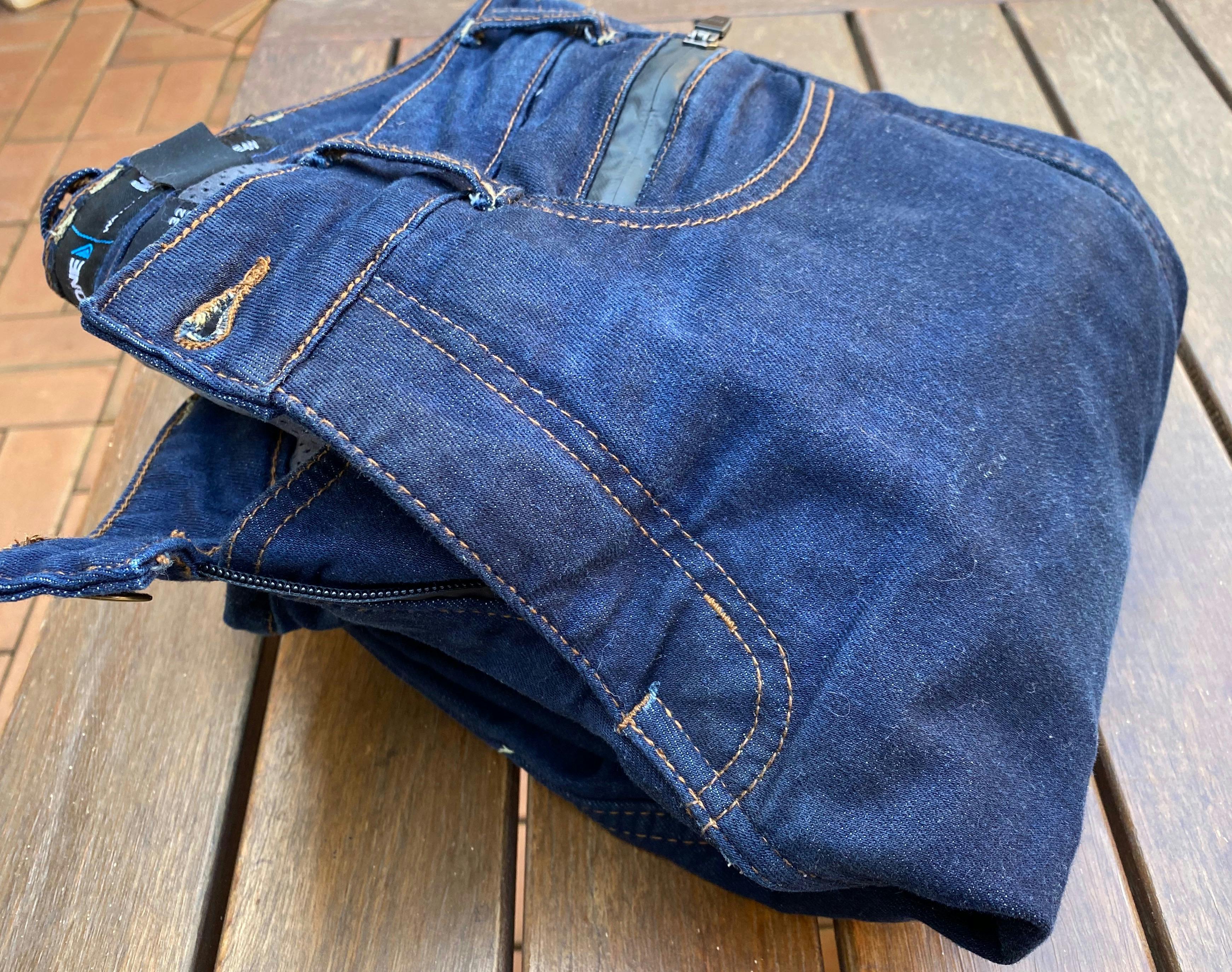 The Merlin Masons are thicker and heavier than normal denim jeans but warm, waterproof and comfy, too. 
Summing up
At $299.95 the Merlin Mason Jeans aren't the cheapest riding jeans out there but they aren't the most expensive, either. They're well made and loaded with lots of decent protection, their ace card being how handy they are in a sudden shower. Yeah, they're a bit bulkier and heavier than normal dress denim jeans but I found them comfortable and easy to wear. 
On a long, wet tour the Merlins won't hold up as well as dedicated waterproof Cordura waterproof pants – you wouldn't expect them to - but in cold, changeable weather when you just can't be bothered dragging on a heap of heavy gear in case there's a sudden shower, they're bloody brilliant. They've become my go-to jeans simply because I live in the freezing south, so right away their extra warmth is a huge bonus for me. 
If you're an opportunistic biker and love to squeeze in a cheeky blast despite the chance of a bit of rain, you could do a lot worse than to hit up the Bikebiz website and make these jeans a welcome addition to your wardrobe. 
Who knows, you might even work up the courage to throw out those daggy plastic pants that live under your bike's seat. Me? I've got enough shameful secrets without them…