Workshop Wisdom - it's more than tools
In a previous Bikebiz tech blog we talked about tools – what to look for, what to buy, how to get started.
And you could be forgiven for thinking that with your pride and joy parked in the garage and a newly-purchased swag of tools nearby, you're all ready to jump in and start spinning spanners. And strictly speaking, you are.
But along with your tools, why not bring some workshop wisdom to your first job and save yourself some grief? Here goes…
The importance of time
It sounds obvious, but allow enough time for the job at hand, especially if you are new to bike maintenance. If your research points to the job being one hour's work, set aside two. Build in a bit of extra time and you'll work at a relaxed pace and you'll be less likely to make the kind of douchey mistakes most humans tend to make when we hurry.
Have a backup plan
Is your bike your only transport? If you just can't do without it in the near future, be sure there's a ride you can catch, a bike or car you can borrow. As unlikely as it might seem, occasionally Murphy's Law adds a big delay to a tiny job. It's a good feeling getting into a job knowing that you're covered if your bike has to be off the road for awhile.
The importance of …space!
Okay, so you might not have a full garage with a bike hoist, but that doesn't mean you have to work in the rain on a patch of dirt. Think ahead and use the space you have. Get out of the weather into a space where you have room to move around the bike. A cramped single garage might be okay, but sometimes rolling the bike onto a patch of old carpet under a patio will give you a more spacious work space.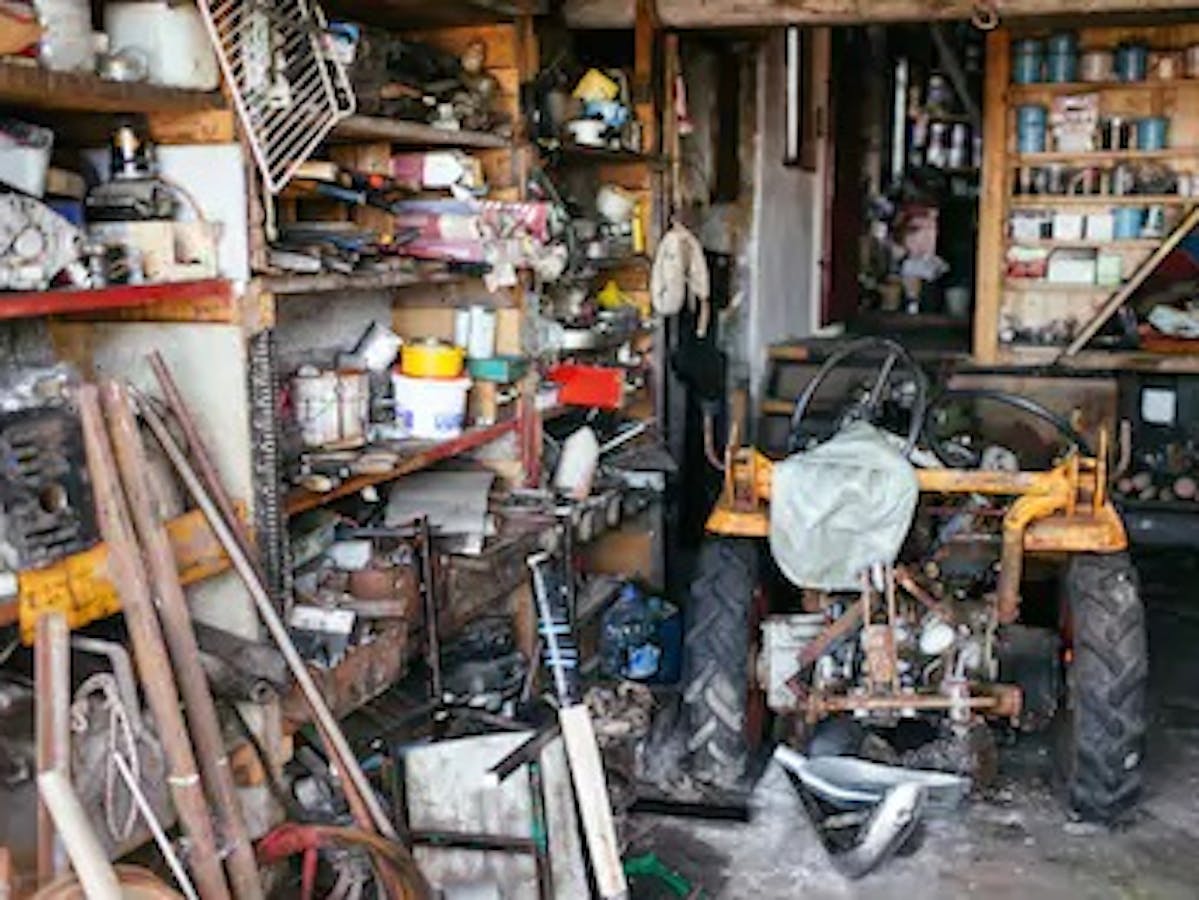 Nothing is worse than a cluttered and unorganised work space.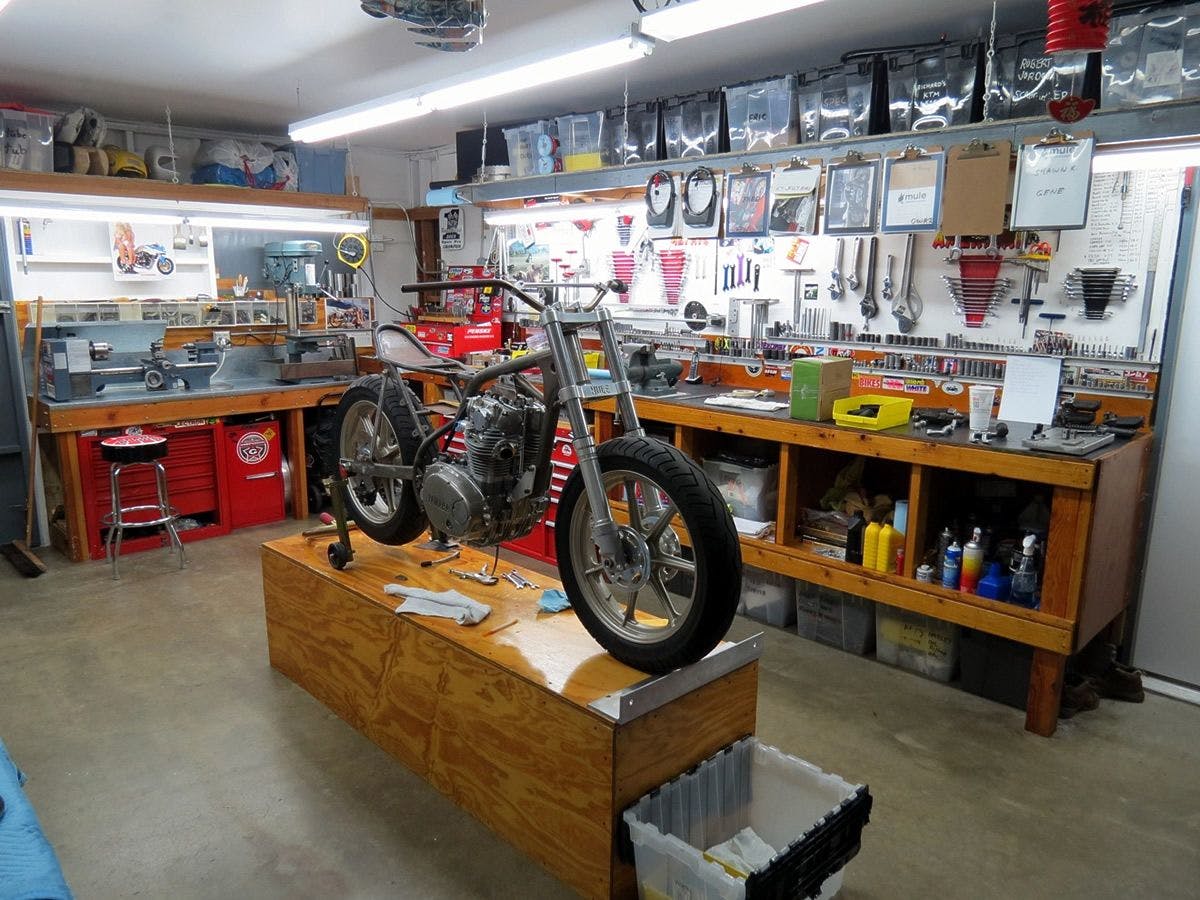 Keeping your work place organised will make working in it much more pleasant and less stressful.
Quick and clean, or slow and dirty?
If your bike looks as though it's just done ten laps of a cow paddock, you are not going to enjoy working on it. Nothing slows a job down more than having to clean caked-on filth with every part. And remember that filth and grit are the last things you need when you start exposing the insides of various components. There's a lot to be said for making sure your bike is reasonably clean before you work on it.
Grease, oil, chain lube…and your landlord/wife/boyfriend…
Here are some facts – eventually you will spill oil, grease, brake fluid or chocolate topping on the floor. Okay, maybe not the chocolate topping, but eventually every mechanic this side of the MotoGP pits spills a good slosh of inky black crap all over the place. Be prepared! Something as simple as rolling the bike onto a big old slab of cardboard can save the pavers or concrete from an indelible stain. Double up by having lots of rags and some aerosol degreaser nearby and remember that old ice cream tubs make great emergency catch containers. Kitchen baking trays work well too, but don't expect your next roast to make it onto Master Chef.
Avoid joining a grunge band
While there are some amazing hand cleaning products available today…why get dirty in the first place? Nitrile workshop gloves are your friend. Tough, grippy and fitted, they may look like something from a specialist nightclub, but once you've tried them you won't look back. Finish the job and just peel them off, rather than spending half an hour scrubbing your dirty paws. As for clothes, wear something you don't mind getting dirty, or invest in some overalls.
Don't file stuff on the floor
As you work, you'll be tempted to put parts and fasteners on the floor next to where you stripped them off. Don't do that. Remember that you are just one clumsy kick away from sending that tiny spring into a dark corner where you'll never find it, only to discover the next day that there's a 3-week wait for a replacement to come from Japan. Put your bits and pieces into clean ice cream tubs, yogurt pots or similar. Old ice cube trays work well for really tiny bits.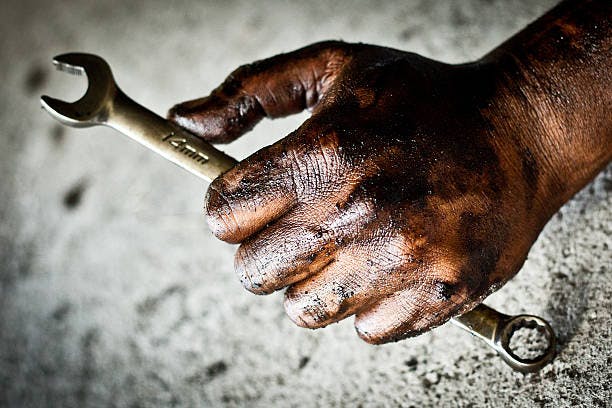 Would you like your hands to look like this?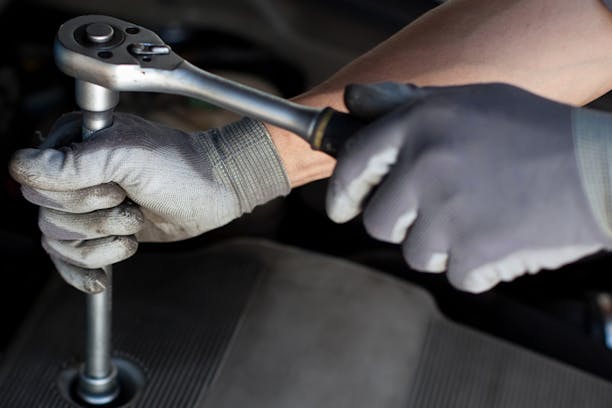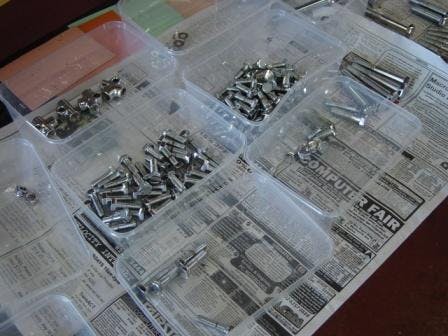 Keep all your nuts and bolts organised...or you'll regret it when you spend 3 hours looking for one bolt.
Don't be stupid with the flammables
Petrol, oil, degreaser…it all loves to catch fire. So needless to say, working around any sparks or open flames is a no-no. Never smoke while you work on the bike and if you must take a ciggie break, take a walk while you're at it. Be conscious of the flammable substances you're working with and have a plan in place beyond 'run around screaming' should something go wrong. Keep in mind that workshop fire extinguishers are a great idea, not expensive and make your work space look 10% more professional, too.
Share it around
If you have a trusted mate you think might be interested, working together is a great way of having a second set of eyes on the job, and somebody to swear at should they get too generous with offering second opinions.
Seriously, get your work space together and maintaining your bike can be genuinely enjoyable and very satisfying. You don't need a fancy workshop to take care of bike tasks, but a bit of preparation makes all the difference.
Until next time, enjoy the ride!
Click here to read Chapter 4 - Chain Maintenance.