Your bike's tool kit – and what you'll really need for basic maintenance
Bikes are amazing.

They look incredible and depending on what you choose, they can have astonishing power, build quality to drool over and colour TFT dash displays you could probably use to launch a satellite. 
So why is it that when you dig around under the seat, you find that your bike's  'tool kit' is a crappy vinyl pouch containing a tube spanner, a screwdriver and two open ended spanners that you wouldn't trust with your worst enemy's nuts? 
With very few exceptions, the tool kits that come standard with most new bikes are rubbish. If you are lucky, they might help you adjust a lever or remove your battery. But the first time you chew up a fastener with one of those rubbish spanners, you'll swear never to trust them again. 
The good news is that you don't need lots of tools for basic bike maintenance, and decent tools don't have to cost you a small fortune.
What to use guides what you choose
Bikes can be held together with a wide variety of fasteners – screws, Allen or 'hex head' fasteners, Torx fasteners (the ones with a 'star shaped' inner socket) and good old nuts and bolts. Spend five minutes looking over your bike and note which fasteners it has. There could be several different types, so you'll be buying tools with the fasteners your bike features in mind.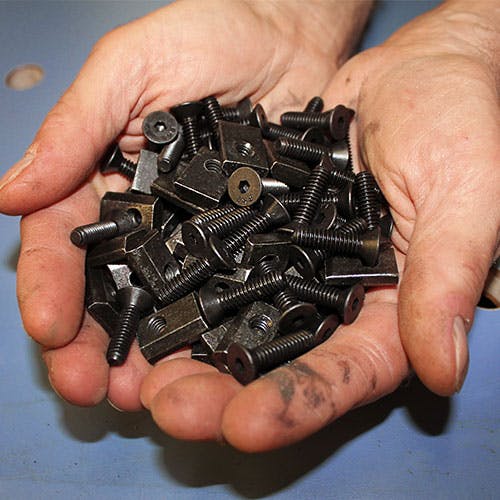 There are a variety of nuts and bolts that hold a bike together.
It's a small world
Bikes are small. Duh! But seriously, most bike fasteners – with just a few exceptions – are tiny by automotive standards, so there's no need to buy gorilla-sized ratchet handles and spanners you won't use. Ratchet handles are generally available in half inch, three-eighth inch and quarter inch drive. Pardon the use of Imperial sizing, that's just how it is. The 'drive' is the part of the tool the socket fits onto. In the bike world, you'll seldom need anything as big as a half-inch drive. So if you are buying a tool kit, don't fret if it doesn't include this and don't buy what you won't need.
Start with kits, add the bits
Nowadays, basic tool kits are easily available and not at all expensive. A good way to get started is often to buy a small kit that includes a range of ratchet drives, sockets and spanners in the sizes you want and then add extras as you need them – say, an Allen or Torx key set. The bottom line is that you don't need a monster tool chest to get started, you can often take on all sorts of basic bike maintenance tasks with a small kit.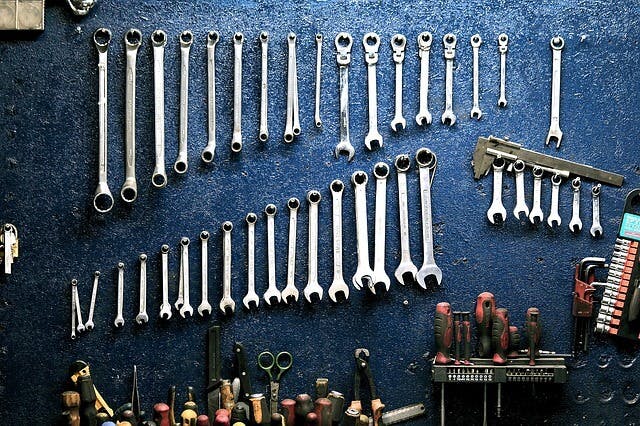 Tool kits are a great way to start off, then you can customise it to your bikes needs. Japanese bikes require different tools to Italian bikes which require different tools to American bikes.
Quality and affordability
There are people who will tell you that there's just one brand of tools to buy and that everything else is rubbish. Ignore them. Today there are dozens of manufacturers producing quality, affordable hand tools that will last a lifetime of home workshop use. Avoid the very cheapest no-name stuff, but don't go top-shelf if the budget won't stretch that far – there's simply no need. 
Ask an expert
If you are keen to have a go but find your head spinning the first time you go tool shopping, get on the phone before you splash your cash and call the Bikebiz Spares or Service areas. We have experts who'll be happy to spend a moment pointing you in the right direction with some simple, straightforward advice.
Small steps
Finally, if you decide to give bike maintenance a go, take your time – even when it comes to buying tools – and get into the easy stuff first. Even just buying a set of screwdrivers or Allen keys and adjusting your levers is a nice start. Remember that not even the best mechanics started out with a full engine rebuild. Beginning with manageable jobs will build your confidence gradually. It'll also quite likely introduce you to another surprisingly satisfying area of owning a bike.
Until next time, enjoy the ride!
Click here for Chapter 2 - Daily and Weekly Checks