THE BIKEBIZ RACING WRAP-UP, PHILLIP ISLAND CIRCUIT, FEBRUARY 25, 26, 27.
It's always exciting to get back to The Island and Bikebiz Racing headed south to the Round 1 looking for solid results.
#26 Tom Edwards was on the Bikebiz/Powerfone/Inglis Plumbing Yamaha YZF-R6 contesting the Michelin Supersport Championship, and following a strong second place championship finish in 2021, is looking for a championship win in 2022.
#355 Laura Brown was on her Bikebiz/Bare Bird Yamaha YZF-R3, looking forward to a busy weekend racing in both the Dunlop 300 Supersport Championship as well as the Yamaha Finance R3 Cup.
We spoke to both riders over the weekend to get their thoughts on the racing.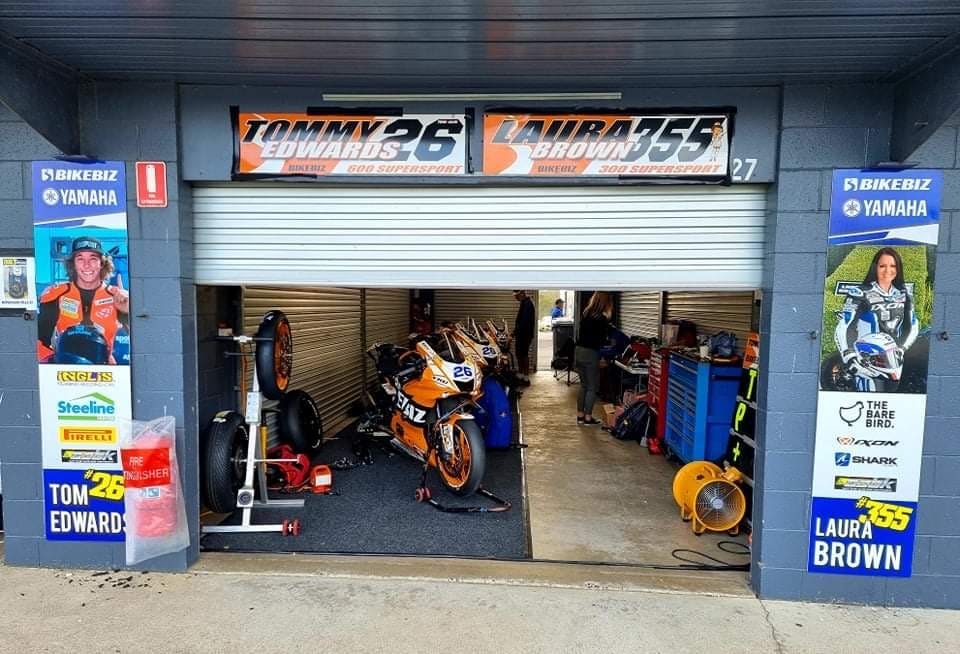 #26 Tom Edwards, Bikebiz Yamaha YZF-R6
"No complaints about the weather on Friday, that's for sure – it was perfect. We're running the same super competitive Yamaha R6 as last year. Of course it's been freshened up by our amazing mechanic Paul Gauci, with suspension setup by Frank Pons, so I doubt there's a better-prepared R6 in Australia! We went out in the first practise session simply to run in the engine. The bike felt great, so it was a case of no drama, job done.
The second session went very well but I guess it's the third session that really sticks in my memory, because we went out and set a new circuit record, bagging the fastest ever lap of the Phillip Island Circuit on an ASBK bike (1:34:909!). I slept well on Friday night with that in the bag, and the whole team was feeling pretty pumped.
Saturday the wind had kicked up but we were all fired up and ready to go and work for a great result. I put about 25 minutes into the first qualifying session and rode some solid laps, although I didn't see times quite as fast as I had in practise, simply because of the wind. I came in at the end of the session having banked second place overall and pleased to have placed well.
In the second qualifying session I went out feeling confident and put in my best qualifying time right away – that's the good news. On the flipside, shortly after setting my best lap time I was pushing hard through Siberia when the rear end let go and the result was a highside. Although I'm told it made for some exciting viewing, as highsides go it wasn't as brutal as it could have been. I didn't break any bones, but by the time I got back to the pits I was definitely ready for a little lie down! Not a great way to end the day, but I was happy that I was well and truly on the pace.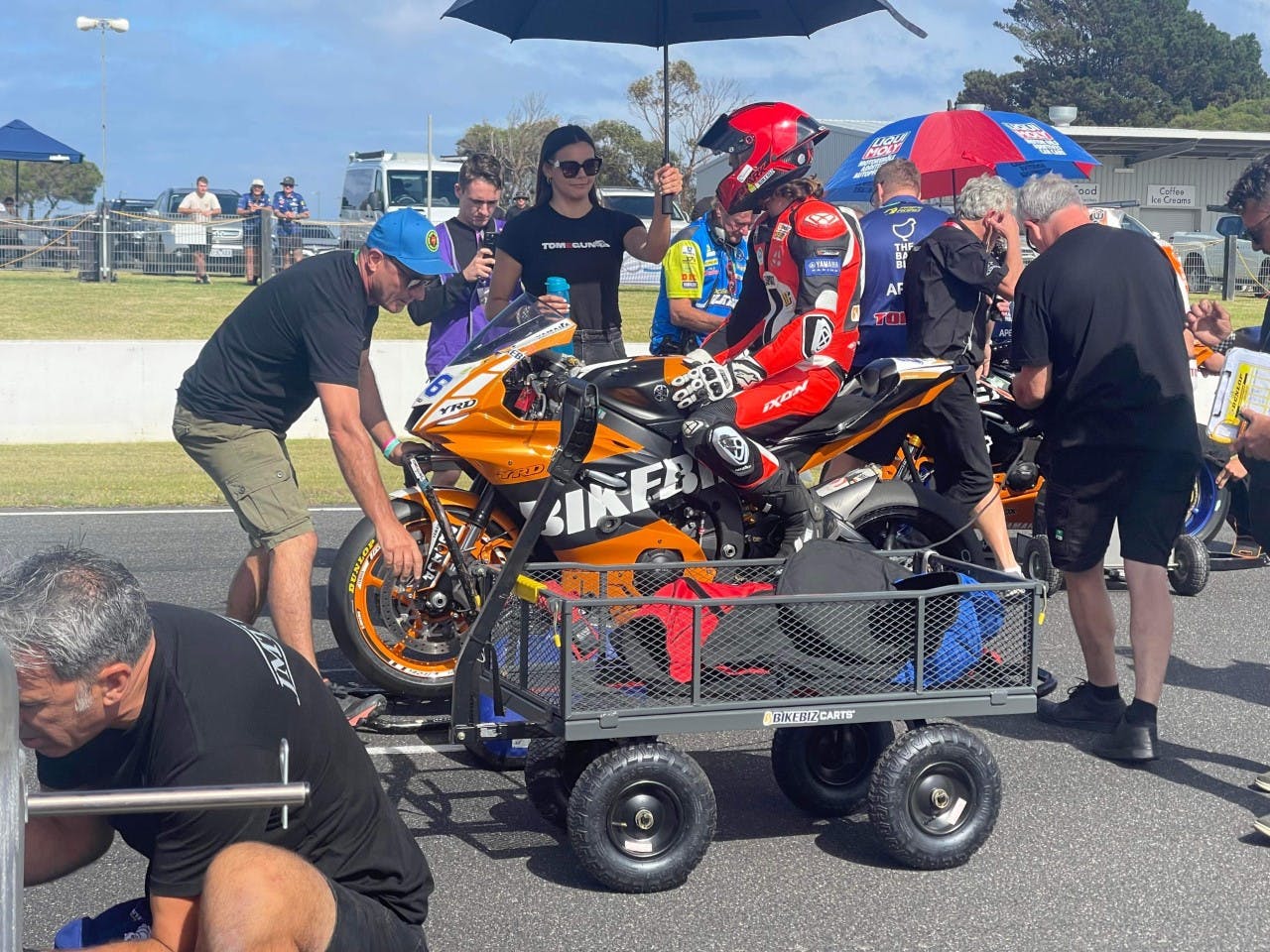 On Sunday I was absolutely confident that we had what we needed to win. I got a great start in Race 1 and managed to pull out a really decent lead, gapping the rest of the field by a couple of seconds. We were absolutely flying! What I didn't know was that well behind me Tom Bramich and Jack Pasfield were fighting tooth and nail, a fight that wound up with Jack coming off on Turn 10. The race was red flagged. Cruising back onto the starting grid I was confident that I could pick up from where I was – until I discovered that the race would be restarted from original grid positions, and with a reduced lap count. That kind of news hurts when you've been leading the race comfortably, but that's racing I guess.
When the race was restarted I got another great start and led into the first corner, but Senna was on form, managed to slip past me and open up a bit of a gap. I got my head down, reduced the gap from .7 to around .3  and started to plan my attack. That's until between turns 11 and 12 my rear tyre suddenly lost all pressure. I managed to hold on to the R6 as we took an off-track excursion and did some pretty extreme grass tracking! Gutted doesn't even come close, I was out of the race with no points. I sat on the tyre wall waiting for a pick up and focused on putting it all behind me. I was determined to salvage every point I possibly could in the second race. See the video here.
I got a holeshot start in Race 2 and was running at the front until Senna managed to get past me on the second lap. Of course the plan was to hang with him and set up a re-pass, but as the laps went by I became less happy with the edge grip I was getting from the rear tyre, and Senna started to pull out a gap on me. Meanwhile as I slipped back a little, Tom Bramich in 3rd place no doubt smelled blood and started to become a threat. Despite my rear tyre feeling increasingly sketchy, I got my head down and widened the gap on Bramich to buy myself a bit of a safety margin. I managed to hold on to that gap and wound up finishing the race in a solid second place, pretty happy with my effort through a very intense race.
With the weekend's racing over, despite some bad luck in Race 1, we are on the pace and in good shape. When the going gets tough, it's support from your team that makes all the difference and I'm lucky to have a whole squad of really amazing people behind me. My sincere thanks to Bikebiz, my gun mechanic Paul Gauci and of course the legendary Frank Pons for everything suspension, as well as the mentoring he serves up at every race.
Our focus is now 100 percent on Round 2 coming up at Queensland Raceway later this month. I'm going to have to get my head around the track in a hurry but that's okay, I'm confident that I can do that. The team is strong, the bike is sorted and you'd better believe we'll be racing to win!
#355 Laura Brown, Bikebiz Yamaha YZF-R3
"The bike and the pace felt good in Friday practice and the weather was great. The competition in my classes is really strong. The R3 is an amazing bike but of course it's not a massive powerhouse, so 'light is right' when it comes to being quick. There are no weight limits at all on the bikes. When you combine this with some talented youngsters who tip the scales weighing about 45 kilos themselves, the racing is tight and ruthless.
I came away from Friday really happy, having dipped into the high 1:49's and hoping for more of the same the next day.
Saturday dawned windy, which adds an extra level of challenge. I went out determined to qualify towards the front of the pack but wound up a bit further back than I'd have liked. The featherweight youngsters slip underneath at the entry to turns, then get in the way mid-corner! But it's all part of racing.
In the first R3 Cup race I was grinning, having quickly moved from P8 to P4, until a crash meant that the race was red flagged for a restart. In the restarted race there were constant running battles amongst the swarms of riders that formed up. I didn't quite manage to repeat my performance from the first race start, but fought hard and managed to finish in P10, two notches down from my P8 start but only 0.3 seconds behind the race leader.
My Supersport 300 race was another case of working very hard and making the most of every opportunity. It's all about corner speed and drafting. I managed to fight my way from a qualifying P14 up to a P9 finish, happy with my effort but wanting more. In these small capacity classes you need to be amongst the first 5 riders on the last lap to get a slipstream slingshot and make it across the line first, so it's my number one priority to be a part of that pack.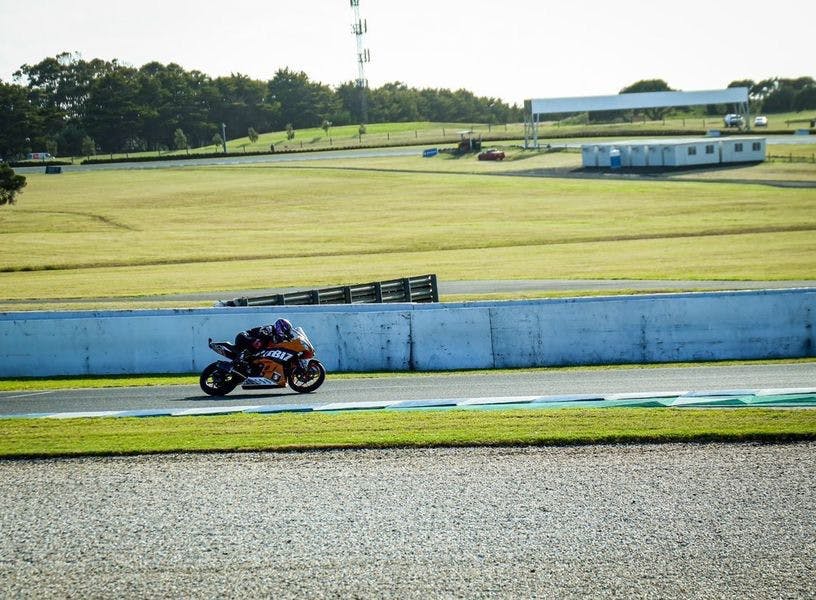 On Sunday it was sunny skies…and more wind. I was determined to do something about my top speed on the straight though, after sitting on the rev limiter on Saturday and being passed by faster bikes on taller gearing. So I switched out a sprocket in the first R3 Cup race and picked up some extra speed on the straights, but found myself losing too much drive out of turns. It's always a trade-of. I worked hard, but finished out of the points, with no thanks to some enormous geese that showed up at Turn 8!
It was back to shorter gearing in the next race, the first Supersport 300 race of the day. Once again I was banging into that rev limiter on the straight, revving the bike out and losing out on top speed. But I'd gotten back the drive that I needed to power my way out of corner exits and so I fought as hard as I could, coming home in P10, just half a second or so behind race winner Varis Fleming. That's a tight pack of riders!
Race 3 of the day was another Supersport 300 race, fighting the wind and the rest of the pack, keeping my pace in the usual swarm of bikes and finishing P15.
Race 4 – another R3 Cup race – was a short one for me, as I was taken out by another rider who collided with my bike from behind, took down another rider and was on his way! That's racing I guess. My lovely #355 R3 was looking a bit sorry for itself and I went back to the pits with a few bruises but no significant injuries. It was another weekend of giving it everything, trying some new tactics and learning more tricks. I was a bit bummed at not being able to get my hands on slicks for my races as the tyre guys at the track had run out, so I ran all weekend on treaded tyres – same compound, but with my 'big lean' riding style I get more edge grip and confidence on slicks.
I'm looking forward to the next round and another chance to move up in the pack! Meanwhile I'd like to thank Bikebiz for their constant support, along with suspension guru and mentor Frank Pons for his amazing insight and advice. 
Team Boss Mark Condon's thoughts on the weekend:
"A big drive home with a trailer hauling some banged-up bikes is never a great feeling, but that's racing. Tom and Laura both rode hard and I'm proud of their achievements over the weekend in challenging conditions. They are both tough customers who shrug off the bruises, get back on the bike and give it everything.
Racing is learning. We do this to win, for sure, but we also put in the miles and the laps to engage with the motorcycling community, grow our knowledge of the bikes we race and sharpen the skills of our technical team. There's no more demanding test of people or machines than a weekend at the track! We will be back, more determined than ever at Round 2 in Queensland, ready to give it everything we've got.