Today, we're looking at the Triumph Rocket 3 R

Forget outer space, Triumph has created a Rocket that will allow you to see through time.
Not just sprinkles of glitter, on the previous model.
These Rockets are new from the ground up, and will blow your mind.
You may be forgiven if you're concerned, perhaps a little terrified.
This is the largest capacity production bike on the globe.
It's all about the specs.
 At 2500cc, this is the most powerful motorcycle engine in the world. The new Rocket blasts off with 221nm of torque at 165bhp, weighing in at 291kg's (R) and 294kg's (GT).
This is one of the best motorcycles I've sampled, and without doubt the best power cruiser on the market.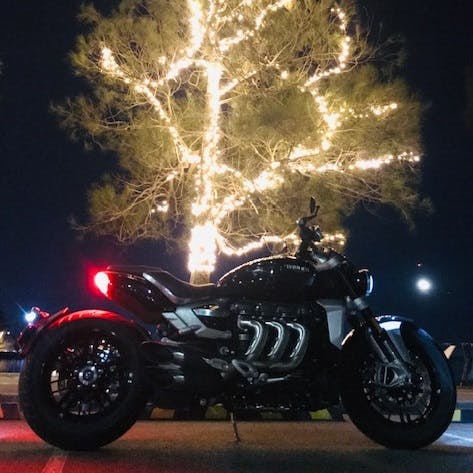 Looks like a beauty, rides like a beast!
Form and Function 
Triumph spared nothing in their 4 years of development. The engine is brilliant and amazingly smooth given its 2500cc capacity. You still have the iconic triple howl with just a hint of vibe but not through the pegs or the bars. Just enough vibe for the soul.
Triumph claim 221nm of torque and I believe it. Rivals in this genre, Ducati and Harley Davidson are well short of the mark, at 80nm down for the Diavel, and 70nm in arrears for the Fat Bob. We're talking a massive difference in grunt to the ground, and getting it to the ground is where the Rocket launches into its own.
Triumph offer 4 riding modes; Road, Rain, Sport and Rider. The latter of which is a configurable mode once set up is bespoke to you. These modes adjust throttle mapping and traction control, offering a suitable preference for all conditions.
For those of you who've forgotten to take your meds, or for the slightly mad, you can turn the traction control off.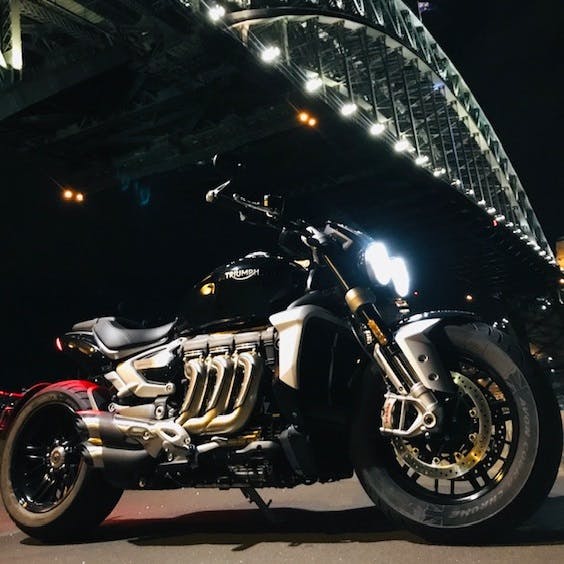 Took the Triumph Rocket 3 S for a ride to the city, and doesn't she just enhance the Harbour Bridge? (I think she does)
With Sport mode selected and traction control on, I rolled out of Bikebiz Granville.
First impression on the bike is that of ease and comfort, regardless of my slight lean forward to the low set bars. Ride position is bang on, my 170cm, 80kg frame was well at home. Before the trial, this was one of my biggest concerns, given the previous Rocket's ergonomics were best suited to that of Andre the Giant.
Triumph have lowered the position of the engine in the chassis. The gains here are many, two of which are a lower seat height and distribution of weight. The Rocket carries its mass low, resulting in stability and rider confidence. On paper it's a big unit but I cannot feel it. Nothing like the previous Rocket. Hats off to the Engineers at Hinkley.
 Misadventure in a previous life has left me with very little in the way of functional knees. The Rockets adjustable foot pegs are a gift from alien gods for those of us who perambulate with a look of interpretive dance. With a 40kg weight saving from the previous Rocket, there's a set up to suit everyone from shorter riders to the ferociously tall.  
The clutch is super light thanks to Triumph's Torque Assist Hydraulic Clutch. A leap forward from the previous model's heavy cable operated affair. An 18 litre fuel tank holds premium go-go juice which is sucked, squeezed, banged and blown through Hydroformed headers. Gasses are cleaned by way of catalytic converter, then on to the triple-exit muffler. The stock exhaust has a great note and burbles on over-run but not annoying in any way.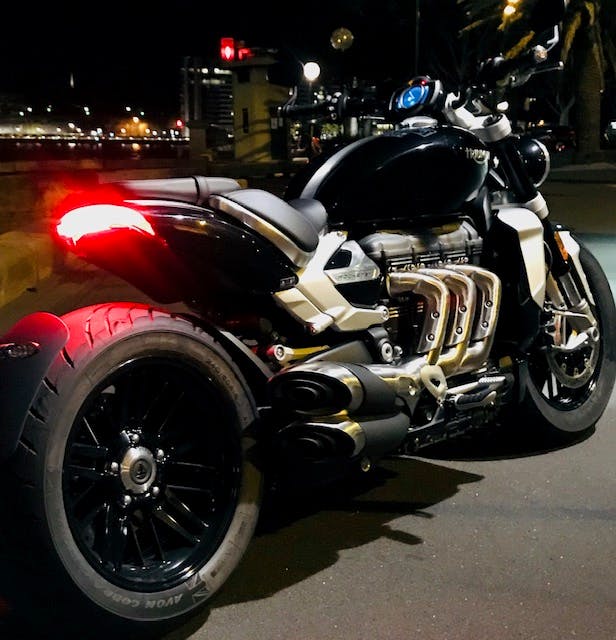 Check out those headers! The sound they help produce turns heads in the best way.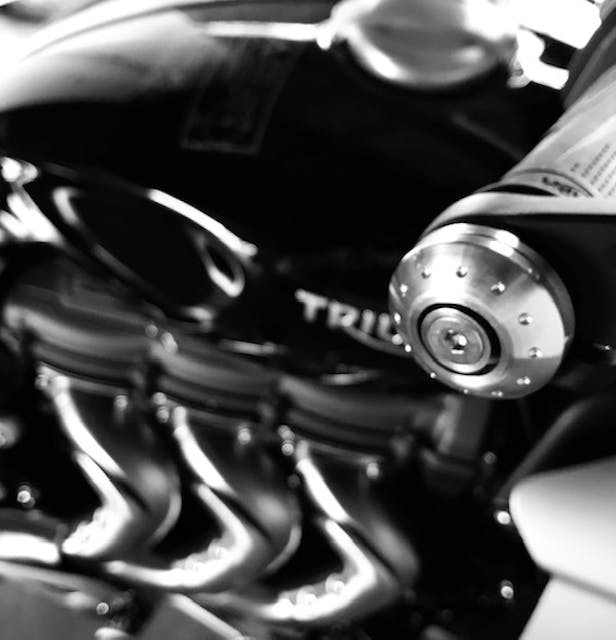 There's no need to change these bar ends, check out those beautiful little details!
Whack the throttle open and it's show time as the triple drives you into the seat. Perspective; The Rocket R has more torque than most small cars, yet is up to 5 times lighter than a small car!
Foolishly sporting an open face helmet, onlookers were met with a smiling, laughing aloud Mikey Mike, as the Rocket and I hurtled through corners. My senses were sent into overdrive.
I've ridden powerful motorcycles, 2 of which were supercharged, however the Rocket R is a clear stand out. It seems at any RPM in any gear you can twist the throttle and be found in the land of next Tuesday. Shifting through the 6 speed gear box is akin to a sports bike. Seamless changes without fuss or false neutrals ensure a smooth transfer of power to the shaft final drive.
Visceral pleasure best describes riding the Rocket R.
The chassis and suspension are superb. There's not the disconnect that you expect from a large capacity motorcycle. Connection with the Rocket is symbiotic.    
The Rocket employs Showa's large 47mm diameter adjustable USD front end. The rear suspender, also from Showa, is a fully adjustable piggy back reservoir unit. Spring pre-load is via a handily located hydraulic adjuster. This combination allows a feeling of confidence, no head shakes, nor does it feel like a marshmallow, far from it. Mid corner lumps, bumps and undulations were well damped. I didn't feel the need to fiddle with Triumph's standard suspension set-up.   The Triumph-Showa partnership is an excellent colab.  
To keep the excitement in check, twin 4 piston Brembo Stylema radial mount calipers grip, and grip they do, a pair of 320mm discs up front, while the rear 300mm disc rotation is calmed by a Brembo 4 piston monoblock caliper. Braking is also aided by the use of cornering ABS and adjustable traction control.   
A massive 150 section front tyre and 240 section rear look very much at home on the Rocket R and offer great balance and ease at all speeds.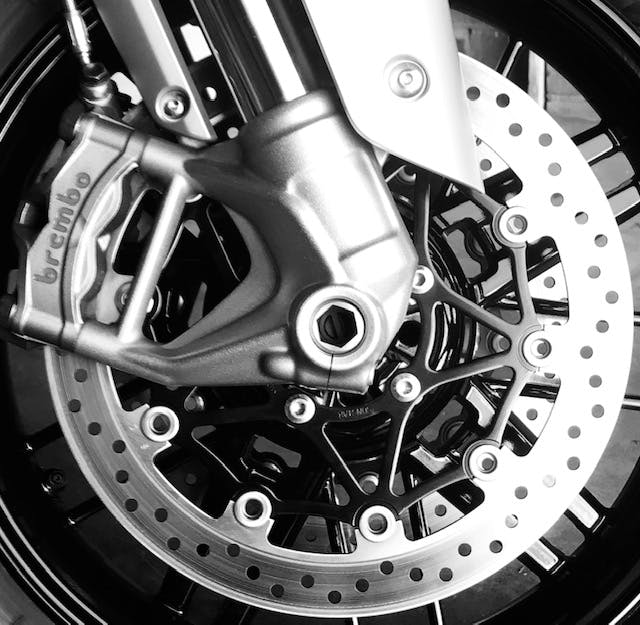 The beautifully sculpted Brembo Stylema calipers are designed to deliver a more immediate braking response.
This LED tail light will stop anyone in their tracks!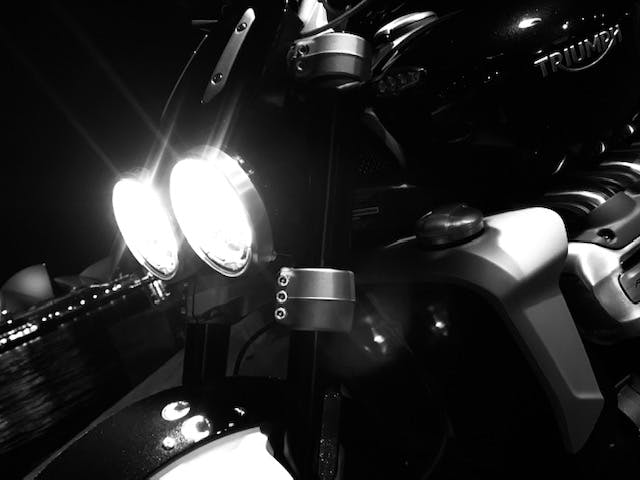 The classic twin headlights are LED, and bright enough to light up the dark windy roads.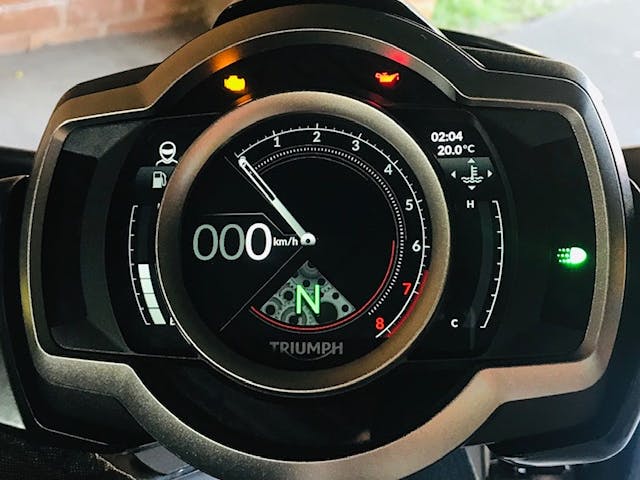 Just check out that dash! All shiny and new but still very much suits the beast it's on.
We are Friends Electric
Triumph electronics are at the pinnacle of motorcycling. The Rocket R benefits greatly from the extensive R&D. A comprehensive TFT display offers an abundance of information via a 5 way joystick. An IMU (Inertial Motion Unit) keeps the puppy on track, checking lean angles, speed, and braking.  Thus optimum traction control and cornering ABS is available when needed.  
Triumph's signature twin headlights, utilise energy efficient LED. Hill Hold Control is a gem and I made use of this several times.  The Rocket's key-less ignition uses a perimeter fob. For those unaware, pop the fob in your pocket, hop on, hit the start button, and go. No fiddling with keys to start the puppy. You can deactivate the perimeter setting at the touch of a button. For example, if you hit a café and you're close to your bike. Feel safe that no one can jump on and ride away on your Rocket. The steering lock is electronic and a button on the throttle side switch block allows for secure parking.
For a few extra dollars you can have Bluetooth connectivity, and it's worth the spend. Your GoPro video and photos can be viewed via Triumph's TFT dash display. Rider controlled switch gear will present icons to indicate GoPro status on your TFT screen.
Google have worked exclusively with Triumph in creating 'Turn by Turn', a navigation system accessed through 'My Triumph App'. It will cater to android and IOS phones. I'll report on its functionality in a later blog.
I spoke to Triumph Australia HQ as I heard that Triumph were developing their own range of rider airbag jackets and vests. These would be mated to your Triumph via Bluetooth. Actuation would be via the bike's telemetry, and in the event of something untoward occurring, deployment would be instantaneous.  
After a chat I discovered that development is on hold and Triumph have focused attention elsewhere. This is not to say we won't see the end products.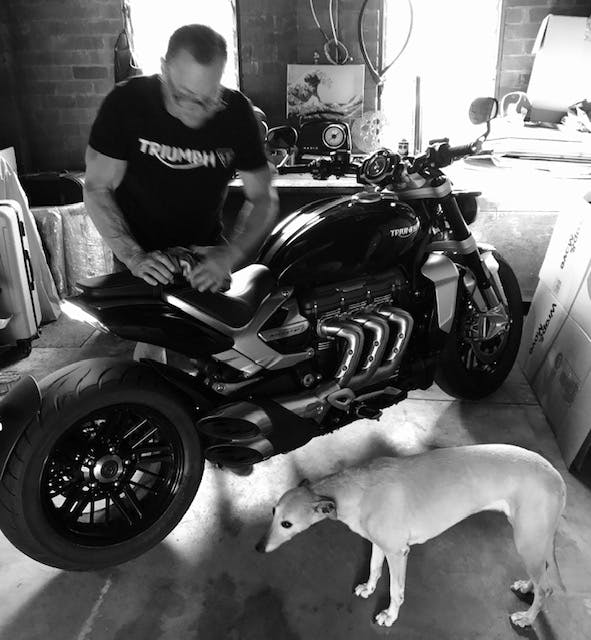 Checking out the Triumph Rocket 3 R in my garage with my trusty helper Minka by my side
Triumph offer over factory 50 accessories for the Rockets, so you can make your Rocket truly bespoke. I've highlighted a few of the features of the new Rocket 3R. Discover more via the spec list provided here.
Feel free to call into the Bikebiz showroom and discover the Rocket's beauty within the beast.
I would own this motorcycle in a heartbeat. The quality of fit and finish are to be applauded. No last-minute touch ups or add-ons. The Rocket 3R is a work of art, and has the science and tech to offer us mere mortals something truly out of this world.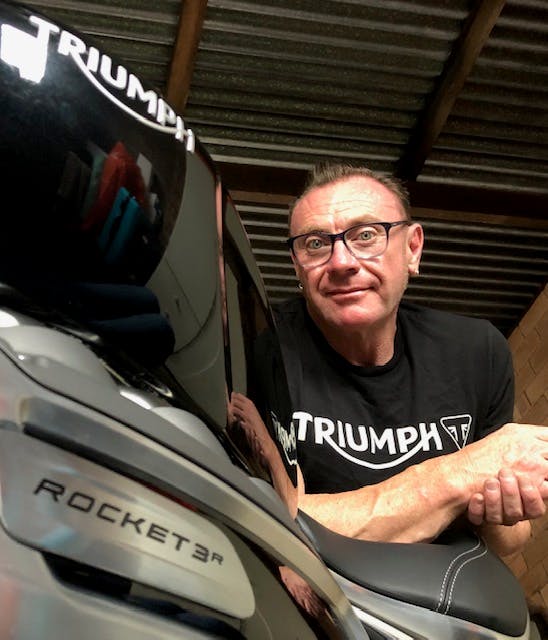 No good story can end without a selfie between writer and motorcycle.
This is just one of the many reviews Mikey Mike will be doing, so keep an eye out for more!