Letting in the outside
The helmet. The lid. It's the office. For me it has always been where I go to escape. Once it's on, I'm alone. Communication is limited to nods and gestures.
I love it. I've worked out a lot inside my head, inside my helmet on long rides over the years. As a person who's very much comfortable with his own company, I've always cherished the idea of putting on the lid, locking out the rest of the world and being alone with my thoughts. I can contemplate, meditate, ponder and plan, isolated inside a comfortable bubble.
But of course all that is changing.
Bikebiz sent me an AGV K5 S helmet in the FireRace colour scheme. But there was another box as well…containing an AGV Ark communicator. Oh shit. Is this the end of my bubble of isolation?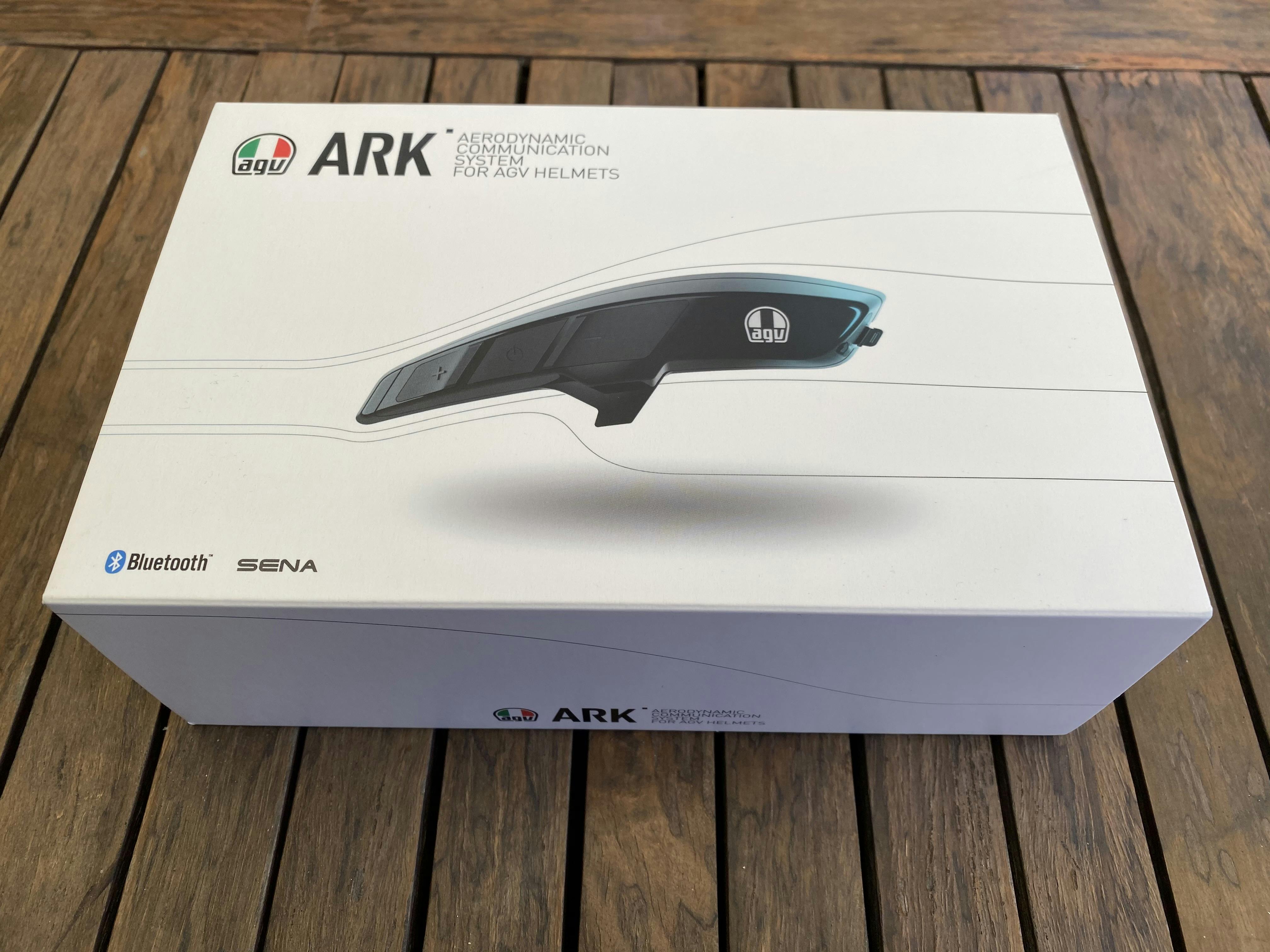 It's right there on the box. One of the world's great helmet makers meets a leading comms maker meets...Bluetooth
Don't panic. Let's talk about the helmet first…
Right out of the box, the AGV K5 is a very nice lid. AGV aren't exactly new to this helmet shenanigans and this one ticks a lot of boxes. The finish is deep and flawless. Visor actuation is snappy and positive. In fact there's a selection of pre-tensioner inserts included with the helmet so that you can customize just how snappy or smooth you'd like it. Two out of three vents are simple and easy to operate with gloves on. (Although the rear sliding vent catch might make you look like you are trying to pull your own head off if you use it while wearing the helmet.) The lining is plush and deeply padded. And as a person who is glare sensitive to the point where I suspect that I might have a vampire as a distant relative, the K5 S has one of my very favourite features – a tinted, drop-down visor. Lovely.
There was a pinlock insert included with the helmet, so I removed the main visor (easy) and fitted the pinlock, which is a 5-minute job. If you've never enjoyed the fog-free bliss that a pinlock visor provides, you don't know what you're missing. In my opinion pinlocks are mandatory for safe, fog-free winter riding. You can even read our past blog on pinlocks here.
So, with everything fitted up, let's ride! The first revelation on doffing the K5 is that the damn thing fits. Should that be a surprise? Well, I've owned a lot of helmets and traditionally the only brands that fit my big, square, Germanic noggin are Shoei and Shark. I've tried on a dozen AGV's and I even own an AGV Rossi replica, but I never wear it because AGV's always seem to press uncomfortably hard across my forehead. But not this one. It's not quite instantly comfortable in a 'I could ride interstate wearing this right now' way, but it's pretty good apart from a bit of pressure felt on the sharp corner of my jaw. In my experience, AGV helmets are generally 'shallower' than some, with a slightly scooped cut to the lower helmet edge that the brand refers to as a 'collarbone safe' profile. So where some brands put your jawline up well inside the helmet padding, in an AGV my jaw is lower and some pressure bears directly onto it. Time hasn't proved this to be a problem, and of course this all depends on the shape of your head, so the usual caveats of 'try before you buy' apply.
I've put in quite a few decent city, hills and open road rides wearing this helmet and I have to say it's hard to fault the K5 S. It's light – lighter than my daily go-to lid, which is a Shark Speed R. It remains very comfortable. It's reasonably quiet inside. There are no real surprises, and for the most part it just works.
The top vent and rear 'exhaust port' are easily opened and closed while wearing gloves. The chin vents? That took some working out. These open and close using a catch inside the chin bar, right at the front, hidden above the noise-reducing fabric chin curtain. Unless you have fingers like an alien, you're gonna struggle to operate this on the fly, and with gloves on it's even tougher. Best sort it out before you ride. The good news is that once they are open, the vents on the chin bar give amazing airflow, better than any helmet I've tried in a long while.  
The visor, while not as thick and sturdy as those on the Shark lids I'm used to, is perfectly decent, with just a bit more flex. A welcome little touch that makes a big difference in visor use is the button at the top of the chin bar that can be pushed up to 'break the seal' of the visor, easily opening it that first little crack. This is a great, practical feature that makes a big difference to everyday usability.
This brings me to the tinted inner visor. It's actuated by a lever/button that lives at the rear of the main visor pivot on the left side of the helmet. It's a small lever and not initially easy to find with gloves on. Push it up and the lever moves through just a centimetre or so of travel to drop the visor, then push down to lift the inner visor out of view again. Small lever, decent push needed. You get used to it after soon enough, although it's not quite as easy or intuitive as the Shark system that uses a button on top of the helmet that runs through a long slot - easier to find and less effort needed.
Oh, and be aware that the tinted inner visor combined with the pinlock system leads to a view that's not quite as panoramic as with just a single, clear visor – there's a 'framing' effect caused by the edges of the tinted visor as well as those of the pinlock. Of course this is the same as in any helmet with both a drop-down visor and a pinlock, and personally I'm not bothered by it.
Overall, I'm very impressed by the K5. AGV position it as a 'sport touring' helmet but its light weight, quality feel and features put it up alongside some more expensive sporty helmets on the market. There's certainly nothing cheap about the finish or details.
Speaking of details, clean freaks will be happy to know that it's a simple job to remove the helmet lining when the time comes to wash it, a welcome feature when a string of warm rides can leave things inside a bit less than fresh.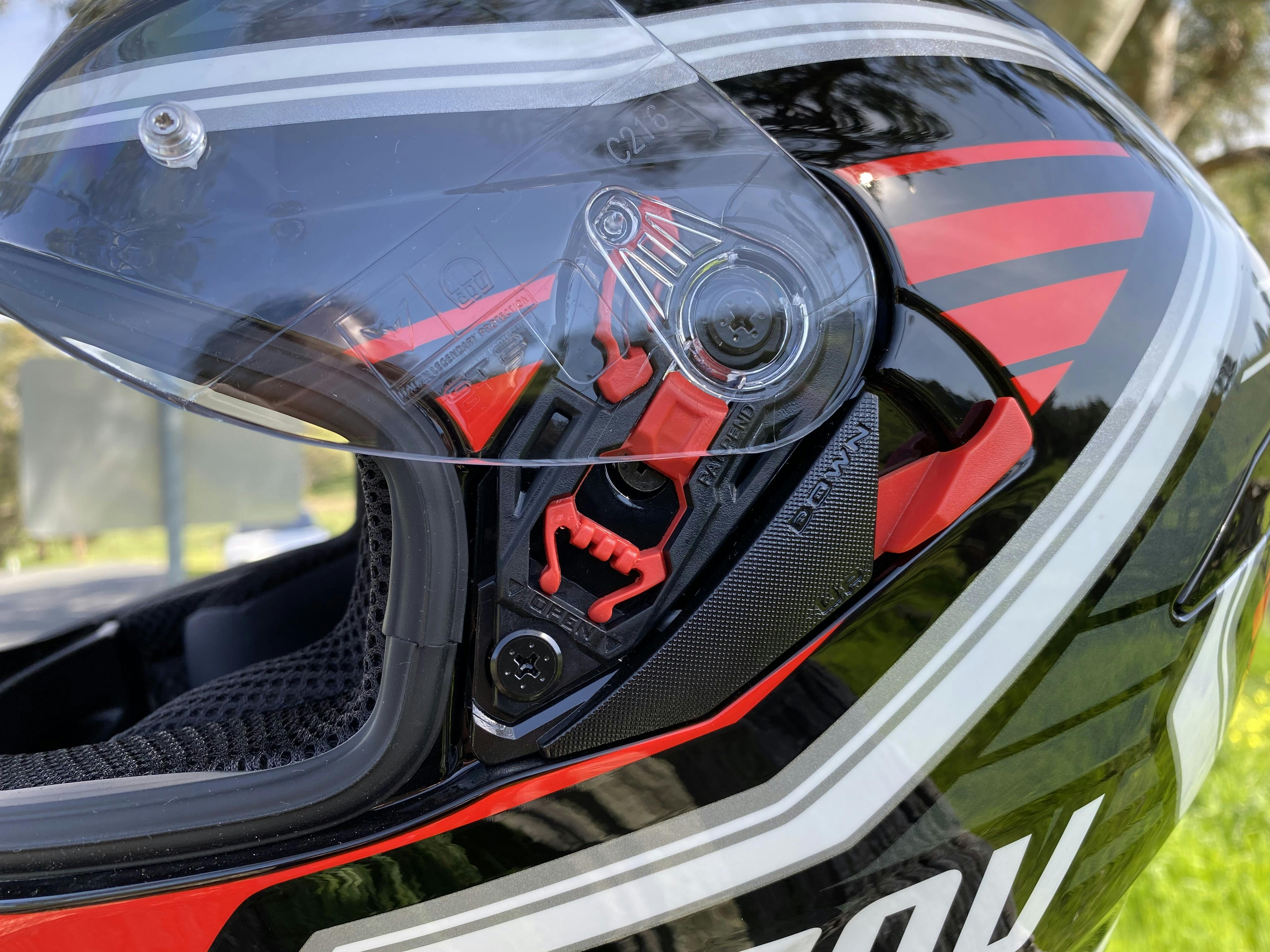 Firmness of the visor ratchet can be adjusted using extra widgets (the little red 'M' shaped things) included
The AGV ARK Communicator
It's a name that would make even Tony Stark proud, isn't it? That said, you don't see Tony Stark farting around, tearing the lining out of the lid from his Ironman suit to fit speakers and microphones, do you?
In essence of course, the ARK Communicator is designed to allow you to pair with your smartphone, get on the bike and make phone calls from inside your lid, speak to similarly-equipped pillions or riders using the intercom function, listen to FM radio, listen to your own playlist, use navigation Apps (my favourite feature) and contact the international space station while riding.
The ARK Communicator comes in the sort of packaging that Apple made famous – it's all very primo quality, designed to make unboxing something of an event. There's the Communicator unit itself, a mounting plate, a template to help you align it properly on the helmet, bags of speakers, wiring, microphones and sticky stuff, and some instructions.
I decided to break my own primary rule this time around, and read the instructions. I even downloaded the full User Manual from the AGV website.
I reckon if you can build Swedish flat pack furniture, fitting the ARK Communicator is no biggie. It helps that AGV's K5 S is designed to accommodate all the electrickery. Perhaps the trickiest part is sticking the Communicator mount to the left side of the lid in just the right place – a case of measure twice, stick once. It helps to poke your tongue out of the corner of your mouth just right.
That done, the helmet lining is easy to remove and the rest is simple – a speaker velcros into each ear pouch, a microphone tucks into the chin bar, it all connects neatly enough to the Communicator itself. The result is something that looks and feels very much like any other helmet; neat, with not so much as a dangly wire to be seen.
Instructions to get started via the Quick Start Guide are straightforward. Amusingly, a female voice greets you with "hello" and 'goodbye" when you power the unit up and down. Bluetooth pairing with my iPhone 11 was easy and quick. I was a bit concerned about being able to find the '+', '-' and 'home' buttons on the Communicator while riding while wearing gloves, so I did some rehearsals in the living room to the great amusement of my family. Mostly my daughters gave me crap about the radio stations I was pre-setting.
The Communicator unit on the helmet has three rubberized buttons, with '+' at the front, '-' at the rear and the main actuation button in the centre. The two outer buttons have a ramped shape that guides your gloved finger to the middle position so that orienting yourself is easier while on the move.
I put my phone in the top pocket of my jacket and hit the road. I quickly found that the suburbs are no place to be thinking about how long to press which button to scan radio stations or change volume settings, so I headed for the open road. Better. Functions like scrolling through radio stations come easily enough if listening to the radio while you ride is your thing, but it's the voice-controlled, phone paired functions I was really looking forward to. Phone calls, navigation, listening to my Spotify playlist. And this is where things get a little bit patchy. It turns out that Siri doesn't really get along with naked Italian v-twins at highway speeds. Or, as it happens, any speed. Even with helmet vents closed, voice control is a hit-and-miss affair. Reliable results demanded that I pull over, switch off the bike, ask Siri to make my phone call, navigate or whatever, and then take off again once everything was underway. Of course that's still a hell of a lot better than stopping, taking off gloves, removing the lid, making the call with phone to ear and then getting back on the road, but voice actuation while riding would be ideal.
The good news is that once a call was made, most of the people I phoned from the road didn't even realise I was riding. In fact the person receiving the call invariably fared better than I did, commenting on how clear and sharp my voice was. At my end, inside Starship K5, conversations were a little more strained, with full speaker volume needed in order to reliably hear what was being said. I'll let you decide whether expecting to chat away nonchalantly at highway speed while astride a roaring 1000cc naked bike is a fair test. For what it's worth, I also gave the system a go while riding my GSXR and the results were very similar - but then, the GSXR has a windshield the size of a thumbnail and offers very little shelter. I suspect that if you ride an adventure bike with a big, barn-door windshield, you'll fare much better in the areas of voice actuation and phone calls.
So, music is decent, phone conversations are okay, but for me the game changer using the ARK Communicator is navigation. I'm aware that there are plenty of riders who demand full colour touch-screen nav gadgets, but I'm a sports rider and I don't want all that – all I ask is for some clear audio cues on where to turn and which exit to take. For this, The ARK is perfect. I love being able to keep my eyes on the road and concentrate on my riding, confident I'm not about to get lost and waste time backtracking.
The other person who's quite enthusiastic about the ARK Communicator is my wife. While she's not the sort of person who'd call me in the middle of a ride to rattle on about what's for dinner, she does like the idea of being able to call me if I'm running late and check that I'm still alive.
With the ability to make calls, listen to the radio or your own playlist, use navigation and much more, the ARK Communicator has a lot of potential if riding connected is your thing. The basic three-button control is easy to learn but with a host of functions on tap such as speed dial, radio station preset scrolling and scanning, I'd strongly advise that you rehearse these at home before setting off on the bike. It would be all too easy to become distracted while learning the system and wind up in the back of an SUV via the rear window.
While I didn't get a chance to test the intercom function, the Sena brand that underpins this whole system is a well-established name in bike intercoms and there's plenty of info available online about its functionality in this regard.
I haven't managed to drown the Communicator on a rainy ride yet so as expected, it's real-world weather resistant. The battery lasts for ages between charges, which are done via a supplied USB cable. Now that I have the Communicator installed, I find myself happy that it's there. While I don't listen to music on every ride or even make phone calls regularly, I especially love having the ability to use phone navigation cues and answer phone calls from time to time. And at the end of the day, if I choose to retreat back into my bubble, of course I can always just switch it off.
AGV K5 S helmet – features at a glance
Carbon-fibreglass shell
Weight approx. 1390 grams
5 front vents, 2 rear extractors
Integrated rear spoiler
190-degree horizontal field of view
Tool-free removable Multistep visor with Micro Opening System, pinlock and Multi Step visor mechanisms included
Internal drop-down sun visor
Removable, washable interior featuring Ritmo and Shalimar fabrics as well as Microsense comfort
Removable noseguard and wind protector
AGV ARK Communicator ready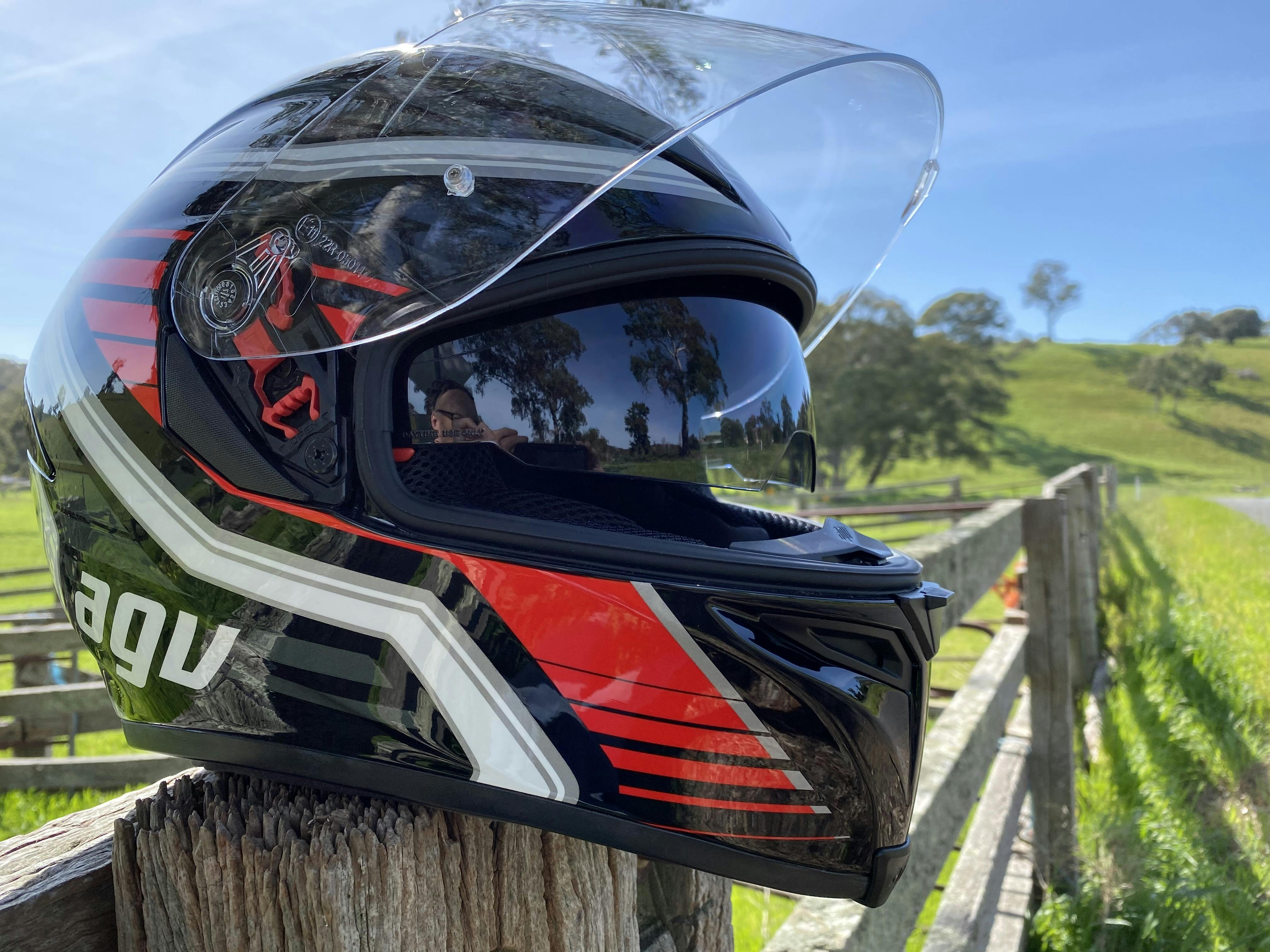 Tinted inner sun visor does not come standard with reflection of a hairy man taking a photo
AGV K5 - what works and what irks
The good
Beautiful finish and build quality
Light weight - always welcome
Drop down sun visor and included pinlock - no need to buy a pinlock
Removable, washable interior for reduced summer post-ride grossness
Amazing airflow from chin vents
The Micro Opening system easily unlocks the tightly sealed visor.
The not-so-good
The 'collarbone safe' shell shape might affect fit and comfort for some head shapes
Awkward internal catch that actuates the chin vents is hard to access and use while on the bike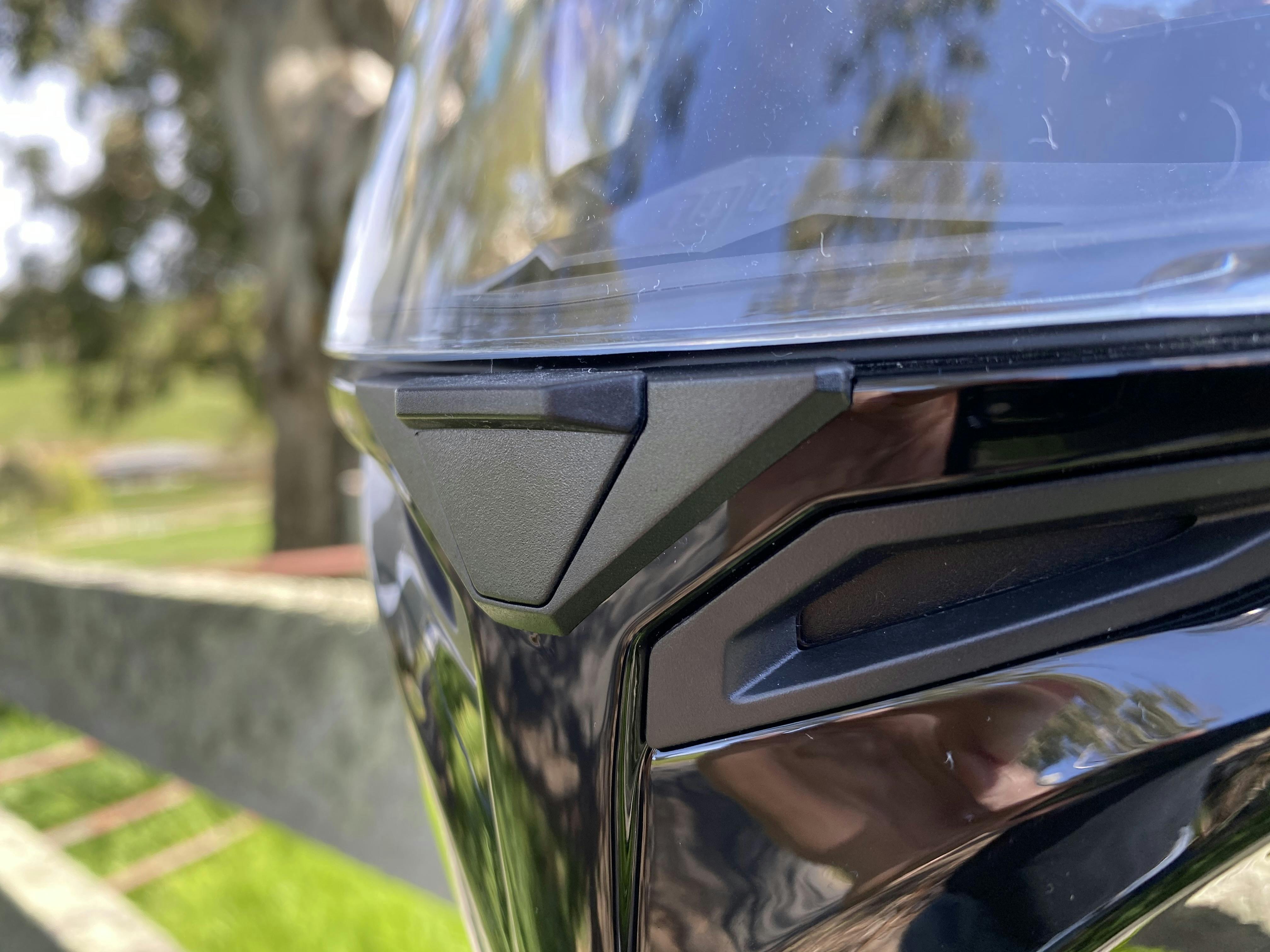 Nifty central button pops visor open just a crack. Twin chin vents flow lots of air
AGV ARK Communicator – features at a glance
Designed to fit the AGV K5 S
Microphone options to fit full face and open face helmets
USB charging with included cable
Intercom function
Phone pairing via Bluetooth
Phone calls via voice dial and speed dial
Integrated FM radio tuner with seek, scan and station presets
Music track, skip and pause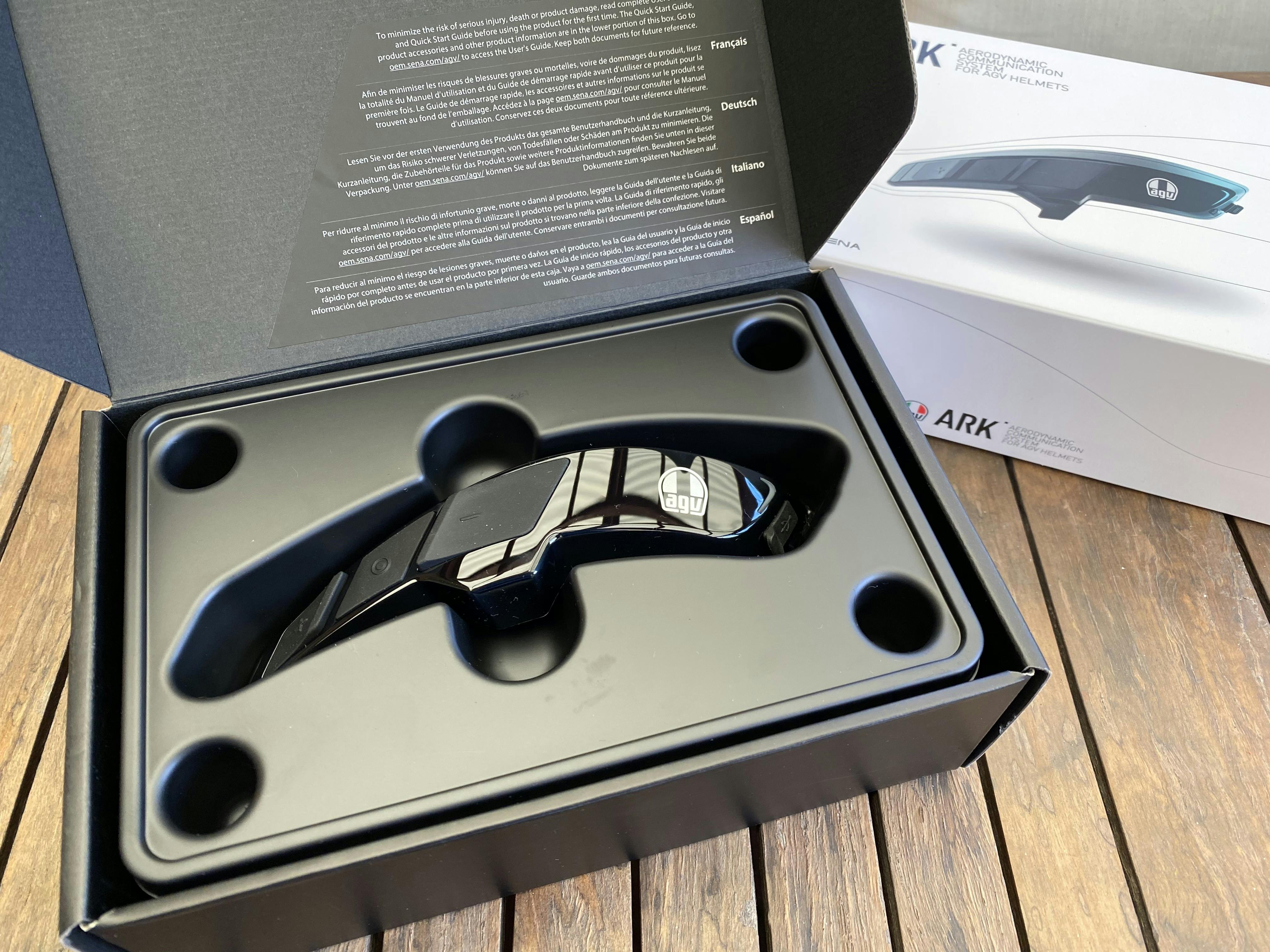 The AGV ARK Communicator is cossetted in premium packaging worth of Apple
What works and what irks
 The good
Simple to fit with easy connections
Looks at home on the AGV K5 S
No visual or comfort impacts on helmet interior
Basic features are easy to use
A broad range of functions and features for music, phone use, navigation and intercom
Call recipients report clear caller reception with very little noise
Unaffected by showers
 The not-so-good
Voice actuation functions can suffer on a naked bike…
…likewise speaker sound must be cranked up to be heard properly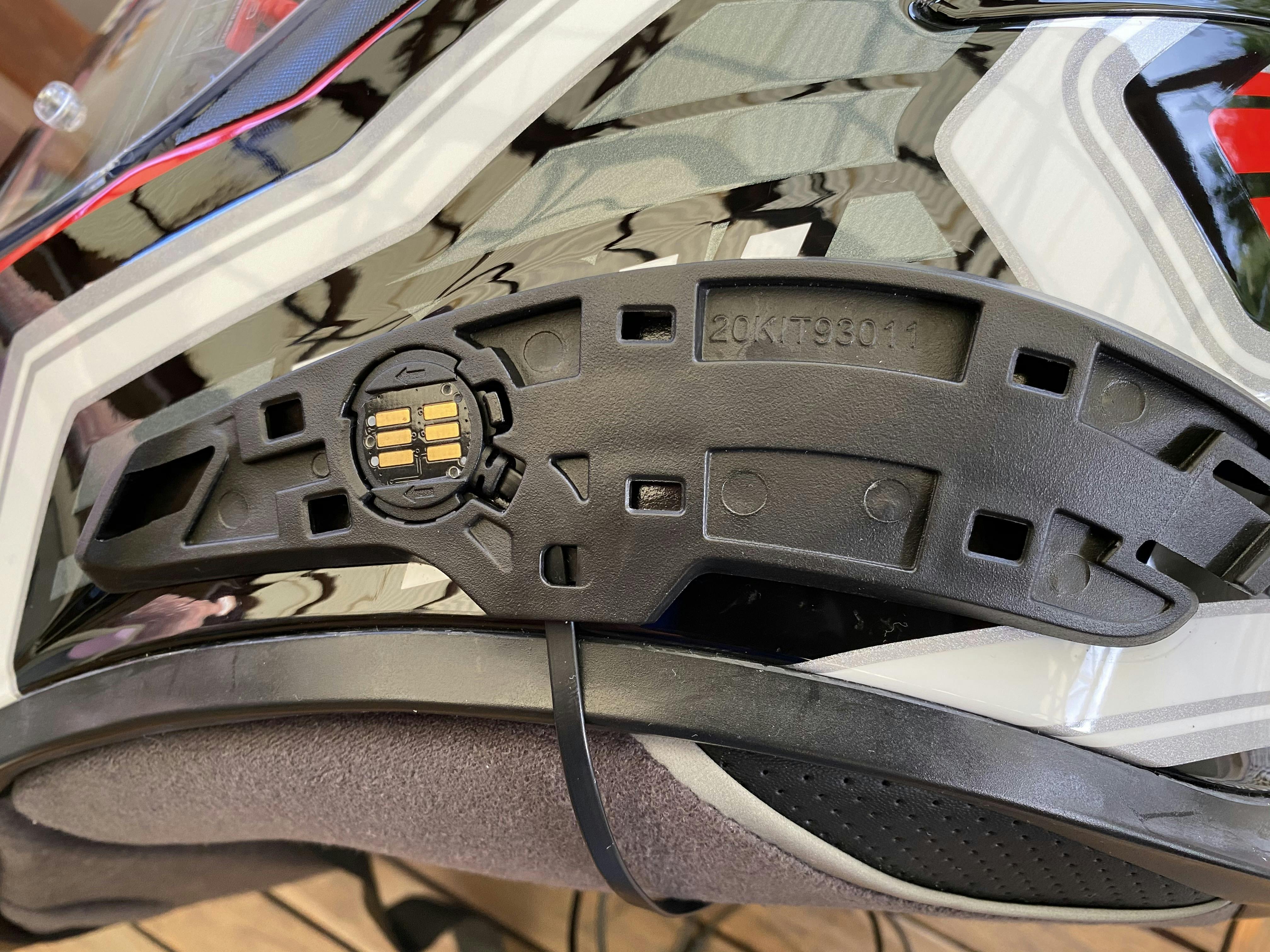 With the mounting plate stuck to the helmet, the communicators simply clips on. Easy
Summing up the package…
The AGV K5 is a lightweight, high quality helmet that's generally a joy to own and use. It's a handsome piece of kit inside and out, with a welcoming interior and an impressive features list. Helmets today - even in the 'reasonably priced' category - must bring a lot of features to the party in order to be competitive, and the AGV doesn't disappoint. The drop-down sun visor and included pinlock give this lid great all-seasons wearability and the removable, washable liner is easy to take out and re-fit without you ever having to feel like you're on the brink of destroying your nice new helmet in the process. Everything, with the exception of the silly internally actuated chin vent catch, is easy to use and live with.
The AGV ARK Communicator has been created for the K5 S. Fitting is easy, use of the unit only slightly less so, but I feel like in 2020 a comms device should be able to cope a little better with voice actuation tasks at road speeds, even on a naked bike. If most of your riding is around town you'll cope better, just be aware that unless you have a big windshield to hide behind when you head out on the highway, your requests directed at Siri or Google or whoever might fall on deaf ears until you slow down or even stop.
Overall, the AGV K5 S with the ARK Communicator is a compelling package that I suspect will tempt plenty of people to move to the dark side and opt to ride connected. I won't blame you, just don't blame me when your partner calls while you're riding and asks you to pick up a few things from the shops on the way home. Ask me how I know…
The AGV K5 S is available online or in store at Bikebiz at $579.00 in sizes small to extra-large and enough colour options to make you dizzy. The AGV ARK Communicator is also available at Bikebiz for $399.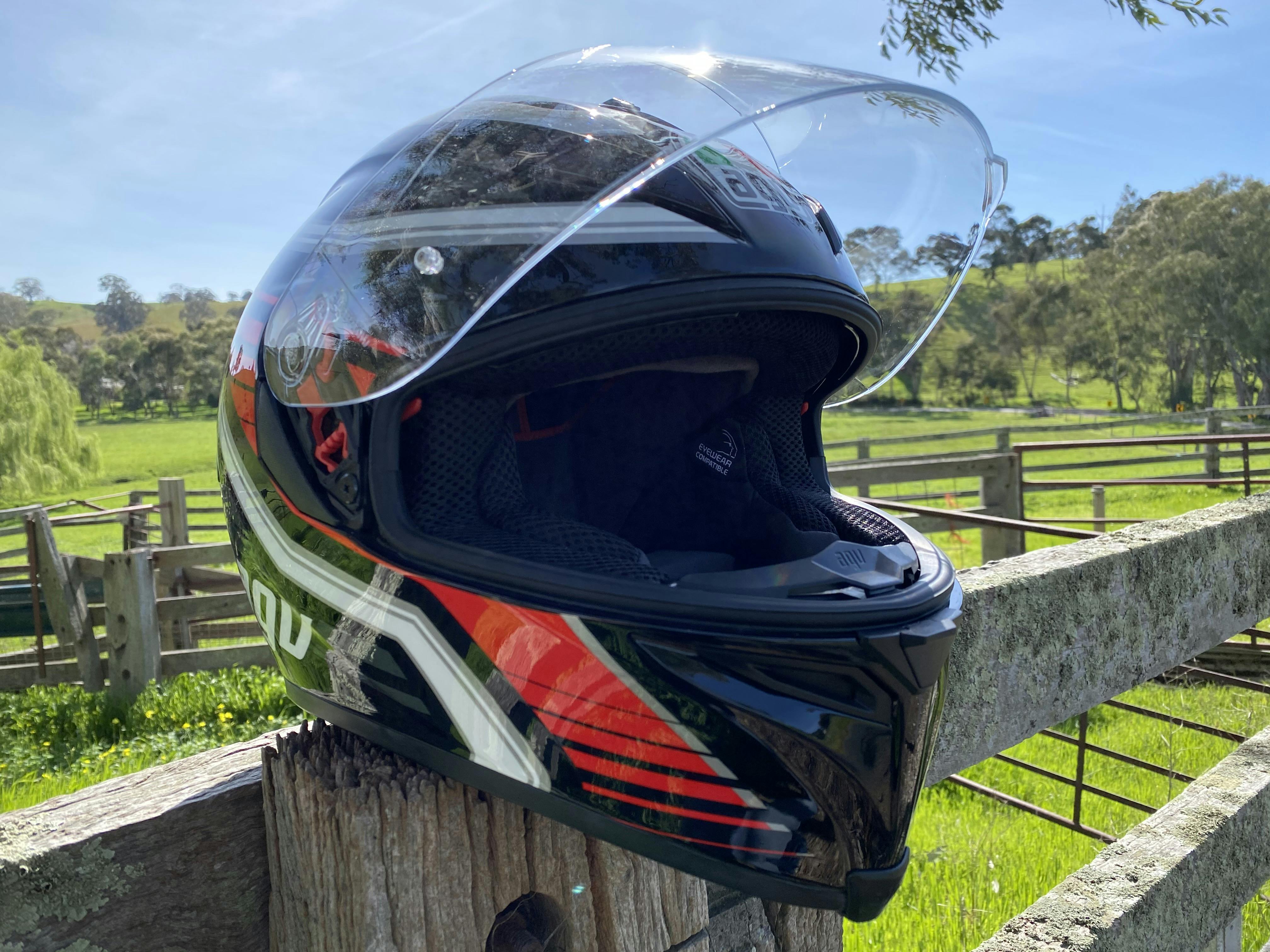 The AGV K5 S is a good looking helmet from any angle