Just because the MT-03 is the baby of the Yamaha Maximum Torque family, does not mean it should be easily dismissed. This baby has enough toque to keep anyone happy! 
Yamaha have brought out a new 2020 MT-03 for us to enjoy this year, and I got to borrow one for a few days!
When I was asked to review this bike, I was thinking, how am I going to do that?! I'm a fully licensed rider and this is a LAMS bike. Then I remembered that after a 2.5 year jaunt overseas where I didn't ride a motorcycle at all, I would at least be able to channel my inner leaner as I essentially try to remember how to operate one of these two-wheeled vehicles again.
Let's break the bike down from what you see when you first look at it.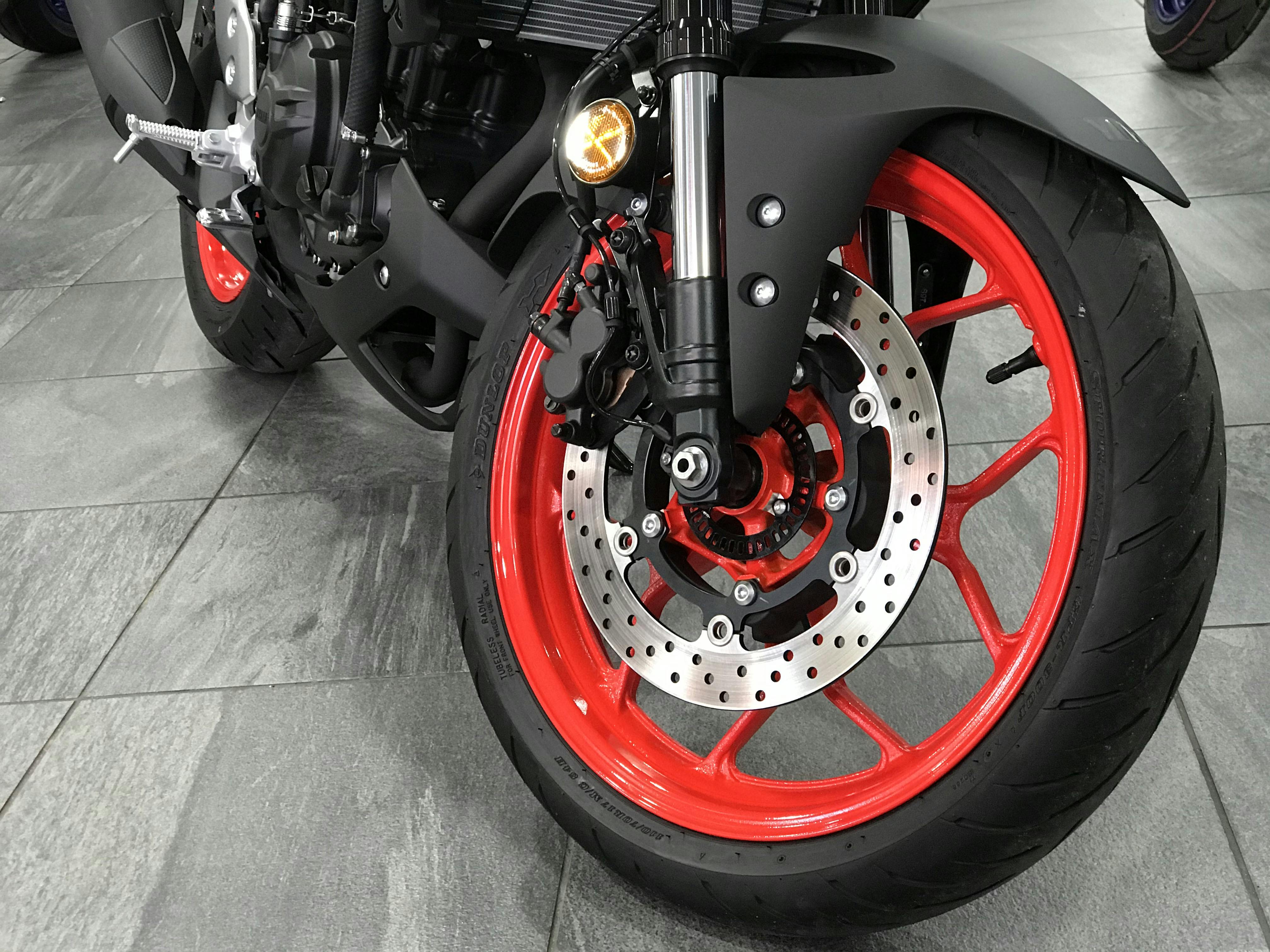 I love this colour rim so much!
The 2020 MT-03 is sporting a new look which definitely turns heads. Sharp lines in areas like the new air scoops, and the newly shaped fuel tank create an aggressive "Who you lookin' at punk" feel. Pair this with the slanted-eye headlights and this bike is giving me some big-boy vibes! The MT-03 has the faithful 321cc engine that you know and love from its sibling, the R3.
The new LED headlights, paired with the LED indicators and tail light that now come stock with the MT-03, means that you will light up the night where ever you are. No more wanting better globes, you'll be able to see what's in front of you no matter the time of day or night.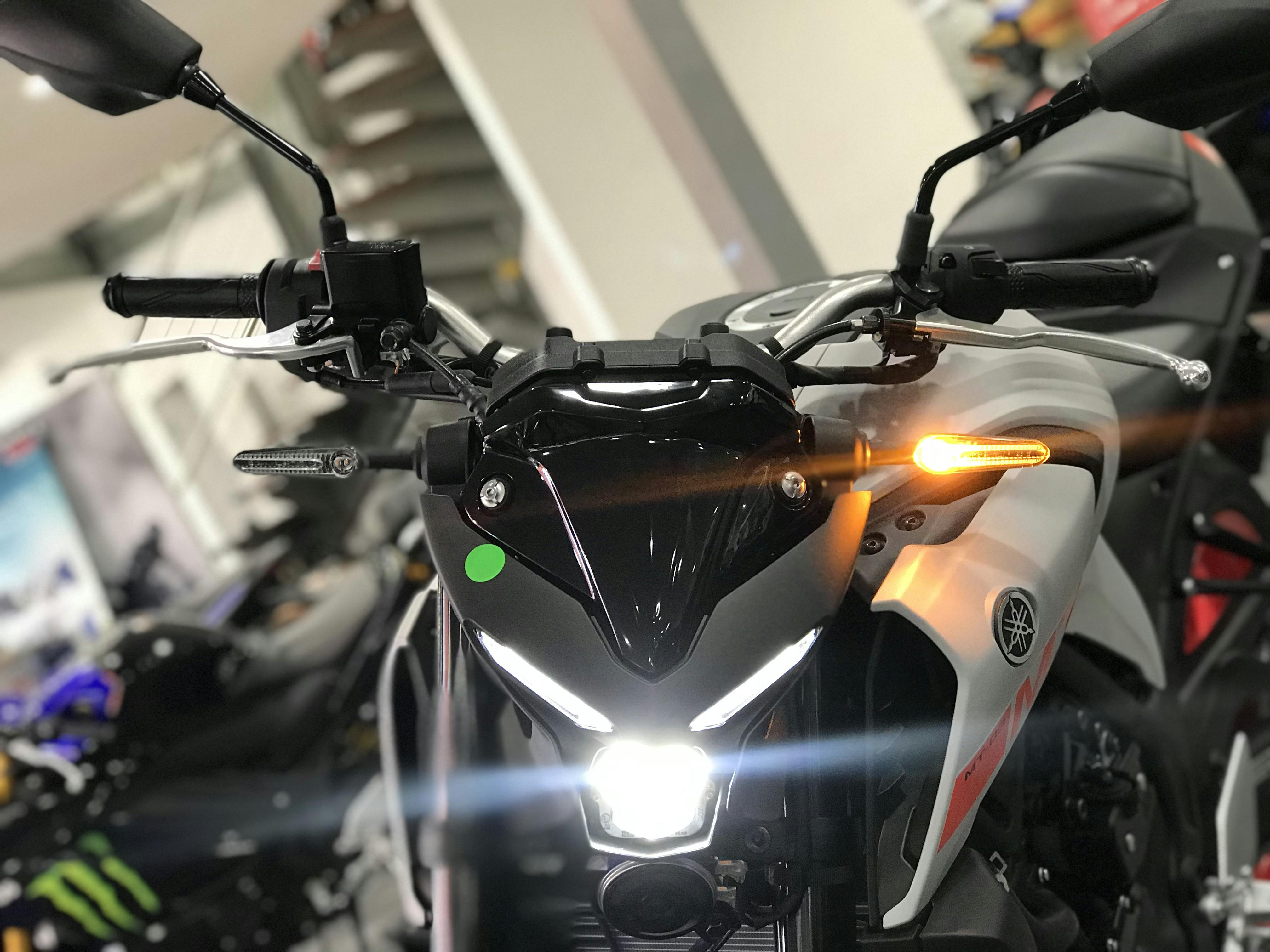 The MT03 has aggressive lights that will light up any dark road, as well as blinkers that can be seen a mile away.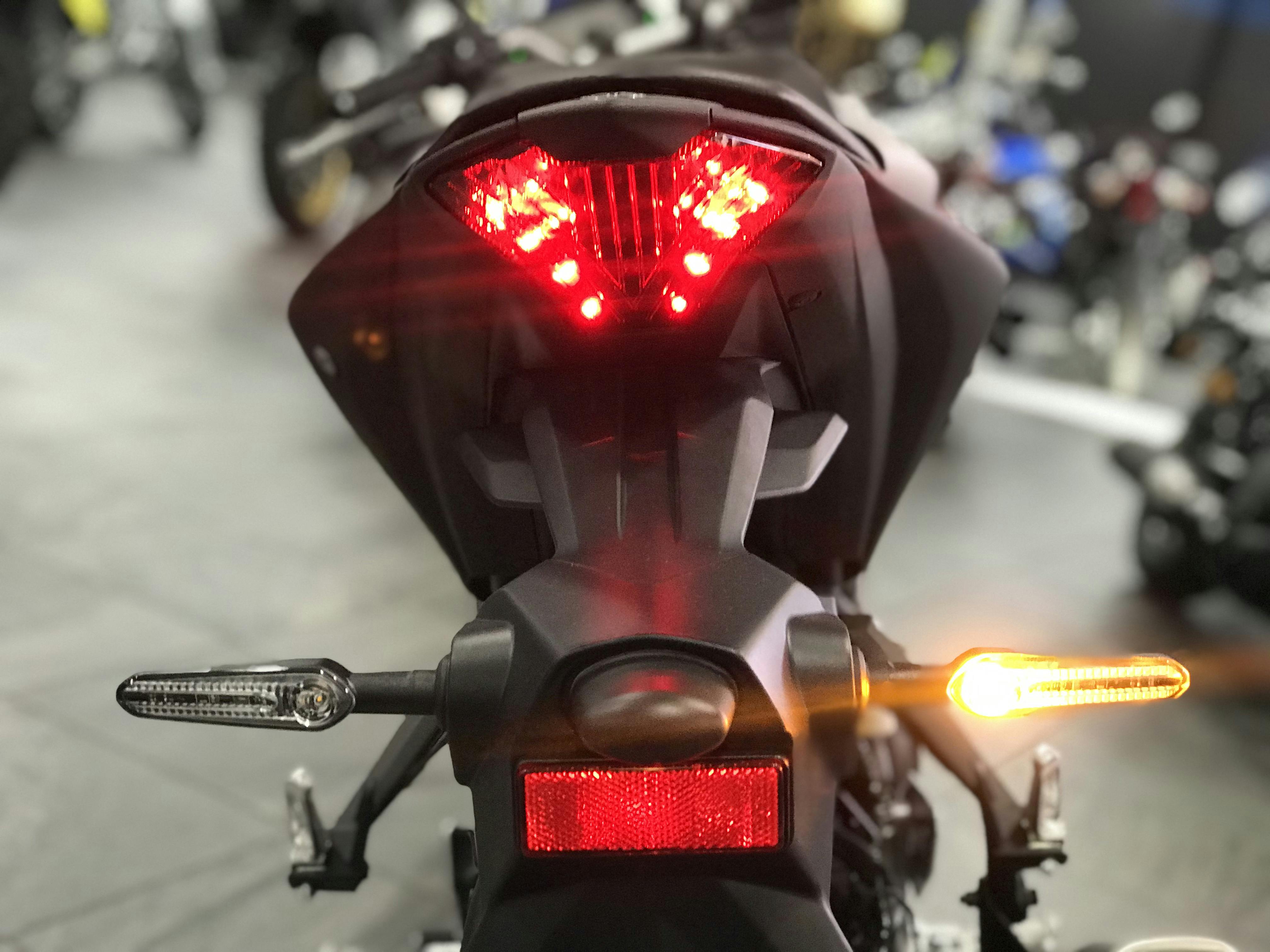 The bright LED rear light will be seen by anyone who may be behind you.
Now whether you're looking at a 300cc learner motorcycle because of its physical size or it's capacity, you're probably also looking for a lighter bike as well. Lighter bikes are easier to manoeuvre on the road, and are also easier to hold up at the traffic lights.
Yamaha is known for being taller than other brands. If you are after a small motorcycle that is easy to touch the ground, something like the Kawasaki Ninja 300 may be more your cup of tea. So you get the idea, I'm 5 foot 1. When I first sat on the MT-03, I was surprised with how tall it was and how big it felt. Thankfully it was light enough for me to hold up on one leg so I could balance easily at the traffic lights.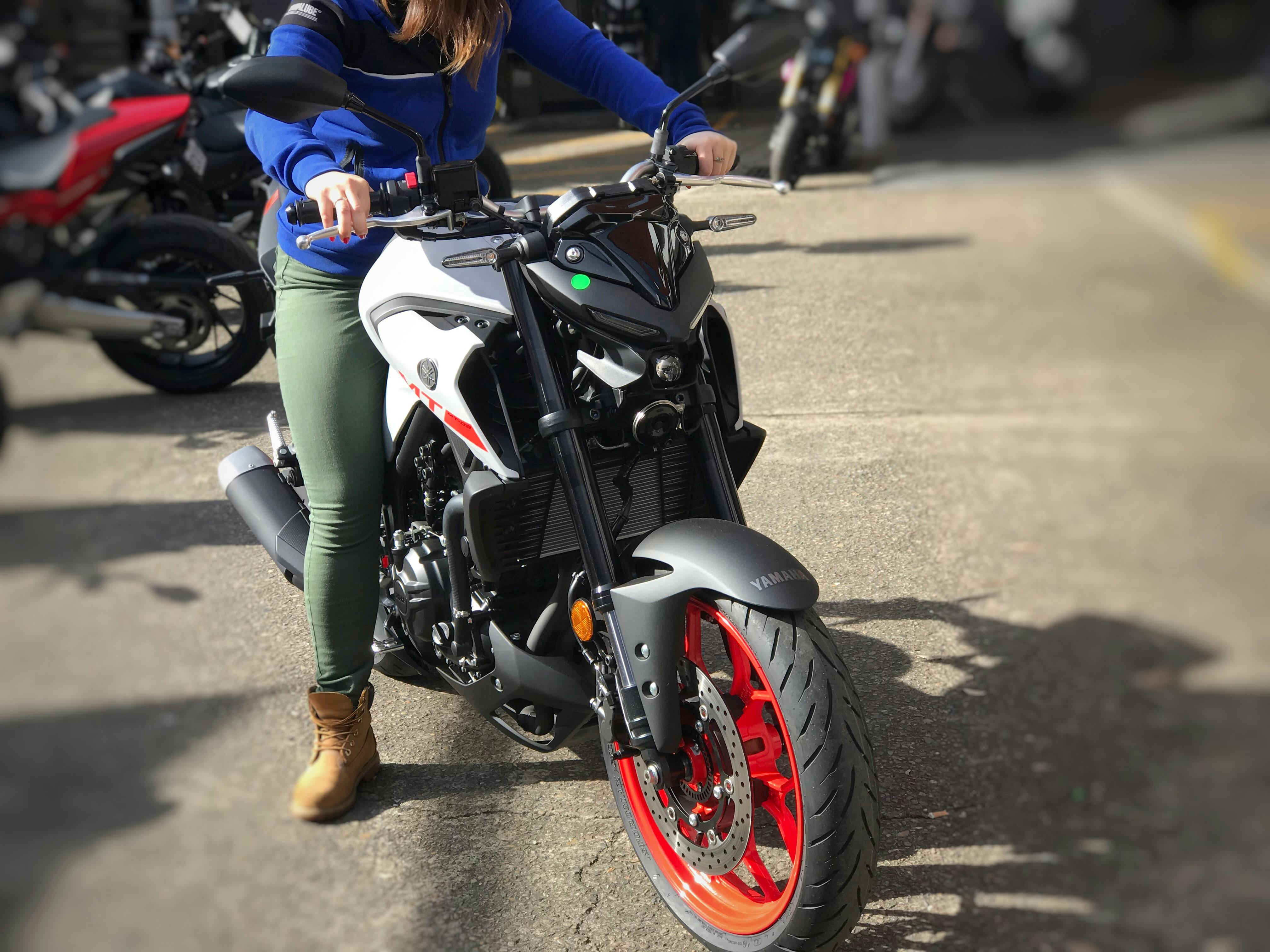 Standing practice in the carpark.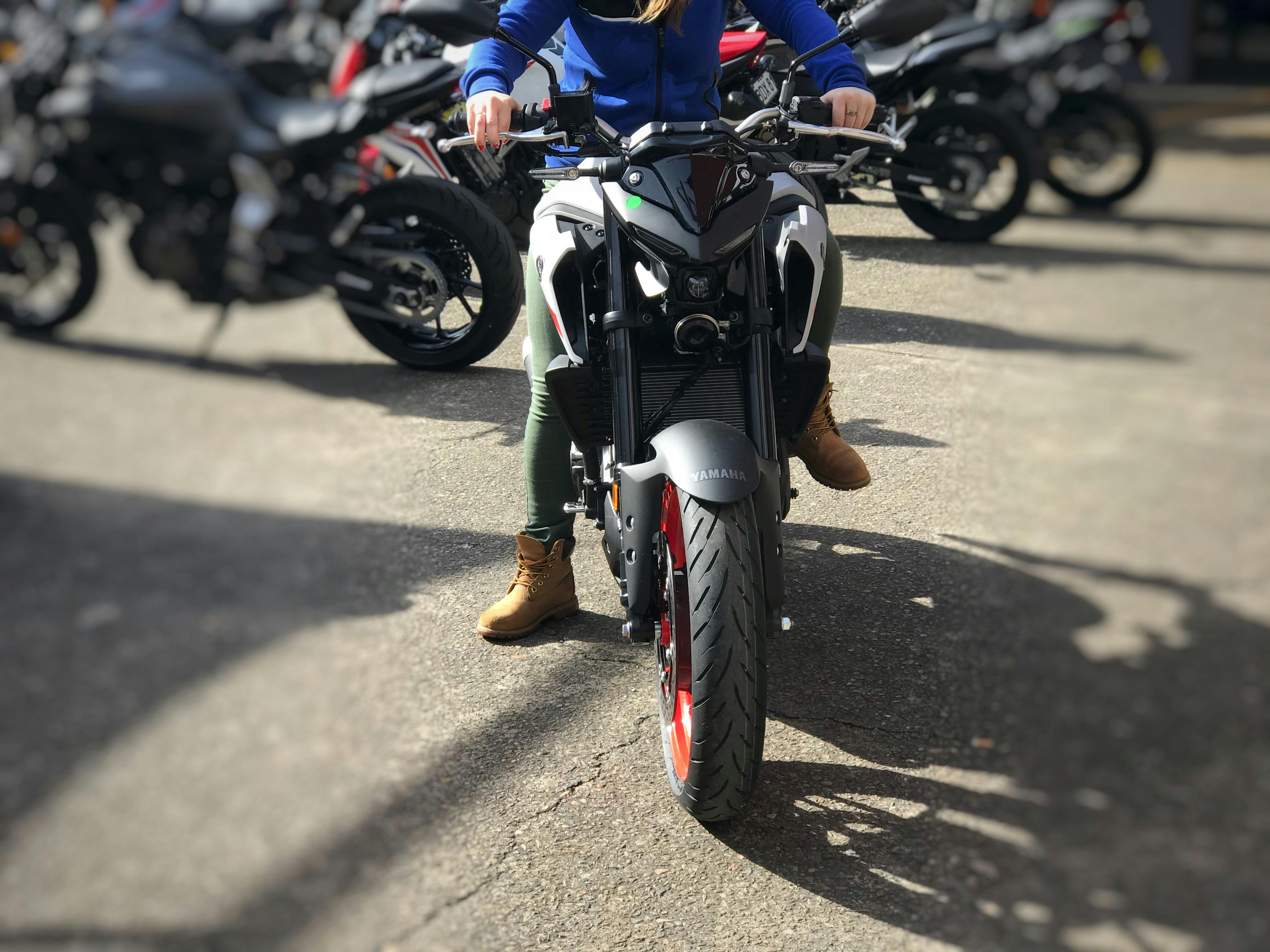 I could definitely hold up the bike on one leg comfortably .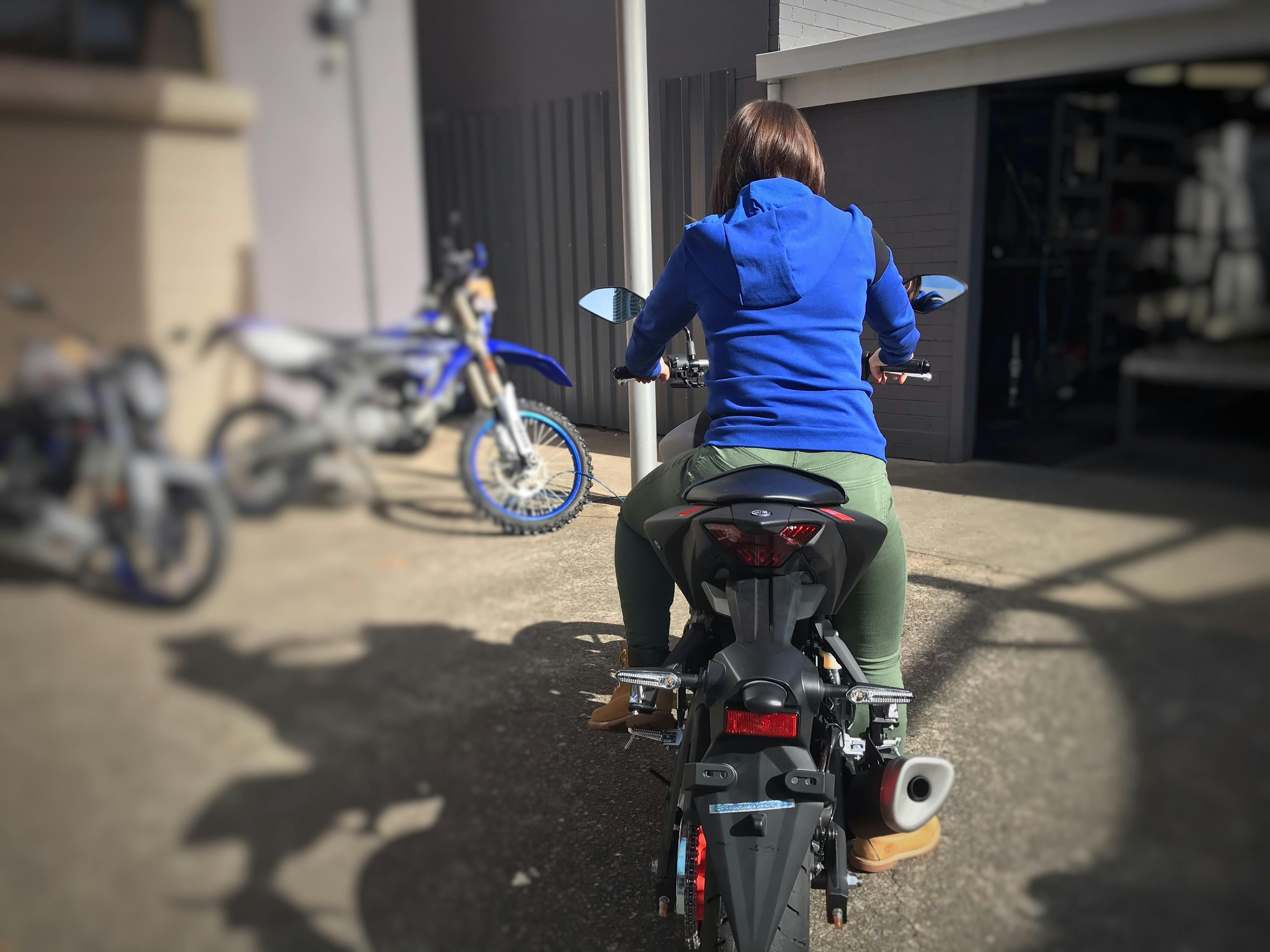 Ok, so I wasn't square on the bike but could still hold it up strongly and easily.
Jumping on the bike, I'm more comfortable than I thought. You're probably thinking, well duh Prue, it's an upright naked bike! Yeah yeah yeah I know, I'm more used to my old ZX6. However little legs mean little arms. The lean forward wasn't ridiculous and felt pretty good!
I first took the bike for a ride late at night. It is a naked motorcycle so I wasn't expecting any protection from the 8 degree night. She handled like a dream though! Zipping through the cars on the highway was too easy. I know its a 300cc on a 100km/h highway. I had fun!  
The next night, I hit the evening traffic after work. Being fully licensed, it was lane-filtering city! As I manoeuvre the MT-03 through the lanes of traffic, I can fit comfortably through most gaps between lanes.
Breaking into the corners felt like a dream, and the acceleration was so smooth! All this had to be thanks to the new upside-down forks and the flex-resistant 37mm tubes and cast aluminium upper triple clamp. ABS as standard, combined with the 298mm front brake disc and the 220mm disc at the rear made me feel comfortable hitting the brakes when needed.
Oh the new LCD instrument panel! So pretty and shiny! So bright! So much information, looking so stylish and so easy to read. It's got everything you need right up front. Little things like the fuel gauge and what gear you're in (great for learners) were clear and easy to spot straight away.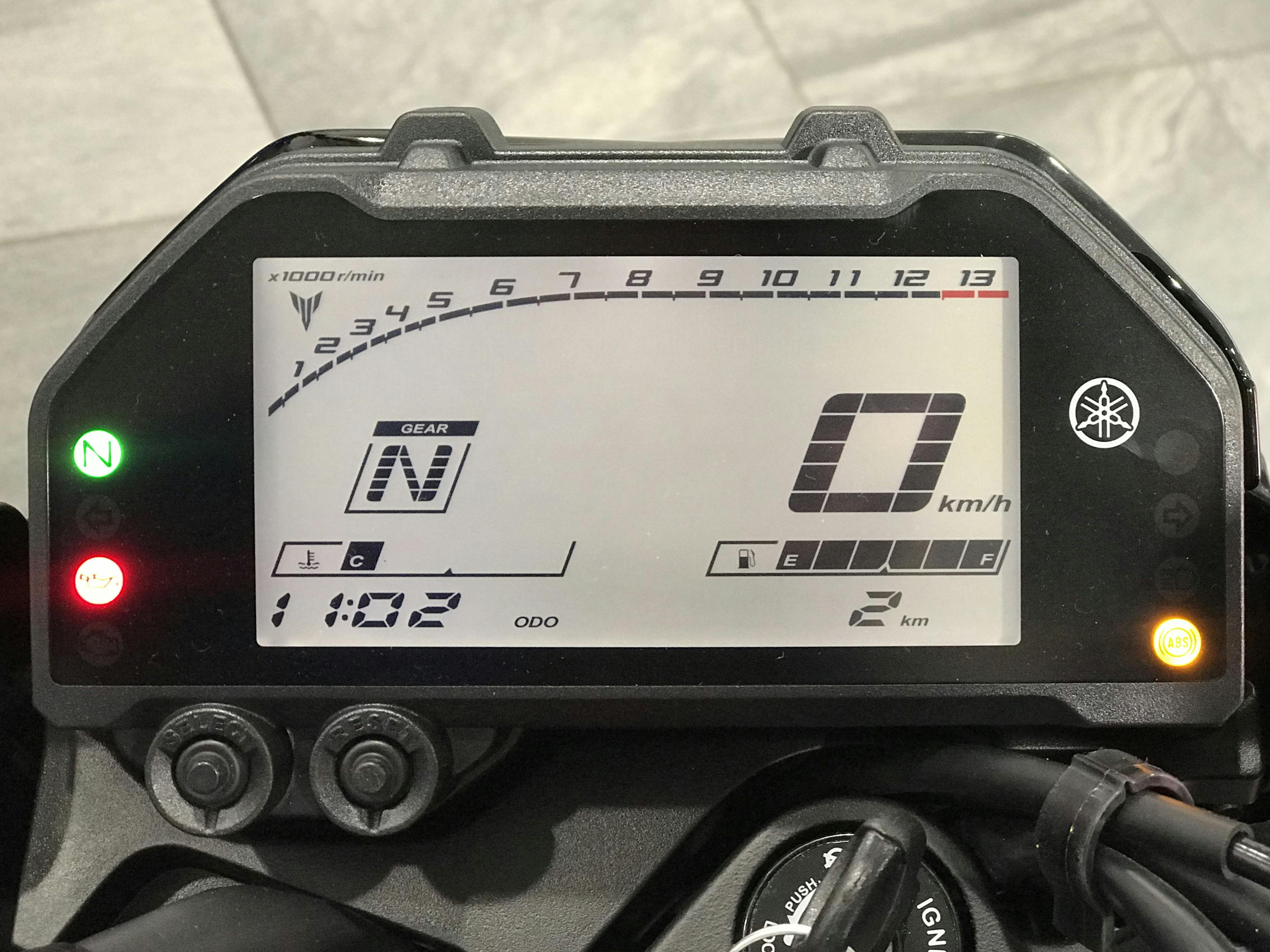 All the information you need on a bright and well designed dash
Tuesday rolled around, and it was time to hand the keys back to the boss. I actually had a lot more fun on the MT-03 than I thought I would. Would I purchase an MT-03 for myself? Well thankfully there will be more motorcycles that will need to be reviewed in the future, so purchasing one isn't the question. Would I ride one again? For sure! 
The MT-03 is a great bike, and should not be called little. Gone are the days of slow and boring learner bikes that one must endure before they can move onto the big leagues. If they had this bike when I was learning I would've been so pleased! I am still partial to motorcycles with fairings, but wouldn't say no to this one. Whether I was learning again, or if I just needed a commuter bike for around town or zipping pass the highway traffic.
Have I sparked your interest? Contact the Sales guys on 88 300 520, email them at sales@bikebiz.com.au , hit us up on Facebook or even just send me an email at webshop@bikebiz.com.au and I can direct you from there, 
Ride safe and have a good one!